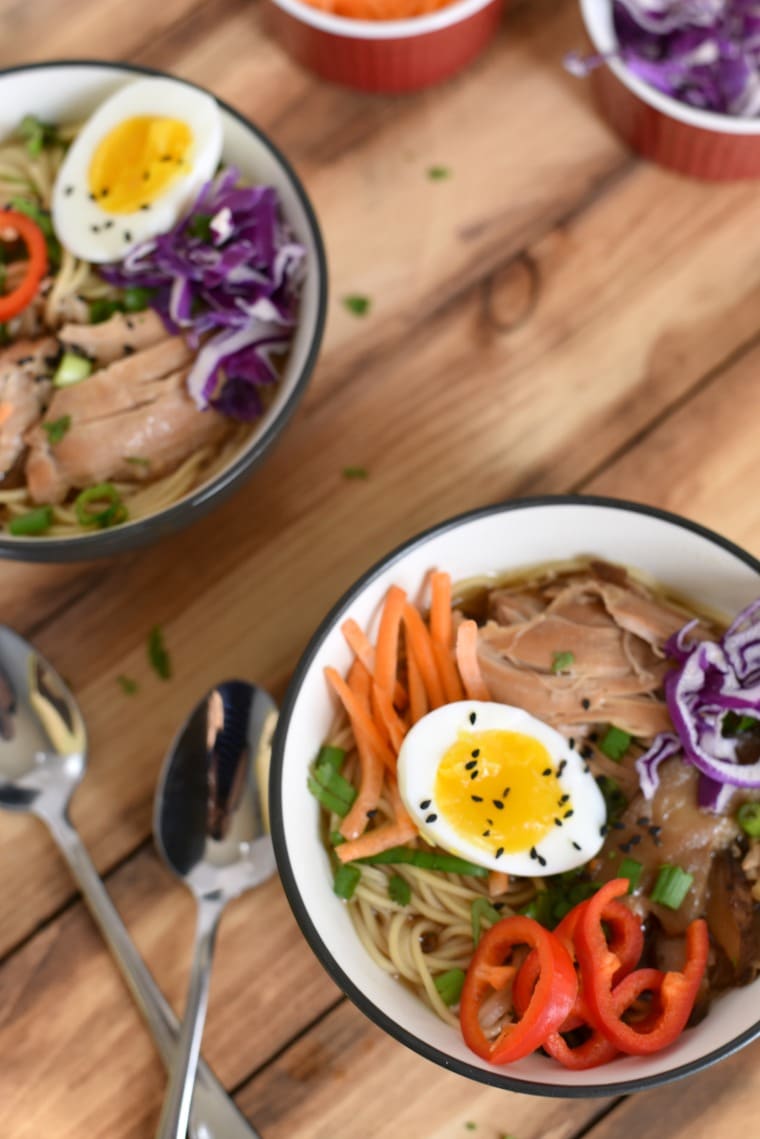 This easy and budget friendly soup is perfect no matter the time of the year! Packed with flavor, completely easy, and a great way to get your family trying new foods! 
I have been on a big hunt lately for the perfect "Tuesday Night Dinner". Tuesdays are our busiest days of the week – and the night that we have swim lessons directly after dinner.
We need something super easy to throw together. Something we can eat early (we have to eat at 4:45 PM so we can be ready to leave the house at 5:30 PM). It also needs to be nutritious and filling enough that my girls aren't starving by the time swim practice is over, yet light enough that they don't feel like they are going to sink to the bottom of the pool.
Sounds like a tall order, yeah?
Believe me – we have tired several (and by several I mean A LOT) of different ideas that would work great. And I finally found the perfect meal – Slow Cooker Chicken Ramen!
This dump and go crock pot meal is perfect for busy mornings. You only need 5 minutes to dump all the ingredients in. In the evening you only  need a few quick minutes to prepare your toppings and you are ready to eat! I like to use some pre-prepped toppings like shredded carrots and cabbage, and sliced mushrooms.
I highly, highly, highly recommend placing all the toppings into bowls or a plate in the center of the table and allowing your family to add their own toppings in. I am always so surprised by which toppings my children choose (and actually eat!).  If you want some other great tips for cooking ramen (and how to make the perfect hard boiled egg for ramen, check out this recipe I made for Crock Pot Pulled Pork Ramen.
Ingredients
2 lb boneless skinless chicken thighs

4 cups really good quality chicken stock

1/2 oz dried shitake mushrooms

2 tsp sesame oil

2 tsp grated fresh ginger

2 garlic cloves, minced

2 TBSP soy sauce

1 tsp fish sauce

2 TBSP rice vinegar

4 packages of instant Ramen Noodles (throw those seasoning packages away)

Toppings:

Sweet Peppers

Green Onions

Shredded Carrots

Shredded Purple Cabbage

Hard Boiled Eggs

Sesame Seeds

Chopped Cilantro

Lime Wedges
Instructions
1
Place the chicken thighs into the crock pot.
2
Add in the chicken stock, shiitake mushrooms, sesame oil, ginger, garlic, soy sauce, fish sauce and rice vinegar.
3
Stir the sauce, place on the lid and cook on low heat for 8 hours.
4
Remove the chicken and shred with two forks.
5
Cook the ramen noodles according to package directions.
6
Spoon the broth, noodles, and chicken into bowls.
7
Top with your selected toppings and enjoy!
Looking for other great slow cooker recipes? Try these on for size!