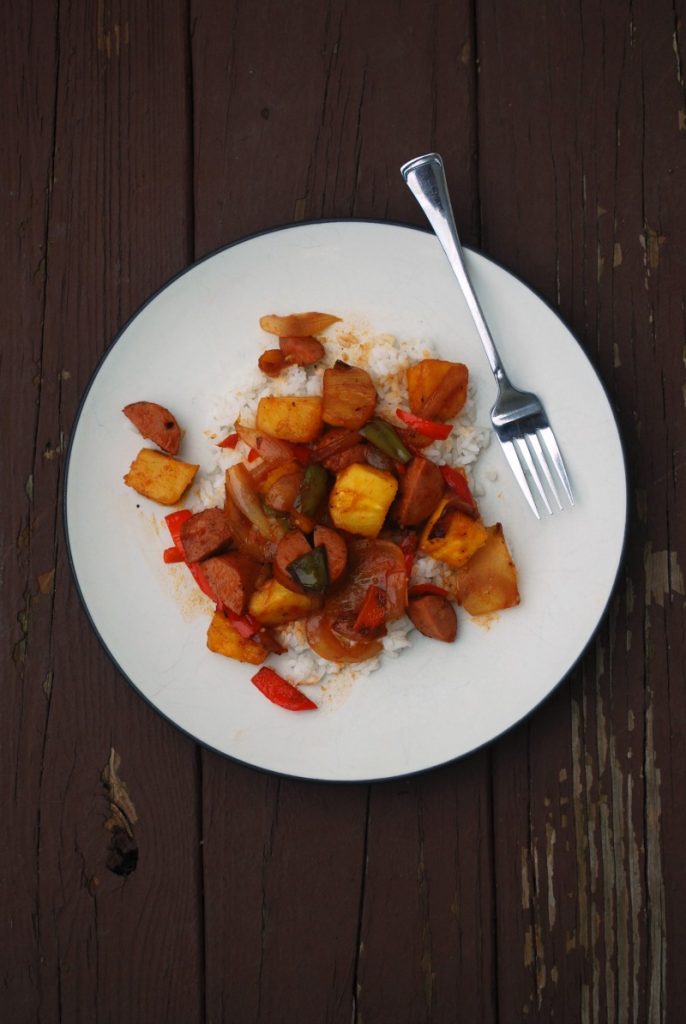 Meals during the week should always be super easy, full of real ingredients and definitely super tasty!  This skillet meal only takes a minimal amount of prep work, 30 minutes (if that!) to make, and its filled with real ingredients! The result is a super tasty meal the whole family will love, and it will take hardly any effort on your part!
* This post contains affiliate links. Read more about that on my disclosure page.
What I love most about this meal is that I am a HUGE fan of skillet meals! They are so easy. If you don't have a great skillet, you definitely NEED to get a good quality cast iron. They last forever, they are super easy to care for, and they are amazing. If you are looking for more information on why I choose cast iron, or how to care for them, check out my Cast Iron 101!
yield: 4 ServingsAuthor: Jenni Ward – The Gingered Whiskprint recipe
Sweet and Sour Kielbasa Skillet
prep time: 5 MINScook time: 30 MINStotal time: 35 mins
This skillet meal is the perfect weeknight meal the whole family will love – and all real ingredients!
INGREDIENTS:
1 lb Kielbasa
1.5 cups pineapple, chunked
1 medium yellow onion
2 bell peppers – red and green (or whatever colors you want)
1/3 cup honey
1/3 cup apple cider vinegar
1/3 cup tomato puree
1 clove garlic, minced
1 tsp fresh ginger
2 TBSP Olive Oil
INSTRUCTIONS:
In a large sautee pan, heat the olive oil over medium high heat.
Add the onion slices and sear for a few minutes until they start to caramelize.
Add the pepper chunks and cook, stirring occasionally, until they start to soften, about 3-5 minutes. Remove from pan and set aside.
Add in the garlic and the sliced kielbasa and cook until the kielbasa is warm and starting to turn brown on the sides.
In a small bowl, stir together the honey, apple cider vinegar, tomato puree and minced ginger.
Add the sauce and the pineapple to the pan and cook, stirring occasionally, until the sauce is thickened.
Serve with rice.
Love Skillet Meals? Check to these other awesome weeknight recipes!