This easy chardonnay based peach sangria is the perfect way to enjoy a lovely summer evening with friends and family. Studded with peaches, blueberries, and a thyme infused simple syrup, its a perfect way to unwind and enjoy quality time with those that matter most.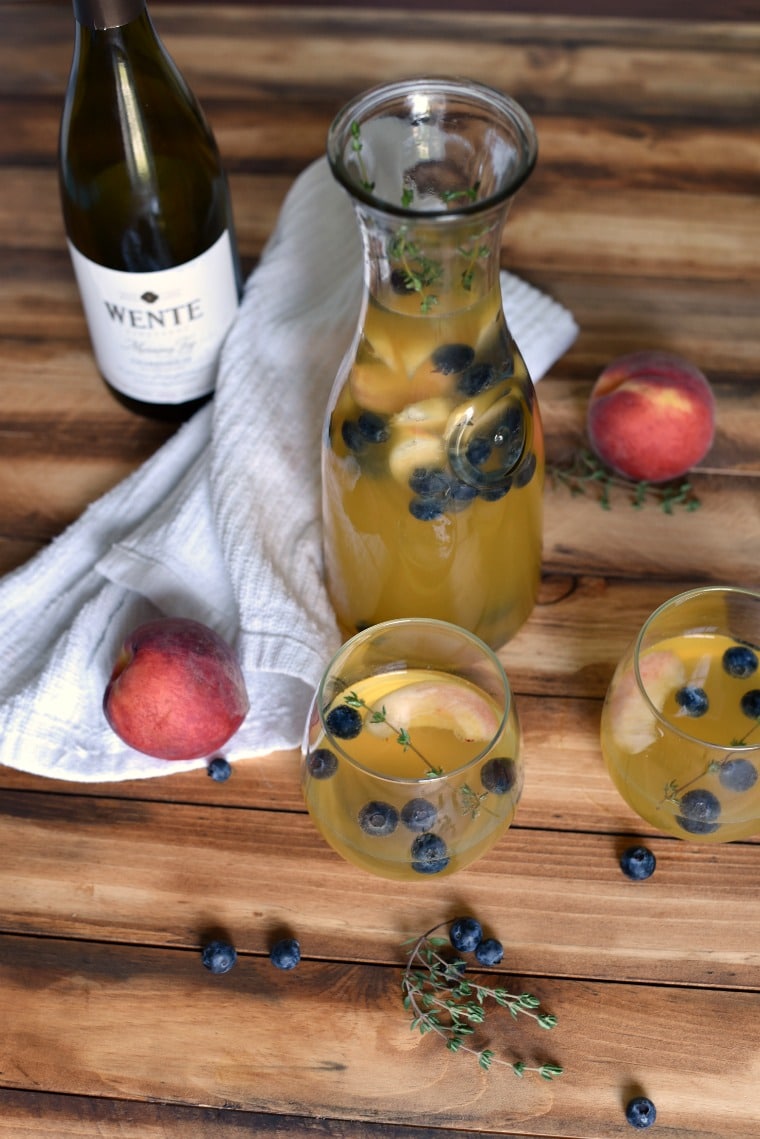 "Thank you to Wente Winery for sponsoring this post. And Thank You for supporting the brands that support me and allow me to continue to grow my blog. All opinions, recipe and photographs are my own. #MakeTime
When we first moved from Kansas City to West Virginia, we instantly felt the loss of our family and friends. Moving 800 miles across the country can really make you feel isolated. Luckily, it wasn't long before we formed a great group of friends with some other young families who also lived in our condo complex. We were all transplants, and we quickly established a good close relationship with the group. We became each other's family, and we quickly established what we called "Family Dinner" nights. Every Sunday evening we would gather at one of our houses' and have a potluck style dinner, play a game or watch a movie.
When we moved to Des Moines, we instantly felt that we should start the tradition with my family. Growing up, my extended family got together only on holidays and birthdays, but for the past three years we have been gathering every Sunday evening at our house. And I love it. I love actually knowing and spending time with my aunt and uncle. I love that my children are getting to spend tons of quality time with their uncle and grandparents – that they know how to tell jokes, how to take a teasing, that they are actually getting to know their family. I have found that my passion lies in this family dinner. It doesn't matter who makes up your family, or how perfectly everything comes together. What matters is the time you spend together.
Our family dinners aren't overly fussy – we often have something from the crock pot or on the grill. We keep it simple (when feeding 10 people a week you need it to be easy). I don't worry about making sure my house is perfectly clean before everyone comes over. I don't decorate or "set the table". We don't always have dessert, but we always start our evening at 4pm with a cocktail or glass of wine and an appetizer (usually a fuss free charcuterie and cheese tray). The hour before dinner is one of my favorite times, because everyone is just relaxed and hanging out. We share our stories from the week, we chit chat about the past, we just enjoy each other's company.
What I love about this summer sangria is that it is super easy to make. A lot of sangrias call for several different kinds of alcohol mixed together, but here I am just focusing on the wine. I wanted something with a low alcohol content (making it perfectly shippable all day long). It's sweet, crisp, and refreshing. My family tells me that this sangria was amazing and that I did an amazing job creating a recipe I couldn't drink (being pregnant and all).
I totally stuck with the grape juice version down below…. BUT I was informed that this peach sangria is a perfectly blended combination of flavors that don't compete with each other.
Instead the flavors are well balanced, smooth and crisp.
This tastes great freshly mixed, but if you allow it to sit in the fridge for a while, it mellows even more. In short, its the perfect drink to enjoy a glass of all afternoon.
How to make Summer Sangria without Alcohol
Sooo…. let's pretend that for some reason you can't drink a lovey chardonnay based sangria. Like… maybe you are pregnant. And maybe you are tired of watching your family drink wine in front of you every single week while you sip on some water! Don't worry – I've got your back. Because I totally know how you feel! Instead of using a bottle of chardonnay, replace the alcohol with a 50/50 mixture of white grape juice and ginger ale.
Looking for a fall sangria recipe? Try this Autumn Sangria!
Yield: 10-12 servings
Blueberry and Thyme Peach Sangria
This easy chardonnay based summer peach sangria is the perfect way to enjoy a lovely summer evening with friends and family. Studded with peaches, blueberries, and a thyme infused simple syrup, its a perfect way to unwind and enjoy quality time with those that matter most.
Ingredients
1/2 cup sugar
1/2 cup water
6 springs of thyme, divided
1 botte Wente Vinyards Morning Fog Chardonnay
2 peaches (peeled and pitted and sliced into thin slices)
1 cup blueberries
1 cup peach nectar
10 oz club soda
Instructions
Place the wine in the fridge to chill.
In a small sauce pan, combine the sugar and water and simmer over low heat until the sugar has disappeared.
Remove from heat, and add in 3 of the thyme springs. Allow to sit and cool to room temperature.
In a large pitcher, combine the cooled simple syrup, wine, peaches, blueberries, remaining thyme springs, and peach nectar.
Cover and place in the fridge until ready to serve.
When ready to serve, add in the club soda, stir, and enjoy!
Nutrition Information:
Yield:

12
Serving Size:

1
Amount Per Serving:
Calories:

87
Total Fat:

0g
Saturated Fat:

0g
Trans Fat:

0g
Unsaturated Fat:

0g
Cholesterol:

0mg
Sodium:

4mg
Carbohydrates:

19g
Fiber:

1g
Sugar:

18g
Protein:

1g
Looking for other fun drinks to enjoy on the deck this summer? Try these!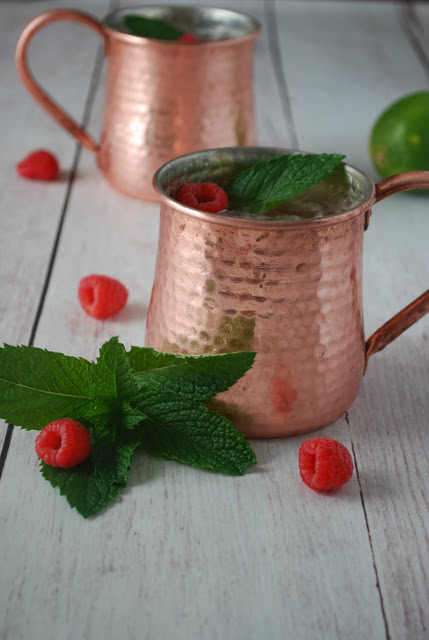 SaveSave