This quick and easy chicken skillet meal is infused with thai flavors and lots of veggies! The whole family will love it!
Ok, I will admit it – I'm totally jumping on the zoodle bandwagon! I was definitely skeptical at first, I mean – I love me some carb-alicious noodles, and I wasn't really looking for a replacement. Because, hello! I heart pasta!! And I was pretty sure that there would be no way in hell my kids would eat a green vegetable based noodle. And I kind of thought that making these on an average weeknight would be too hard and time consuming to attempt.
But you know what? All those thoughts are totally false! Zoodles end up being just as filling as normal pasta, and I LOVE them! AND my kids love them, too. AND they were actually really simple to make. Mind blow, guys.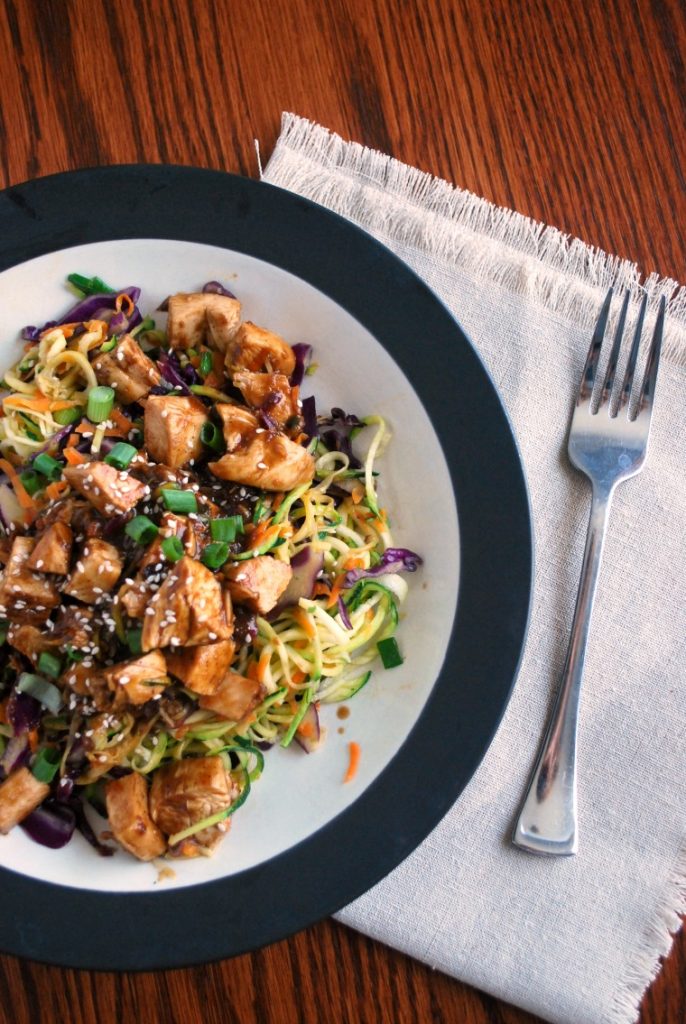 This quick meal is perfect for those busy weeknights where you want fresh and flavor without sacrificing time.You can even make this meal even easier by using pre-shredded carrots and cabbage you can find in the grocery produce section and by making the zoodles the morning of or even the night before. The zoodles do have to sit for 20 minutes, but if you do this step first, then start cooking the chicken, and then mix the sauce together, by the time you are ready to add the zoodles to the skillet they are done draining and you only need 3 minutes more to toss everything together.
I loved how easy and quick this meal was to put together! Basically the only measuring you need to do is to mix the sauce ingredients together. The rest of it is throwing in veggies and sautéing up some chicken. Its SUPER easy, even
Tips on How to Make Zoodles
Use medium sized zucchini for best results – large ones tend to have too many seeds and the inner portion tends to have a really high water content.
Zucchini has a high water content – so try to remove as much excess water as you can before cooking by sprinkling with a little salt and allowing to sit for 15-20 minutes in between paper towels. This will help your noodles not to get mushy.
You don't want to actually COOK your noodles, just warm them up a little.
Pre-made zoodles will store in the fridge for about 3 days. Store in a glass container lined with paper towels.
Don't heat the zoodles until you are ready to eat – if they sit for too long they kind of turn to mush. And don't cook them for too long or they will release too much water and turn mushy as well. This should be the last step before you eat.
Don't even attempt to reheat leftovers. It won't turn out well.
Looking for other quick and easy skillet meals? I got you covered!
Yield: 4 Servings
Quick Chicken Thai Zoodle Skillet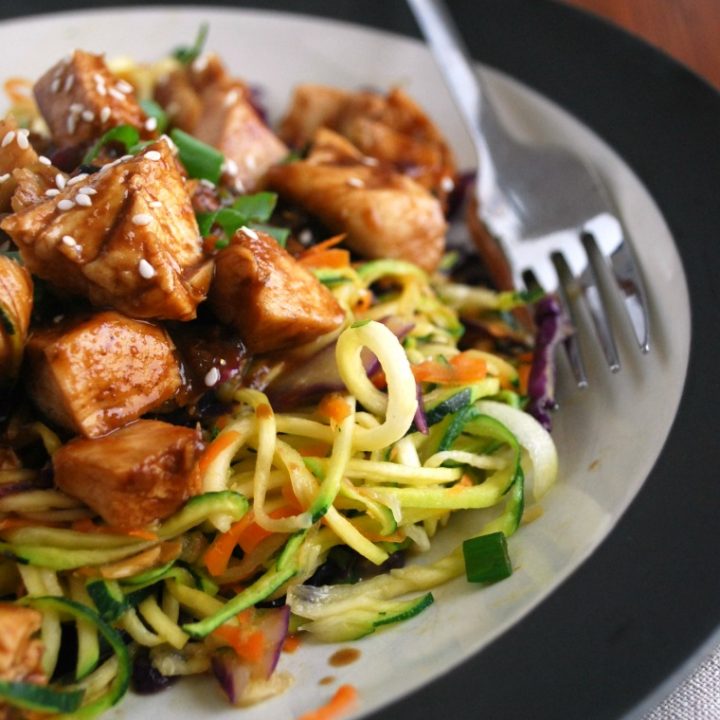 This quick and easy chicken skillet meal is infused with thai flavors and lots of veggies! The whole family will love it!
Ingredients
2 TBSP sesame oil
4 garlic cloves, minced
1 TBSP peeled minced ginger
1/4 cup honey
1/4 cup peanut butter
1/4 cup soy sauce
3 TBSP rice vinegar
4 medium zucchini
1 cup shredded carrots
1 cup shredded purple cabbage
5 green onions, chopped
1 lb boneless skinless chicken breasts
Instructions
Line a sheet pan with paper towels.
Wash the zucchini and cut off the ends.
Spiralize the zucchini and then place on a sheet pan. Sprinkle with salt and then place more paper towels and allow to sit.
Heat a large skillet over medium heat with the sesame oil.
Cook chicken breasts for 4 minutes per side, or until no longer pink in the middle.
Remove from skillet and keep warm.
In a glass, mix together the sauce.
To the skillet, add the shredded carrots, cabbage, green onions, ginger and garlic and sauce.
Sautee for 3 minutes, stirring occasionally.
Chop the chicken into bite sized pieces and toss it and the zoodles into the skillet with the veggies, tossing to coat and allowing everything to heat back up for 3 minutes.
Serve immediately, sprinkling sesame seeds on top.
Enjoy!
Nutrition Information:
Yield:

4
Serving Size:

1
Amount Per Serving:
Calories:

481
Total Fat:

20g
Saturated Fat:

4g
Trans Fat:

0g
Unsaturated Fat:

14g
Cholesterol:

96mg
Sodium:

1069mg
Carbohydrates:

35g
Fiber:

5g
Sugar:

25g
Protein:

44g