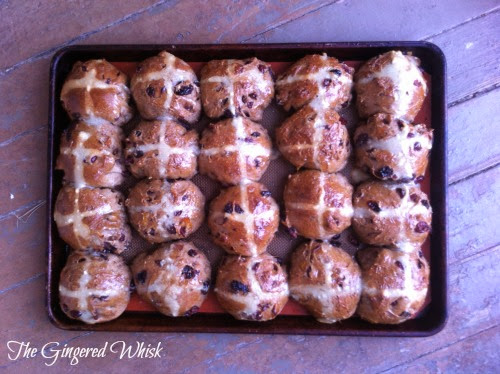 One a Penny, Two a Penny, Hot Cross Buns!
I have a rather vivid  memory of me in preschool playing this song on a recorder. I can see the room (my preschool was held in a church and the "music" room was in a meeting room that had those carpet covered moveable divider walls), the teacher behind a keyboard, and a bunch of little 3 and 4 year olds trying to screech out these notes. I had no clue what a hot cross bun was until I became an adult, but I did remember this song.
I have previously made a hot cross bun, but when this month's Sourdough Surprises challenge came along, I knew we were going to have to try a sourdough version, too. This version is very similar to the yeasted version, with a few small changes. Sourdough, obviously, but I also added more spices, soaked the dried fruits in hot black tea overnight, and used a dark ale. Originally supposed to be a stout, I realized I didn't have any beer when I was mixing up my poolish, and a quick knock at the neighbor's door turned up a perfect surprise. They had a lone bottle of Spiced Christmas Ale in the back of their fridge, and I thought it could not be a more perfect addition.
These buns are a perfect treat for your Easter table, or any time. They are soft, slightly sweet, and deliciously flavored. The tang of sourdough is mellowed by the ale and spices, and everything seems to blend together perfectly.
Yield: 20 rolls
Spiced Ale Sourdough Hot Cross Buns
These spiced hot cross buns are a perfect sourdough recipe to use your discard with. Flavorful and tender, these buns are a great way to start your day.
Total Time
1 day
9 hours
30 minutes
Ingredients
Buns
325 ml Spiced Ale or stout
150 g sourdough starter
1 tsp ginger
1 tsp cinnamon
1 tsp allspice
1 tsp cardamom
800 g flour
325 g mixed dried fruit (I used raisins, prunes, cherries and cranberries but you use whatever combination you want)
175 g mixed peel (candied/crystallized orange and lemon zest)
200 ml hot black tea
1 large egg
50 mg melted butter
50 g sugar
1.5 tsp salt
Cross topping:
Glaze:
3 TBSP boiling water
3 TBSP sugar
(I also added 1 tsp orange blossom water, but this is optional)
Instructions
The night before:
Mix together the ale, starter, spices and 250 g of flour in a large bowl.
In a medium bowl mix the dried fruit, mixed peel and hot black tea.
Cover both bowls and allow to sit on the counter overnight.
In the morning:
Mix the plumped up fruit, egg and melted butter together in the bowl of an electric mixer.
Stir in the spiced beer batter.
Mix in the flour, sugar, and salt and allow to rest for 10 minutes.
Stretch and fold the dough, cover with a tea towel and let it rest for 30 minutes.
Stretch and fold the dough, recover, and let it rest for another 30 minutes.
Stretch and fold the dough, recover, and let it rest for an hour.
Stretch and fold the dough, recover, and let it rest for 2 hours.
Weight out 100 g balls of dough (you should get 20), roll them into balls and place on a parchment lined baking sheet so they are almost touching.
Cover with a tea towel and allow to sit at room temperature for 3-4 hours.
Preheat the oven to 350F.
In a small bowl whisk together the flour and water to form a paste and pipe crosses onto the tops of the buns.
Bake 30 minutes, or until golden brown.
While the buns are still hot, mix together the boiling water and sugar for the glaze (and orange blossom water, if you want), and brush over the top.
Allow to cool, Enjoy!
Nutrition Information:
Yield:

20
Serving Size:

1
Amount Per Serving:
Calories:

498
Total Fat:

30g
Saturated Fat:

18g
Trans Fat:

1g
Unsaturated Fat:

9g
Cholesterol:

86mg
Sodium:

413mg
Carbohydrates:

51g
Fiber:

3g
Sugar:

13g
Protein:

6g
(adapted from Lauren Bakes)
This post was submitted to
Yeastspotting
, a weekly collected of all things delicious and yeasted!
SaveSave
SaveSave
SaveSave