Adventures in Meal Planning
Your guide to easily planning meals for your busy life.
Are you tired of wasting time creating a meal plan that just doesn't work for you?
Your life is busy and full.
You feel like you waste hours creating a meal plan, only to then abandon it during the week because it just doesn't fit your schedule.
Meal times end up being hectic, with hangry kids underfoot.
You don't have a clear plan of what to make, and so you end up wasting food that you bought but never cook, or giving up and ordering takeout.
Imagine being able to sit down and quickly and easily create a meal plan that actually worked for your family!
Imagine having a more varied meal plan that your family actually loved.
Imagine being confident in your meal plan and not struggling to cook dinner because you know exactly what you are making and that you have the ingredients you need.
Imagine having a meal plan that actually fit your life and was almost effortless to create.
You can create a meal plan that works FOR you!
You can learn how to create a meal plan that works with your life's schedule.
You can break out of the boring rut of eating the same meals every week.
You can save time and money by using a system that works.
Adventures in Meal Planning
Your guide to easily planning meals for your busy life
This is the last meal planning book you will ever need.
No matter what your schedule looks like or how many people you're feeding, you can make a meal plan that actually works for you without adding additional stress! This book will walk you step by step through how to create your own custom meal plan easily.
This must-have meal plan book will help you take control of the food you make and serve to your family so you can maximize the time you spend with your loved ones!
Finally create a meal plan that will save you time, energy and money… and also allow you to eat the meals that your family loves!
"This book makes meal time a breeze! I love how easy this makes it to create a meal plan with variety week after week. No more standing in front of the cupboard wondering what to make for dinner, and no more endless repeats of the same meals." Dana Erato
Inside you'll find…

Learn everything you need to know to effortlessly master meal planning for YOUR life.
Organize and keep track of your family's favorite meals, allowing you to reference inspiration in one place. Never forget about a favorite meal again, and easily be able to get out of your dinner rut.
Utilize 52 weeks (yes, a full year) of undated meal planning worksheets so you can keep track of your family's meals in a structured and organized manner.
Refresh your plan seasonally so you can revisit your meal plan and make adjustments with the changes of the seasons.
How much time and money are you wasting?

Stop wasting time with trying to create a plan the hard way, or wasting money buying premade plans that don't fit your life.
Adventures in Meal Planning is not just a book filled with meal planning worksheets, it helps you understand your family's eating style and lifestyle and create a plan that fits your needs, time and time again.
The truth is, premade plans just don't work well because the creators don't know what your dinner needs are each night. They don't know you need a 15 minute meal on Tuesday because of dance practice and you need Thursday's dinner to make leftovers for soccer night. Only you know that!
Creating a meal plan completely from scratch each week doesn't work, either, because you waste time hunting down recipes to try and then get frustrated when you are trying to cook a brand new recipe when you are short on time. OR you fall back on just a few "tried and true" recipes you know – which leave you feeling in a rut, and your kids never learn to try new things.
Hi! I'm Jenni, and I created this just for you!
As a mom to three young girls, and wife to a physician who often works 60-70 hour work weeks, I know how stressful and exhausting dinner time can feel like. My husband is rarely home when I cook dinner, which often leaves me trying to navigate cooking with a toddler, a 7 year old who can't stop doing cartwheels, and a 10 year old who just wants to share one more story with me. Add in the dogs' barking, the neighbor kids coming over, and a few more dashes of random chaos and – I get it!
It is easy for dinner time to feel like an event to be survived.
But there is another way! Dinner should be enjoyed!
I am a firm believer that in order for dinner to go smoothly, you need a plan!
But not just any plan – a plan that actually works FOR you – one that fits in with your schedule, your eating habits, and how much brain power you have when it's time to cook!
That's why I am so passionate about helping families learn how to create a meal plan that fits your life.
Because no matter how many people you are feeding or how much time you have for dinner, your meal should be enjoyable and a time to connect with your family.
Stop wasting time and start creating a simple plan that works for you with Adventures in Meal Planning!

Finally a resource to take the stress out of meal planning! I love to cook, but my family usually ended up eating pretty late because I didn't plan ahead. This book has so many great tips to have an easy and diverse meal plan, and the layout is super easy to use, too! Say goodbye to stress and hello to delicious and thoughtfully planned meals!" Kathleen Babbitt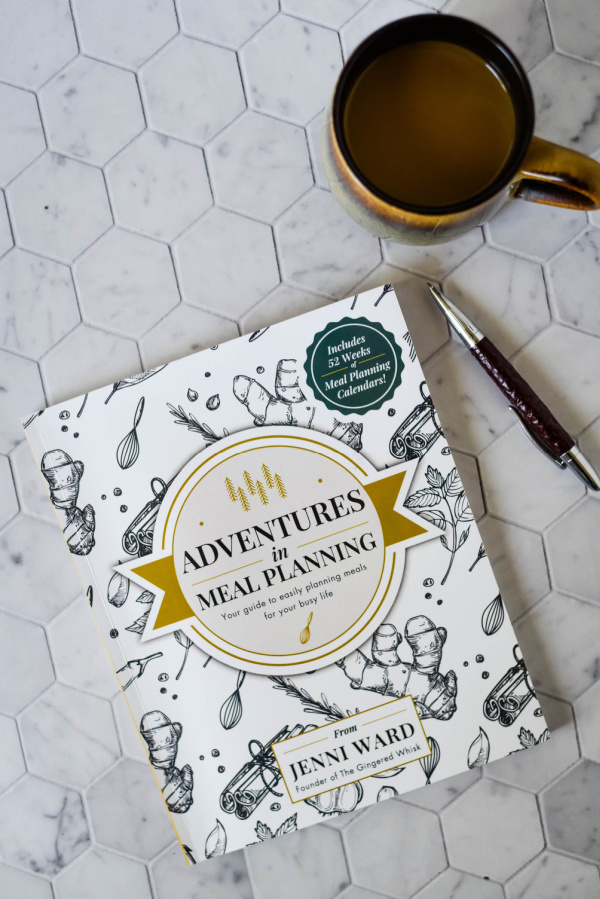 Learn HOW to meal plan with step by step instructions.
Organize and keep track of your family's favorite meals.
52 weeks of undated meal planning worksheets.
Seasonal refreshes so you can keep up with the changing times.
Only $24.99
Is Adventures in Meal Planning for you?
This book is right for you if….
You want to make a plan that helps your schedule be a little less crazy.
You need
You want to streamline how many times you go to the grocery store.
This book might not be for you if…
You have all the time in the world to cook your meals.
You like to pick a meal and go to the store each day.
You have a personal chef who cooks your food for you.
Got Questions? I've got answers!

What practical questions might people have about how your offer works/how they'll use it? Go through the first section, then sit down with it each week to plan. Seasonal refreshes to help you change up the plan and refine it when needed.
What unspoken questions might people be asking themselves about your offer?
What objections might they have to purchasing your offer? Wasting money on another system that won't work
What limiting beliefs might make your ideal client feel like your offer is not for them? They don't have time for this, they don't like to meal plan, laziness of doing it and sticking with it, creating a plan for adults and kids to like