Sourdough naan is so easy its foolproof! Nothing is better than fresh off the griddle flatbread, and this naan recipe is exactly that! Delicious and flavorful naan is right around the corner with this great recipe!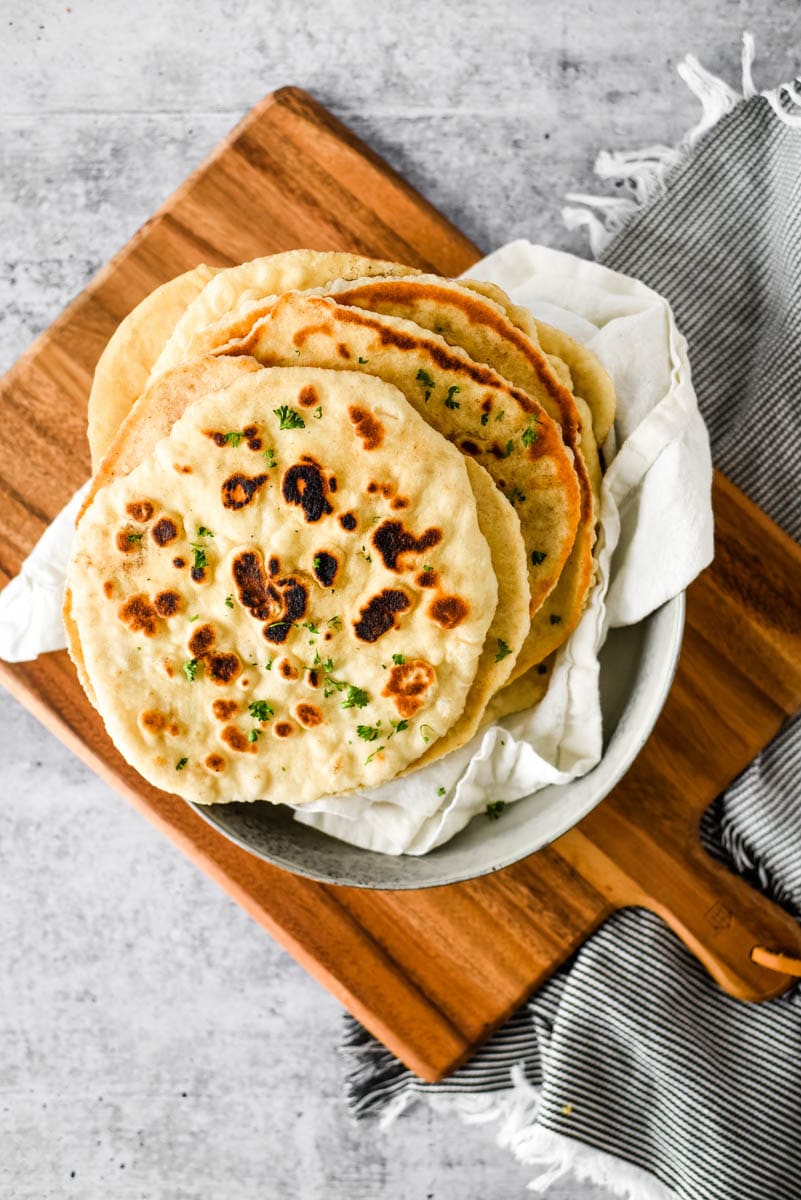 Flatbreads are super delicious, and great for snacks, appetizers or go with a meal. And except for a little rolling pin action, sourdough naan is also really easy to make!
Mix, Roll, and throw on a skillet!
Sourdough Naan has great flavor with just a hint of sourdough tang. The texture is soft and tender, and perfect for serving with your favorite curry.
Looking for other amazing recipes to make with your sourdough starter? Check out my Sourdough Recipes for over 60 Sourdough Recipes, including ones like: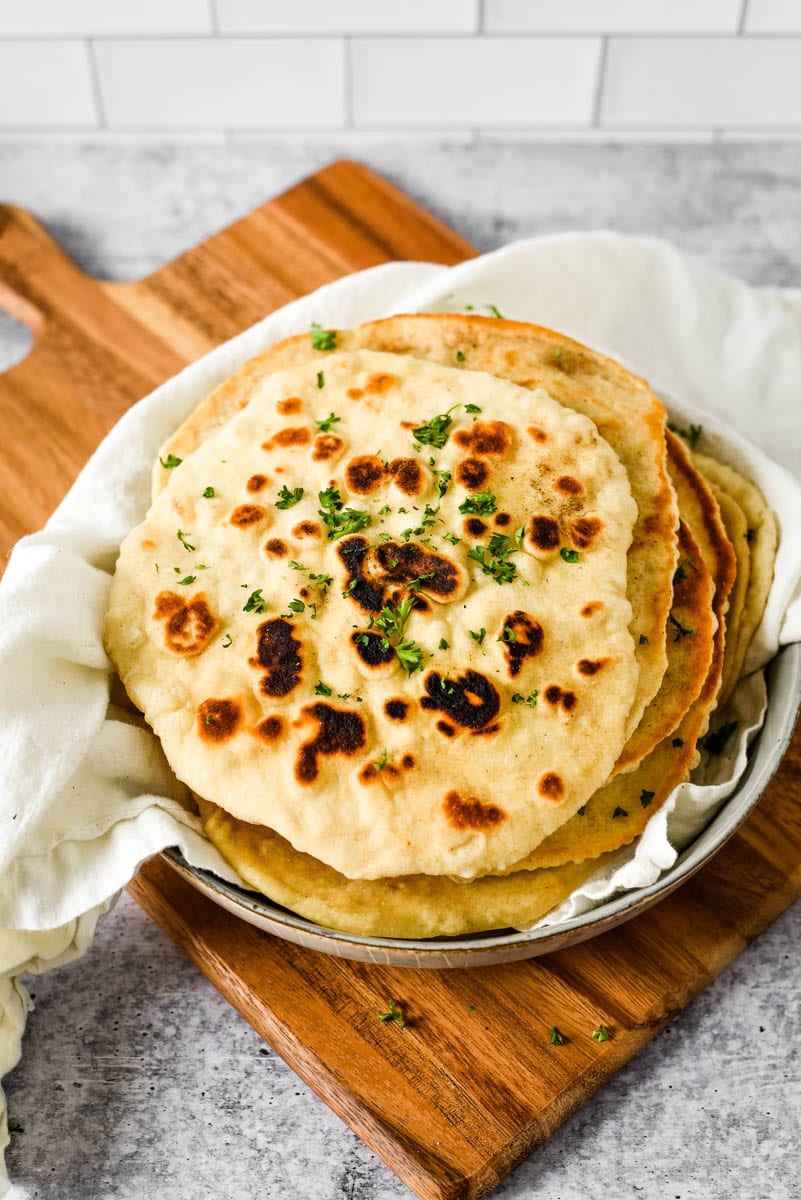 How to Make Easy Sourdough Naan
Sourdough Naan is super easy to make (as long as you remember to give yourself enough time to let it rest) and is sooo delicious! In fact, I don't want to sound ridiculous, but I think this was better than some I've had at restaurants! You won't be able to get enough of it!
Here is how you make Sourdough Naan:
Mix together the ingredients until you get a shaggy, sticky dough.
Cover with a warm cloth and allow to rest 2-3 hours.
Knead for a few minutes, until its smooth and no longer sticky.
Divide into 8 pieces and roll out into circles that are about 1'4″ thick.
Brush with melted butter and then cook on a hot skillet for 1 minute.
Brush the top with melted butter and then turn over and cook for 1 minute.
Remove and place on a plate with a towel to keep warm. Repeat, repeat, repeat!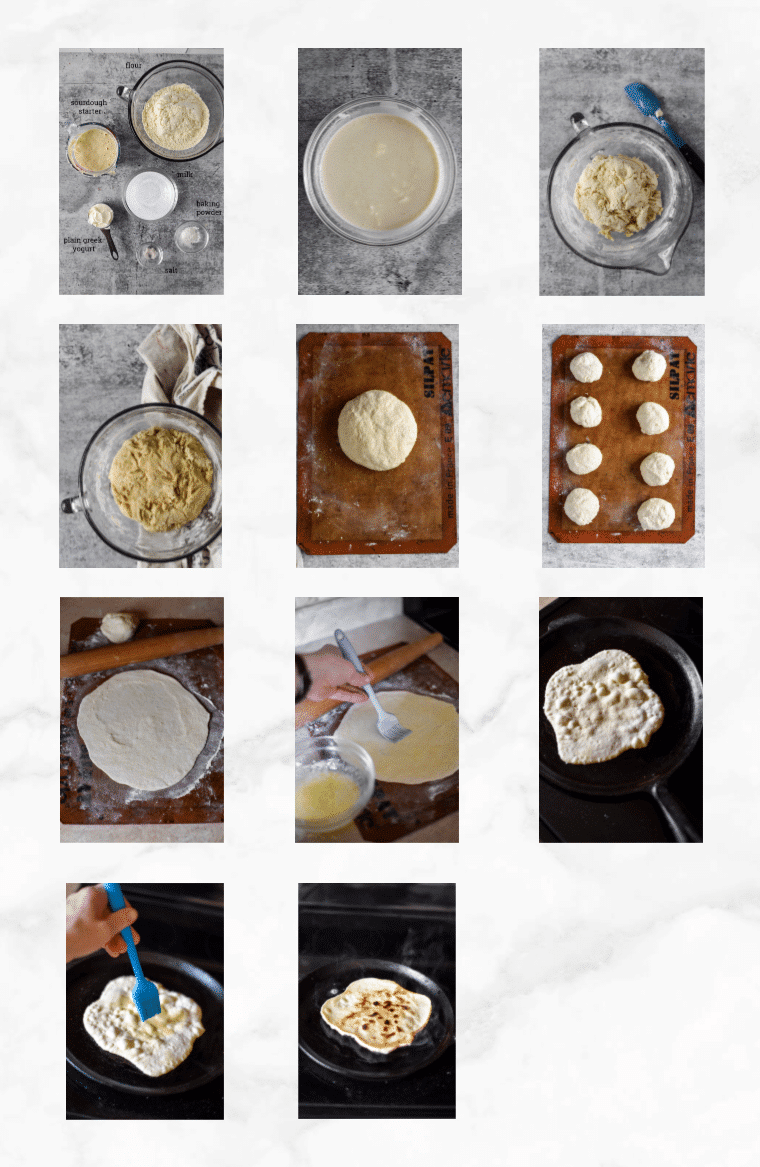 Sourdough Naan Tips:
Don't let the rolling phase scare you – it doesn't have to be in a perfect circle, and little rips and tears are ok. Naan is a rustic type bread, and its a forgiving dough. Just go for it!
Make sure your skillet is nice and hot before you start! Part of the appeal of sourdough naan is that it has a nice crisp on the outside but is soft and tender inside – you get that from a hot skillet.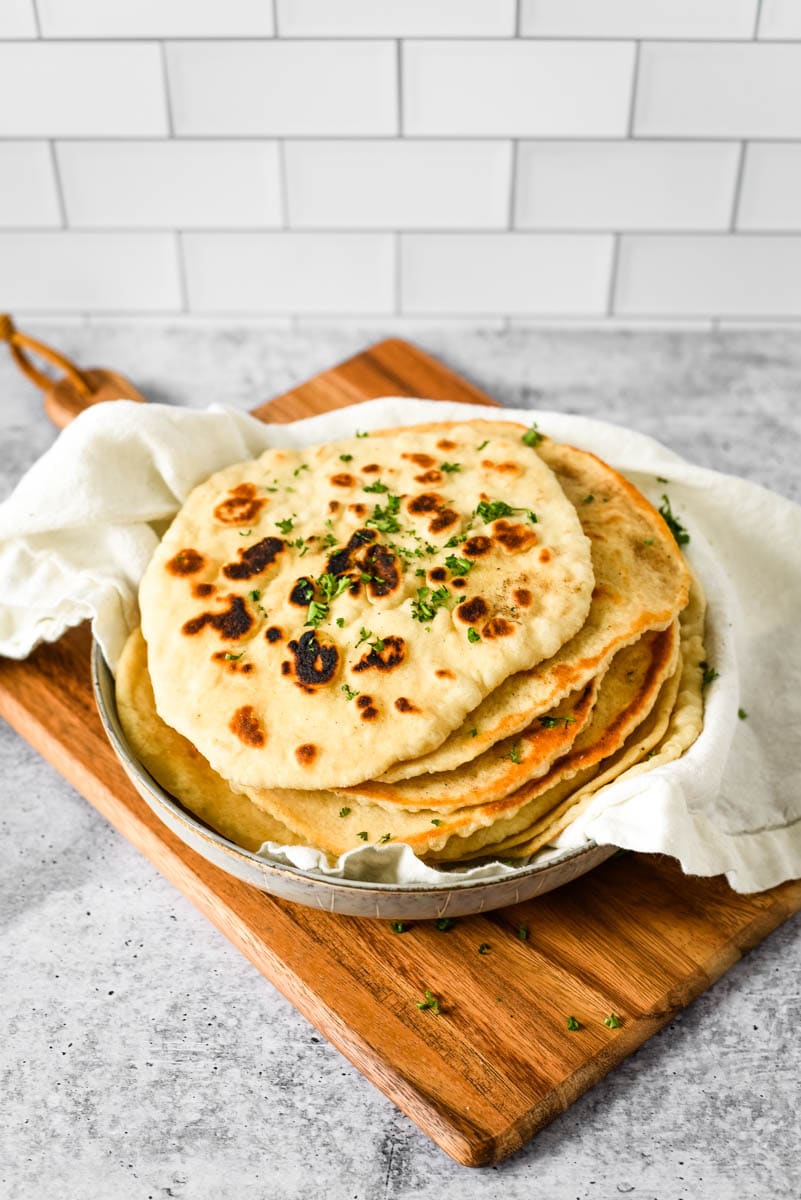 Naan Bread Flavors:
This sourdough naan recipe is a great recipe as is, but if you feel like being extra fancy and jazzing it up, try these flavors:
Garlic Cilantro – Add finely chopped garlic cloves to the melted butter that you brush on before placing on the griddle, then sprinkle with cilantro when you remove them.
Roasted Garlic Naan – add chopped roasted garlic to the naan dough.
Onion Naan – Add 1/4 cup finely minced onion to the dough and top with chopped chives after cooking.
This naan is also really good with extra butter and sprinkled with cinnamon sugar!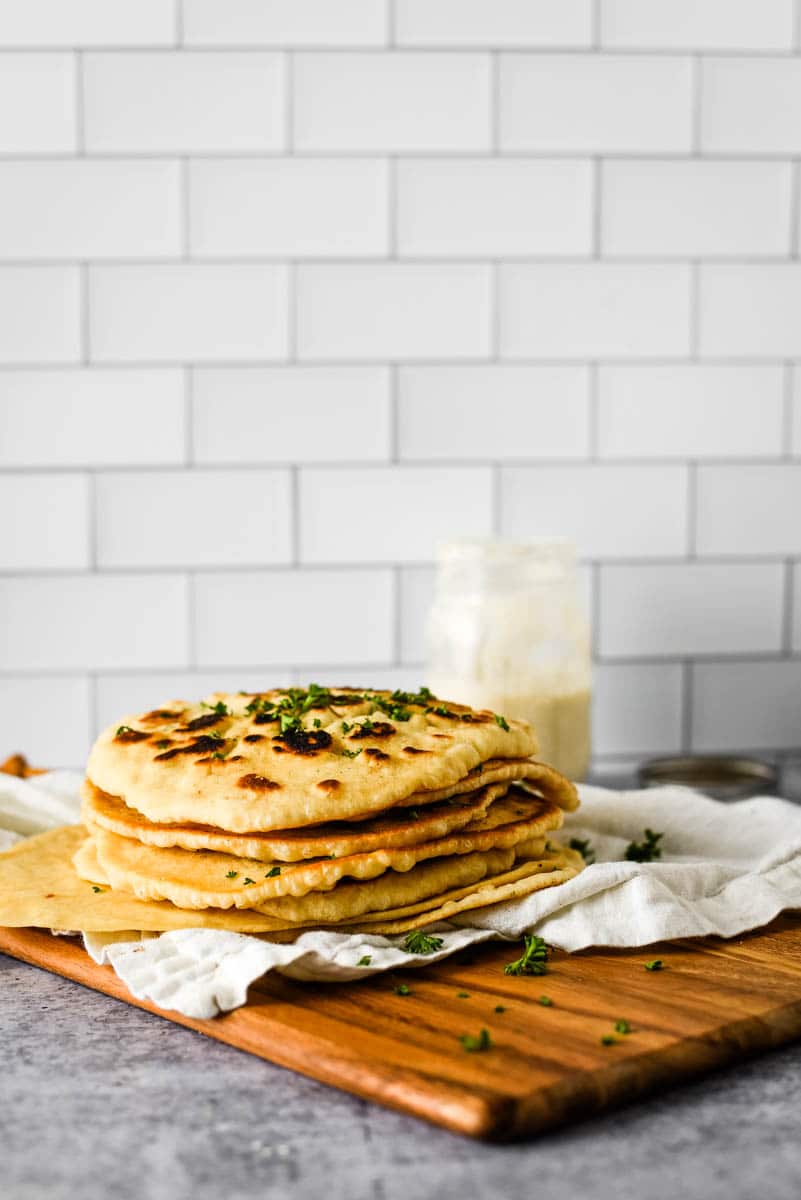 Need some easy bread ideas to serve with dinner? Try these:
Quick Skillet Focaccia

– This easy focaccia recipe delivers a crisp crust and a tender crumb! It's perfect every time.

Cheddar Cornbread with Pepitas

– Crumby and moist, with a great cheddar cheese flavor and crunch from pepitas, this cornbread recipe is perfect for fall!

Lemon Thyme Cornbread

– This easy savory cornbread with lemon and thyme is a quick but delicious quick bread recipe that will pair equally well with any main entree or with a slab of butter and a drizzle of honey for an afternoon snack.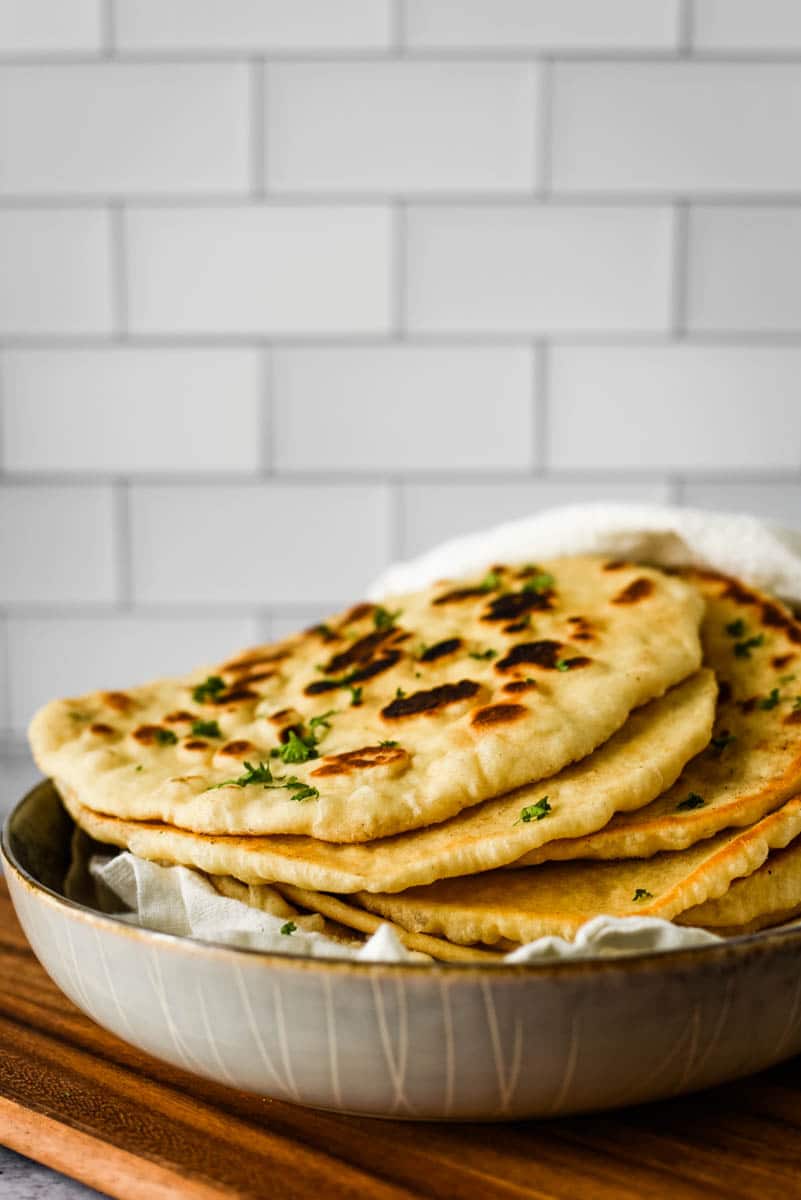 Love and links are always appreciated! If you'd like to share this post, please link to this post directly for the recipe, please do not copy and paste or screenshot. Thanks so much for supporting me! xoxo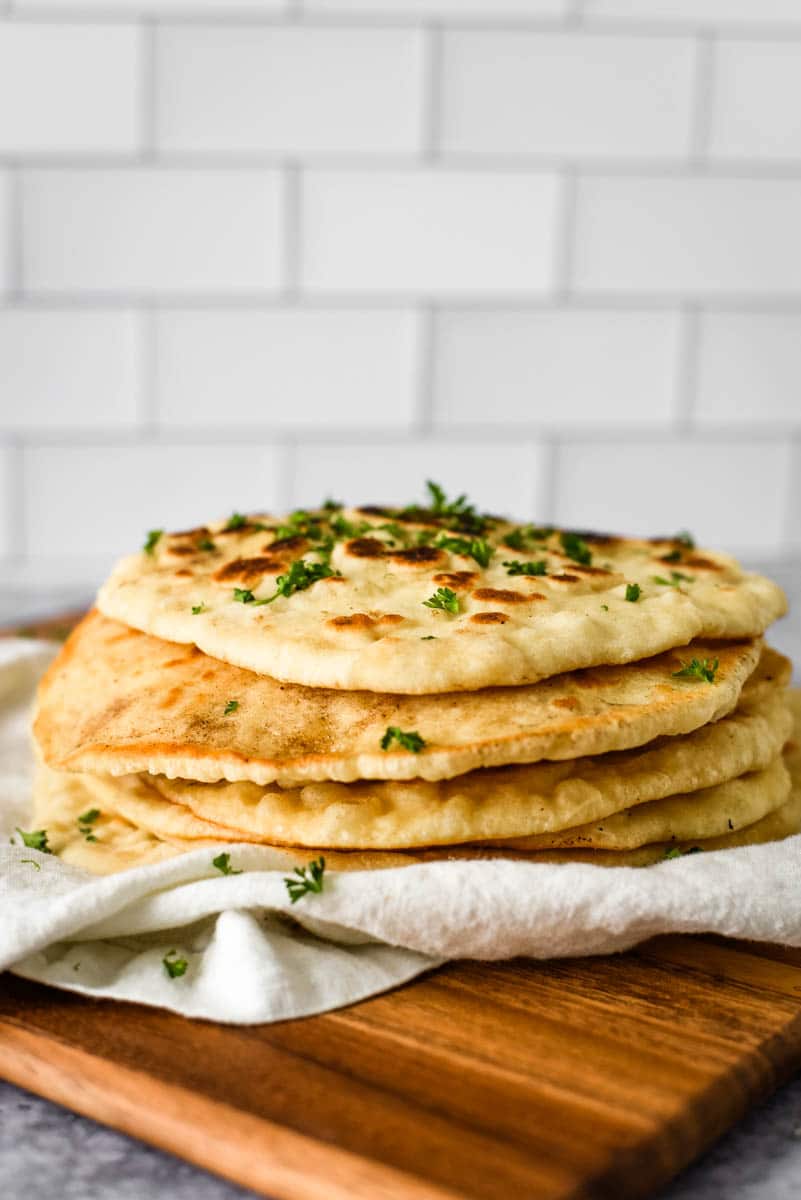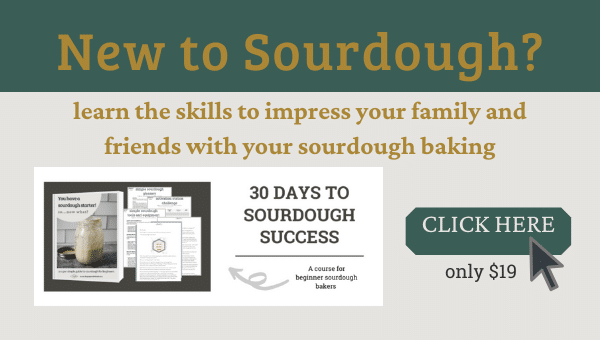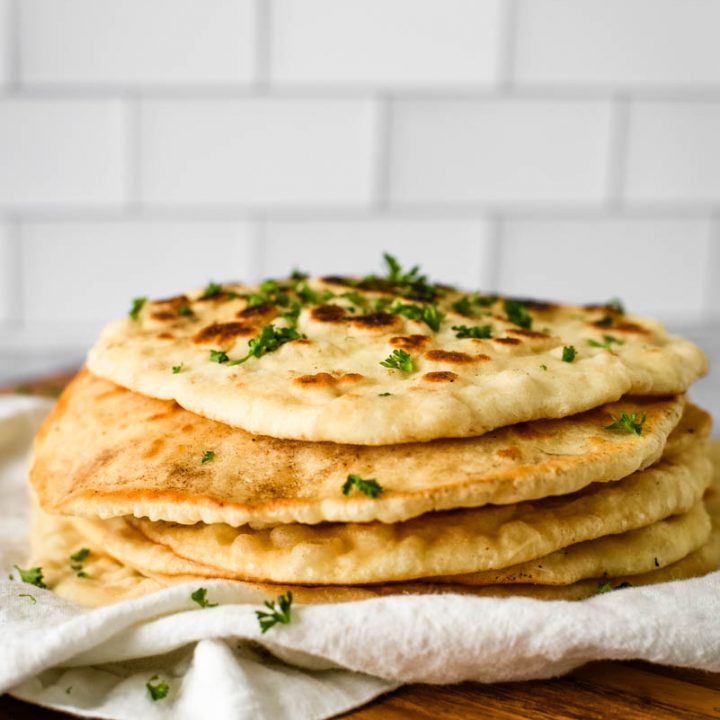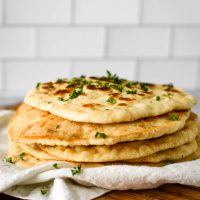 Sourdough Naan
This sourdough naan recipe is so easy its foolproof! Delicious and flavorful naan is right around the corner with this great recipe! 
Print
Pin
Rate
Ingredients
1

cup

100% hydration sourdough starter discard

unfed

½

cup

warm milk

¼

cup

plain Greek yogurt

2

cups

all purpose flour

1

tsp

baking powder

pinch

of kosher salt

5

TBSP

melted butter
Instructions
In a large bowl mix together the sourdough starter, milk and yogurt until smooth.

Add the flour, baking powder and salt and stir to combine to a shaggy, somewhat tacky dough.

Cover with a damp cloth and let the dough rise in a warm place for 2-3 hours. You will know that it is done proofing when you can gently dent the dough with your knuckle and it springs back. If your house is warmer, this could take less time. If your house is colder, it may take more time.

Dump out on a lightly floured counter and knead for a minute or two, until smooth. You shouldn't need to add much extra flour, if any to make it not stick to your hands. It will still be tacky but not overly sticky.

Preheat a heavy cast iron skillet over medium-high heat.

Divide the dough into 8 pieces and roll each piece into about 1/4″ thickness. Use a small amount of flour on your counter and on your rolling pin to help you roll the dough out. The dough will be tacky to slightly sticky, but you should be able to easily work with it with the additon of a little flour.

Brush one side with melted butter and place butter-side down on the skillet.

Cook for about a minute, or until the dough starts to bubble and release from the skillet.

Brush the other side with melted butter and flip.

Cook for an additional minute.

Transfer to a plate and cover with a cloth to keep warm.

Repeat with remaining pieces of dough and Enjoy!
Notes
Store in an air tight container in the fridge for up to 3 days.
Reheat on a hot skillet for a few minutes on each side.
Note about sourdough starter: This recipe uses unfed 100% hydration sourdough starter discard.
Note about yogurt: Make sure that you are using a thick plain greek yogurt – a yogurt with a thin consistency will cause the dough to be too wet. Greek yogurt with more fat content will be better (non-fat doesn't work as well).
Nutrition
Serving:
1
g
|
Calories:
232
kcal
|
Carbohydrates:
34
g
|
Protein:
7
g
|
Fat:
9
g
|
Saturated Fat:
5
g
|
Polyunsaturated Fat:
3
g
|
Cholesterol:
21
mg
|
Sodium:
147
mg
|
Fiber:
4
g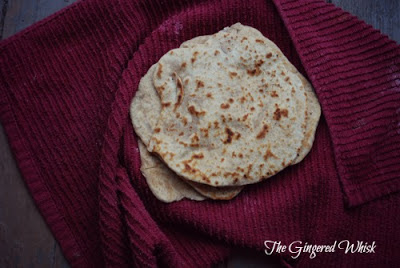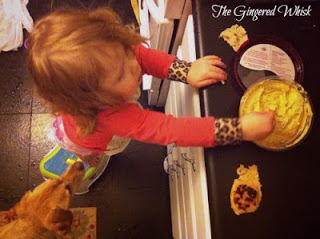 SaveSave