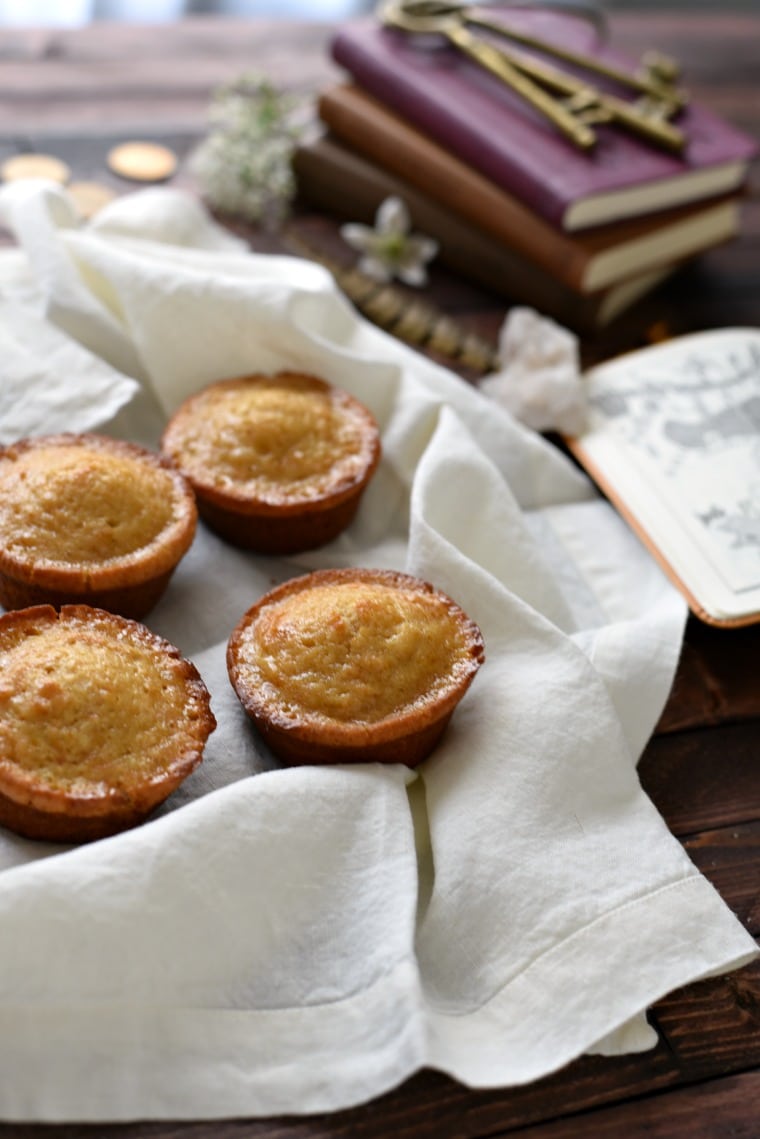 These twice baked honey cakes are slightly crispy on the outside, but dense and moist on the inside, plus full of amazing honey flavor. This Hobbit inspired cake recipe is a perfect treat for breakfast, dessert, or an afternoon snack!
Have you ever read a book or watched a movie and been so intrigued by the description of the food within that you can't stop thinking about it? Happens to me ALL the time! Sometimes the descriptions of the food, which is totally supposed to be supporting background information, can really heighten the experience of the story. The descriptions of how the food looks, smells and sometimes even tastes, can be so enticing, especially when its a "new food" you aren't familiar with, but can totally guess what it would taste like. I love it when the authors take the time to really build up the world the characters live in, don't you?
This post may contain affiliate links. As an Amazon Associate, I earn from qualifying purchases.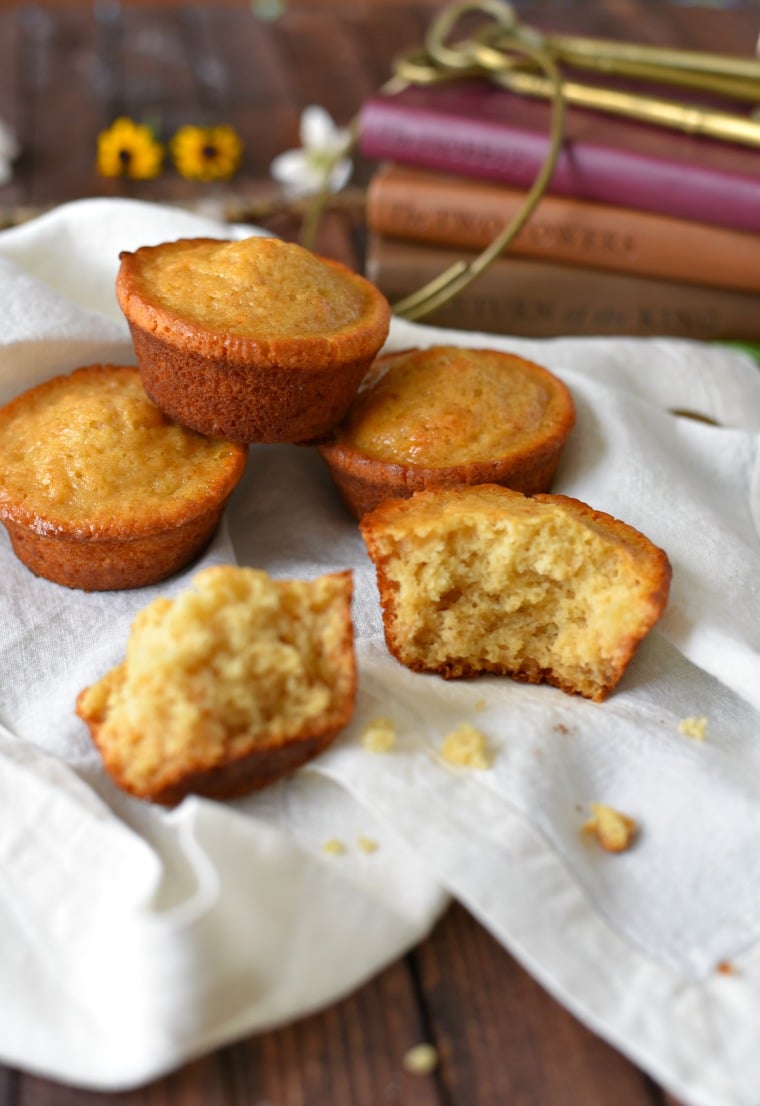 Jenni Ward/The Gingered Whisk is a participant in the Amazon Services LLC Associates Program, an affiliate advertising program designed to provide a means for sites to earn advertising fees by advertising and linking to Amazon.com.
These delightful honey cakes are best known from The Hobbit (although they are also mentioned in Game of Thrones as being a favorite of Catelyn Stark! In my mind they are totally the same thing). Remember Beorn, the lonely guy in the woods who shape shifts into a bear? These honey cakes are one of his creations, and he gives a stack of them to the dwarves, Gandalf, and Bilbo on their journey to the Lonely Mountain. These twice baked cakes are supposed to keep a "good long time", soaked in honey, and apparently made you very thirsty. In the book Fellowship of the Ring, Gimli the dwarf compares the honey cakes to the elvish Lembas bread, stating that the Beornings are some of the best bakers that he knows of. So, these little cakes are supposed to be good travel food, contain lots of honey, and taste great! Beorn's honey cake recipe is actually a secret (says so in the book), so of course what they actually were like is hotly contested. Uh.. can fictional based food be hotly contested? I suppose in the right circles… Let's just assume I am right, though, yeah?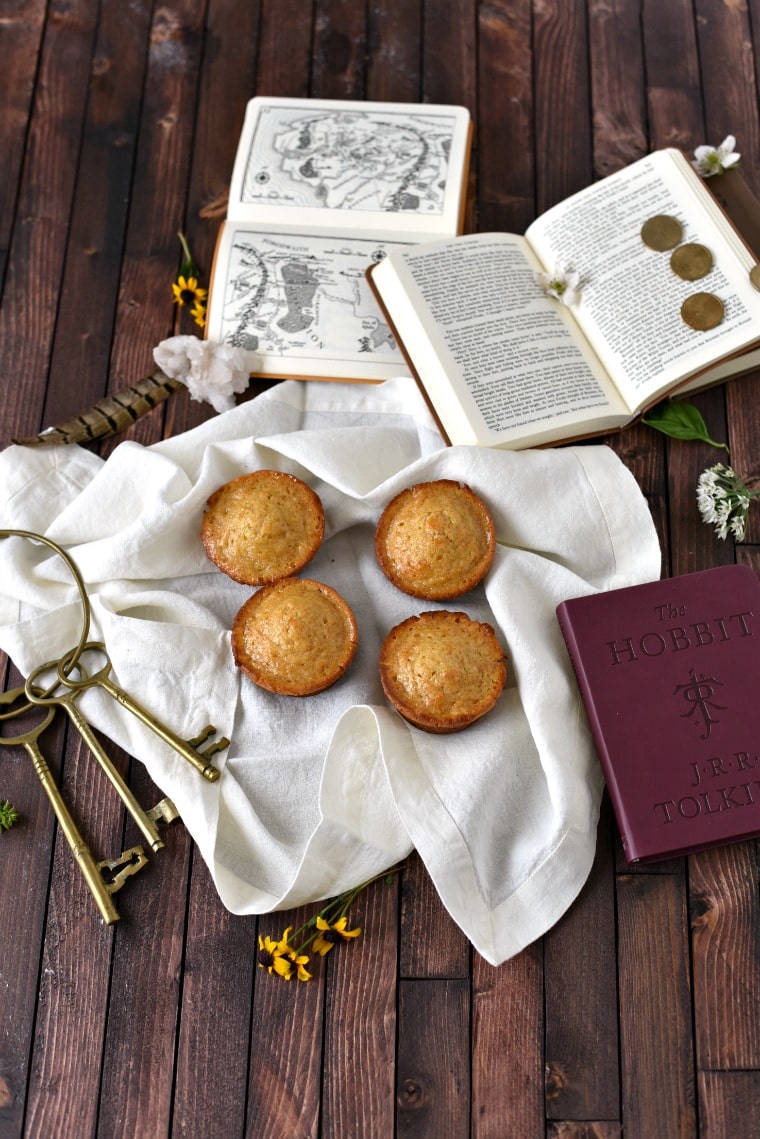 This honey cake recipe is super easy to make, and one of those lovely treats that works great for dessert, breakfast, or as a triumphant treat when you realize that both your kids are at school at you have the house to yourself. The twice baking gives the cakes a little bit of a crispy crust, while keeping the insides perfectly moist and dense. There is a full cup of honey in this recipe, so they are perfectly sweet and (as long as you use a great tasting honey), really flavorful. I left a full dozen on my counter to cool and came back to find 3 sets of sticky fingers and crumby faces in my kitchen, and significantly less honey cakes. While they might last "a good long while", you will find that these Hobbit inspired honey cakes will quickly disappear from your kitchen.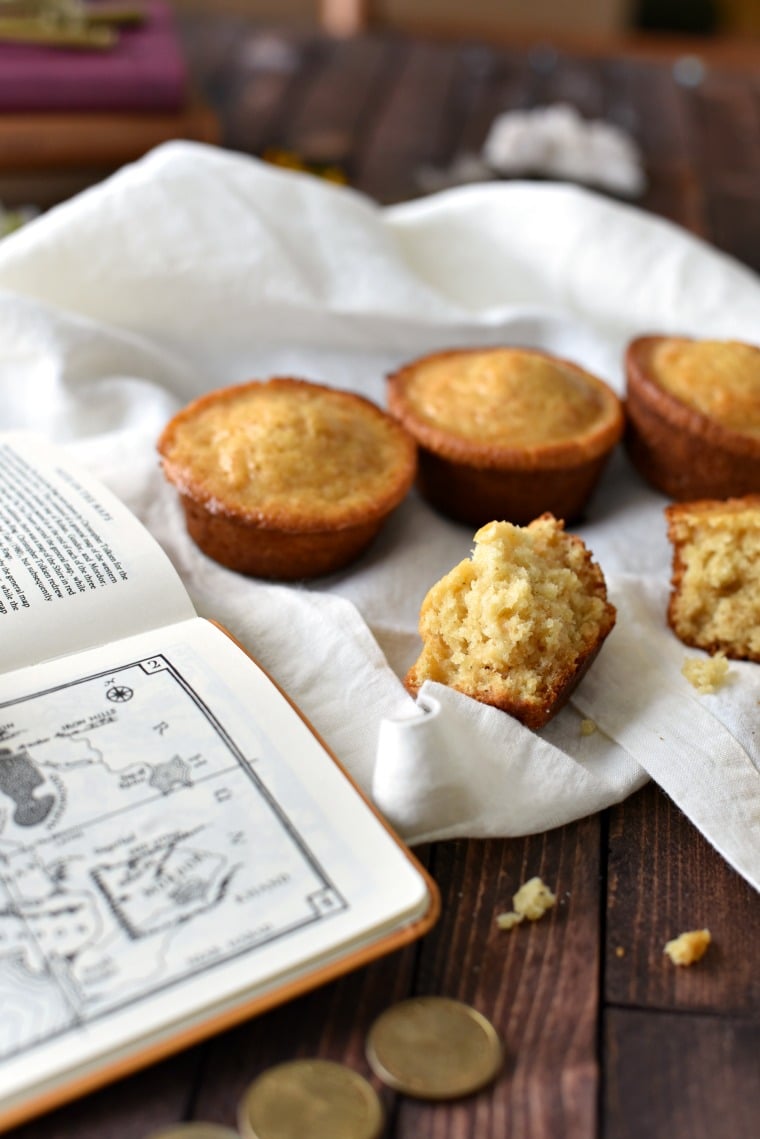 Tricks to Make this Recipe Awesome:
Use a high quality local honey that is full of flavor for the best flavor in the cakes.
Use fresh ground nutmeg!
Make sure you really grease the muffin wells really, really well. Use super soft (but not melted) butter and a silicone pastry brush to kind of "paint" the inside of each muffin well. Don't use cooking spray, don't use muffin liners – you won't get the same effect here. Use real butter, and lots of it!
Place the muffins on a sit-pat lined baking sheet for their second baking.
Heat the last 1/4 cup of honey in the microwave for about 10 seconds before drizzling on the tops of the cakes before their second baking.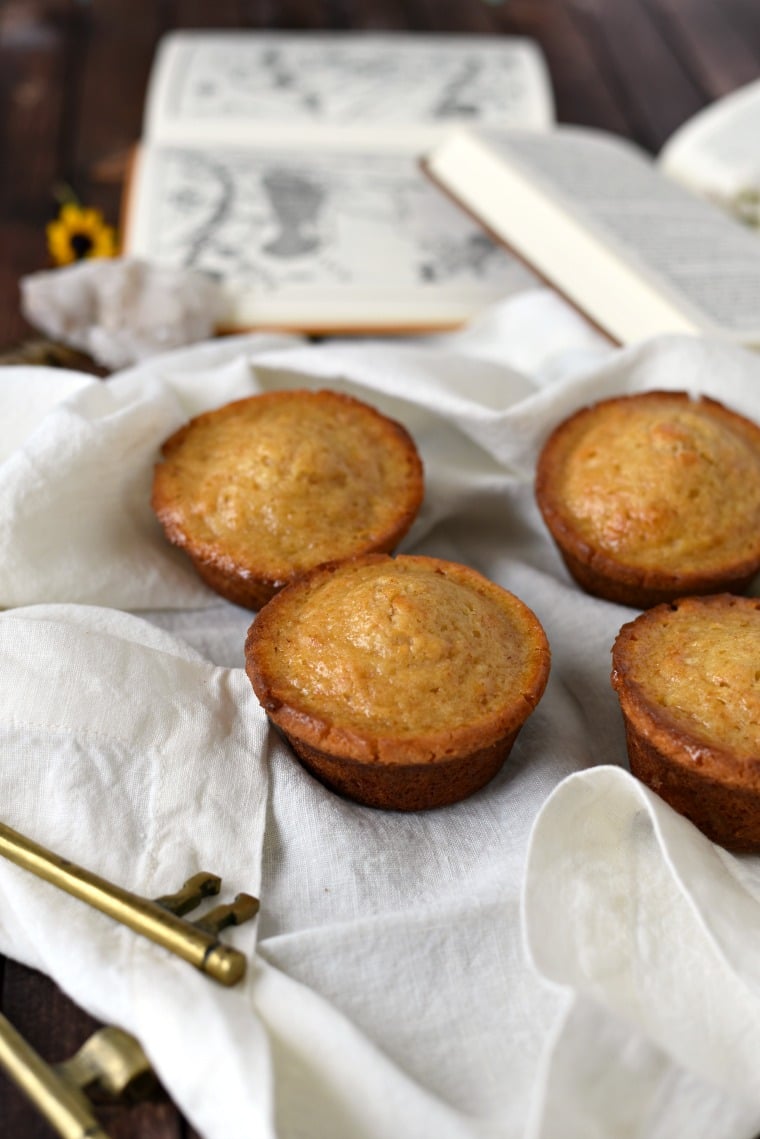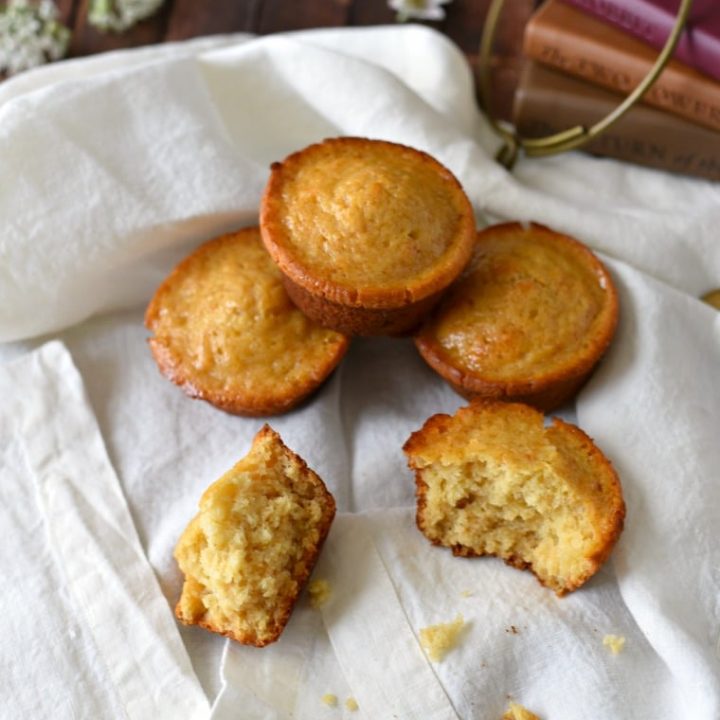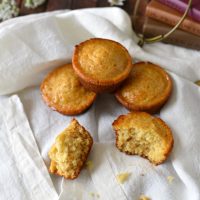 Ingredients
1 ¾

cup

flour

1 ½

tsp

baking powder

½

tsp

salt

½

cup

1 stick unsalted butter, room temperature (plus about 3 TBSP for greasing muffin pans)

zest 1 lemon

¼

tsp

freshly ground nutmeg

¾

cup

milk

2

eggs

¾

cup

high quality honey + 1/4 cup honey for drizzling on top

1

tsp

vanilla
Instructions
Preheat the oven to 350F.

Using a silicone pastry brush and really, really soft butter, "paint" the inside of the muffin wells to grease them. Set aside.

In a medium bowl, whisk together the flour, baking powder, salt, nutmeg and lemon zest.

Using a fork, or very clean fingers, mix in the room temperature butter to the flour mixture until it looks like a sandy/gravely mixture. Set aside.

In a small bowl whisk together the milk, eggs, honey, and vanilla.

Pour the liquids over the dry mixture and combine until just combined - do not over-mix.

Spoon the batter into 12 muffin wells - it will be between 1/4 cup and 1/3 cup of batter each.

Bake for 16 minutes, or until mostly done but not quite golden enough.

Remove from the muffin pan (Be super careful, its hot! This is why you want to grease the pan really well!) and place the muffins on a silpat lined rimmed baking sheet.

Warm the remaining 1/4 cup honey in the microwave for about 10 seconds.

Using a silicone pastry brush, coat the tops of the cakes with the honey (its ok for it to drip down the sides). Allow to sit for about 5 minutes to let the honey soak into the cakes.

Bake for an additional 8-10 minutes, or until the cakes are golden brown.

Remove from the oven and allow to cool.

Enjoy!
Nutrition
Serving:
1
g
|
Calories:
180
kcal
|
Carbohydrates:
39
g
|
Protein:
4
g
|
Fat:
2
g
|
Saturated Fat:
1
g
|
Polyunsaturated Fat:
1
g
|
Cholesterol:
33
mg
|
Sodium:
183
mg
|
Fiber:
1
g
|
Sugar:
24
g
Looking for other fun Book Based Recipes? Check out these Harry Potter and Game of Thrones inspired recipes: