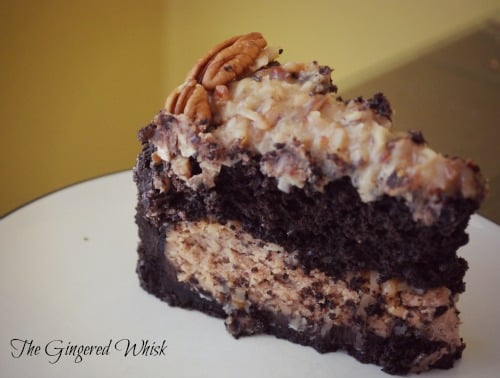 It's my birthday and I'll make my own cake if I want to! Yup, that's right. Today is my birthday! My Golden birthday to be exact – I'm turning 30 on December 30. I definitely don't feel 30, but I don't think I could put a number on how I "feel". And yes, I do like to make my own birthday cake. I feel like there are never enough times during the year to make a really good cake from scratch, and a birthday is definitely one of those occasions. Since my husband insists on a store bought cookie cake for his birthday (honestly…), I always want to make something special for my birthday. Because, it's my birthday! I actually made this amazing German Chocolate Cheesecake for Christmas, but I wanted to have a cake to share with you today. I'll post my birthday cake in a few days! 🙂
Taking a look at this cheesecake, you might think that it is complicated and hard. And while it will take you the better part of an afternoon to make, it is not hard. Repeat – time does not = difficulty. So often I see people look at a long recipe and immediately assume it is way beyond their skill level. This is sooo not the case (ok, sometimes it is). This recipe is a fantastic example of that. There are five components to this cheesecake, and start to finish, it took probably 2 hours, plus extra chill in the fridge time. But each component is very simple to put together, and I guarantee that as long as you can follow directions (and even I have problems with that sometimes) you can make this!
And you will be sooo happy that you did make this! This cheesecake is rich and decadent, but amazingly delicious. Each part is delicious by itself, but put together, it is a total show stopper. We took this to Christmas dinner and everyone loved it. I was super happy that there were a few pieces left that we could bring home and eat later.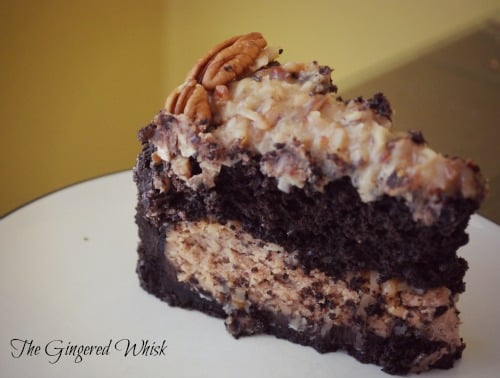 German Chocolate Cheesecake
This cheesecake is rich and decadent, but amazingly delicious. Each part is delicious by itself, but put together, it is a total show stopper.
Ingredients
Crust:
1 package of chocolate sandwich cookies (think oreos, but go cheap)
6 TBSP butter, melted and cooled
small pinch of salt
Ganache:
1/4 cup + 2 TBSP heavy cream
5 ounces semi-sweet chocolate chips
Cheesecake:
24 ounces (3 packages) cream cheese, room temperature
3/4 cup sugar
3/4 tsp vanilla extract
3 eggs, room temperature
3 ounces chocolate chi[s, melted and cooled
Cake:
3/4 cup flour
3/4 cup sugar
1/4 cup + 2 TBSP unsweetened cocoa powder
3/4 tsp baking soda
3/8 tsp baking powder
1/4 tsp salt
1 egg
1/4 cup + 2 TBSP buttermilk
1/8 cup + 1/2 TBSP vegetable oil
1/4 cup + 2 TBSP warm water
1/2 tsp vanilla
Filling:
2/3 cup heavy cream
2/3 cup sugar
2 egg yolks
2 ounces butter, cut into small pieces
1/3 tsp salt
2/3 cup pecans, toasted and finely chopped
1 cup unsweetened coconut, toasted
Instructions
Crust:
Using a food processor, finely crush all the cookies (and frosting, too!) until they are crumbs.
Toss in the melted butter and pinch of salt until well combined.
Toss the crumbs into a buttered springform dish, and using a flat bottomed glass, press the crumbs all the way up the sides of the pan and evenly on the bottom (using a twisting motion helps the crumbs not stick to the glass). Be patient, it takes some time, but they will go.
Ganache:
Place the chocolate in a medium bowl.
In a medium saucepan, bring the cream to a simmer.
Pour the cream over the chocolate and allow to sit for 1-2 minutes.
Whisk smooth.
Pour the ganache over the bottom of the crust.
Place the springform pan in the freezer for 30 minutes to harden.
Cake:
Preheat oven to 350F.
Butter a 9″ round cake pan.
Cut a circle of parchment paper and place it in the bottom of the cake pan, and butter the bottom.
In a large bowl, whisk together the flour, sugar, cocoa, baking soda, baking powder, and salt.
Add the egg, buttermilk, warm water, oil, and vanilla.
Whisk until well combined and smooth.
Pour into the pan and bake 25-30 minutes.
Let the cake cool in the pan for 10 minutes before removing to a wire rack to cool completely.
Cheesecake:
In a medium bowl, beat the cream cheese and sugar until well blended and creamy.
Add the eggs one at a time, mixing well between each addition.
Add the chocolate and mix until combined.
Pour over the prepared crust and smooth the top with a spatula.
Bake for 55 minutes or until almost set (the top may crack, but you're going to cover it anyway so its ok!)
Cool completely, and then chill in the fridge until ready to assemble.
Filling:
Place the butter, salt, toasted coconut and toasted pecans in a medium bowl.
In a small saucepan, heat the cream, sugar, and egg yolks over medium heat, stirring constantly, until the mixture is thickened and reaches 170F on a candy thermometer.
Pour the mixture over the coconut mixture and stir until the butter is melted.
Set aside to cool.
Assembly:
Place half of the coconut filling on the top of the cheesecake and spread it evenly.
Carefully place the chocolate cake layer on top.
Spread the remaining coconut filling on the top of the cake layer and smooth out.
Decorate the top of the cake with pecans!
Chill for 3 hours or overnight.
When ready to serve, wrap the springform pan in warm dishtowels for a minute or two, and then remove the springform pan.
Serve and Enjoy!