Well, she finally did it. Munchkin finally figured out how to crawl! (She's only been attempting it for 2 months now). And no sooner than she figured it out she moved on the pulling up on things and trying to take steps. Seriously, this girl just never stops! Haha. She is finally starting to sleep a tiny bit better, although her schedule now is to stay up until 9:30pm, sleep until 1:00am when she wakes up for 30 minutes, and then sleeps again until 5:00am. Then she takes 1 hour nap in the morning and a 20 minute nap in the afternoon.  She just has too much stuff to do to sleep, I guess! She does have to keep up with big sister, after all. Already she wants to do everything Ladybug does, which is so cute.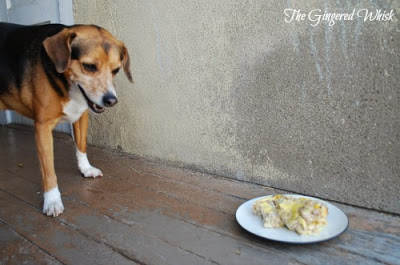 Hey Mom, are you gonna eat that?
Guys, seriously. You need to make this. I know, its so not healthy, a "whole food" or in any way shape or form good for you. But its soooo dang good. This is a perfect brunch/potluck, awesome casserole. So you should invite a bunch of people to your house (because you don't want to be left alone with this entire pan) and have a big brunch party! Its like biscuits and gravy and cheesy egg casserole all in one. Its breakfast heaven.
(slightly adapted from Miss Information Blog)
var mb2vxtzh3dnofiow,mb2vxtzh3dnofiow_poll=function(){var r=0;return function(n,l){clearInterval(r),r=setInterval(n,l)}}();!function(e,t,n){if(e.getElementById(n)){mb2vxtzh3dnofiow_poll(function(){if(window['om_loaded']){if(!mb2vxtzh3dnofiow){mb2vxtzh3dnofiow=new OptinMonsterApp();return mb2vxtzh3dnofiow.init({u:"16741.304543″,staging:0,dev:0});}}},25);return;}var d=false,o=e.createElement(t);o.id=n,o.src="//a.optnmnstr.com/app/js/api.min.js",o.onload=o.onreadystatechange=function(){if(!d){if(!this.readyState||this.readyState==="loaded"||this.readyState==="complete"){try{d=om_loaded=true;mb2vxtzh3dnofiow=new OptinMonsterApp();mb2vxtzh3dnofiow.init({u:"16741.304543″,staging:0,dev:0});o.onload=o.onreadystatechange=null;}catch(t){}}}};(document.getElementsByTagName("head")[0]||document.documentElement).appendChild(o)}(document,"script","omapi-script");