Crab Cake Mermaid Bowl Recipe Inspired by Princess Ariel
This Crab Cake Mermaid Bowl Recipe is a fun summer weeknight meal that takes minimal cooking! Inspired by our favorite mythical creature, the mermaid, this salad bowl is filled with ingredients that remind us of the sea, fun textures and colors, and perfectly delicious crab cakes. The mermaid rice has all-natural coloring and makes this kid-friendly meal irresistible!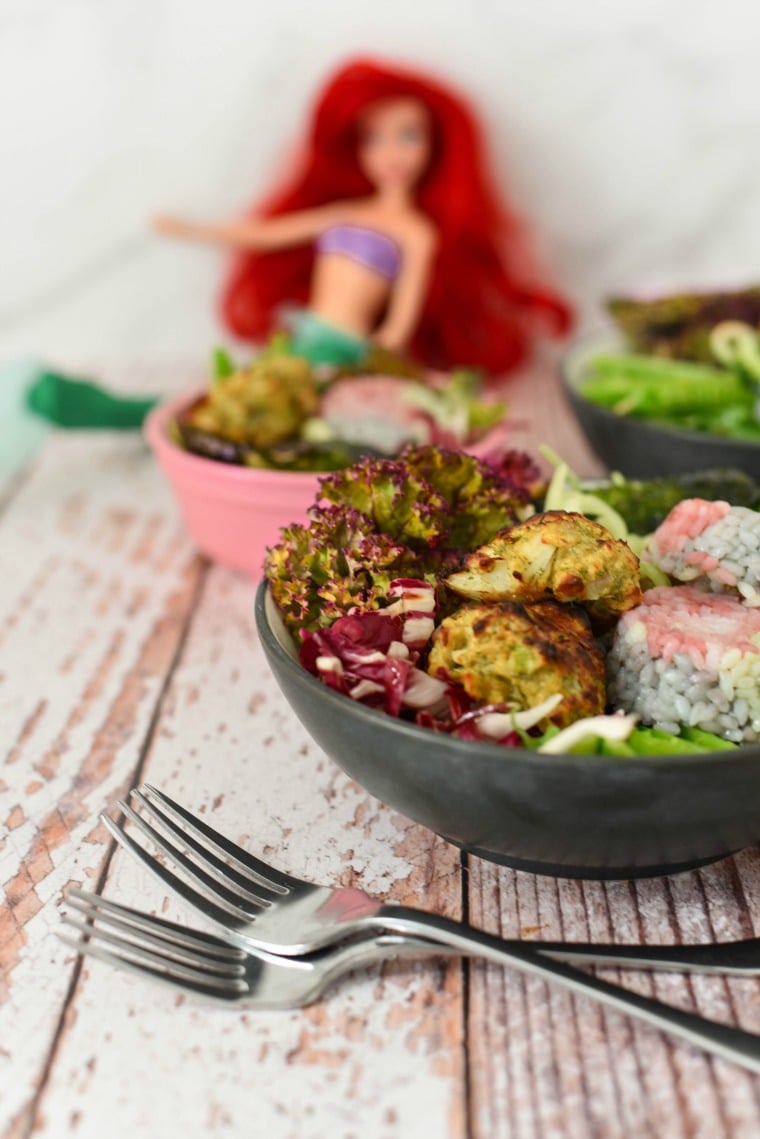 This mermaid bowl recipe is probably the hardest and most challenging recipe I have ever developed. I clearly take my job way too seriously, because I was seriously stressing out over this one. Yes. I just admitted that I stressed out over creating a weeknight meal based on a mermaid. But really – what would a mermaid eat? And how to you make it weeknight accessible AND kid friendly? I'm telling you, this one had me up at night. So I hope you enjoy what I created!
Welcome to the Eat Like A Princess Series!
I designed this series as a fun way to teach my daughters about new cultures through the classic Princesses in hopes that they will become more open to trying new foods, to understand other cultures better, and to enjoy exploring the world around them. All while still:
containing real food
be super easy
take about 30 minutes (or as close to it as we can).
What Does A Mermaid Eat?
To answer the question of what a mermaid eats, we first have to decide what our definition of a mermaid is. In mythology, there are two main theories. Mermaids appear in mythology around the world, dating as far back as Assyria. Sometimes, mermaids are considered "sirens of the sea" who delight in causing shipwrecks and luring sailors to their deaths. In the Pirates of the Caribbean movies, the Mermaids lure sailors with their beautiful songs before dragging men to the bottom of the ocean to devour them. And in Harry Potter, the mermaids are known to be fierce, warlike, and definitely delight in drowning humans. It isn't stated explicitly what they eat, but with their sharp weapons and even sharper teeth, I am guessing they were omnivores, if not completely carnivorous. In the Disney version of "The Little Mermaid", King Triton refers to humans as "barbaric fish eaters" – which leads the viewer to believe that they are vegetarian. Except that their body types surely could not have survived off of plankton and sea kelp, right? They need more than that – so maybe mollusks, crustaceans? Maybe they hunt turtles and dolphins? They can talk with crabs and fish, but they used dolphins like we would horses. Sooo…. ? Seriously, I went waaaaay down the rabbit hole with this one. You should have seen the looks my husband was giving me when I tried to discuss this with him. Pretty sure he was wondering about my sanity level…
I decided that Mermaids were probably like humans – some tend to be more carnivorous (hello paleo diet!), some more vegetarian, and some are total omnivores. And since I am running this site and creating the recipes, my final decision totally wins. BECAUSE I SAID SO. And because at the end of the day, I have been thinking about what Ariel would eat for over a freaking year now and I was totally torn. It was time to make a decision and "get off the pot", if you know that saying (and if you don't, look it up). So a combination of veggies and meat won!
Be thankful I didn't go with a bowl full of sea kelp…
About The Little Mermaid
The story of "The Little Mermaid" was written by Hans Christian Anderson in 1837. For the most part, the story plot is very similar to the Disney version. The main difference is the deal with the sea witch – in order to gain an eternal soul (she wants this as much as to marry the prince), the mermaid gives up her voice and gets legs in exchange. BUT not only can she dance as beautifully as she once sang, it feels like she is walking on sharp knives and her feet will bleed terribly. And if she fails to convince the Prince to marry her, she will die and turn into sea foam the day after his wedding.
Another difference in the original tale is that the sea witch doesn't upset the mermaid's plans by turning into a girl – the Prince does this himself when he announces he will get married to a princess form a neighboring land. The Prince gets married and the mermaid's heart is broken. She is just about to dissolve into sea foam (warning – this is where it gets super crazy!) when her sisters arrive with a special knife they bought off the sea witch (they traded all their hair for it – that's sisterly love!). If the mermaid kills the prince and drenches her feet in his blood she can return to being a mermaid!
She is just about to do him in when she realizes she can't. Instead, she jumps off the ship, and dissolves into sea foam. But instead of turning into nothing, she realizes her spirit has ascended into the air – where she meets others like her, who tell her that because she strove to obtain an immortal soul, and because of her selflessness, she has the chance to earn her own soul by doing good deeds for humans for the next 300 years – and if she successes she earns herself a spot in the Kingdom of God.
Didn't see that one coming, did you?
[embed_popupally_pro popup_id="8″]
Mermaid Crab Cake Bowl Recipe
This recipe is an easy summer time recipe that humans and mermaids alike can enjoy! The crab cakes take seriously only minutes to prepare, and the rest is just chopping! I chose ingredients that reminded me of the sea, either for their color,  texture, or where they actually come from. I choose purple radicchio and purple kale (they reminded me of coral), and I also added some arugula because it kind of looked like a sea vegetable of some kind. I sliced Sugar Snap Peas in half because they totally remind me of octopus tentacles (tell me I am not the only one who sees that!). I also spiraled a cucumber into long curly strips. Add in some strips of nori seaweed paper and gorgeously all natural colored mermaid rice and you have your self a fun mermaid inspired recipe!
How to Make Mermaid Rice
You can totally use food coloring to color your rice if you want, but I opted for an all-natural option instead! You can use the following ingredients below to achieve each color. I found that the big containers of these were really expensive, and I didn't want to spend $20 each for one spoonful, so instead I found these awesome smoothie packs at my grocery store that I used! They had the same ingredients but only cost $2 each! WIN! You can find them, or something similar, in the dietary supplement health food section of your local grocery store.
Blue and Green – Spiralina powder (it comes in two varieties/colors)
Pink – Beetroot powder, acai powder, or crushed dried raspberries
Yellow (not shown, but an option) – ground turmeric

(affiliate link)
Take 2 TBSP of apple cider vinegar and divide it into 3 separate bowls. Mix in one spoonful of color into each of the vinegars until well combined. Then add the cooked sushi rice and stir until the colors are well mixed! That's it!
Get Your Kids In the Kitchen
Kids 1-3 can help you wash and tear the kale and arugula into bite sized pieces, measure ingredients for the dressing, help scoop the dry rice, and help set the table.
Kids 4-7 can help you do everything above, plus slice the radicchio and sugar snap peas, help stir/color the rice, cut the nori into strips.
Kids 8-10+ can help you do everything above, plus help you mix and make the crab cakes.
Read More about Mermaids:
Jenni Ward/The Gingered Whisk is a participant in the Amazon Services LLC Associates Program, an affiliate advertising program designed to provide a means for sites to earn advertising fees by advertising and linking to Amazon.com.
Crab Cake Mermaid Bowl Recipe Inspired by Princess Ariel
This Crab Cake Mermaid Bowl Recipe is a fun summer weeknight meal that takes minimal cooking! Inspired by our favorite mythical creature, the mermaid, this salad bowl is filled with ingredients that remind us of the sea, fun textures and colors, and perfectly delicious crab cakes. The mermaid rice has all-natural coloring and makes this kid-friendly meal irresistible!
Print
Pin
Rate
Ingredients
Mermaid Rice:
1

cup

sushi rice

2

cups

water

1

TBSP

apple cider vinegar

1

spoon each of super food powders
Crab Meatballs:
1

shallot

minced

1

cup

crackers

crushed

1

tsp

dijon mustard

1

TBSP

lemon juice

1 ½

cup

lump crab

3

TBSP

melted butter

1

dried parsley

1

TBSP

worcestershire sauce

salt and pepper to taste

1

egg
Dressing:
2

TBSP

olive oil

2

TBSP

lime juice

¼

tsp

salt

¼

tsp

pepper
Assembly:
1

head purple raddichio

sliced

1

cup

sugar snap peas

sliced in half

1

cucumber

spiralized

1

nori seaweed wrap

cut into strips (or several of the little snack pieces)

4

cups

purple kale

4

cups

arugula
Instructions
How to make Mermaid Bowls:
In a medium bowl, cook sushi rice according to package directions.

In 3 small bowls, divide the apple cider vinegar equally and mix in one spoonful each of the beetroot powder and spiralina separately and in one bowl a spoonful of each (to make pink, green, and purple/blue).

Divide the rice equally to the three bowls and mix until well combined.

Take a small bowl or container and spray with cooking spray. Using hands also sprayed with cooking spray, place small amounts of each colored rice into the the bowl and press to form a dome of rice.

Turn the bowl over and tap the bottom of bowl to get the rice to fall out.

Gently set aside.
To Make the Crab Cakes:
Preheat the broiler to Medium-High.

Line a baking sheet with foil and spray with cooking spray. Set aside.

In a large bowl, combine the ingredients for the crab cake gently until combined (but don't like, MIX it so much that you shred the crab to pulp).

Gently form into balls (you should get a total of 12) and place 2" apart on the cookie sheet.

Broil for 1o minutes, flipping over halfway through.
Dressing:
In a large measuring cup, whisk together the ingredients until combined.

Drizzle over the salad bowls.
To Assemble:
In four separate bowls, add the shredded radicchio, kale, and arugula.

Add in the spiraled cucumber, sliced sugar snap peas, and nori strips, and top with the balls of mermaid rice and crab meatballs.
Nutrition
Serving:
1
g
|
Calories:
401
kcal
|
Carbohydrates:
37
g
|
Protein:
17
g
|
Fat:
22
g
|
Saturated Fat:
8
g
|
Polyunsaturated Fat:
13
g
|
Trans Fat:
1
g
|
Cholesterol:
115
mg
|
Sodium:
781
mg
|
Fiber:
5
g
|
Sugar:
9
g
SaveSave
SaveSave