This Greek Souvlaki Recipe is inspired by "The Odessey" and wanting to share Ancient Greek Culture and Recipes with my children. The Beef Kabobs are easy to make, full of colorful vegetables, and are served with an awesome feta and dill dipping sauce!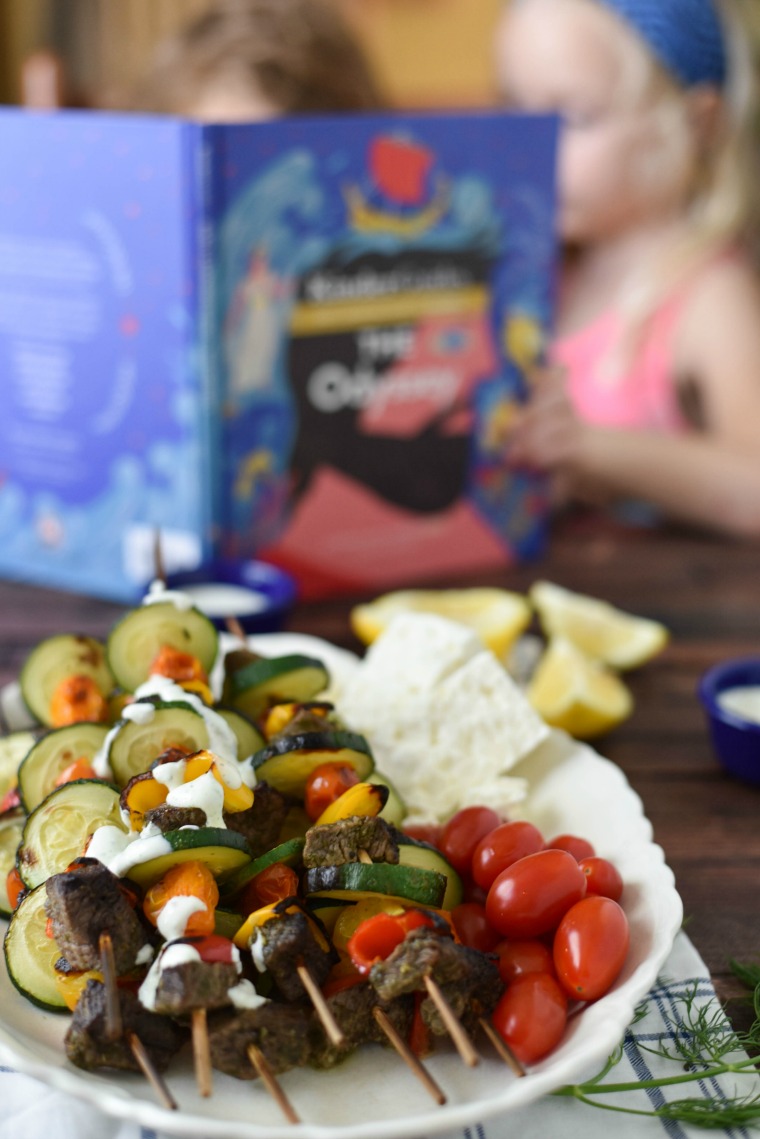 Have you ever had a story imprint itself on you so thoroughly that you are sure you will remember it for the rest of your life? When I was little my Dad told my brother and I a bedtime story that I will never forget. I have read many books that have left a lasting impression, but only one feels like it has left its imprint so deep inside me that it will stay with me forever.
The story? The Odyssey. After we were asleep, my Dad would read a chapter on his own, and the next evening he would recite his version of the tale for us. There was no movie, there were no pictures. It was story telling like they used to do around a campfire late at night, and we ate it up.
Years later, in my high school English class we were required to read The Odyssey" by Homer. My teacher thought I was being inattentive because I was working on my Spanish homework instead of reading. He was all like "Hey, you need to read this! We have a test over it next week." I replied back that I knew the story already. He didn't believe me at all – because why would a high schooler have a classic greek epic memorized? So he quizzed me. And then he let me go back to my Spanish homework.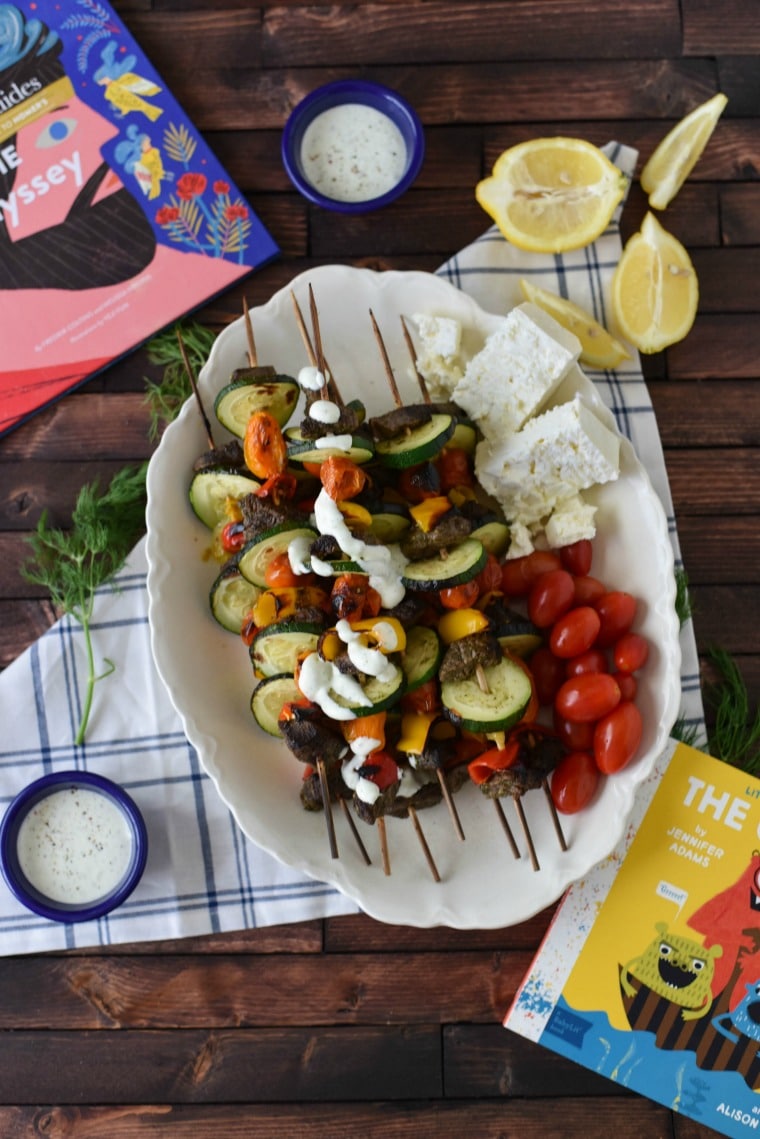 Historically Hungry – Recipes Made New
This post may contain affiliate links. As an Amazon Associate, I earn from qualifying purchases.
This month for our Historically Hungry series, Amy and I decided that we wanted to focus on Ancient Greek Recipes! Unearthing and revitalizing traditional recipes is super geeky and we love it, and we hope it inspires you to add something a little new (well, older) to your menu! This month Amy has made an amazing Pantzaria me Skordalia, which is roasted beets with a garlic-potato spread, and I made a recipe for Greek Souvlaki Skewers! (Skewers or Kebabs? I can never decide what they should be called.)
It just so happened that the day after we picked Ancient Greece I was perusing a local bookstore and found this amazing book titled Kinderguides: The Odyssey. I was literally squealing with glee in the aisle! A retelling of the classic story made for kids! With gorgeous pictures! There was no way that I wasn't buying it. Then a few steps later I ran across the Baby Lit: The Odyssey book and I called it a sign!
Greek Souvlaki Recipe
So this recipe isn't 100% exactly an "ancient" recipe. But they were inspired by the book The Odyssey. In the book, when Odysseus and his men leave Troy and finally head home, it isn't long before they run out of food.
They stop at a nearby island and steal some cows and barbecue them on the beach. They then stop at another island and find a cave filled with sheep milk and cheese (psst – thats feta!), which happens to be the Cyclops's island. I won't tell you the rest of the story, because if you have already know it, then you know it; and if you haven't read it then you need to!
But I took the bbq'd beef and the feta and I ran with it.
How to Make Greek Beef Kabobs
These Beef kabobs come together super easily.
I used my Magic Bullet to whip up both the marinade and the feta dill dressing in no time at all. The thick and creamy dip is greek yogurt, dill, feta, and more garlic. Sooooo good!
The steak got a few minutes to marinate in the classic greek flavors of olive oil, lemon juice, garlic, and oregano.
Then just skewer up some zucchini, colorful cherry tomatoes, and sweet red and yellow peppers to add fun colors and some veggies to the meal.
Grill for a few minutes until done, and then serve with the dip and some fresh feta cheese.
Easy peasy!
How To Get Your Kids In The Kitchen:
Kids aged 1-3 can help you set the table, wash the produce, pick the dill and oregano leaves off the stems, and help you whip up the marinade and dressing.
Kids aged 4-6 can help you do all the above, plus slice the vegetables.
Kids aged 7-10+ can help you do all the above, plus help cube the meat and assemble the skewers.
*Please note that these recommendations are generalized, and to please use your personal discretion with your child's skill level. And always, always supervise!
Check out these other great Mediterranean meals for families!
Yield: 4 Servings
Greek Beef Souvlaki Skewers Recipe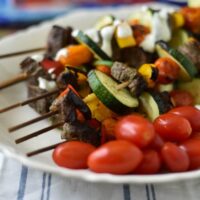 This Greek Beef Souvlaki Skewers Recipe is inspired by The Odessey and wanting to share Ancient Greek Culture and Recipes with my children. The Beef Kebabs are easy to make, full of colorful vegetables, and are served with an awesome feta and dill dipping sauce!
Ingredients
Marinade:
1/4 cup olive oil
2 cloves of garlic
2 TBSP fresh oregano
1/2 tsp salt
1/4 tsp pepper
juice of 1 lemon
1 TBSP fresh mint
1.5 lb Steaks of choice - I prefer tenderloin cubed, but you can use whatever you want
Feta Dill Dip
1/4 cup feta
1/4 cup milk
1/2 cup plain greek yogurt
2 TBSP lemon juice
1 garlic clove
2 TBSP fresh dill
salt and pepper to taste
For Skewers:
Grape Tomatoes
1 zucchini
1 Sweet yellow or Red pepper (or several mini peppers)
Instructions
Set about 12 wooden skewers into some water to soak until you need them.
In a food processor combine the ingredients for the marinade until combined.
Pour into a large plastic ziplock bag or a glass container with a lid.
Cut the beef into bite sized cubes, removing any excess fat and sinew.
Add the beef to the ziplock bag and allow to marinate in the fridge while you prepare the rest of the ingredients.
In a clean bowl of your food processor, combine the ingredients for the feta dill dip (feta, milk, greek yogurt, lemon juice, garlic, dill and salt and pepper) and combine until smooth.
Pour the dip into a clean container with a lid and place in the fridge until ready to eat.
Wash the cherry tomatoes, peppers, and zucchini. Slice the peppers into 1" pieces and the zucchini into coins.
Preheat your broiler or grill.
Take the skewers out of the water and start assembling your kebabs by alternating the beef cubes, cherry tomatoes, zucchini slices and pieces of sweet peppers. Repeat until everything is skewered.
Grill or broil for 10-12 minutes on medium high, rotating halfway through for even cooking, and then let them rest for 5 minutes before serving.
Serve the kebabs with the feta and dill dip.
Notes
Add some couscous and fresh fruit for a well rounded salad.
Nutrition Information:
Yield:

4
Serving Size:

1
Amount Per Serving:
Calories:

744
Total Fat:

53g
Saturated Fat:

18g
Trans Fat:

0g
Unsaturated Fat:

29g
Cholesterol:

194mg
Sodium:

578mg
Carbohydrates:

10g
Fiber:

3g
Sugar:

4g
Protein:

56g
Love this recipe for Greek Beef Kabobs ? Leave a comment and let me know!
SaveSave
SaveSave
SaveSave
SaveSave
SaveSave