Homemade Soup in the crock pot that is creamy and delicious with a minimum amount of prep-work and a maximum amount of comfort!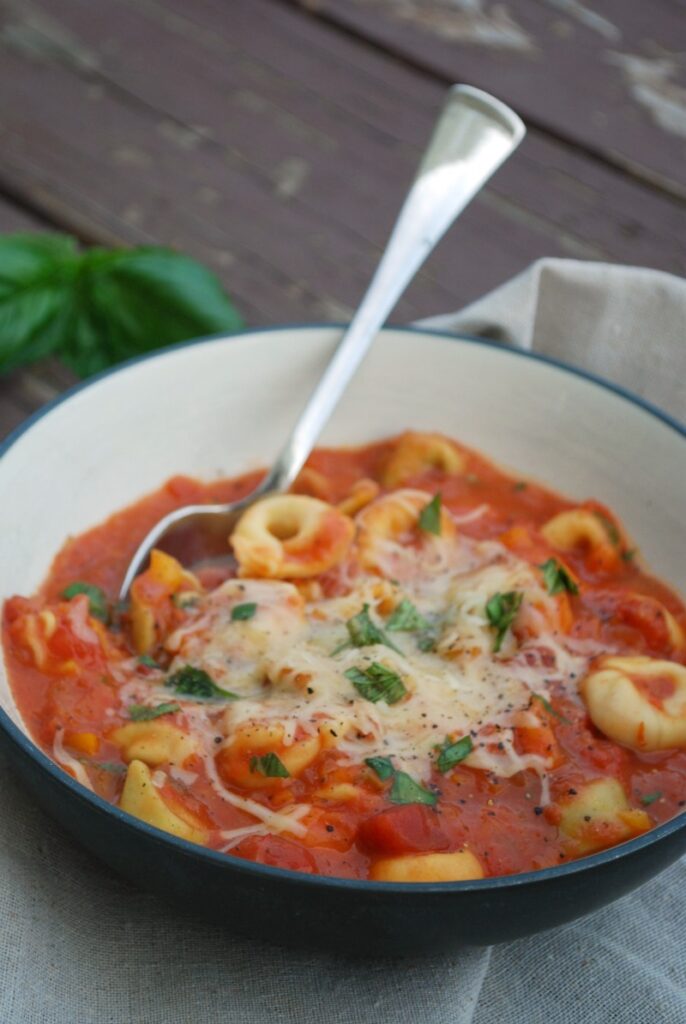 This post contains affiliate links for your convenience. Click here to read my Disclosure Policy.
Nothing says "comforting meal" during the fall and winter like a big bowl of soup. But often soups and stews take about an hour to make from start to finish, and busy weeknights make it hard to fit that in.
Enter the crock pot!! Dumping everything in the crock in the morning and having an easy dinner ready for you is literally a huge life saver – especially when you are having to hustle between school and evenings activities.
I wanted to create an easy tomato basil soup in the crock pot and make it almost effortless. A lot of recipes call for finely chopping your veggies before you add them into the crock pot – but honesty, who has time to do that? The morning hours are crazy enough without having to wake up 30 minutes early so you can finely dice your veggies.
Another method some people recommend is to rough chop things in the morning, and then use a blender before you serve to make your soup as smooth as silk. This sounds awesome in theory, but have you ever tried to blend boiling hot soup? Maybe its just me, but seriously – this is a recipe for disaster. I always make a giant mess, and I always fling soup the temperature of lava all over my clothes, my counters, and the kitchen rug (it used to be white, by the way. It's not anymore). No, thank you!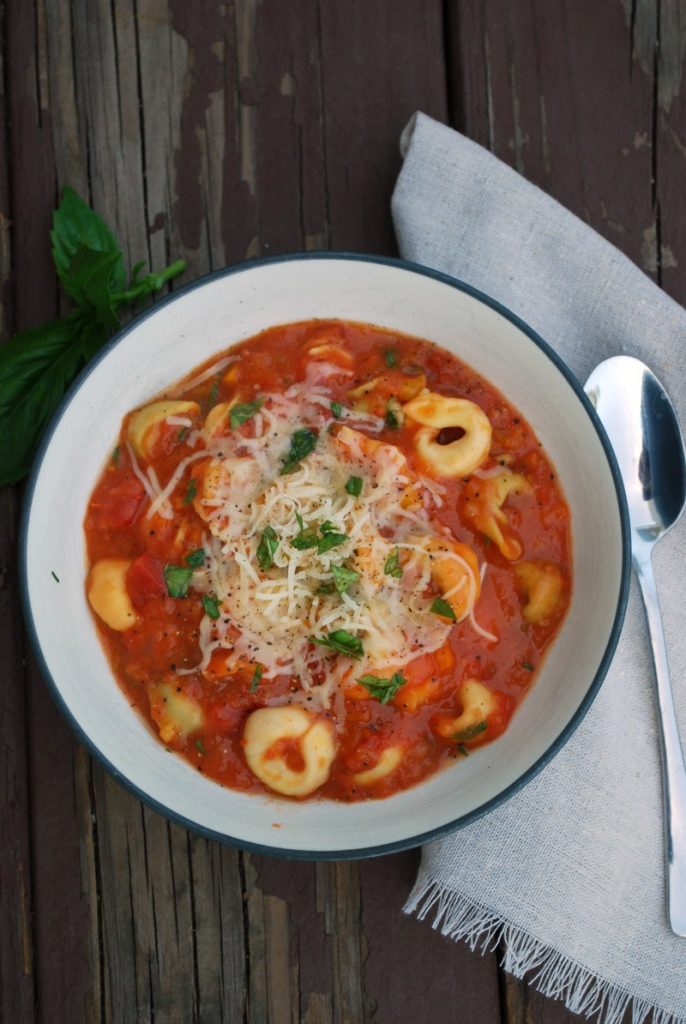 My easy solution —- use a food processor!! Using the chop or puree setting to finely dice your onions, celery and carrots into tiny pieces not only cuts down on all that prep work, but it also makes the blending unnecessary. The nice thing about this is you can also make the veggies as finely diced, or pureed, as you want with just a few pushes of a button.
Then right before you eat, make a quick roux to help thicken up your soup and give you a nice consistency – add a few more ingredients and you are ready to eat! Homemade soup with a small amount of work, and the max amount of flavor!
Love this recipe? Try this Roasted Red Pepper Soup!
Print
Crock Pot Tomato Basil Soup with Cheese Tortellini
Author:

Prep Time:

10 minutes

Cook Time:

7 Hours

Total Time:

7 hours 10 minutes

Yield:

6-8 servings

Category:

Soup

Method:

Crock Pot

Cuisine:

American
---
Description
Homemade Soup in the crock pot that is creamy and delicious with a minimum amount of prep-work and a maximum amount of comfort! 
---
Ingredients
28 oz crushed tomatoes
15 oz petite diced tomatoes
3 stalks celery
3 carrots
1 small yellow onion
4 cups chicken broth
2 TBSP Butter
1/4 cup flour
1 tsp oregano
1/4 tsp pepper
1/2 tsp salt
1 package refrigerated cheese tortellini
1/4 cup fresh basil
fresh parmesan or shredded italian cheese blend
---
Instructions
Use a food processor to finely dice/puree the onion, carrot and celery (you may have to do these separately depending on the size of your food processor).
Place the pureed veggies into the crock pot along with the tomatoes chicken broth.
Put the lid on and allow to cook for 7 hours on low.
In a large skillet, melt the butter on medium heat.
Whisk in the flour until well combined, and continue to whisk for 1 minute.
Take out about 1.5 cups of the hot stock out of the crock pot and slowly, 1/4 cup of a time, whisk into the flour in the skillet. Whisk one addition completely in before adding the next 1/4 cup.
When all the stock has been added, allow to cook for 1-2 minutes more.
Transfer this into the crock pot and add the cheese tortellini with the oregano and salt and pepper.
Place the lid on and allow to cook for about 15 minutes more.
Stir in the fresh chopped basil before serving.
Top with fresh grated parmesan cheese or shredded italian cheeses.
Love Crock Pot Recipes? These Recipes BELONG in your meal plan!