This easy chicken tikka masala recipe is flavorful without being too spicy! A great weeknight meal the whole family will love!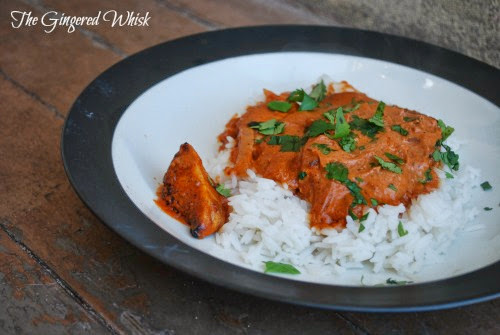 For years after we first got married I tried to persuade my husband to try Indian food. He refused, each time, stating that he didn't like it. Finally I gave up asking, and just longed for it from afar.
Then we moved to West Virginia (not exactly where you would expect to find Indian food…) and one of my husband's attendings happened to be from India! Well, wouldn't you know it, but his wife cooked Joel a bunch of delicious food and Joel decided, low and behold, that he liked it.
Imagine that…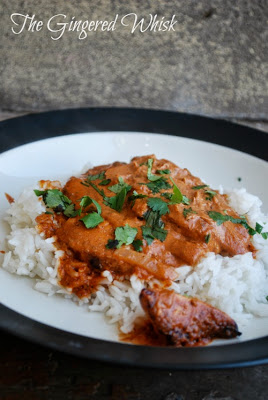 And then we found that there is a food truck, seriously 3 blocks from our house that sells Indian Food! Score! The problem is that now Joel loves it, and its so close to our house, and its $30 for dinner before its all said and done. Which isn't bad, but considering Joel wants to eat there every single week… it adds up.
So I set out to find a good recipe that we could enjoy at home, and not cost us a small fortune every time we eat.
This recipe ended up being great – it was quick to make, and super delicious. I think that food truck is going to take a hit in business, since we will be cooking at home instead!
This post contains affiliate links. If you make a purchase using the links provided, I receive a small commission which helps me maintain this blog and continue to bring you more awesome weeknight family recipes. If you would like more information on this you can read more on my Disclosure Page. Thank you so much for supporting me and my blog!
Easy Chicken Tikka Masala
Total Time:
1 hour
20 minutes
This traditional chicken tikka masala recipe is easy and flavorful, and perfect for serving to families!
Ingredients
Marinade:
1 cup plain greek yogurt
1 TBSP lemon juice
1 TBSP fresh minced ginger
1 tsp salt
1 clove garlic, minced
2 tsp cumin
1 tsp cinnamon
1/4 tsp cayenne pepper
1 tsp pepper
3 chicken breasts, cut into strips
Sauce:
2 TBSP olive oil
1 garlic clove, minced
1/4 cup chopped onion
3 tsp garam masala
1/2 tsp salt
1 cup half & half
8 oz tomato sauce
1/4 jalapeño pepper, diced (seeds removed) optional
1/4 cup cilantro, chopped
For Serving:
4 cups cooked basmati rice
Instructions
In a large ziplock bag, combine all the ingredients for the marinade.
Seal, squish so the chicken is covered, and refrigerate for at least 1 hour.
Discard marinade.
Cook chicken either on the grill or broiled on high for 6 minutes.
Use tongs to turn the chicken over and broil for an additional 6 minutes.
To make the sauce, heat the oil in a large skillet over medium heat.
Sautee the garlic, onion, and jalapeño for 1 minute.
Add the garam masala and salt, and stir continuously for 1 minute.
Stir in tomato sauce and half & half.
Simmer on low for 20 minutes, until the sauce thickens slightly.
Add the cooked chicken and simmer for 10 more minutes.
Serve over cooked basmati rice and sprinkle with fresh cilantro.
Nutrition Information:
Yield:

4
Serving Size:

1
Amount Per Serving:
Calories:

561
Total Fat:

18g
Saturated Fat:

6g
Trans Fat:

0g
Unsaturated Fat:

11g
Cholesterol:

101mg
Sodium:

1294mg
Carbohydrates:

58g
Fiber:

3g
Sugar:

8g
Protein:

41g
(from Tastes Better From Scratch)