Homemade Granola with Earl Grey and Strawberries
This homemade granola recipe is a simple and quick breakfast idea, but infused with flavor from earl grey tea (affiliate link), orange zest and dried strawberries. Crunchy clusters with tons of flavors and add-ins, this quick breakfast idea is a great recipe that lasts for days, and is great to gift as well!
Usually when it come to breakfast, I am on the back seat of the struggle bus. Our morning routine is usually divided into work time and then attempting to get three small girls ready for the day as smoothly as possible. Often I realize, as we head out the door, that I haven't actually eaten anything myself. The best way for me to ensure that I have something I can "grab and go" is to intentionally prepare a recipe that will last a few mornings, like freezer breakfast sandwiches, or a healthy but delicious muffin recipe.
This homemade granola with earl grey and dried strawberries is a favorite of mine – its packed with flavor so it isn't boring (and I actually remember to eat breakfast before I'm so starving I'm grumpy), and it makes a big batch which lasts for days! I love being able to put some in a mason jar with a tag and give to a friend as a "just because" gift!
Homemade granola is so easy to make, packed with great ingredients and naturally sweetened. Its a great healthier and easy breakfast option!
Once you try this easy homemade granola recipe you won't go back to store-bought!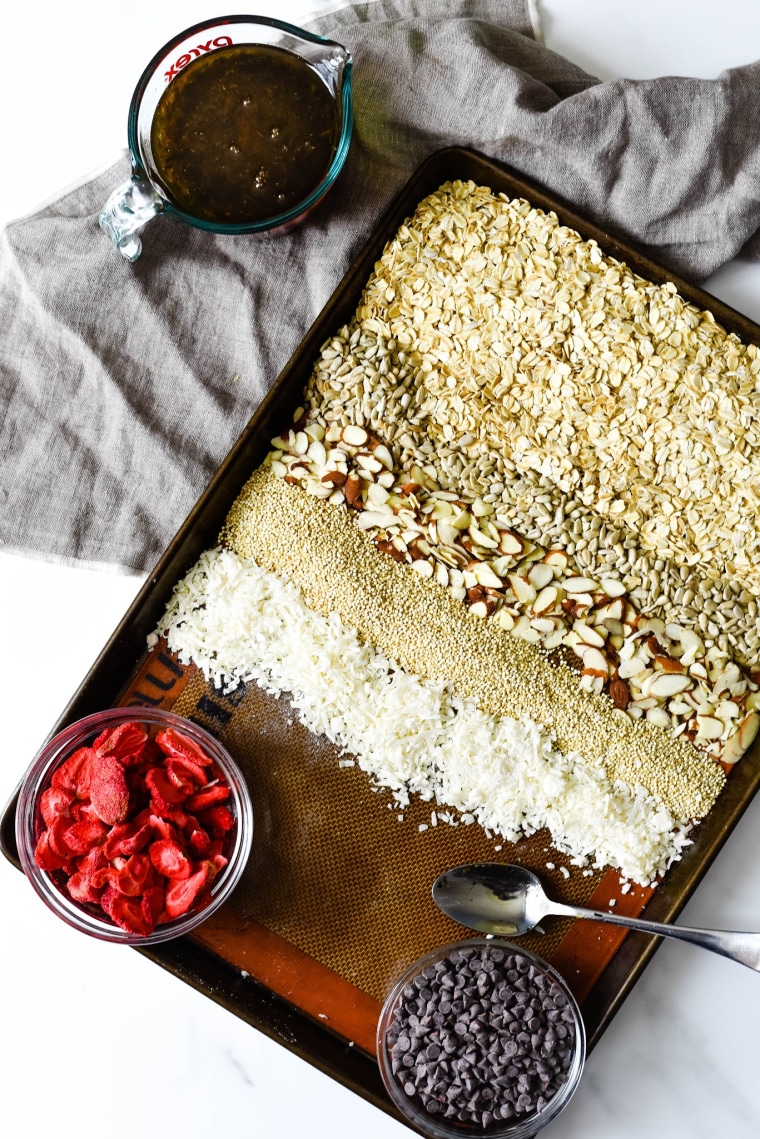 How to make homemade granola
Homemade granola is so easy to make! The fun part of granola is that there are so many different ingredient options you can add to granola.
The key to making great granola is to know when its done – make sure you give the granola plenty of time to cool all the way – it will continue to crisp and firm up as it cools, so even if it doesn't seem done, its done when its toasty!
It is important to use a nice big sheet of parchment paper on a rimmed baking sheet here. The parchment paper will help the sweetened syrup stick to the granola and not the pan.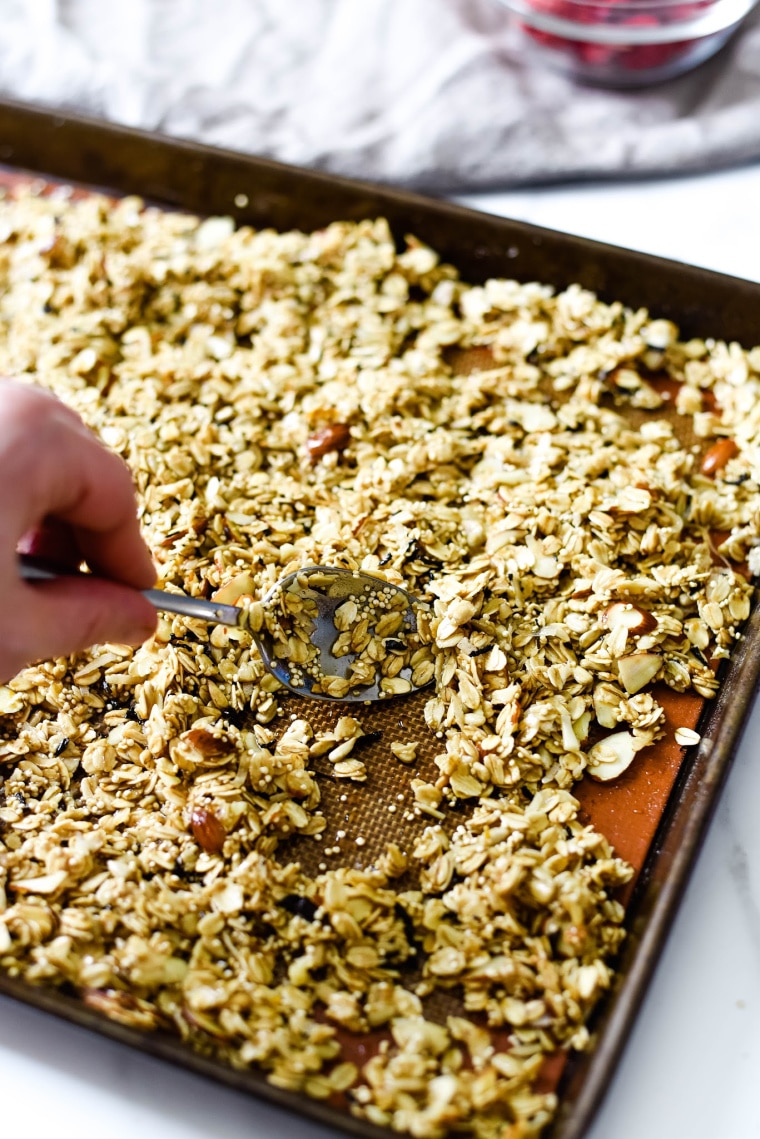 Ingredients in homemade granola
Homemade granola is full of awesome ingredients that provide you with energy, keep you full for longer, and don't have any weird additives. I love that you can change and combine your favorite things to make it suit you!
Old Fashioned Oats

– to get that chewy, hearty texture to your granola you want Old Fashioned oats. Avoid the "instant" or "quick cooking" oats as they won't give you the end product you want.

Oil

– You need a little fat to help the oats get toasty and crispy. You can use coconut oil or olive oil, depending on what you have on your pantry.

Nuts and Seeds

– packing a nutrient punch and tons of crunchy, this recipe has sliced almonds and sunflower seeds. You can also use walnuts or pecans if you want!

Dried Fruit

– Dried fruit adds a bit of sweetness and fun texture to this homemade granola recipe. We used dried strawberries and coconut here, but you could also use dried blueberries.

Spices

– Cinnamon and cardamom give a hint of spiciness that pairs perfectly with the earl grey tea. Together with orange zest, you get a unique and flavorful combination!

Sweetener

– I like my granola on the sweeter side, so I used maple syrup to add some great flavor and all natural sweetness to this granola recipe. You could also use honey or regular sugar.

Other Mix-Ins

– Granola is so great because you can add in lots of fun "extras"! I added in mini chocolate chips here! Make sure the granola is completely cool before you mix these in, though.
How do you get big clumps in granola?
The trick to getting nice big clumps of granola is super simple – its all about the pressing and stirring.
Gently press the granola into the pan in an even layer, and stir only once during the baking process. When you remove the pan from the oven, give the granola one last firm press in the pan and allow to cool completely – even overnight if you need to.
If you want less big clumps (I actually like my granola with smaller clumps because it's easier for my kids to eat), simply stir several times during the cooking and when you evenly spread the granola back into the pan give it a light press instead of a firmer one.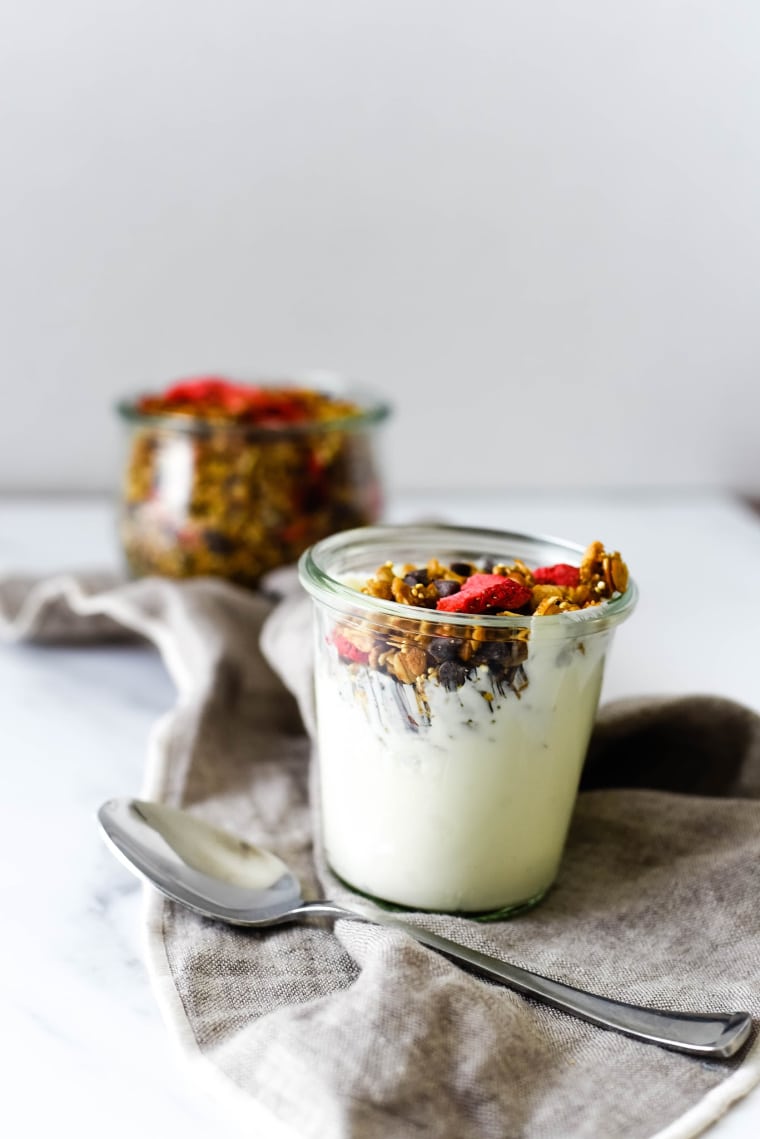 How long does homemade granola last?
Homemade granola will last about 3-4 weeks.
Allow to cool completely and then store in a glass, air tight container on the counter or in your pantry.
You can also freeze it up to 3 months.
What can you do with granola?
Homemade granola is so versatile and such a great easy breakfast!
Eat granola straight out of the container

Top your favorite yogurt with granola

Sprinkle on top of a salad with fresh berries and a light dressing.
There's is nothing I love more than seeing you guys make my recipes! Tag @thegingeredwhisk and use the hashtag #gingeredwhisk on social media when you make my recipes so that I can share them and maybe even feature you. And follow along to get the latest updates:
And don't forget to subscribe to the email list to get all the extra tips, tricks and bonuses!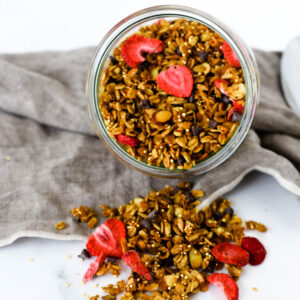 Homemade Granola with Earl Grey and Strawberries
This homemade granola recipe is a simple and quick breakfast idea, but infused with flavor from earl grey tea, orange zest and dried strawberries.
Print
Pin
Rate
Ingredients
1

cup

honey

⅔

cup

water

¼

cup

olive oil

3

teaspoons

loose leaf good quality earl grey tea

1

teaspoon

vanilla

zest and juice of 1/2 an orange

1

teaspoon

ground cinnamon

½

teaspoon

ground cardamom

2 ½

cup

old fashioned oats

⅓

cup

sunflower seeds

⅓

cup

sliced almonds

⅓

cup

whole flax seeds

⅓

cup

uncooked quinoa

⅓

cup

coconut flakes

1

cup

dried strawberries

⅓

cup

mini chocolate chips
Instructions
Preheat oven to 300F.

Line a rimmed backing sheet with a silicone baking mat or a large piece of parchment paper. Set aside.

In a small sauce pan, combine the honey, water, and olive oil.

Heat to boiling and then reduce the heat and allow to simmer for 5 minutes, or until just slightly thickened.

Turn off heat and stir in the tea leaves, vanilla, orange zest and juice, ground cinnamon and ground cardamom. Allow to sit for 3-5 minutes while the tea leaves steep.

On the prepared baking sheet, mix together the oats, sunflower seeds, almonds, flax seeds, quinoa, and coconut flakes.

Pour the prepared syrup over the granola ingredients and stir to combine.

Evenly spread the mixture into as much of a single layer as you can, slightly pressing the mixture into the pan.

Bake for 35 minutes, stirring occasionally, until toasty and golden.

Allow the granola to cool completely in the pan.

When completely cool, mix in the dried strawberries and mini chocolate chips.

Store in a an air-tight glass container with a lid.
Notes
*If you want big chunks of granola, only stir after 15 minutes of baking and press the granola back into the pan evenly.
*If you want smaller chunks of granola, stir after every 10 minutes of baking, and evenly spread the granola back into the pan.
Nutrition
Serving:
1
g
|
Calories:
322
kcal
|
Carbohydrates:
49
g
|
Protein:
6
g
|
Fat:
13
g
|
Saturated Fat:
3
g
|
Polyunsaturated Fat:
10
g
|
Sodium:
235
mg
|
Fiber:
5
g
|
Sugar:
31
g