This dish is light but full of flavor and clean ingredients. I love that the pork chops are simple – just salt and pepper. The star of the dish here is really the apple-kohlrabi slaw. If you have never had kohlrabi before, it is a member of the cabbage family, although it looks closer to a turnip. Kohlrabi has a sweet and slightly peppery flavor, and is nice and crisp. It kind of reminds me of a sweet radish, you can eat it raw or cooked.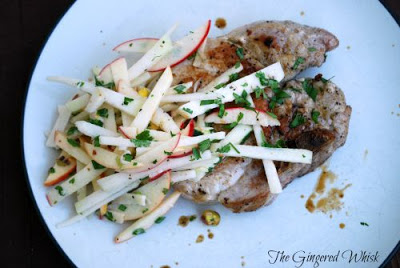 The weather has been so gorgeous lately, I haven't wanted to spend much time in the kitchen. The changing of the seasons is always one of my favorite times, when you can see changes happening on a daily basis. And I love having all the windows in my house open and letting the fresh breeze come through. And invariably blowing every loose paper and napkins it can find onto the floor. But picking up papers all day is worth how wonderful and clean the house smells, don't you agree?
Simple Pork Chops with Apple-Kholrabi Slaw
For days when you don't want to spend forever cooking over a hot stove, this dinner is where its at! The majority of the time you will spend to prepare this dinner will be chopping and preparing the slaw.
The good news is that while it might take some hands on time in the kitchen, its very easy! And you can still have dinner on the table in 20-30 minutes (depending on how fast you can chop).
Resist the urge to prepare the slaw while the pork chops cook. While this would help get dinner on the table faster, the slaw really needs the few minutes of cooking to marinate and blend its flavors together.
Pair this with brown rice or quinoa if you need a starch on your plate.
Love Pork Chops? Try these easy weeknight pork chop recipes:
Grilled Pork Chops with Orange and Grape Salsa

– Summer on a plate! These easy spiced grilled pork chops are paired with a vibrant and fun salsa that is perfect for hot steamy summer nights.

Cocoa Spiced Pork Chops with Berry Compote

– These easy pork chops are rubbed with a cocoa and spice mixture that gives them a lovely depth of flavor that the whole family will enjoy. Served with an easy berry compote that that turns these easy weeknight pork chop recipe into a special meal.

Smothered Pork Chops with Mashed Cheddar Buttercup Squash

– These braised pork chops are smothered in a tomato and mushroom sauce and paired with cheesy mahed buttercup squash for a hearty and flavorful fall meal.

Grilled Pork chops with Cherry Couscous

– These grilled pork chops is simple but tasty! The couscous is the real star of the show in this easy weeknight meal.

Braised Pork Chops with Cherry Sauce

– These easy braised pork chops are a perfect 30 minute recipe. Served with an easy balsamic cherry pan sauce made with leeks and rosemary . Special enough for a Sunday dinner but easy enough for a quick weeknight!

Pork Chops with Apple Cranberry Sauce

– This Pan Fried Pork Chop Recipe with Apple Cranberry Sauce is an easy family friendly weeknight meal with simple ingredients but tons of flavor.
Yield: 4 Servings
Pork Chops with Apple-Kohlrabi Slaw
These simple pork chops are easy to prepare and are amazing when paired with this crisp and bright apple-kohlrabi slaw. A perfect weeknight meal for your family!
Ingredients
4 Bone In Pork Chops
3 Green Onions, thinly sliced
3 TBSP Pistachios, shelled and roughly chopped
1 Apple
1/2 cup fresh chopped Cilantro
1 clove Garlic, minced
1 Kohlrabi
1 Lime
2 TBSP Tahini
Instructions
Allow the Pork Chops to come to room temperature while you prepare the slaw:
Use a knife to peel the skin off the kohlrabi.
Peel the apple (if you wish, you can leave the apple peel on) and slice both the apple and the kohlrabi thin and then cut into matchsticks.
In a medium bowl, combine the apple and kohlrabi matchsticks, the green onions, the garlic, the juice of the whole lime and the tahini. Set aside.
In a large dry pan, heat the chopped pistachios on medium-high heat to toast them for 1-2 minutes - watch them because they will burn fast!
Transfer to a small bowl.
Pork Chops:
Salt and Pepper the pork chops on both sides.
In the same pan as before, heat 2 TBSP olive oil.
Cook the poor chops 6-8 minutes per side, or until cooked through.
Assembly:
While the pork is cooking, add the pistachios and all but a pinch of the cilantro (save this for later) to the apple and kohlrabi mix. Toss well and season with salt and pepper to taste.
Transfer the pork chops to a plate (leaving any drippings in the pan), tent with foil and set aside.
Add 2 TBSP of water to the pan, and simmer for 1-2 minute, or until slightly reduced in volume.
Stir in half of the remaining cilantro and remove from heat.
Place each pork chop on a plate and serve with slaw.
Garnish with the remaining cilantro and Enjoy!!
Nutrition Information:
Yield:

4
Serving Size:

1
Amount Per Serving:
Calories:

448
Total Fat:

24g
Saturated Fat:

6g
Trans Fat:

0g
Unsaturated Fat:

14g
Cholesterol:

132mg
Sodium:

124mg
Carbohydrates:

14g
Fiber:

4g
Sugar:

7g
Protein:

44g
Recipe from Blue Apron
SaveSave