This rainbow veggie pizza has a special place in our meal rotation lately. It is perfect for a quick meal (lunch or dinner!), and its also a sneaky fun way to get your kiddos to eat their veggies. PLUS — Check out the recipe for a super easy 10 MINUTE Pizza Crust Recipe!
One of the things I get asked all the time is about teaching kids to eat their veggies in a fun and easy way. And by "fun and easy" I mean anything that doesn't involve threatening to throw away a favorite toy. Over the years I have noticed that my kiddos are 1000X more likely eat their veggies if they are in charge of what goes onto their plate. My solution is to get them involved in the meal process. That means they will be much more likely to be excited and willing to try it. Which hugely increases their chances to actually enjoy it!
My hints for making this work:
Start at the grocery store – Make it a game to see who can find ingredients for each color
Have kiddos help you wash and dice (if age appropriate) the produce
Have your kiddos help to roll out the pizza dough
Make it a rule that everyone (yes, even mom and dad!) have to choose at least one thing from each color
I recommend you use parchment paper for this meal! The parchment paper will help you to roll out the pizza dough easily. It will help you to easily transfer your rainbow veggie pizza creation from the counter to the oven to the table. Plus it makes an easily disposable plate!
Print
Rainbow Veggie Pizza + How to Get Kids to Eat Their Veg
Author:

Prep Time:

5 minutes

Cook Time:

10 minutes

Total Time:

15 minutes

Yield:

4 servings

Method:

Bake

Cuisine:

American
---
Ingredients
**5 Min Pizza Dough**
1 cup warm water
1 packet of yeast (or 2 1/4 tsp)
1 tsp sugar
2 cups flour (+ more for kneading and rolling)
1 tsp salt
2 TBSP olive oil
**Toppings**
1 cup Pizza Sauce
2 cups Shredded Cheese
1 red pepper
1 tomato
1orange peppers
1/2 cup shredded carrots
1/2 cup corn
1 yellow peppers
1 green bell peppers
1 cup spinach
1/2 cup broccoli
1/2 cup shredded purple cabbage
1/2 cup thinly sliced red onion
---
Instructions
In a large bowl, mix the warm water, sugar and yeast.
Allow to sit for 1 minute until its slightly frothy.
Add the flour, salt and olive oil and mix with a fork until its a shaggy mess.
Flour a clean counter and knead the dough for 4 minutes.
Place the dough back into the dirty bowl and cover with a dish towel.
Allow to rest for 5 minutes.
Divide the dough into 4 small balls and roll out into circles.
Place each portion of dough onto a piece of parchment paper.
Top each portion of pizza dough with sauce and shredded cheese and then at least one topping from each color (that's the key, you have to make it a rule that you have to do one thing from each color!)
Transfer the parchment paper to a cookie sheet and bake for 8-10 minutes (or until the cheese is melted and the crusted is just beginning to become golden brown).
Remove and allow to cool for a minute or two before slicing and enjoying!
---
Notes
** Parchment paper is AWESOME for this meal. Not only does it help you roll out the dough, but it also makes moving the pizzas between table –> oven –> table super easy. Plus, just go ahead and use it as your plate and then throw it away when you are done eating! Makes clean up super easy!
Looking for other ways to get your kids interested in eating veggies? Check out this easy Crock Pot Pork Ramen!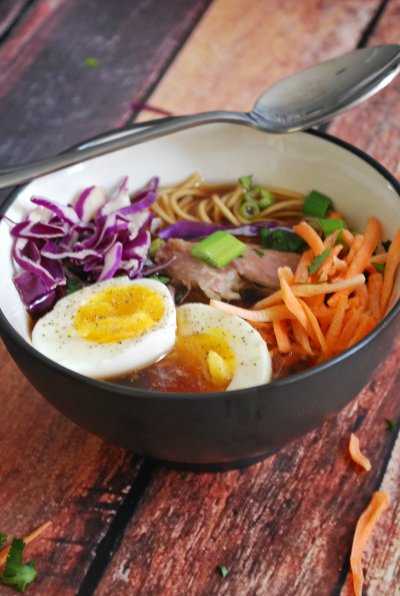 And Check out the "Eat Like A Princess" Series! Designed to introduce easy to make new foods and cuisines from around the world to children while they eat meals their favorite princesses would have enjoyed!