This quick and easy Chicken Tikka Masala Pizza is a fun way to get the Indian flavors you crave, in a simple dinner recipe!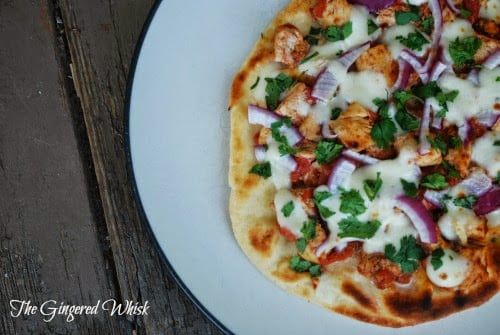 Today is the day! Movers should be arriving shortly to pack my entire house (its still crazy to me that people I don't know are going to be packing my belongings). When they are done packing they will load up the moving van (probably tomorrow) and then we will clean the house and hit the road! Joel still has 2 weeks of residency left here, so the girls, pups and I are driving ourselves (with the help of my gracious in-laws) over to Iowa. Joel will stay with friends and I will attend the closing of our house and then start moving in! Soooooo very excited. So excited.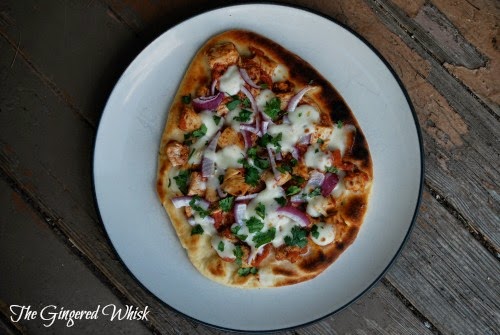 Chicken Tikka Masala Pizza
Meanwhile, I wanted to share this fun pizza with you. Ever since we discovered that we love Indian food, we have been consuming a massive amount of chicken tikka masala. Its seriously the best ever. (And since we found this awesome simmer sauce at the grocery store we can seriously have it on the table in like, less than 15 minutes). So when I found this recipe I knew I wanted to give it a try! Its so easy, and is really delicious! Its not quite chicken tikka masala, but the flavors are there, and it was really good. Plus its fun to say fast.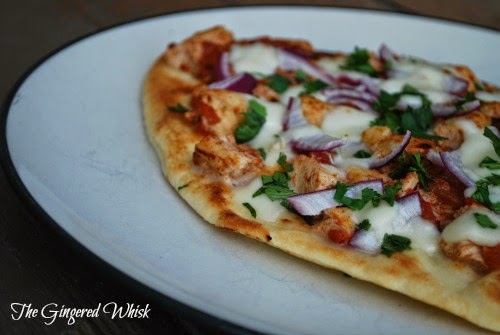 Love Pizza? Try these other fun and family friendly pizza recipes:
Yield: 4 Servings
Chicken Tikka Pizza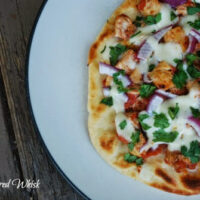 Enjoy the taste of chicken tikka masala in a fun flatbread style pizza!
Ingredients
12 ounces skinless, boneless chicken breast halves
1/4 cup plain greek yogurt
2 tsp garam masala, divided
cooking spray
1/2 + 1/8 tsp salt, divided
14.5 ounce can unsalted diced tomatoes
1 TBSP olive oil
1 tsp grated peeled fresh ginger
1/4 tsp ground red pepper
3 garlic cloves, minced
2 TBSP heavy whipping cream
4 whole wheat pitas or naan
1/3 cup thin vertically sliced red onion
3 ounces mozzarella cheese, shredded (about 3/4 cup)
2 TBSP fresh cilantro leaves, chopped
Instructions
Preheat broiler to high.
Cut chicken into strips.
In a bowl combine the chicken, yogurt, 1/2 tsp garam masala and 1/8 tsp salt.
Place on foil lined baking sheet coated with cooking spray and broil 5 minutes per side.
Heat a large skillet over medium-high heat.
Drain the tomatoes and place in a mini chopper (or just dump out on a cutting board) and chop until mostly smooth.
Add oil to pan.
Add the 1 1/2 tsp garam masala, ginger, red pepper and garlic to pan and cook 1 minute, stirring occasionally.
Stir in tomatoes and simmer 4 minutes.
Stir in 1/2 tsp salt and the cream and cook 1 minute.
Cut the chicken into pieces and toss in the sauce.
Place the pitas or naan on a baking sheet and broil 1 minute per side.
Spoon 1/2 cup of the chicken mixture onto each and spread on top.
Top with onion and cheese.
Broil 2 minutes
Sprinkle with cilantro and Enjoy!
Nutrition Information:
Yield:

4
Serving Size:

1
Amount Per Serving:
Calories:

557
Total Fat:

17g
Saturated Fat:

6g
Trans Fat:

0g
Unsaturated Fat:

9g
Cholesterol:

98mg
Sodium:

699mg
Carbohydrates:

61g
Fiber:

8g
Sugar:

10g
Protein:

43g
(
Cooking Light
, April 2013)