Skillet Ricotta Gnocchi Recipe with Sausage
This one pan Skillet Ricotta Gnocchi Recipe is an easy weeknight meal the whole family will love! Inspired by Briar Rose from the Sleeping Beauty fairy tale, this 30 minute meal is hearty, packed with protein, and one your family will love!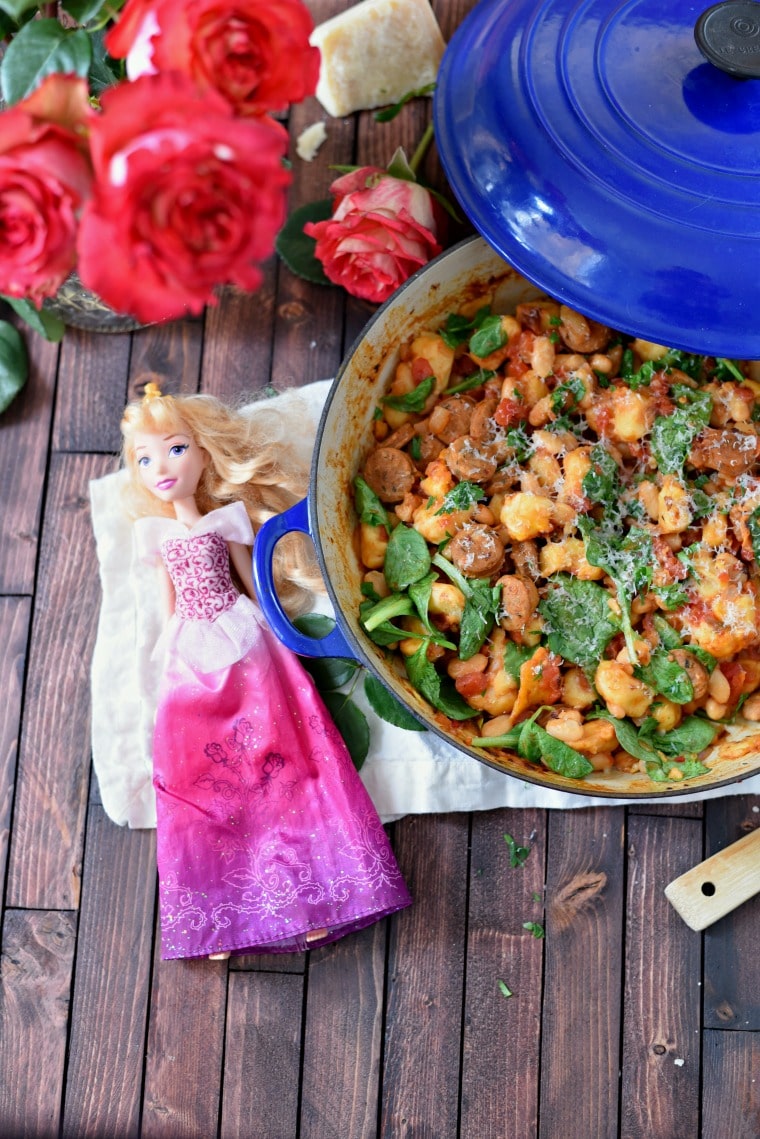 Welcome to the Eat Like A Princess Series!
I designed this series as a fun way to teach my daughters about new cultures through the classic Princesses in hopes that they will become more open to trying new foods, to understand other cultures better, and to enjoy exploring the world around them. All while still:
containing real food
be super easy
take about 30 minutes (or as close to it as we can).
The Princess Aurora Story
This lovable fairy tale that we all know has a rather long and twisted history. I tried to make this as short as I could, but the whole thing was kind of ridiculous and I didn't want to leave anything out! You can totally skip down to the recipe, but I found the history of Briar Rose/Princess Aurora to be kind of interesting!
A long time ago (in 1528, to be precise), in a land not-so far away (it was France), a tale called "Perceforest", was published.
In 1636, Giambattiasta Basile wrote a version influenced off of "Perceforest". In his version, a king learns that his newborn daughter Talia's life is in danger from a splinter of flax. She of course, gets pricked, and falls asleep. Her father puts her sleeping body on a velvet throne and then closes the doors of the mansion and leaves forever. One day another King is walking by, finds the house, lets himself in, and discovers the Princess asleep. He then (and I quote) "gathers the first fruits of love"…. uuuuuuhhhhhh….. yeah… Then he leaves. Of course. Princess Talia, still asleep, gives birth to twins, one of which keeps sucking on her fingers and sucks out the flax splinter. Talia wakes up, and I imagine totally freaks out to find herself a mother. She names her children "Sun" and "Moon". One day, Mr King decides to come pay another visit and finds the Princess awake and with babies. He decides to stay for a few days anyway, because why not. When he goes home, his Queen (Yes, he is married) hears him mumbling in his sleep and figures out what has happened. She writes a letter pretending to be the King and asks that the kids be sent to the castle. Talia agrees, and the Queen tries to have the cook fix the children for dinner as a way to repay her husband for his infidelity. The King discovers it, has the Queen jump into a tub of boiling tub of poisonous snakes and other foul creatures, and then marries the Princess.
Then in 1697,  Charles Perrault, takes the previous story and comes up with his own version, which he titles "Sleeping Beauty". The story that Charles Perrault writes is pretty similar to what we know. A King and Queen long for a baby, and when a princess who they called is finally born, they celebrate with a big party! Seven good fairies are invited and they bestows their gifts to the Princess. Apparently there is another, much older fairy, who everyone kind of thought was dead – and she crashes the party. And she is seriously ticked at being left out. And she gives the princess a terrible present worse than that re-gifted white elephant Christmas sock collection. She's feeling a little spiteful at being left out, so she enchants the Princess to one day prick her finger on a spinning wheel and DIE. (If that is the kind of gifts she gives out, it probably wasn't an "accident" that she didn't get an invitation, you know?). The last good fairy alters the curse so that the Princess will only fall asleep for 100 years and must be awaken by a Prince's Kiss. All the spinning wheels are destroyed, life returns to normal, and then when then one day the Princess finds a spinning wheel… and falls asleep for 100 years. The good fairies in turn decide to enchant the entire castle so that everyone falls asleep and a wall of brambles and thorns rises up to protect the castle. One day a Prince comes, fights through the thorns, kisses the Princess, and everyone wakes up and lives happily every after. Well, kind of… The Prince marries the Princess in secret. He comes a calling every now and then and eventually they have twins, one of which is named "Aurore". Eventually he decides to bring his family home, and his mother freaks out (apparently she is an ogre?) and she tries to eat the children. He then has her killed. And THEN everyone gets to live happily every after.
Princess Aurora vs Briar Rose
Later, the Brothers Grimm, who vehemently deny they knew about Perrault's version, come out with theirs in 1812. Their version of "Briar Rose" is the tamest, without having any rape, adultery, or eating of small children. Their tale ends when the Prince awakens the Princess with a kiss, and we are just led to believe they live Happily Ever After.
Because this story is a literal melting pot of many stories, that's why we get both names at the same time. When Disney made their version, they named the princess Aurora, but also gave her the nickname of Briar Rose, both names a nod to her history.
Are you still with me? Good! That was kind of crazy, wasn't it? But I thought it was really interesting how all the different versions have been kind of interwoven into each other to create what we now know today. I thought it was a really interesting way the different tales became intermingled. So… Lets get to the food, shall we?
[embed_popupally_pro popup_id="8″]
Skillet Ricotta Gnocchi with  Sausage, Beans and Spinach Recipe
I kind of went off on a limb here and decided that Briar Rose was placed in Northern Italy/Southern Germany area, kind of bordering the Alps. I know that Phillip has a line that says "After all, this is the fourteenth century!" but the clothing is more similar to early Renaissance fashion than medieval, so I bumped the time up to sometime between the fourteenth and fifteenth centuries.
A staple of Northern Italian cuisine is gnocchi, which are like little pillowy dumplings. Traditionally made out of mashed potatoes, this rustic pasta was perfect peasant food, so it would have been something exactly like Briar Rose would have eaten while hiding out in her cottage with her fairy godmothers. I also added some Italian chicken sausage and white cannelloni beans for tons of protein, a handful of spinach for even more protein and fiber (and color), tomatoes, and a generous sprinkling of fresh parmesan cheese. This one pan meal only takes 40 minutes to make, but its hearty and delicious!
Homemade Ricotta Gnocchi
A lot of times handmade gnocchi takes a while to make. Between straining the ricotta and getting those cute little fork-marks on the dumplings – that's more of a weekend thing. And I get it – sometimes you want to send the kids to grandma's and just work on perfecting your gnocchi rolling like your secret inner Italian grandma.
Buuuut 5/7th of the time its a weeknight and you just need to get dinner on the table. During those times, its not perfection I seek – its connection with my kids, an easy meal, and not a ridiculous amount of dirty dishes to wash later.
This Skillet Ricotta Gnocchi Recipe totally fits the bill. I decided to make my gnocchi with store-bought ricotta (because cheese always wins over potatoes at my house), totally skipped the straining part, and didn't even attempt the perfect fork marks.
Done is better than perfect, right?
The dough will be wet and kind of sticky. Use a well floured counter and hands and a light touch to roll your gnocchi into logs or worms, like you would with play dough. Then use a sharp knife to cut into little 1/2″ pieces. A good spreader with a serrated edge would work well, too.
Once you master this gnocchi recipe, make sure you try this Baked Pumpkin Gnocchi with Thyme and Parmesan!
Tasks Get your Kids in the Kitchen:
Kids 1-3 can help you mix the gnocchi, measure the stock, measure the spices, pour the ingredients in, and help set the table.
Kids 4-7 can help you do everything above, plus roll and cut the gnocchi, open the cans of tomatoes, beans and stock, and help stir everything together.
Kids 8-10+ can help you do everything above, plus slice the sausage into coins, and help serve.
*Please note that these recommendations are generalized, and to please use your personal discretion with your child's skill level. And always, always supervise!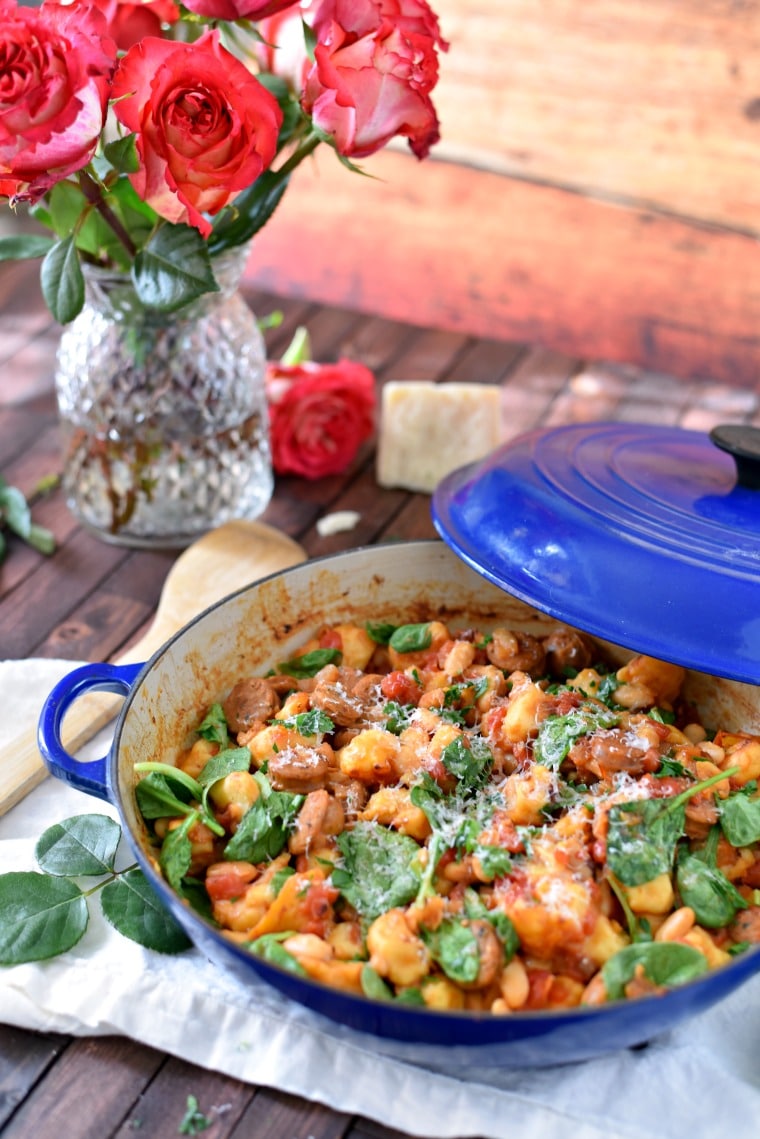 More About Princess Aurora:
*This post contains affiliate links. See more about what that means on my disclosure page.
I am a big fan of pairing a new food or recipe with books. Peaking your children's interest with something new before you sit down to eat.
Fairytales Gone Wrong: Get Some Rest, Sleeping Beauty!: A Story About Sleeping is fun for younger kids – Princess Aurora doesn't want to sleep, ever! 

Sleeping Beauty, the One Who Took the Really Long Nap by Wendy Mass is a super fun book for older kids. It is based off of the Perrault version (even down to the ogre mother), but with hilarious twists. 

The New York City Ballet presents a beautiful edition for your little Princess Ballerina!
Sleeping Beauty: A Mid-Century Fairy Tale is a fun retelling of the story based in the 50's!
A Recipe for Briar Rose
Skillet Ricotta Gnocchi with Sausage and Beans for Princess Aurora - Eat Like A Princess Inspired Recipe
This one pan Skillet Ricotta Gnocchi is an easy weeknight meal the whole family will love! Inspired by Princess Aurora, this 30 minute meal is hearty, packed with protein, and delicious!  
Print
Pin
Rate
Ingredients
Gnocchi
1 ½

cups

whole milk ricotta

1

cup

all purpose flour

pinch

of salt

1

egg

beaten
Skillet Meal
1

medium yellow onion

diced

2

cloves

garlic

minced

1

package Italian chicken sausage

¼

cup

chicken stock

1-15

oz

can petite diced tomatoes

1

tsp

Oregano

1

tsp

dried parlsey

1-15

oz

can cannelloni beans

drained and rinsed

3

cups

fresh spinach

½

cup

fresh grated parmesan cheese
Instructions
In a large bowl, mix the ricotta, flour and salt until they are combined and crumbly.

Using a fork, mix in the beaten egg util it forms a craggy mass.

Dump on a well floured surface, sprinkle with a little more flour, and form a ball.

Allow to rest for 10 minutes.

Set a large pot of water on the stove and set to boiling.

While the dough is resting, dice your onion, mince your garlic, slice your sausage, and get the rest of your ingredients out.

Cut the ball of dough into fourths and work with one chunk at a time.

Roll each of the parts of dough into a log (or like a playdough worm). Use gentle fingers and a good dusting of flour.

Use a sharp or serrated knife to cut the logs into 1/2" pieces and set aside.

When the water is boiling, add small batches of the gnocchi to the water and boil for 2-3 minutes. When done, place on a plate lined with paper towels.

In a large non-stick skillet over medium heat, sauté the onion for 4 minutes, stirring frequently.

Add in the garlic and stir for 30 seconds, until fragrant.

Add in the cooked gnocchi and cook for 3-5 minutes until its browned slightly.

Remove the gnocchi and onions from the pan and add in the chicken sausage. Cook for 5 minutes, stirring frequently, until browned.

Add the onions/gnocchi back to the pan, along with the chicken stock, diced tomatoes, spices, beans, and spinach. Stir gently to combine.

Place a lid on the skillet and allow to cook until heated through, stirring occasionally.

Sprinkle with a hearty amount of grated parmesan and enjoy!
Notes
You can substitute the homemade gnocchi for store-bought refrigerated gnocchi!
Nutrition
Serving:
1
g
|
Calories:
571
kcal
|
Carbohydrates:
63
g
|
Protein:
36
g
|
Fat:
20
g
|
Saturated Fat:
11
g
|
Polyunsaturated Fat:
7
g
|
Cholesterol:
122
mg
|
Sodium:
648
mg
|
Fiber:
11
g
|
Sugar:
5
g
Looking for other easy meals designed to get kids to try new foods?
SaveSave
SaveSave
SaveSave