Caring for your wooden spoons is simple! Learn how to care for wooden kitchen utensils and keep them looking nice and lasting a lifetime! These easy steps can show you how to care for and maintain your wooden utensils and turn them into quality heirloom pieces that you can pass down for generations. 
Do your wooden spoons look fuzzy?
Are splits plaguing your wooden cutting boards?
Do you struggle with purchasing quality utensils because you aren't sure how to take care of them?
I so feel you! Sometimes it feels like life is hard enough as it is without having to do special things to certain tools, right? Like I KNOW I shouldn't throw my steak knives and wooden spoons in the dishwasher… and yet….
Gorgeous hand crafted wooden spoons, rolling pins and cutting boards, etc. are all the rage right now, but the price tag can totally scare you away. Not that these beautiful kitchen utensils aren't worth every single penny, but it can be a mental struggle to spend money on something you are afraid you might ruin with the first curry or blackberry jam you make.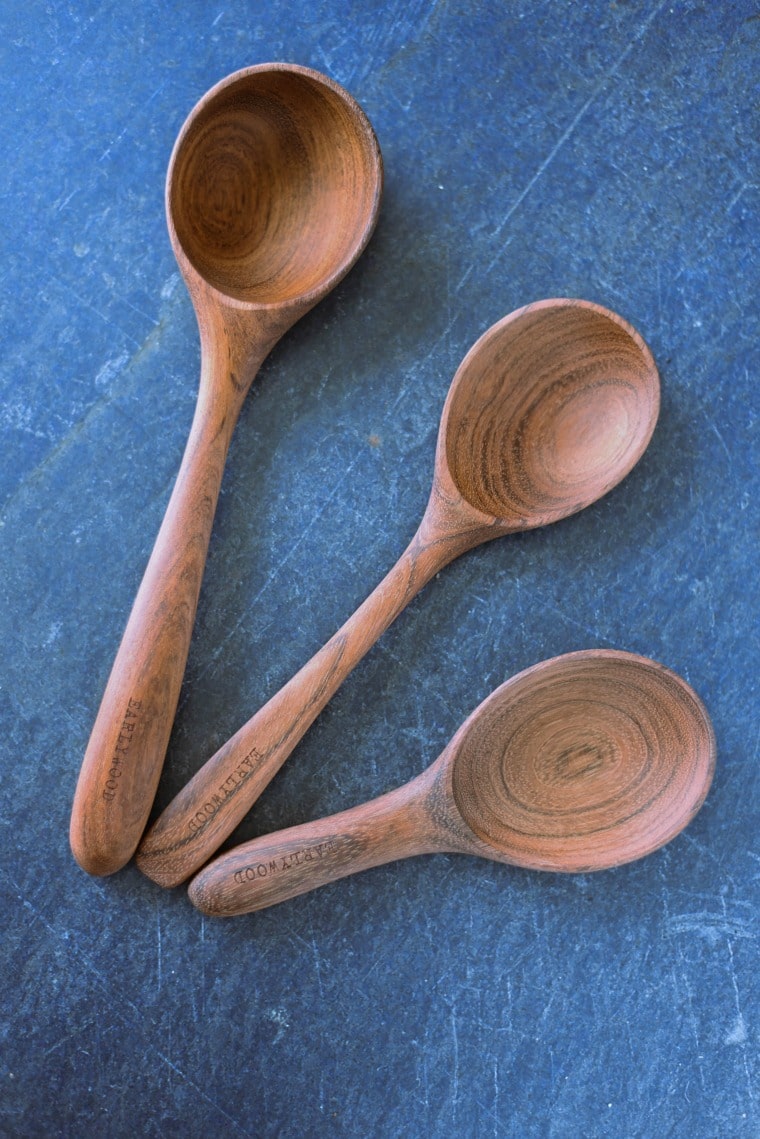 Thank you to Earlywood Designs for sponsoring this post. And Thank YOU for supporting the brands that support me and allow me to continue to grow my blog. All opinions and photographs are my own.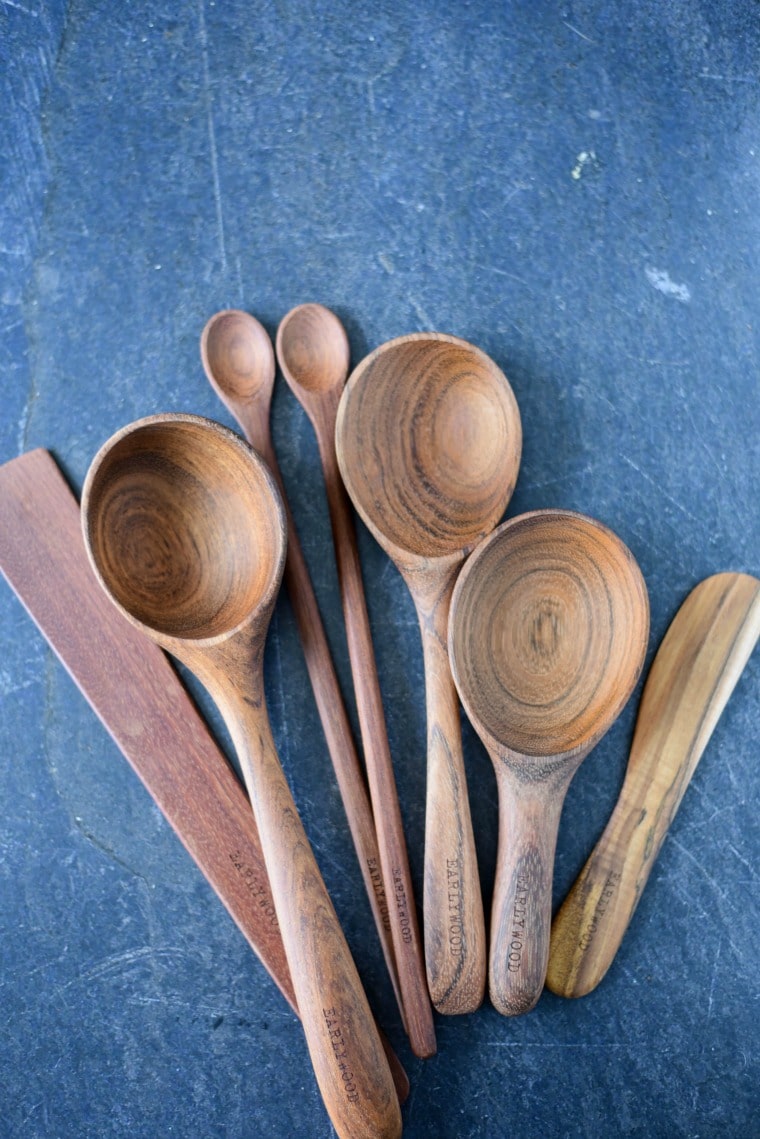 How to Care for Your Wooden Utensils
Wooden kitchen utensils are hard working, all-purpose tools that can do everything from mix muffin batter to stir homemade jam to help you prepare your awesome weeknight dinner. With a little working knowledge and TLC, your wooden kitchen utensils can turn into heirloom pieces you pass down to your children. No, really!
How to Clean Wooden Kitchen Utensils
Cleaning wooden kitchen utensils is actually really simple – just three quick steps!
Step 1: Always wash your wooden utensils by hand. Never, ever, ever put them in the dishwasher. The high temperatures and super long cycles of the dishwasher actually cause disaster to your wooden utensils. Think of them like little sponges – they will soak up way too much water, and all the flavors and all the smells of everything else in your dishwasher. Blech! Throwing your wooden kitchen utensils in the dishwasher results in gray and fuzzy utensils with a short life span. Not really what you want for that gorgeous hand crafted piece, right?
Step 2: Use hot water and a mild dish soap. You can use either a washcloth or a bristled brush to scrub your utensils.
Step 3: Prop them up to dry. This will allow as much airflow around them as possible to help even out drying and minimize the effects of expanding and contracting that happens when wood gets wet.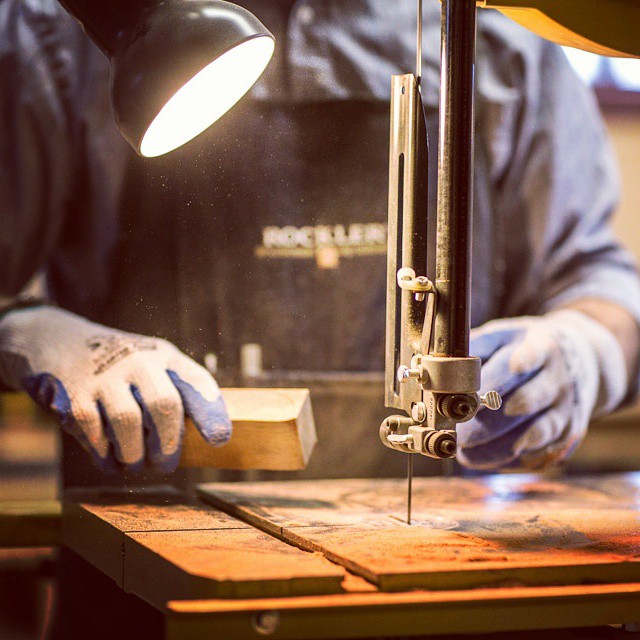 How to Keep Wooden Kitchen Utensils Looking Nice
Every now and then you should give your wooden kitchen utensils a coat of oil. This will form a protective yet flexible barrier that will help to control the wood's natural desire to fluctuate its moisture content. By deterring this, you help prevent fading, cracks and splitting, and also help the wood to become more resistant to absorbing stains and odors.
A Breakdown of Oils to Use on Wood
Don't just use any old oil you have laying around. It is important to use the right oil that will protect your wood but also not impart flavors or weird additives to your wood. It needs to be protective, reduce moisture intake, yet also be breathable.
Polyurethanes and varnishes and things you use to seal furniture are NOT food safe. Not only are they not safe to eat, but they smell terrible, and that coating will eventually crack and chip off into your food. Yuck! Skip these!
Food based oils (like olive oil or vegetable oil) never really dry, and they can discolor your utensils, turn sticky, and go rancid, which makes your utensils smell down right terrible. So skip those, too!

An exception to this is Walnut Oil and Linseed Oil. They won't go rancid, and they will dry, so they are often recommended. However it can develop a sticky feeling, so only apply it in thin layers to tools you are using and washing a lot. They will impart a yellow or amber cast to the utensils you use it on, and also oxidize and darken with age and explore to the sunlight. You will need to apply several coats! Use with discretion if you have a nut allergy.

Beeswax is often recommended, as it is safe to eat and gives you a beautiful shiny, smooth surface that is pretty waterproof. But it tends to harden at room temperature and then melt at hot temperatures. So the second you start stirring a hot soup, guess where all that wax is going? Yup. Right into your soup. Not only are you now eating trace amounts of wax, but your spoon just lost all the protection it once had. There are lots of "wood butters" out there that have a combination of oils and wax, which some people think meets the best of both worlds. Either way, it needs a lot of maintenance.
Petroleum based oils like Mineral Oil are also recommended. Sometimes they get a bad wrap for being petroleum based, but its totally food safe, it penetrates the wood grain really well, it won't go rancid, and won't leave a sticky residue, and it is odorless. These have an awesomely long shelf life.
So which one should you use? Honestly, the choice is up to you, depending on your lifestyle and how often you plan on using your tools and conditioning your wood. Personally I use and recommend the Wood Oil from Earlywood Designs – it is petroleum based with mineral oil, but I like how easily it goes on and how well it protects the wood. It is 100% food safe, and I like that they add lemon peel oil to it, too, which has antimicrobial properties (and smells nice!).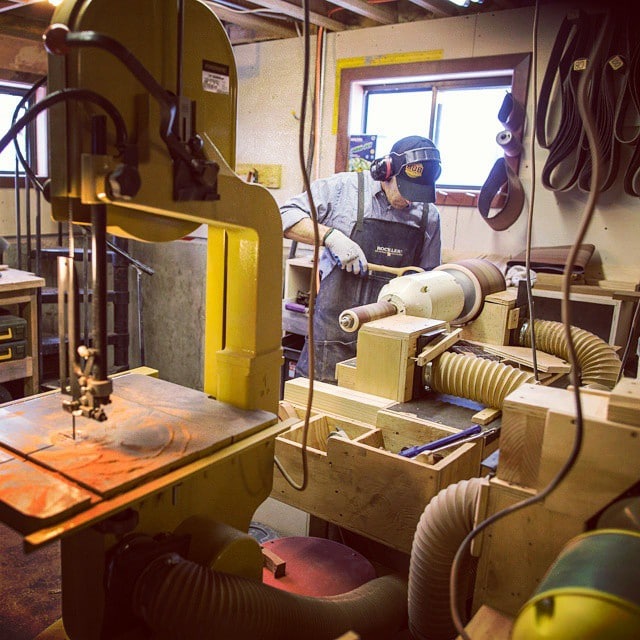 How to Oil Wooden Utensils – The Easy Way
Pour a small amount of oil directly onto the surface.
Use a clean, lint-free rag to wipe the oil over the entire surface. Allow the oil to soak into the wood for 15-20 minutes (or overnight is even better!).
Use a second clean rag to buff the surface of the wood and remove any excess oil.
Ta-Da! You are done!
If you are more of a visual person and you want to actually SEE someone do it, watch this video that Earlywood Designs made about How to Oil Wooden Utensils.
FAQ About How to Care for Wooden Utensils
I recently had the awesome opportunity to interview Brad from Earlywood Designs  about wooden utensil care and maintenance. I had the chance to meet them in person last May at a conference and knew they would be the perfect people to talk about about the right way to care for our invaluable kitchen tools! I asked him some of the top questions you have been asking me for!
Q: Why should you buy quality hardwood utensils instead of cheaper bamboo or softer wood?
A: There are so many reasons! The tightness of pores, the resistance to dulling or denting, the colorfastness, the resistance to water, the weight, the feel, the look, the longevity, the uniqueness, the grain, the resistance to splitting and warping and breaking and splintering etc. (Jenni: Um, does that not spell it out or what?) 
Q: How do you get food stains like berries or curry off of your wooden utensils?
A: Most of our utensils are made from dark woods, so it's not a huge problem, but we also make utensils in Hard Maple, which is really light colored. We have tested our hard maple utensils in pasta sauce, beets, paprika, blueberry juice etc. The hard maple will stain, but after 3 or 4 washes with hot soapy water and the scratchy side of a sponge, you should barely be able to tell it was there. Patience is the key with this one!
Q: How do you get bad odors out of your wooden utensils?
A: That is not a problem we have ever heard of with our utensils. The woods we use are very hard, and have very small tight pores. Ability to resist odors was one of the characteristics that we used when picking the woods we use. If it is an old wooden utensil made from softer, more porous woods than ours, then I would suggest the same method we suggest for cleaning wood utensils. That is: wash by hand in hot soapy water with the scratchy side of a sponge (or even a scotch-brite pad if you have a serious problem)!
Q: How often should you replace your wooden utensils?
A: Only after you lose them! I have always loved that wooden utensils can be passed from generation to generation. That's what makes them so special and in my opinion… the older the better! I don't know how many people I've talked to that take a moment to tell me about the special wooden spoon that was passed down to them from their grandma or grandpa! If you take decent care of them, they should last generations.
Q: How often do you need to oil your wooden utensils, and what should you use?
A: It is the cycle of soaking up water, then drying out that eventually cracks wood. Oil repels water and the more oil you have in the pores of your wooden utensil, the less water they want to soak up. Oil basically reduces the number of times your utensil goes through that wet/dry cycle and reduces the severity of the cycle too. How often do I oil my own utensils? About once every 6 months.
Q: How do you sanitize wooden cutting boards and spoons?
A: Wash them by hand in hot soapy water with the scratchy side of your sponge and they should give you decades of safe, sanitary, beautiful, smell-free use! There is no need to use bleach or harsh chemicals.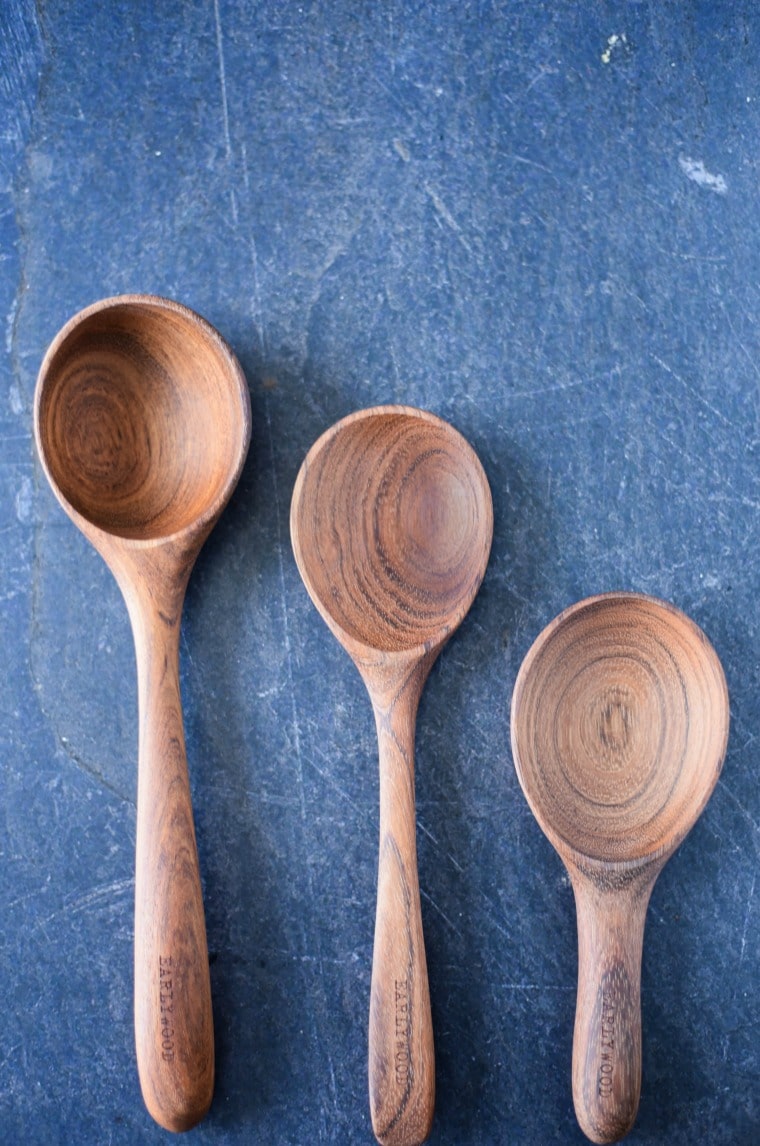 Thank you SO much to Brad and his team at Earlywood Designs for helping us learn all about the proper way to care for and maintain our wooden spoons, cutting boards, and more! I am also so excited to announce they have agreed to host a GIVEAWAY for one lucky winner to receive a fantastic spoon sampler of a Medium Classic Ladle, Long Server, Short Server, two Tasting Spoons and Oil to take care of everything!
Must be 18+ to win, Entries must be from the USA. Winner will be announced 5/1/2019. Each of the options below counts as one entry. 
Interested in more resources on how to care for and maintain your valuable and heirloom kitchen utensils? Check out my resource guide on Cast Iron 101!
SaveSaveSaveSave
SaveSave
SaveSave