Kid-Friendly Bison and Chocolate Chili Recipe
This Bison and Chocolate Chili Recipe is a fun and delicious way to add chocolate into your dinner recipes. Where this chili lacks in spiciness, it makes up for it with a rich and full bodied flavor, making this a great kid-friendly bison chili recipe. #Choctoberfest
Welcome to another day of #Choctoberfest – hope you're not tired of chocolate yet (is that even possible?) ! A big thank you to #Choctoberfest sponsors Forte Chocolate for providing awesome ingredients for us to use this week.
On my quest to introduce more chocolate main course recipes in the world, I knew I wanted to do a savory chocolate and red meat recipe. The little wheels in my brain started turning, and before you knew it, I wanted to make a bison chili with chocolate!
Why put chocolate in chili?
Chocolate is surprisingly an amazing ingredient in chili! It doesn't make your chili overly sweet, but it does add depth of flavor to your favorite chili recipe, which makes your chili taste richer. The chocolatey flavor is light and subtle, so don't worry about it becoming too "dessert" like – it is more there to balance out the richness of the meat, the acidity of the tomatoes, and the sweetness of the beans.
Chocolate also pairs really well with chiles, so if you aren't feeding little mouths and you like some heat, don't be afraid to crank it up a few notches!
The trick to adding chocolate into chili is to use an unsweetened chocolate – so either a dark, unsweetened cocoa powder or a full bodied dark chocolate. Semi sweet or milk chocolate chips won't produce the same result, so don't use them. For the most part, you will want about 1 TBSP (or 1 ounce) per 1 pound of meat.
Kid-Friendly Bison and Chocolate Chili Recipe
This bison chili recipe is a perfect weeknight meal for those cold, chilly nights you need something warm and comforting at the dinner table. This rich and hearty stew is flavorful without being spicy, which means its a great kid-friendly chili recipe. The depth of flavor provided by the chocolate (a surprising but fun ingredient) means that even though this is kid-friendly, its far from boring for adults! When served with a slice of warm cornbread dripping in butter and honey, its the perfect family meal for a winter evening!
*Note about cooking with alcohol and feeding children: A lot of people get nervous when cooking with beer and wine and then feeding the food to children. When you cook with an alcoholic beverage, such as wine or beer, for long enough at a high enough temperature, the alcohol will evaporate but leave the concentrated flavors. If your recipe calls for adding a large amount of alcohol or has a short cooking time (like meat that has been flambeed), chances are not all of the alcohol will cook off before your child gets it. I found this interesting article that has a chart that explains how much alcohol evaporates with different cooking times.
Basically if a dish is at a high simmer for 30 minutes or more about 35% of the alcohol will remain. So if you start with 1 cup of beer (such as in this chili recipe), after 30 minutes of simmering you will have 1/3 of a cup of alcohol left in the entire recipe. Divide that 1/3 cup amongst the 6-8 servings, and that is about a little over 1/2 of a TBSP per full serving. Take into account that you aren't feeding your kid a full adult serving, and how many bites your kiddo is actually eating of it, and … you need to decide for yourself whether or not you are comfortable with it.
Note that this "study" also doesn't differentiate between baking vs braising or a rapid boil vs simmering, or covered vs uncovered. Is there some alcohol in the dish? Probably. Are they actually getting very much? Probably hardly at all.
This is a case where there is no right or wrong answer, and you need to do what you are comfortable with.
If you prefer not to cook with beer and wine when you are feeding your family, you can substitute for broth or water.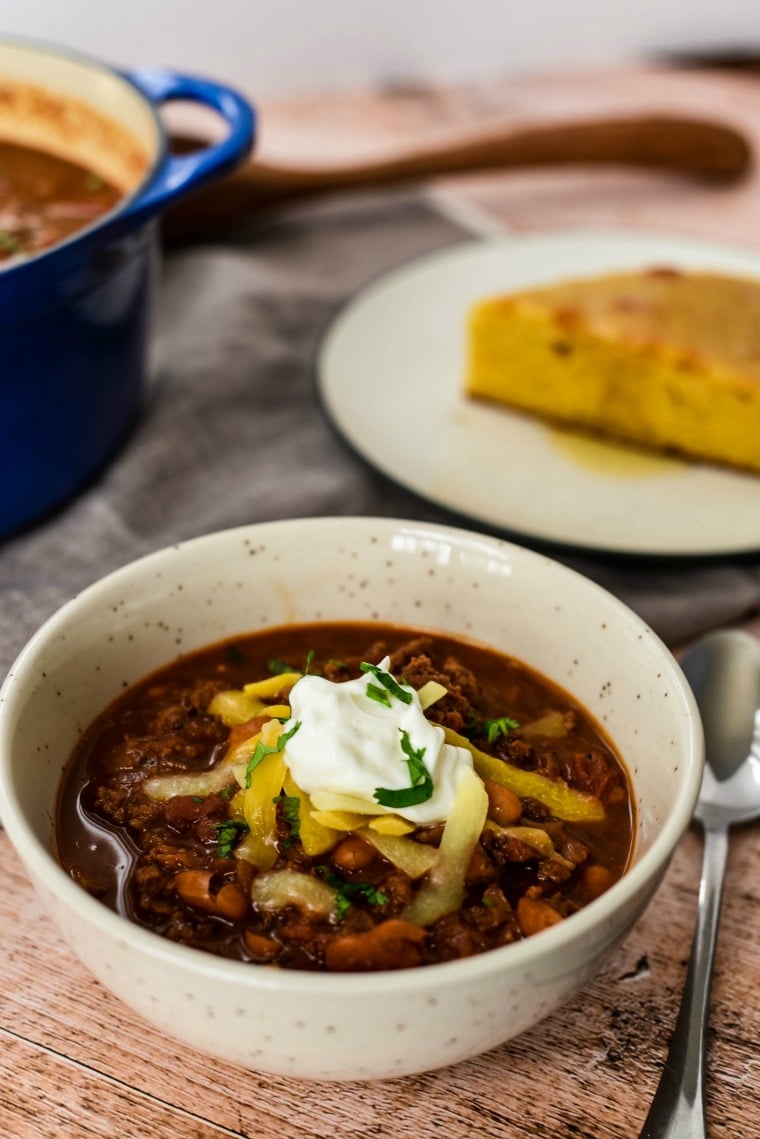 How Your Kids Can Cook With You:
Kids aged 1-3 can help you measure the spices and ingredients, rinse the beans, and set the table.
Kids aged 4-6 can help you do everything above, plus open the cans, dice the mushrooms, and help stir the pot.
Kids aged 7-10+ can help do everything above plug cut the onion and garlic, and help cook the bison.
*Please note that these recommendations are generalized, and to please use your personal discretion with your child's skill level. And always, always supervise! Read more about how to have your children help you in the kitchen.
Books to help kids love eating chili!
Jenni Ward/The Gingered Whisk is a participant in the Amazon Services LLC Associates Program, an affiliate advertising program designed to provide a means for sites to earn advertising fees by advertising and linking to Amazon.com.
Armadilly Chili by Helen Ketteman is a fun spin on a classic fairy tale – A blue norther's a-blowing', and Miss Billie Armadilly is hankering to make a pot of chili! Only she needs to fix it all by herself because Tex the tarantula, Mackie the bluebird, and Taffy the horned toad are too busy to lend a hand.
Little Red Hot by Eric Kimmel is a cute spin on the classic "Little Red Riding Hood" tale. Little Red Hot loves red hot chilli peppers. She eats them for breakfast, lunch, and dinner. When her grandmother catches a cold, Little Red makes her a hot pepper pie that will "knock those cold germs right out of her". But before Little Red shares her pie with Grandma, she meets Señor Lobo. The pie comes in very handy when the wily wolf tries to trick her into thinking he's her grandmother.
Kid-Friendly Bison and Chocolate Chili Recipe
This Bison and Chocolate Chili Recipe is a fun and delicious way to add chocolate into your dinner recipes. Where this chili lacks in spiciness, it makes up for it with a rich and full bodied flavor, making this a great kid-friendly bison chili recipe.
Print
Pin
Rate
Ingredients
Chili
2

TBSP

extra virgin olive oil

3

strips bacon

1

onion

diced

2

oz

mushrooms

diced

2

garlic cloves

minced

1

lb

ground bison

2

tsp

dried oregano

1

tsp

cumin

1

tsp

smoked paprika

½

tsp

cinnamon

salt and pepper to taste

1

TBSP

brown sugar

15

oz

can pinto beans

drained and rinsed

15

oz

can fire roasted tomatoes

6

oz

can tomato paste

1

cup

chocolate stout beer

2

cups

chicken stock

2

oz

dark chocolate

or 2 TBSP unsweetened cocoa powder

1

bay leaf
Toppings:
Sour Cream

Cheddar Cheese, Chopped Cilantro
Instructions
In a large dutch oven or cooking pot, heat the olive oil over medium heat.

Slice the strips of bacon into small steps and cook until mostly cooked through but not crispy.

Add in the onion and mushrooms and cook, stirring frequently, until the onions start to become translucent.

Add in the garlic and the bison and cook, stirring frequently, until the ground bison is mostly cooked through but still pink in some areas.

Add in the oregano, cumin, paprika, cinnamon, salt and pepper, and brown sugar and stir to combine.

Add in the drained pinto beans, diced tomatoes, tomato paste, chocolate stout beer, chicken stock and chocolate, and bay leaf.

Allow chili to simmer for 30 minutes.

Serve with shredded cheddar cheese, sour cream and chopped cilantro, and cornbread!

Enjoy!
Nutrition
Serving:
1
g
|
Calories:
673
kcal
|
Carbohydrates:
54
g
|
Protein:
33
g
|
Fat:
33
g
|
Saturated Fat:
15
g
|
Polyunsaturated Fat:
15
g
|
Cholesterol:
84
mg
|
Sodium:
626
mg
|
Fiber:
5
g
|
Sugar:
28
g
If you liked this special #Choctoberfest recipe you should definitely check out these other great recipes!
"

"