How to Cook and Bake with your Kids
There is nothing cuter and more beneficial than Children cooking. Being able to teach your children independence, life skills, and have special time with them is so important. These easy tips will show you how to cook & bake with your kids without loosing your mind.
When it comes to cooking with ours kids, sometimes its easier said than done. I get it – when its a special holiday or a "memory making moment", you totally make the time. But an average Monday night? That's harder.
By dinner time, everyone's patience is waning, and you really, really just want your kiddo to go watch an episode (or two) of Paw Patrol while you have 30 minutes of semi-quiet to make dinner in. And sometimes those sweet little angels try to help, but their "help" is sooo not helpful. But instead, I encourage you to get them into the kitchen!
Let them make mistakes.
Let them drip pancake batter on the counter.
Let them hunt down that egg shell they crushed everywhere.
Let them mop up the milk they spilled on the counter.
Its OK!
Why You Should Get Your Kids In The Kitchen:
When your kids get to help out, they take ownership in what is going on. That ownership will help them be invested in the outcome. Meaning, if your kid cooks, they will be more likely to taste and actually eat what they have created! For more tips on this, read "How to Raise Adventurous Eaters".
Spending quality time with your kids while preparing food opens up amazing opportunities to talk about where food comes from, which also gives us a great opportunity to talk about the nutrition and health benefits of what you are eating (Yes, you can apply this to cookies, too!).
Help build a positive relationship with food!
This is an excellent opportunity to get your kids involved in math, science and language skills! They also develop independence, responsibility, and a sense of their own culture while learning to cook and bake with family.
Here are 10 simple recipes kids can help you cook!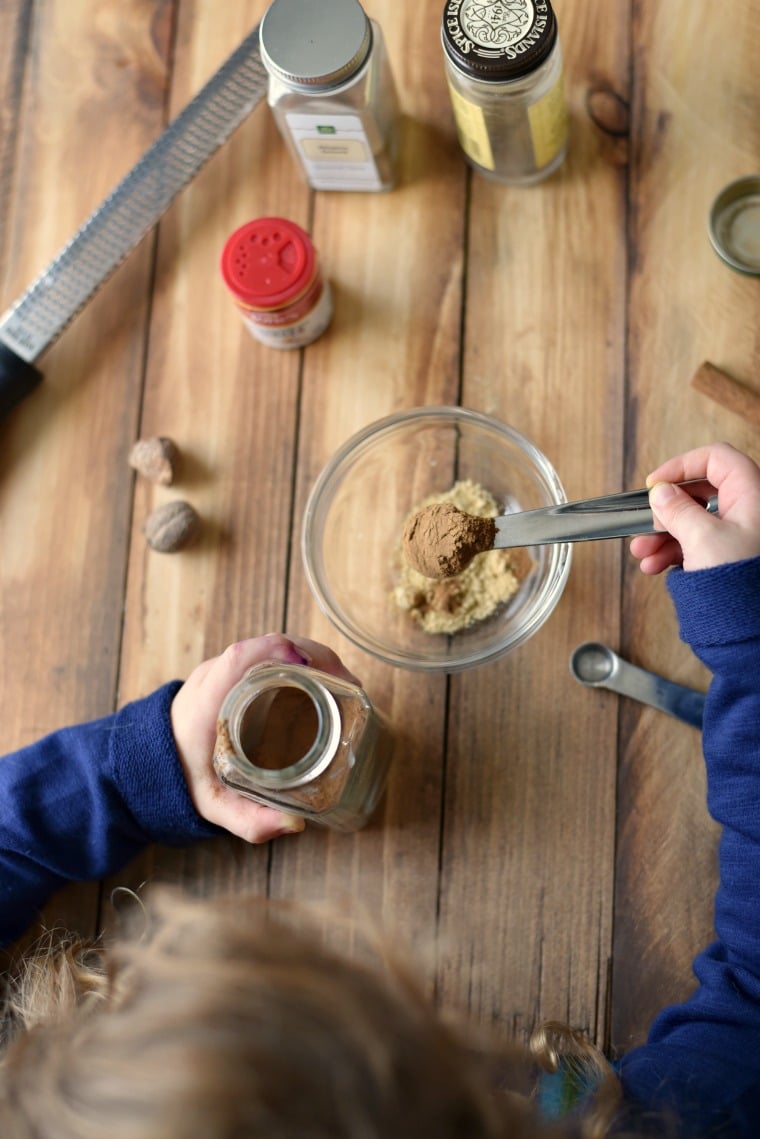 Tasks for Kids in the Kitchen:
** Please reserve judgement based on your child's capabilities! The following are simply guidelines! And always first demonstrate and supervise the use of a new tool or technique.
Kids aged 1-3 Years Old – Can help you measure dry ingredients, pour pre-measured liquid ingredients, stir everything in sight, wash fruits and vegetables, squeeze lemons, use a salad spinner, pick fresh herbs off of stems, knead dough, use a pastry brush to spread oil/butter or egg wash, using a rolling pin, and mashing!
Kids aged 4-6 Years Old – Can help slice soft fruits and vegetables with a small pairing knife (think strawberries, zucchini, etc), grease pans, pour liquids, use a zester, de-seed tomatoes and peppers, spread things like peanut butter or frosting, knead dough, rinsing and draining beans or canned vegetables, form cookies and patties, and garnishing plates.
Kids aged 7-10 Years Old – Can start helping around the stove (with lots of observation and assistance!), cutting harder foods, start chopping harder fruits and vegetables (with supervision) read and lead recipes, skewering food, use a pizza cutter, slicing bread, and help put away leftovers.
Head over to my guide on knife skills for kids for more specific instruction!
Tips to Start Children Cooking:
Clear A Space – Cooking and baking with children always seems to go easier when you start with clean counters and elbow room to maneuver in!
Get out your "mes en place" – all the ingredients and tools you need for a recipe BEFORE you start cooking. This helps get everything within reaching distance, reduces time hunting things down, and helps you focus all your attention in one spot of your kitchen (which is handy with small helpers).
Have a Trash Bowl Ready – to throw scraps and trash in, eliminating the need to walk away from your child when you take something to the trashcan. Try to keep everything focused within the small section of kitchen you are in – that way you don't leave your children unattended for even a second.
Make a standing date – One way to reduce stress and increase intentionality of cooking with kids during the week is to create a standing date where everyone knows the kids will help. That way YOU can be mentally prepared, your kids are excited about the idea, and everyone can work together in a peaceful and fun way.
Assign different tasks to children of different age groups (say the younger kids get to help you measure, stir, and prepare things first and then the older kids can help you cook it) or try working with one child at a time.
Emphasize sanitation and safety! Always, always, always!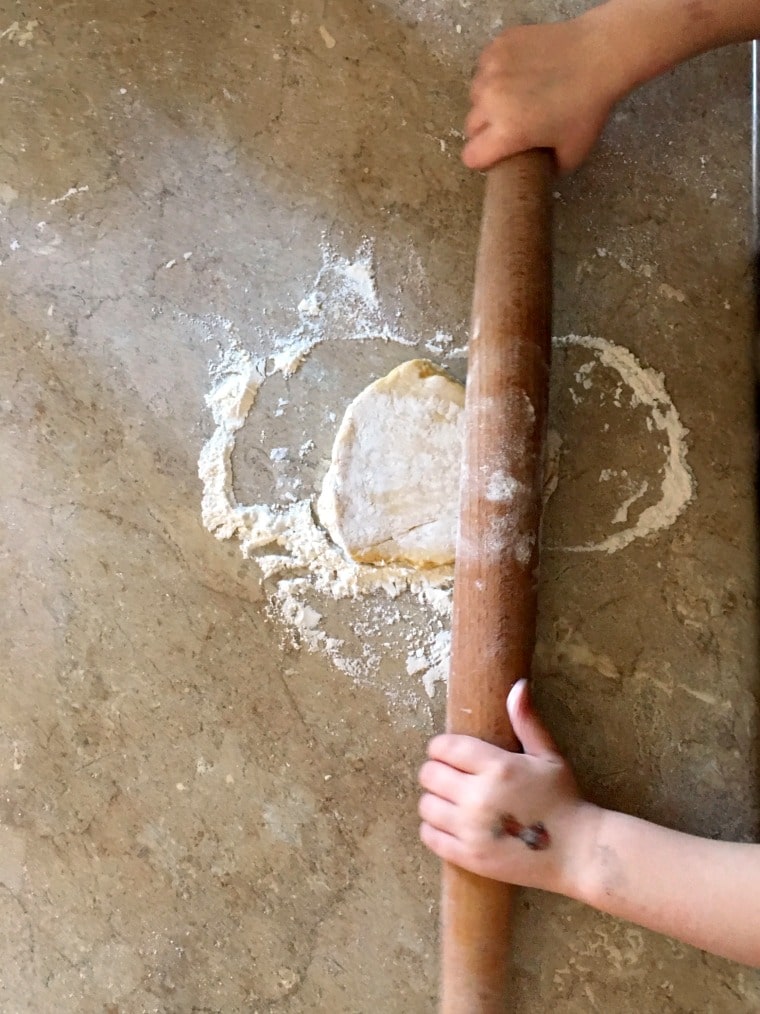 Other Resources you need to raise kids who love to eat food:
SaveSave
SaveSave