These easy Sausage Rolls and Empire Biscuits make the perfect meal or tasty snack for a feast inspired by Princess Merida! These Scottish inspired recipes are easy and rustic enough that any kiddo can help you prepare them – and enjoy them!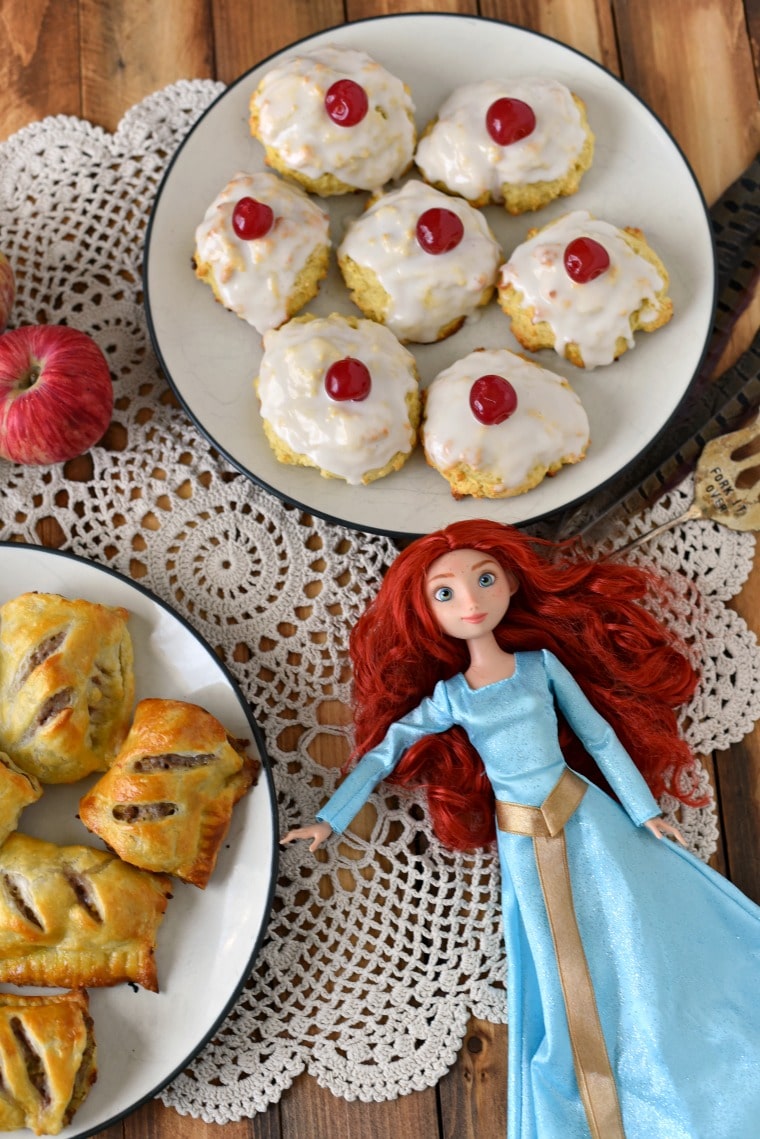 About Princess Merida
Yay for Merida! Brave is one of those movies where you just love it from the second you see the first preview. I mean, how can a fiery red-headed part Scottish girl not love a movie about a fiery red headed Scottish girl who rides her horse and shoots her bow all over the place? Hello. This movie was made about for me. Let's just ignore the fact that she totally disobeyed her mother, sought help from a witch and turned her mother into a bear. That's what those unruly teenage years are all about, right? Live and Learn!
Princess Merida is one of the only princesses that we actually know where and when she was supposed to have lived! Thank you, Disney! Brave takes place in ancient Scotland around the 10th century.
Welcome to the Eat Like A Princess Series!
I designed this series as a fun way to teach my daughters about new cultures through the classic Princesses in hopes that they will become more open to trying new foods, to understand other cultures better, and to enjoy exploring the world around them. All while still:
containing real food
be super easy
take about 30 minutes (or as close to it as we can).
You can see other recipes in this series here.
*This post contains affiliate links. See more about what that means on my disclosure page.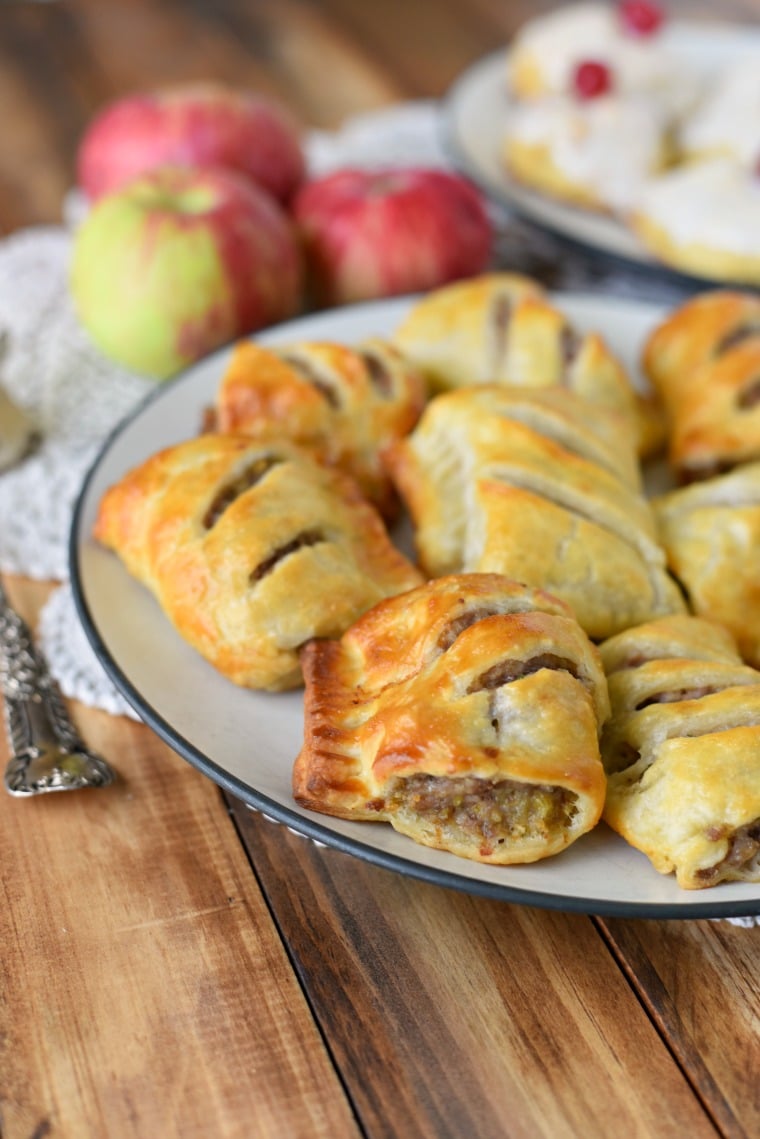 About Scottish Cuisine
What do you think of when you think of Scottish food? I bet Haggis, Shortbread, and Porridge are at the top of the list, right? While Scottish food isn't overly fancy, it is wholesome and filling and exactly what the ancient Scots needed to keep them warm and give them energy for their days. Soups, broths, fish, and porridge were exactly the kind of "stick to your ribs" meals they needed and mostly consisted of locally grown, raised, and hunted ingredients. Fun fact – traditionally Scotts didn't use a lot of spices from abroad because they were hard to get and expensive.
These Scottish Sausage Rolls are an easy and fun treat – whether you serve them as part of a meal, an appetizer, or a snack. Traditionally Scotts don't eat a lot of pork, and instead eat a lot of fish, venison (and other wild game) and beef. Usually in the US we think of sausage as being made of pork, so I thought it would be a fun change of pace to not only make our own sausage blend with beef!
The Empire Biscuits were a MUST make since they are featured in the movie (remember when Princess Merida slides a whole plate of them to her triple brothers under the table?!). I LOVED how these turned out – they are a crazy combination of a cake and biscuit – tender and flakey, dense and moist all at the same time.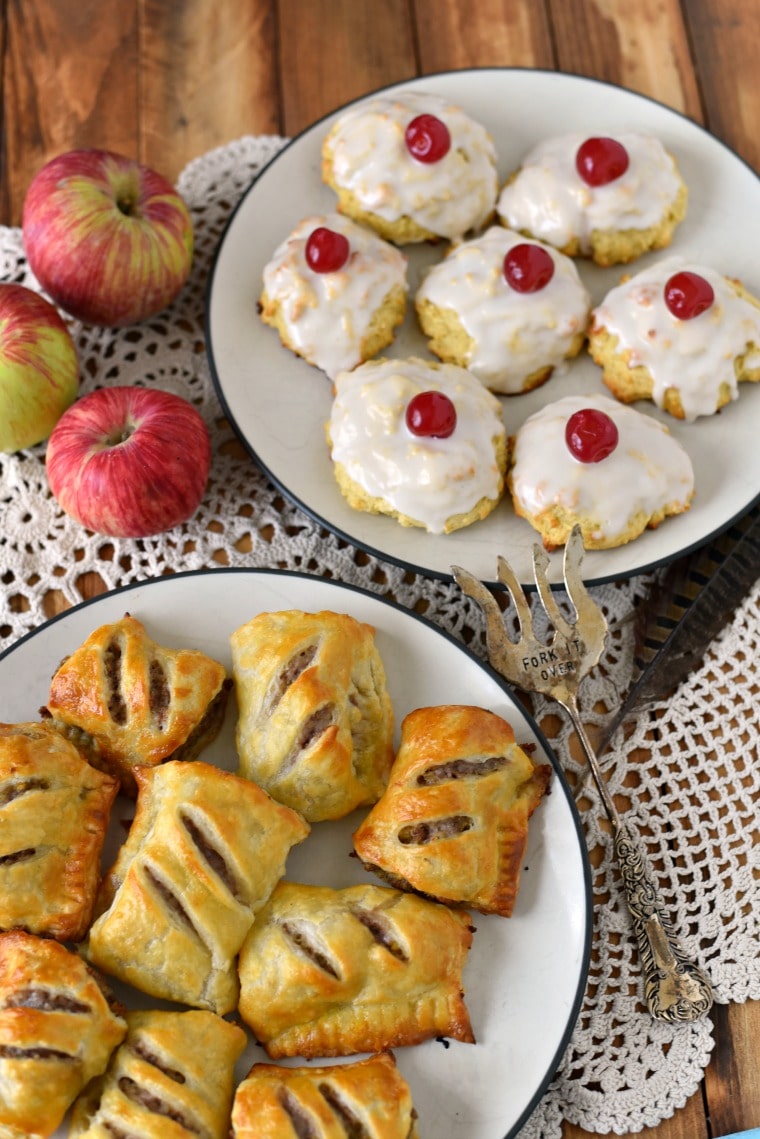 **Note: This recipe is not intended to be 100% authentic. Princess Merida is a fictional character, ina fictional movie, and this recipe was created by me. This recipe is intended to be easy enough that children can help you prepare it and hopefully enjoy it. It is supposed to be a fun way to get kids interested in trying new foods, not an authentic recipe. It is my hope that it is interesting enough to pique their interest in new cultures and foods without being too intense or weird. 
[embed_popupally_pro popup_id="8″]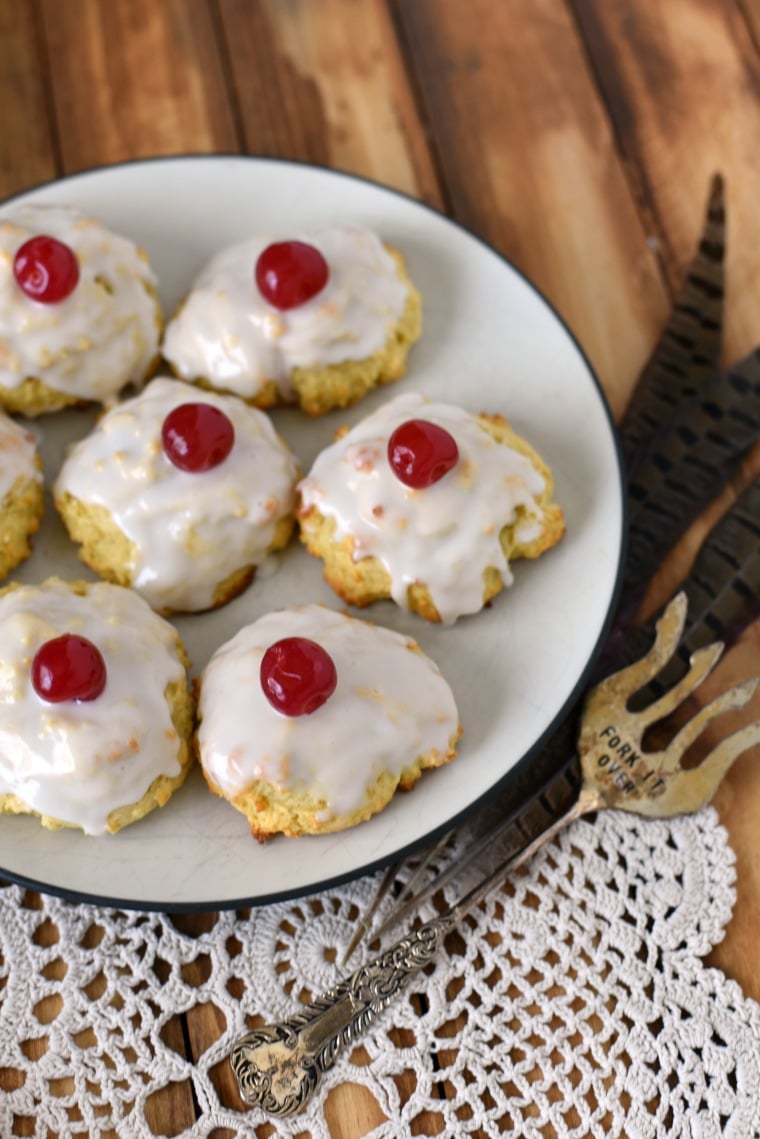 Get your Kids in the Kitchen:
Children aged 0-3 can help measure spices for the sausage, measure and mix the biscuits, and mix the frosting for the biscuits, frost the biscuits, and help place the cherries on top.
Children aged 4-7 can help do everything above as well as scoop out the biscuit onto baking sheets.
Children aged 8-12 can do everything above, as well as help mix the sausage and fill the puff pastry for each roll, as well as cut slits in the tops.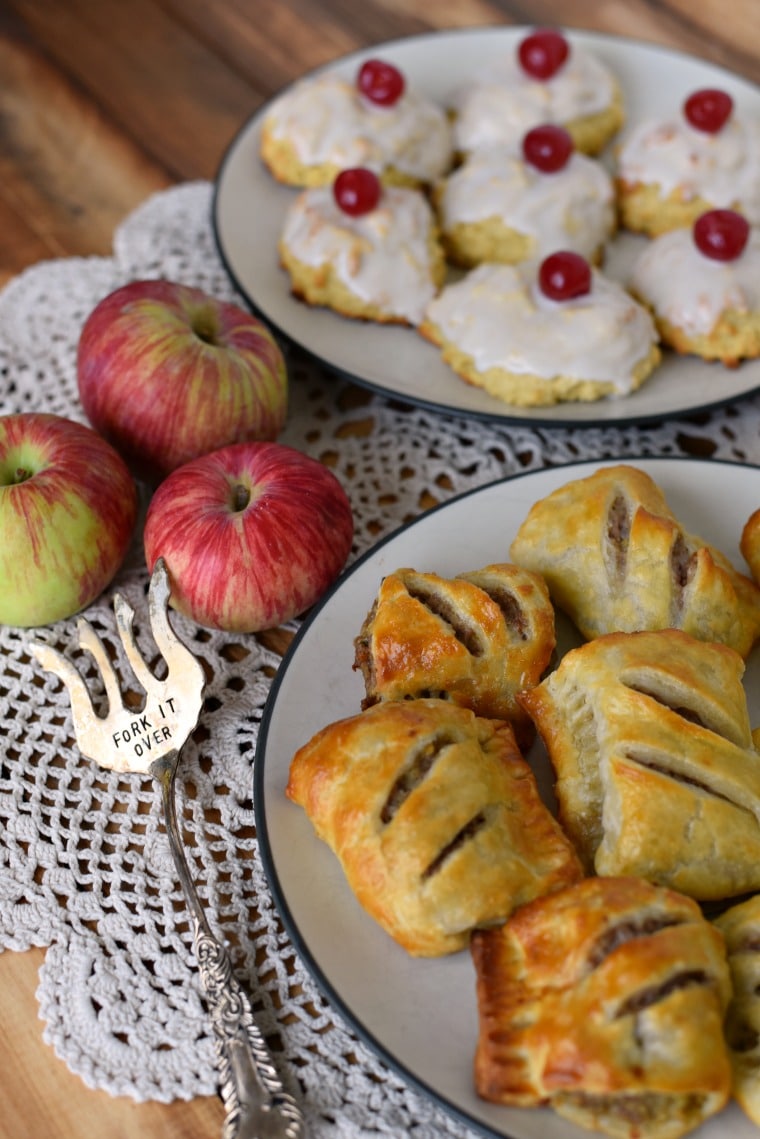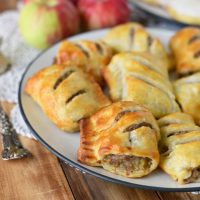 Easy Sausage Rolls
These sausage rolls are easy to make and serve as a part of a lunch, light dinner or an appetizer!
Print
Pin
Rate
Ingredients
2

egg

one for recipe and one for egg wash

1

lb

ground beef

½

cup

breadcrumbs

1

tsp

onion powder

1

tsp

dry ground mustard

1

tsp

garlic powder

2

tsp

dried parsley

¾

tsp

coriander

½

tsp

ground nutmeg

1

package prepared pie crust

2 crusts
Instructions
Preheat the oven to 425 F.

Line a baking tray with a piece of parchment paper or a silpat mat and set aside.

In a medium bowl, mix together the egg, ground beef, breadcrumbs and spices until well combined.

Set aside and wash your hands.

Cut each pie crust into 3 equal strips lengthwise, so you have 6 strips.

Divide the ground meat mixture into 6 equal portions and rolls each portion into a log.

Place each ground meat mixture log into the middle of each strip of pie dough.

Fold the pie dough over and around the ground meat and create a seam to seal the edges together.

Slice each roll into 6 pieces. (You can leave it like this, or you can kind of pull/shape the dough to form more of a pocket for the filling - either way is fine).

Place the meat roll onto the prepared baking tray.

Brush each meat pocket with an egg wash (1 egg mixed with 1 tsp water) and slice a few cuts into the top of each pocket with a sharp knife to allow steam to escape during baking.

Bake for 15-20 minutes or until golden brown.

Cool on a wire rack for a few minutes, and then enjoy!
Nutrition
Serving:
1
g
|
Calories:
67
kcal
|
Carbohydrates:
4
g
|
Protein:
4
g
|
Fat:
4
g
|
Saturated Fat:
1
g
|
Polyunsaturated Fat:
2
g
|
Cholesterol:
22
mg
|
Sodium:
47
mg
Scottish Sweet Buns (Empire Biscuits)
These sweet buns are a traditional Scottish sweet. Also called Empire Biscuits. They are easy to prepare and a great cross between a bun, a biscuit, and a cake.
Print
Pin
Rate
Ingredients
3

cups

flour

¾

cup

sugar

½

cup

1 stick unsalted butter, room temperature

¼

cup

milk

3

eggs

2

TBSP

vanilla

1

T

baking powder

1

pinch

salt

2

cups

powdered sugar

4

TBSP

water

maraschino cherries
Instructions
In a medium bowl, whisk together the sugar and soft butter until well combined and fluffy.

Add in the eggs one at a time, and then stir in the milk and the vanilla.

Carefully mix in the flour, baking powder and salt, until just combined.

Place a sheet of plastic wrap over the mixing bowl.

Place in the fridge to for 30 minutes to chill.

Preheat the oven to 350F.

Line a baking sheet with parchment paper or a silat mat.

Drop the dough by ice cream scoop fulls onto the prepared baking sheet.

Bake for 7-8 minutes.

Remove to a wire rack to cool completely.

When cool, whisk together the powdered sugar and the water in a small bow until you get the consistency you want.

Drizzle the frosting over the empire biscuits (or dunk the tops straight into the bowl) and then place on a wire rack.

Add a maraschino cherry to the top of each biscuit.

Enjoy!
Nutrition
Serving:
1
g
|
Calories:
266
kcal
|
Carbohydrates:
56
g
|
Protein:
5
g
|
Fat:
2
g
|
Saturated Fat:
1
g
|
Polyunsaturated Fat:
1
g
|
Cholesterol:
48
mg
|
Sodium:
159
mg
|
Fiber:
1
g
|
Sugar:
31
g