This easy Classic Roast Beef turned Sheet Pan Recipe is a fantastic choice for busy weeknights. This Top Sirloin Steak Recipe has all the flavor of a traditional slow cooked Roast Beef, but in a fraction of the time. It is perfect for any night of the week!
Thank you to Iowa Beef Industry Council for sponsoring this post. And Thank You for supporting the brands that support me and allow me to continue to grow my blog. All opinions, recipe and photographs are my own.
Some days I really don't like my slow cooker.
I know. Total shocker, right?! But hear me out!
On busy nights, your slow cooker can totally save dinner. You can cook a great meal with hardly any work, and hardly any dishes.
BUT. If you are a stay at home or a work from home parent, the slow cooker can also drive you totally bonkers. Not only is it cooking your meal for you, but it is filling your entire house with the delicious aromas of your dinner.
It makes me want to just eat All. Day. Long.
Has this ever happened to you? If so, don't fret – I've totally got your back. No matter if you are short on time, don't want your house to smell like amazing food all day, or have a sudden and urgent craving where you NEED a classic roast NOW – you are going to love this recipe.
Traditionally, a roast beef recipe can take several hours to make. But I've turned this slow cooked comfort food into an easy sheet pan meal that is ready to eat in less than 45 minutes! And yes, it comes with gravy.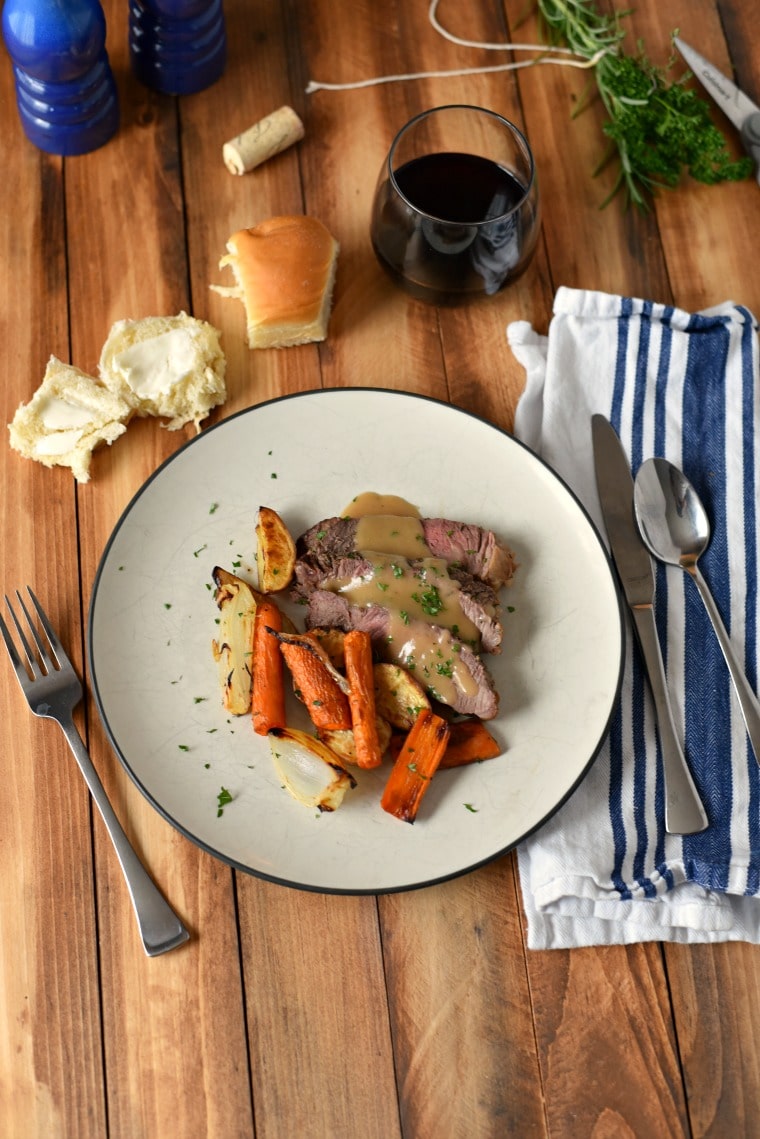 Notes about Top Sirloin:
When it comes to what kids will and won't eat, you never know what you are going to get. One day your kid will eat an entire pan of roasted carrots and the next day they sit at the table and cry because you asked them to eat one bite of a roasted carrot. My 4 year old refuses to eat any potato that doesn't come in a waffle shape from Chick-fil-A. Because things can be so up-in-the-air crazy, I think its vitally important to jam as much nutritious food into their little bodies as I can – because who knows what tomorrow will bring, right?
For me, serving beef is always a great option, and I try not to reserve it for steaks "on the grill nights". Beef provides a ton of the nutrients that little (and big) bodies need to grow and thrive – in fact, TEN essential nutrients can be found in a serving of beef. For about 15o calories, I know my girls are packing their bodies with great things their bodies need, like:
Iron to help their body use oxygen
Choline to support their nervous system
Protein to build muscles
Selenium to protect their cells from damage
Zinc for their immune system
Phosphorous to build their teeth and bones
Niacin to support their metabolism
Riboflavin to convert food to fuel
Vitamins B6 and B12 to help maintain brain function and give them plenty of energy!
On those days where you are seriously struggling to get anything beyond crackers into your kiddos' bodies, beef is a no-brainer!
Top Sirloin is one of my favorite cuts of meat because its so versatile and easy to use! It is a lean, flavorful, juicy, and tender (so you don't have to worry about your kids chewing each bite for 45 minutes) cut of meat, and one that often gets a place on my weekly meal plan. It is also sometimes known as a Sirloin Butt Steak.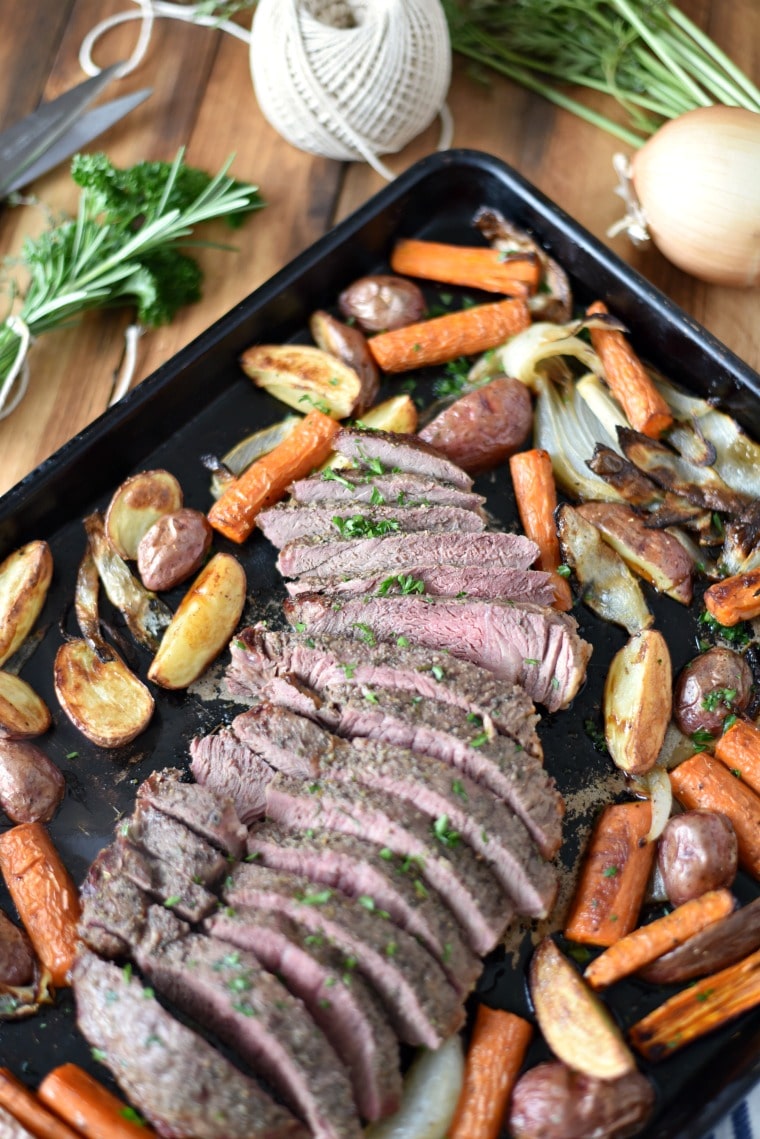 Get Your Kids in the Kitchen:
Children aged 0-3 can help you measure the spices for the steak and wash the veggies as well as help wash and set the table.
Children aged 4-7 can help you do the above, as well as tie the fresh herbs into a bouquet.
Children aged 8-12 can help you do all of the above, as well as chop the veggies and whisk the gravy.
Roast Beef Recipe Tips:
Use the tiny red baby potatoes – the smallest ones you can find, and make sure you cut your carrots into smaller pieces about 2″ long. Smaller pieces will cook faster and help get dinner on the table faster.
How do you make tender roast in the oven?
Do NOT skip the 10 minute rest period before you carve your steak. This is vital!
You will need to use a meat thermometer to check the temperature of the steak. Remove the steak from the broiler 5 degrees BEFORE the overall doneness of the steak (the recipe gives specific temperatures for how you like your meat cooked, so subtract 5 to get the temperature at which you should remove the steak. It will continue to cook while it rests, as well as reabsorb some of its juices, which makes it tender and flavorful! Find out more here: Beef Roast Basics.
How to make great gravy for roast beef
Because we are making a super short cut gravy, its really important to use the best quality beef broth that you can. You only need 2 cups, so go ahead and buy a small jar of the GOOD stuff. I used a bone broth for mine, and it was amazing.
If you want to skip the fresh herbs in the gravy, you can totally substitute dried, but just be aware that your gravy will be speckled with the herbs.
Yield: 4 Servings
Classic Roast Beef Sheet Pan
This easy Classic Roast Beef turned Sheet Pan Recipe is a fantastic choice for busy weeknights. This Top Sirloin Steak Recipe has all the flavor of a traditional slow cooked Roast Beef, but in a fraction of the time. It is perfect for any night of the week!
Ingredients
Sheet Pan Roast
1 Yellow Onion
12 oz baby red potatoes
4 carrots
2 TBSP Extra Virgin Olive Oil
2 lb Top Sirloin Steak
1 tsp dried rosemary
1/2 tsp dried thyme
1/2 tsp pepper
1/2 tsp salt
1/2 tsp garlic powder
Easy Stovetop Gravy:
1/4 cup unsalted butter
1/4 cup all purpose flour
2 cups high quality beef broth
1 bouquet garni - 1 stock of rosemary, thyme and parsley tied together with bakers twine (You can also substitute this for 1/2 tsp dried of each).
Salt and Pepper to taste
Instructions
Preheat oven to 425F.
Spray a rimmed baking sheet with cooking spray and set aside.
Cut the baby red potatoes in half, the carrots into 2" pieces, and the onion into 8 wedges.
Place the veggies on the baking sheet, drizzle with the olive oil and toss.
Arrange in an even layer and roast for 20 minutes.
Meanwhile, measure out and mix together the dried rosemary, dried thyme, pepper and garlic powder for the steak.
Rub the seasoning all over the steak.
Remove the baking sheet from the oven and turn over the veggies. Arrange them so there is a space in the middle, and add the top sirloin steak to the middle of the pan.
Roast for an additional 12 minutes.
Remove the baking sheet from the pan. Place the steak on a second baking sheet, and tent the veggies with foil.
Broil the steak on high for 2 minutes, or until a meat thermometer registers an internal temperature 0f 5 degrees below your desired degree of doneness (The steak will continue to cook while it rests - The end temperature should be - Medium Rare = 145F, Medium = 160F, and well done = 170F. )
Return the steak to the pan with the veggies, cover with foil, and allow to rest for 10 minutes.
While the steak is resting, make the gravy!
In a large skillet over medium heat, melt the butter.
Slowly whisk in the flour until you form a paste, then continue whisking for 2 more minutes.
Slowly (sooo slowly, like less than 1/4 cup at a time) add in the beef broth, whisking completely after each addition so you have a nice smooth sauce.
When all the broth has been added, add in the bouquet garlic (or dried spices), and continue whisking and cooking until the steak has rested for 10 minutes. Season to taste with salt and pepper.
Carve the steak into slices, cutting against the grain, and serve with the veggies and the gravy.
Enjoy!
Nutrition Information:
Yield:

4
Serving Size:

1
Amount Per Serving:
Calories:

880
Total Fat:

52g
Saturated Fat:

21g
Trans Fat:

0g
Unsaturated Fat:

25g
Cholesterol:

241mg
Sodium:

1066mg
Carbohydrates:

33g
Fiber:

4g
Sugar:

5g
Protein:

68g
Looking for other awesome weeknight recipes that feature beef? Check these out: