These Panko Crusted Baked Chicken Tenders are a crispy and a delicious weeknight meal. Served with an addictive Creole Dipping Sauce, these tenders will soon be your family's new favorite!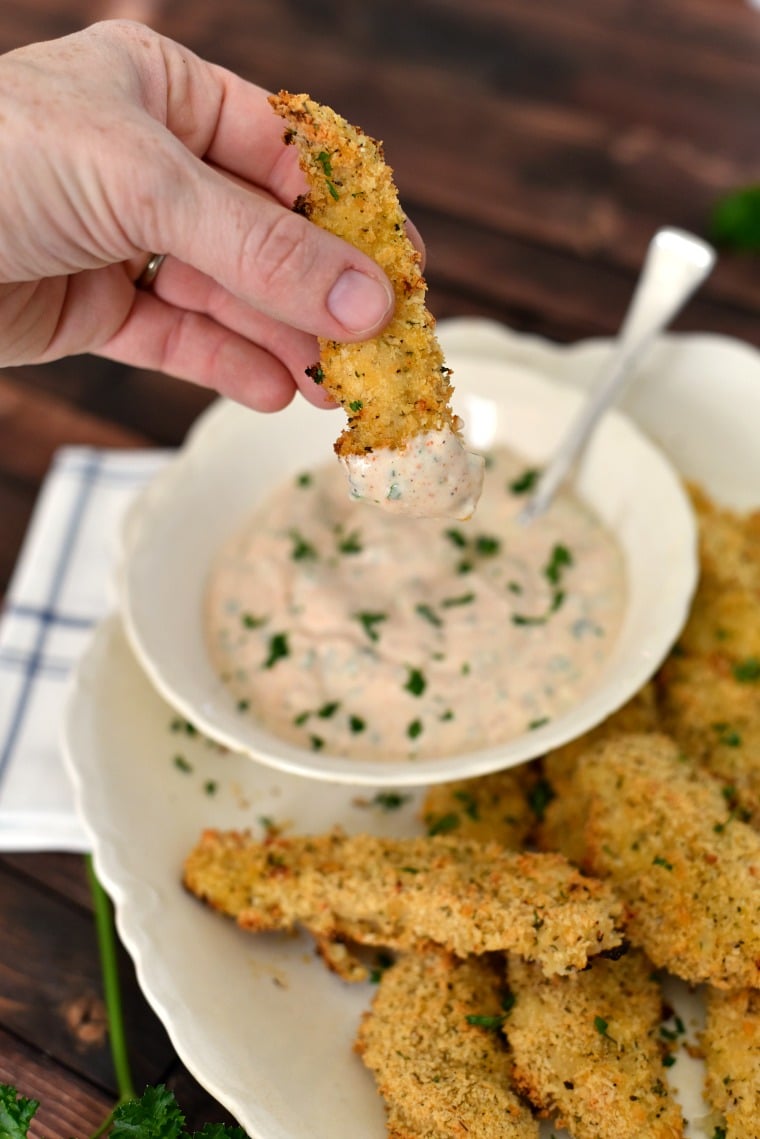 **This post was updated on 9/28/17 with new photos and an updated recipe. This post contains affiliate links.
Without fail, almost every household plays the same game at one dinner time or another:
"What do you want for dinner?"
"I dunno, what do you want?"
Often times this goes on and on and on, until everyone is seriously annoyed and starving, and then finally settle on something quick and easy like boxed macaroni and cheese or a frozen pizza (not that there is anything wrong with that…).
When we play this game at my house, my husband always ALWAYS wants this. Even if we just had it the night before. In fact, whenever we have company over, he wants to make this. Or whenever we talk about what to eat for dinner that week, he wants to make this.
Actually, my husband practically wrote this post for me. I'm supposed to tell you that this is "irresistible" and that it will "Leave you wanting more!". We have been making this recipe since before we had kids (why does that suddenly seem like a lifetime ago?), and it is still one of our favorites!
Interested yet?
Next time you play the "What Do You Want For Dinner" game, give Creole Panko Chicken Fingers a try! They are easy to make, crispy yet baked, and so full of flavor! (The dipping sauce here is purely amazing!). The Creole Dipping sauce is amazing – make it with an awesome
Creole seasoning mix like the one from Raw Spice Bar
– it is freshly ground, salt free, and so flavorful!
Get Your Kids in the Kitchen:
Kids aged 0-3 can help you measure the ingredients and mix the dipping sauce, prepare the breading, wash the parsley, and help set the table.
Kids aged 4-7 can help you do everything above, plus help you dip the chicken fingers into the yogurt and breading.
Kids aged 8-10+ can help you do everything above!
Real Milk California
I am so excited that I teamed up with Real Milk California for a super special event. From now until Dec 31, 2017, Real Milk California is having a social media campaign called #SealsforGood. The gist is this – share a photo of their special seal (see the photo below) along with the hashtag #SealsforGood and for every submission Real California Milk will donate $5 to the Great American Milk Drive (up to $20,000) to help families affected by hurricane Harvey and Irma in Texas and Florida. No purchase necessary. You can learn more about this here.
My husband tried to give me some serious grief about working with a California Dairy company, when I have been so adamantly pro-Iowa. BUT, I feel like our country is going through so much right now – between natural disasters and cultural conflicts, what we need now is more unity and compassion, not more division. Plus, its hard not to support company that is so adamant about supporting real food made by real families. So yeah, GO REAL MILK CALIFORNIA!
I did have a bit of an issue finding these seals at my local grocers, however I did definitely find some! You can find these seals on any dairy product – milk, cheese, butter, yogurt, even ice cream! So grab your smart phone and your kids and have a fun scavenger hunt at your local grocer! Don't forget to use the hashtag #SealsforGood!
Love chicken strips? Try these fun and new chicken strip recipes:
Yield: 4 Servings
Creole Panko Chicken Fingers
These delicious and easy chicken tenders are crispy and full of flavor! Served with a fun dipping sauce, its sure to be a family favorite!
Ingredients
Creole Chicken Tenders
1 1/2 cups panko breadcrumbs
2 TBSP fresh chopped parsley
1/4 tsp garlic powder
1/4 tsp pepper
1/8 tsp salt
1 cup plain greek yogurt
2 TBSP dijon mustard
1.5 lb chicken tenders (about 12)
Dipping Sauce
1 cup plain greek yogurt
1/4 cup fresh chopped parsley
1 TBSP salt free Creole seasoning mix
1/4 tsp pepper
Instructions
Creole Chicken Tenders
Preheat the oven to 450 F.
In one bowl, combine greek yogurt and dijon mustard.
In a second bowl, mix together the panko, parsley, garlic powder, pepper and salt.
Dip the chicken tenders into the yogurt mixture and turn to coat.
Dip the chicken tenders into in the breadcrumb mixture and turn to coat, pressing gently to adhere the breadcrumbs to the chicken tnders..
Place the chicken tenders onto a wire rack and allow to sit for 10 minutes. Do NOT skip this step, it really helps the chicken tenders turn out nice and crunchy!
Place a piece of parchment paper or a silat mat on a baking sheet and transfer the chicken tenders to the baking sheet. If you have an oven safe wire rack, use that, too!
Spray the chicken tenders with cooking spray.
Bake for 18-23 minutes.
Dipping Sauce:
In a bowl, combine the greek yogurt, parsley, cajun seasoning mix (start with 1 TBSp and adjust to your taste preferences) and pepper.
Refrigerate until needed.
Nutrition Information:
Yield:

4
Serving Size:

1
Amount Per Serving:
Calories:

752
Total Fat:

31g
Saturated Fat:

6g
Trans Fat:

0g
Unsaturated Fat:

22g
Cholesterol:

84mg
Sodium:

4534mg
Carbohydrates:

68g
Fiber:

4g
Sugar:

7g
Protein:

50g
Looking for some easy sides to serve with this? Try these out: