George Washington Carrot Tea Cake Recipe
This Carrot Tea Cake is a historical recipe enjoyed by George Washington at the end of the Revolutionary War. This old cake recipe is simple and rustic and surprisingly delicious! This cake is made without grating carrots, which means it is less labor intensive than the traditional cake. Serve it with some fresh whipped cream instead of spending the time frosting it for a simple and rustic dessert that will please everyone!
Imagine this.
It is November 25, 1783 – the American Revolution has been raging for 7 years, but has finally drawn to a close. The setting is a tavern in lower Manhattan called "The Queen's Head" (which is about to get a name change to the "Fraunces Tavern". One hundred of the best generals, officers, and important civilians gather with French Ambassador Luzerne and the future first president of the United States (Yup, George Washington!) to celebrate the British troops finally being evacuated from New York City. A banquet is being held to celebrate the finale of the Revolutionary War – compete with roasted lamb, sorrel soup, a tipsy squire (a dessert, not a drunk boy), and – a carrot tea cake.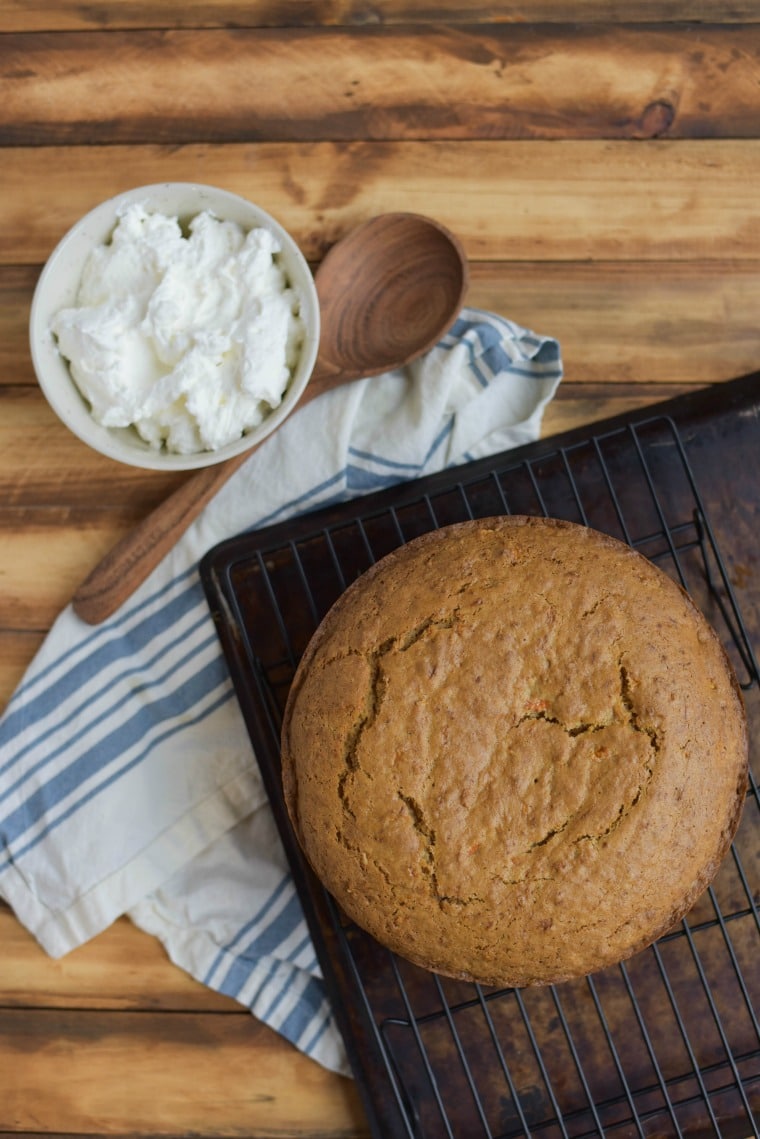 Historically Hungry – Old Recipes Made New
It's time for another installment of Historically Hungry! This month Amy and I decided we would take a nod at Independence Day at focus on food that was served around the Revolutionary War. Amy made these amazing Frogger Cookies, which are large, chewy, molasses based cookies that have been loved for 200 years. By random chance, we both picked recipes that originated in taverns!
Food In Revolutionary War America
Families during the 1700's ate mostly what they grew themselves. In season meals were cooked over open fires, and instead of ovens, mothers used wood fireplaces.
Because there was no refrigeration, food was preserved though salting, pickling, drying, smoking, or canning. But other than that, they ate a wide variety of home cooked meals with what they had on hand.
Soldiers, however, didn't eat so well – they received daily rations that included bread (often old hardtack), dry beans/peas, and some rum or beer. They ate a lot of salted and dried foods, which they would boil together to make a soup/stew. Soldiers would often hunt local wild game, they sometimes would "liberate" provisions from nearby farms or towns, as well as receiving donations from supporters and purchasing supplies themselves. (source).
In the long winter (December, 1777 – June, 1778) vegetables became obsolete and meat and bread was hard to find. Men starting eating "fire cake" which was a tasteless mixture of flour and water cooked over open fires. (Side note: Watch this video on Fire Cake. And then spiral down the rabbit hole and watch the rest of the awesome videos by Jas Townsend and Sons! I love watching him cook!)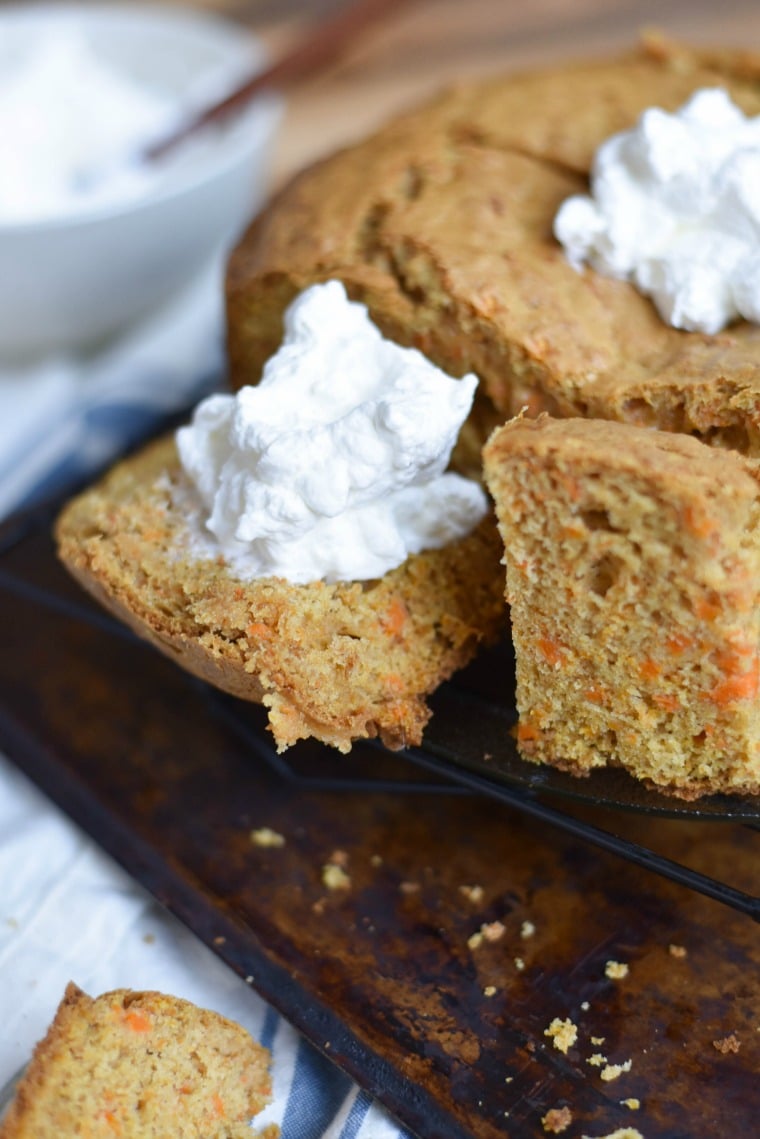 Great Kids Books About the Revolutionary War
Jenni Ward/The Gingered Whisk is a participant in the Amazon Services LLC Associates Program, an affiliate advertising program designed to provide a means for sites to earn advertising fees by advertising and linking to Amazon.com.
I always love including a few books that are great additions to the recipe – because reading and eating are my favorite things and combining them together is pretty much amazing. Just don't spill on the book.
Did I leave out your favorite? Let me know if there is one I missed!
Carrot Tea Cake Recipe
Now this carrot cake isn't quite what you are used to, but its an amazing forebearer of what we typically make today. I love that instead of grating the carrots you cook and then mash the carrots (less labor intensive, I think!).
Its a simple, rustic cake, but beyond delicious! Make it this holiday season and share the fun history behind this cake with your friends/family.
This carrot cake is moist and flavorful, but not as overly sweet as some cakes can be. It is best served warm with some fresh and lightly sweetened whipped cream.
Get Your Kids in The Kitchen
Kids aged 1-3 can help you measure and whisk the dry ingredients together and mix the cake batter.
Kids aged 4-6 can help you do all the above, plus help you peel the carrots, mash the cooled cooked carrot, prepare hte cake pan, pour the batter into the pan, and whip the cream.
Kids aged 7-10+ can help you do all the above!
*Please note that these recommendations are generalized, and to please use your personal discretion with your child's skill level. And always, always supervise!
Food tastes better when its shared! If you try this recipe, let me know! Leave a comment and rate below! Love and links are always appreciated! If you'd like to share this post, please link to this post directly for the recipe, please do not copy and paste or screenshot. Thanks so much for supporting me! xoxo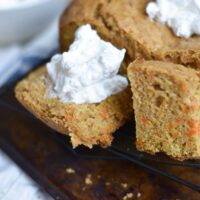 George Washington Carrot Tea Cake Recipe
This Carrot Tea Cake is a historical recipe enjoyed by George Washington at the end of the Revolutionary War. This old cake recipe is simple but delicious!
Print
Pin
Rate
Ingredients
5

carrots

1

and 1/2 cups granulated sugar

¾

cup

butter

5

large eggs

room temperature

3

cups

all-purpose flour

2

teaspoons

baking powder

2

teaspoons

baking soda

2

tsp

ground cinnamon

1

tsp

ground nutmeg

½

teaspoon

salt

For serving

whipped cream
Instructions
Chop the carrots into 2" pieces and place in a small saucepan with 1 cup of water.

Simmer until the carrots are soft, about 20-25 minutes.

When the carrots are soft, remove from pan and allow to cool. When cool, mash the carrots.

Preheat the oven to 350 Degrees.

Spray a 10" springform pan with cooking spray and set aside.

In a large mixing bowl, beat the sugar and butter until soft and creamy, about 1 minute.

Add the eggs in one at a time, mixing well after each addition.

In a medium mixing bowl, whisk the flour, baking powder, baking soda, cinnamon, nutmeg and salt together.

Add to the butter/sugar mixture with the mashed carrots and mix to combine.

Pour into the prepared springform pan, and bake in the preheated oven for 40-60 minutes. Test with a toothpick to make sure that the cake is done.

Remove from oven and cool (in the pan) on a wire rack for 20 minutes.

Remove the springform and cut into slices.

Serve with whipped cream.

Enjoy!
Nutrition
Serving:
1
g
|
Calories:
346
kcal
|
Carbohydrates:
42
g
|
Protein:
7
g
|
Fat:
17
g
|
Saturated Fat:
10
g
|
Polyunsaturated Fat:
6
g
|
Trans Fat:
1
g
|
Cholesterol:
130
mg
|
Sodium:
614
mg
|
Fiber:
2
g
|
Sugar:
11
g
This recipe is adapted from here and here.
SaveSave