Chamomile & Blueberry Donuts + Hosting an Easy Tea Party
These Chamomile, Poppy Seed and Blueberry Donuts are are the perfect sweet treat for a little girl's tea party. This mini donut recipe is baked with tea and have a slight floral taste that compliments the fresh blueberries in the glaze perfectly.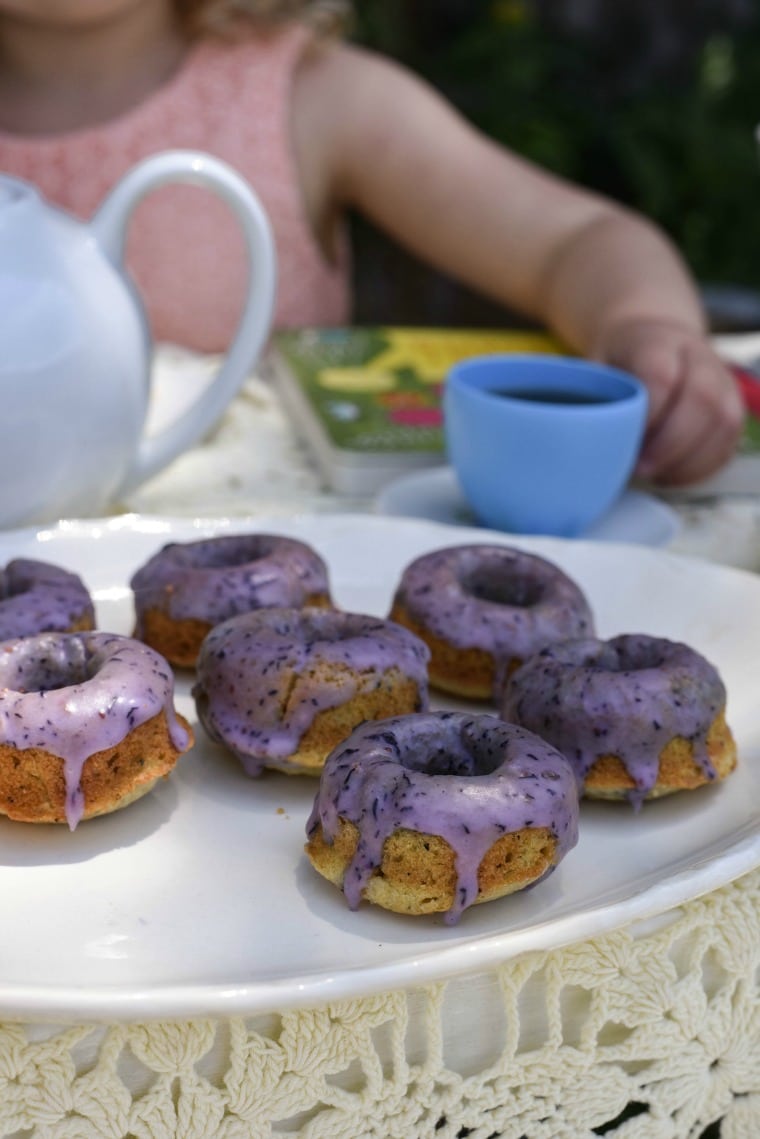 This post may contain affiliate links. As an Amazon Associate, I earn from qualifying purchases.
Growing up, I loved reading the Secret Garden. I used to dream of finding a secret little space that I could call my own. I wasn't so much into fancy tea parties as I was curling up with a cup of tea and a snack and reading a book. But tea, books, and food just go together well, and good company always goes with that. Because I love using books to show children how delicious and fun food can be, creating a special day for my girls and their friends from The Secret Garden just seemed like a brilliant idea! And so, a low-key garden tea party for little girls was born!
Secret Garden Books for Kids:
How to Host A Low Key Tea Party
I LOVE a good party! Having friends and family over is one of my favorite things – enjoying time just being together, eating tons of awesome food (of course), laughing, and just hanging out. But I have also come to realize that no matter how much I stuff my Pinterest Board with awesome inspiration, I am NOT the type to go gang-busters on decorations and decor and details. Of course I want everything to be super cute and perfectly arranged – but in reality, I'm at home with three young girls, and life is crazy. When push comes to shove, I gotta spend my time cleaning the bathroom before people come over and not folding napkins into amazing creations.
I am a low key party thrower – I like to focus on the food and not worry too much about the rest. The people and food are the most important parts – for me, anyway. So when it came time to hosting a tea party with friends, I went super simple.
What You Need To Host An Easy Tea Party
Step One: Set the Date and Time! You know, whatever works for you! Try to pick a day when its going to be nice out – not too hot and not raining.
Step Two: Send out invites! Again – super low key, so my "invites" were really just text messages that say "Hey! Wanna come over for a tea party?!". Whatever works, right?
Step Three: Set The Table! – Use what you have on hand – a picnic table, a card table, or even just a blanket on the ground! I used a kids picnic table in the shade of our yard and lined it with an old lace doily we have. You could use a tablecloth, or nothing at all! We used a tea set that my grandmother had given me for the dishes, along with a random mishmash of serving things that fit what we needed.
Step Four: Decorate! You are definably going to know by know that I like to KISS (that means "Keep It Simple…"). Use a small bouquet of flowers and/or some potted plants. I mostly just used things we already had in our garden/house. I tried to convince my girls to dress up in uber-girly dresses and put bows in their hair and – well, they boycotted. What do they know, anyway… Only one girl who came wore a dress, the rest were in swimsuits. Whatever works, right?
Step Five: Prep the Food and Tea! I feel like I am a broken record here, but totally keep it simple. Remember, this is more about the experience and memories than what the actual food is! You can see the menu that I made down below, but the chamomile poppy seed donuts with fresh blueberry glaze totally stole the show.
Step Six: Enjoy! Sit down at the table, pour the tea, pass the snacks, and just enjoy the moment with your little ones!
What Teas To Serve To A Little Girls Tea Party
Serving the right teas is important for little girls. You want to make sure you have decaffeinated teas, with flavors they will enjoy.
I really like this Mint tea that has a combination of peppermint, spearmint, and a splash of vanilla and spices (I served ours iced because it was so hot out) as well as a chamomile tea (that I also used in the chamomile donuts) and a decaffeinated black as well.
Secret Garden Tea Party Menu
Chamomile Poppy Seed Baked Donuts with Fresh Blueberry Glaze – Recipe Below
Cucumber Tea Sandwiches (and Peanut Butter and Jelly Sandwiches, too!)
Chamomile Poppy Seed and Blueberry Donuts
These chamomile poppy seed donuts are a perfect little treat for a party or breakfast. Because I used a mini donut pan, they are the the perfect size for little fingers and baked up really quick (like 8 minutes per pan!). I suggest getting two pans to make it even quicker.
I infused the batter with this awesome chamomile tea from Plum Deluxe that combines chamomile tea with rose and lavender, which infuses the donuts with a lovely and subtle floral taste.
The Fresh Blueberry Glaze was easy to make – I just pureed some fresh blueberries in my Magic Bullet and then whisked in some powdered sugar to make an easy, fresh, and flavorful glaze to dunk the baked donuts in.
How to Make Baked Donuts
The easiest way to get the batter into the pans is to place all the batter into a zip-top bag and cut off one corner, then squeeze a ring in.
Don't overfill the pan, or the donuts will puff up so much that you loose the little holes that make them donuts.
When cooled, dunk the donuts upside down into the glaze and then let them drip dry on a wire cooling rack.
Chamomile Donuts with Blueberry Glaze
These Chamomile Poppy Seed Donuts with Fresh Blueberry Glaze are the perfect sweet treat for a little girl's tea party. These mini donuts are baked with tea and have a slight floral taste that compliments the fresh blueberries in the glaze perfectly.
Print
Pin
Rate
Ingredients
Donuts:
1 ¼

cup

flour

½

cup

sugar

½

tso baking soda

½

tsp

salt

1

TBSP

chamomile tea

⅓

cup

melted butter

½

cup

buttermilk

1

egg

1

tsp

vanilla extract

1

TBSP

poppyseeds
Fresh Blueberry Glaze:
⅓

cup

fresh blueberries

2 ¼

cup

powdered sugar

1

TBSP

milk
Instructions
Preheat the oven to 350F.

Prepare a mini donut pan by spraying each well with cooking spray and then setting aside.

In a large bowl, whisk together the flour, sugar, baking soda, salt and chamomile tea until just combined.

In a medium bowl, whisk together the melted and cooled butter, buttermilk, egg, vanilla and poppyseeds.

Carefully fold the wet ingredients into the dry until just combined.

Spoon the batter into the donut pan wells about 2/3 full (do not overfill).

Bake 8-10 minutes, or until starting to turn golden brown and firm to the touch.

Remove the pan from the oven and allow to cool in the pan on a wire rack for a few minutes before removing the donuts from the pan and allowing to cool completely on the wire rack.
To make the frosting:
In a medium bowl, whisk together the blueberry puree, powdered sugar, and milk until desired consistency (you can add more milk to make it thinner or more powdered sugar to make it thicker - I think thicker is better because it stays on the donuts better).

Dunk each cooled donut into the glaze and then drip dry on the wire rack (place newspaper, a cookie sheet or something under the wire rack to catch the drips!).

Enjoy!
Notes
1. Store these in a covered container for 1-2 days.
2. You can make bluebery puree my pureeing fresh or thawed frozen blueberries in a blender or food processor.
Nutrition
Serving:
1
g
|
Calories:
109
kcal
|
Carbohydrates:
20
g
|
Protein:
1
g
|
Fat:
3
g
|
Saturated Fat:
2
g
|
Polyunsaturated Fat:
1
g
|
Cholesterol:
15
mg
|
Sodium:
108
mg
|
Sugar:
15
g
SaveSaveSaveSave
SaveSave
SaveSave