Hungarian Goulash – Inspired by Rapunzel
This quick and easy Hungarian Goulash recipe is ready in just under 45 minutes, yet is packed with tender steak, tons of vegetables, and loaded with flavor. It is a great soup to serve on a cold night! This recipe is inspired by the Rapunzel fairy tale story.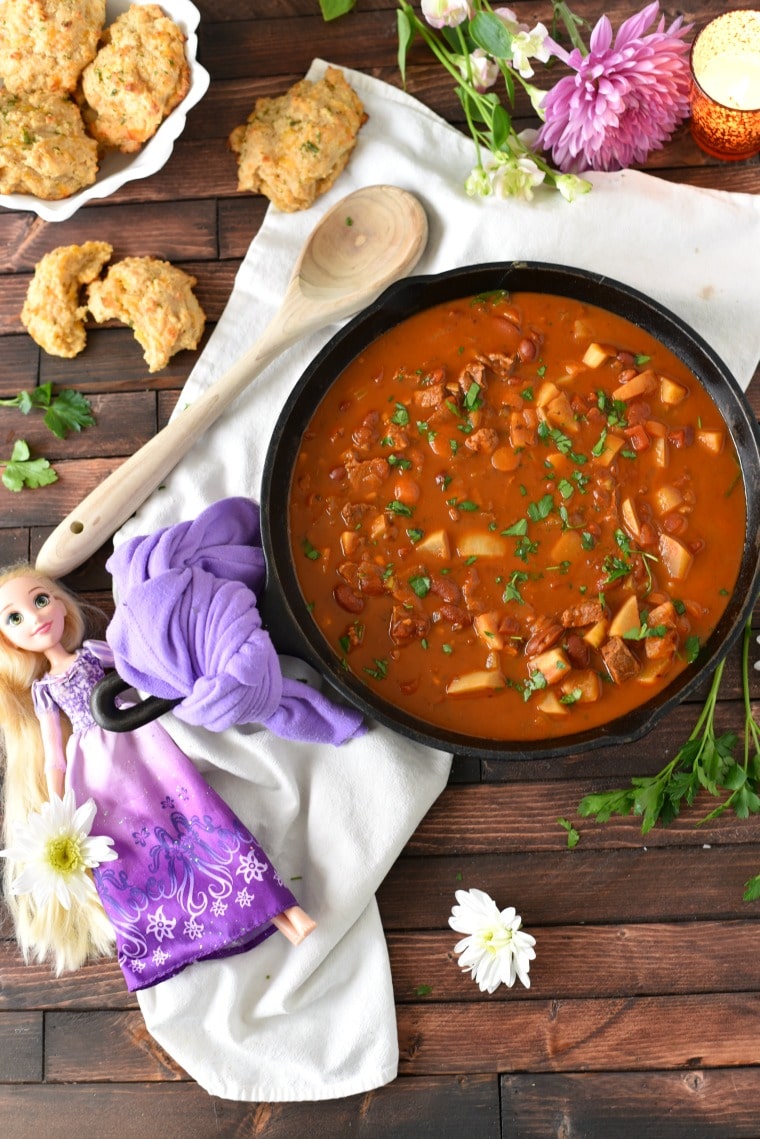 This Hungarian Goulash seems like the perfect spring meal to me! The winter can seem cold and harsh, a long imprisonment in a cold, dark tower. But the coming of spring, warmer days, more sunshine, and hearing the gorgeous bird song outside your bedroom window feels like a sudden freedom and breath of fresh air. Suddenly the days are brighter and longer and we can finally spend a bit of time outside. It feels so exhilarating after a long cold winter!
While it is getting warmer, it is still fairly cool out. This quick and easy goulash recipe is the perfect way to warm up after your frolicking in the great outdoors. This goulash is ready in under an hour and packed with tons of vegetables, bacon, tender steak, and lots of sweet paprika! Serve it with some cheesy biscuits for a perfect spring meal!
Welcome to the Eat Like A Princess Series!
I designed this series as a fun way to teach my daughters about new cultures through the classic Princesses in hopes that they will become more open to trying new foods, to understand other cultures better, and to enjoy exploring the world around them. All while still:
containing real food
be super easy
take about 30 minutes (or as close to it as we can).
You can see other recipes in this series here.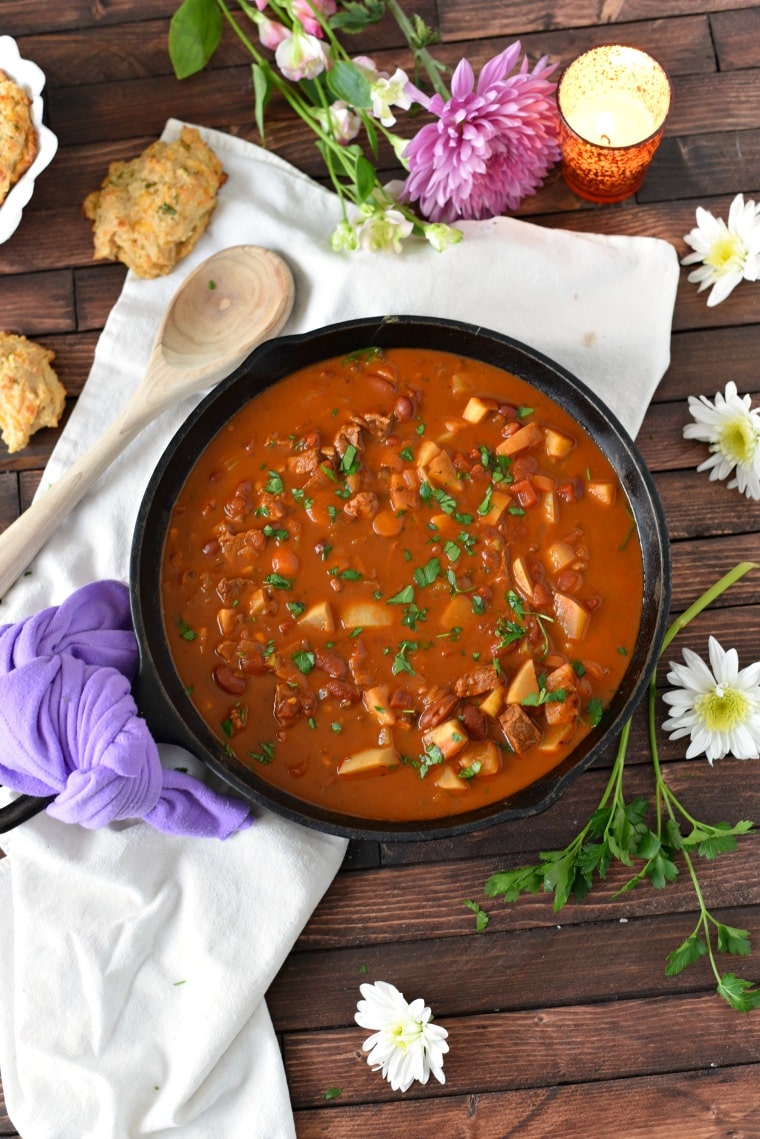 The Rapunzel Story:
Rapunzel, the poor girl, has kind of had it rough. Published by the Grimm brothers in 1812, the story has been adapted from and influenced by similar tales from Germany and Italy as far back as 1790, and also shares similar themes to an 11th century Persian tale called Rudāba.
So, this story is kind of messed up. While Rapunzel's mom was pregnant she had some super intense cravings for a leaf vegetable called Rapaunzel – which is also sometimes called corns salad or lamb's lettuce. Yes, its a real thing. And her mama NEEDED it so badly she thought she would literally die without it. That's a crazy craving. So Daddy jumped over into a witch's garden to steal it. Of course, the witch caught him. But instead of turning him into a frog or putting a hex on him, she allowed him to take the greens in exchange for his baby. And he agrees?! I am guessing he thought that was better than returning to his pregnant wife empty handed? So mother Gothel, the witch, takes the new baby and names her after the plant her mother wanted so badly, and keeps her locked in a tower. One day a Prince spies her singing in the tower, finds out how to get inside, and falls in love. I think we can all agree that a girl literally locked in a tower for her whole life doesn't really understand the way of the world very well, and one thing leads to another… One day, innocently, Rapunzel asks Mother Gothel why her stomach is getting bigger and her clothes don't fit. Gothel realizes that Rapuzel has been having booty calls. She cuts off Rapunzel's hair and dumps her in the desert alone to give birth to twins. She takes Rapunzel's hair and sets a trap for the prince – he falls out of the tower and is blinded when he falls on some rose bushes below. Two years pass. Poor Rapunzel raising twin babies alone in the desert, the prince wandering blind. Finally they come across each other and Rapunzel cries magical tears that heal the Prince's eyes. And then they live happily ever after.
I don't know about you, but I like the Disney version better.
Based on clothes and a Mozart-name drop in the movie version, I am guessing that Tangled takes place along the Austrian/German and Hungarian border, probably in the late 1700's or early 1800's. The regency fashion, the architecture, etc all point towards this. In the movie, Mother Gothel mentions that she brought parsnips to make Hazelnut Soup. I decided not to make that particular soup because 1 – it takes a while (like over an hour) and 2- I honestly didn't think my kids would eat a creamy soup like this. I wanted something chunkier, and with meat so it could be served as a meal. However, I did find this awesome version of Hazelnut soup if you want to give it a try yourself!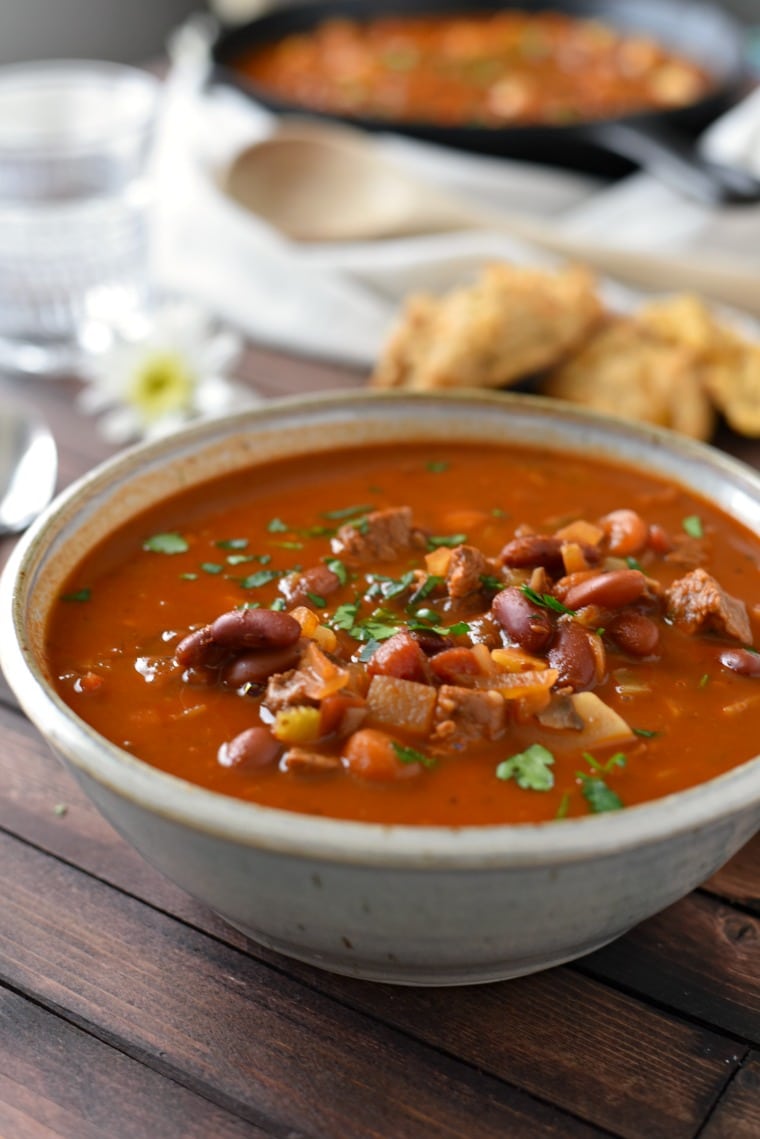 [embed_popupally_pro popup_id="8″]
Hungarian Goulash Shortcuts:
*This post contains affiliate links. See more about what that means on my disclosure page.
Dicing the vegetables and beef small helps them to cook faster
Use a wider bottomed pan like a skillet or a braiser to help give more surface cooking area – this will help your vegetables cook faster!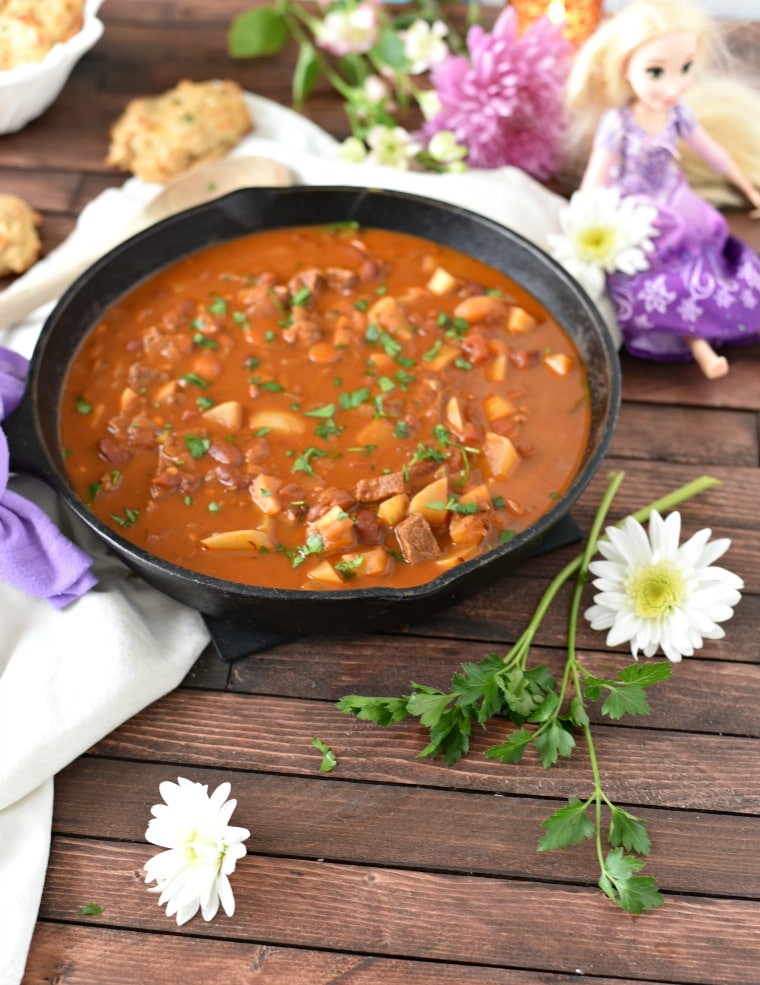 Tasks to Get your Kids in the Kitchen:
This Easy Goulash is a great recipe to have your children help you cook. These tasks are perfect for getting your kids involved:
Kids 1-3 can help you measure the spices, wash the produce, stir the pots (with supervision), and set the table.
Kids 4-7 can help you do all the above, plus slice the mushrooms and celery, open and spoon out the canned tomatoes, pour the broth, and rinse the kidney beans.
Kids 8-10+ can help you do all the above, plus help dice the onion, carrot, parsnip and turnip,  and the meat (with supervision).
*Please note that these recommendations are generalized, and to please use your personal discretion with your child's skill level. And always, always supervise!
Read More About The Rapnuzel Story:
*This post contains affiliate links. See more about what that means on my disclosure page.
To get your kids excited to eat this delicious easy goulash recipe, read these fun stories about Rapunzel!
First Stories: Rapunzel  is the perfect introduction for young children to this classic fairytale. Push, pull, and turn mechanisms bring the story to life and introduce all the main characters
Rapunzel by Bethan Woollvin is a great retelling of the story if you are looking for a version where Rapunzel is a self-rescuing heroine.
For older girls (like 10+) who are ready for a fun and different twist, check out Rapunzel's Revenge, where Rapunzel teams up with Jack (from the beanstalk) in a fun wild-west where she rights-wrongs, changes lives, and brings lots of joy!
Once Upon A World: Rapunzel is a fantastic version where the classic story of Rapunzel gets a fun twist and a new landscape – India!
How the Library (not the Prince) saved Rapunzel is a fun rhyming take on the classic tale – but one where a job at the library is exactly what Rapunzel needs to get out of her tower!
Hungarian Goulash
This quick and easy Hungarian Goulash recipe is ready in just under 45 minutes, yet is packed with tender steak, tons of vegetables, and loaded with flavor. It is a great soup to serve on a cold night!
Print
Pin
Rate
Ingredients
1

turnip

diced

1

onion

diced

2

celery stalks

diced

1

carrot

diced

1

parsnip

diced

3

oz

mushrooms

diced

3

strips bacon

1

small container of tomato paste

1 15-

oz

can of petite diced tomatoes

1

tsp

oregano

½

tsp

caraway seeds

1

tsp

dried thyme

2.5

TBSP

sweet Hungarian Paprika

2

garlic cloves

minced

1

bay leaf

3

cups

broth

beef, chicken, or vegetable work equally well here

3

lb

beef roast

fat trimmed away and cut into 1/2" pieces

1 15-

oz

can of kidney beans

drained and rinsed
Instructions
Heat a large braiser or a deep and wide cast iron skillet over medium heat.

When the pan is hot, add the bacon and cook until done but not crispy, about 5 minutes. Remove and set aside. Keep the drippings in the pan.

Into the bacon drippings, add the diced onion, turnip, celery, carrot, parsnip and mushrooms.

Sautee for 5 minutes, or until the onion is starting to turn translucent, stirring frequently.

Add in the oregano, caraway seeds, thyme, garlic and paprika and stir constantly for about 30 seconds, to bloom the spices.

Add in the diced beef cubes and allow them to sear on all sides - just give it a stir every minute or so for a few minutes, until all the sides have been seared but the beef isn't cooked through.

Add in the tomato paste, the diced tomatoes, the broth, and the bay leaf.

Dice the bacon into small pieces and add that back to the pan as well.

Cover and allow to simmer for 20 minutes.

Serve into bowls and top with freshly chopped parlsley

Enjoy!
Nutrition
Serving:
1
g
|
Calories:
900
kcal
|
Carbohydrates:
32
g
|
Protein:
81
g
|
Fat:
49
g
|
Saturated Fat:
19
g
|
Polyunsaturated Fat:
23
g
|
Cholesterol:
281
mg
|
Sodium:
652
mg
|
Fiber:
9
g
|
Sugar:
10
g
Looking for other easy meals designed to get kids to eat?
SaveSave