Once Upon A Dinner – Charlotte's Web
Share a Family Date Night – Charlotte's Web style! This easy summer meal is designed to get the whole family in the kitchen and enjoying an evening together! Read the book, eat the meal, and watch the movie!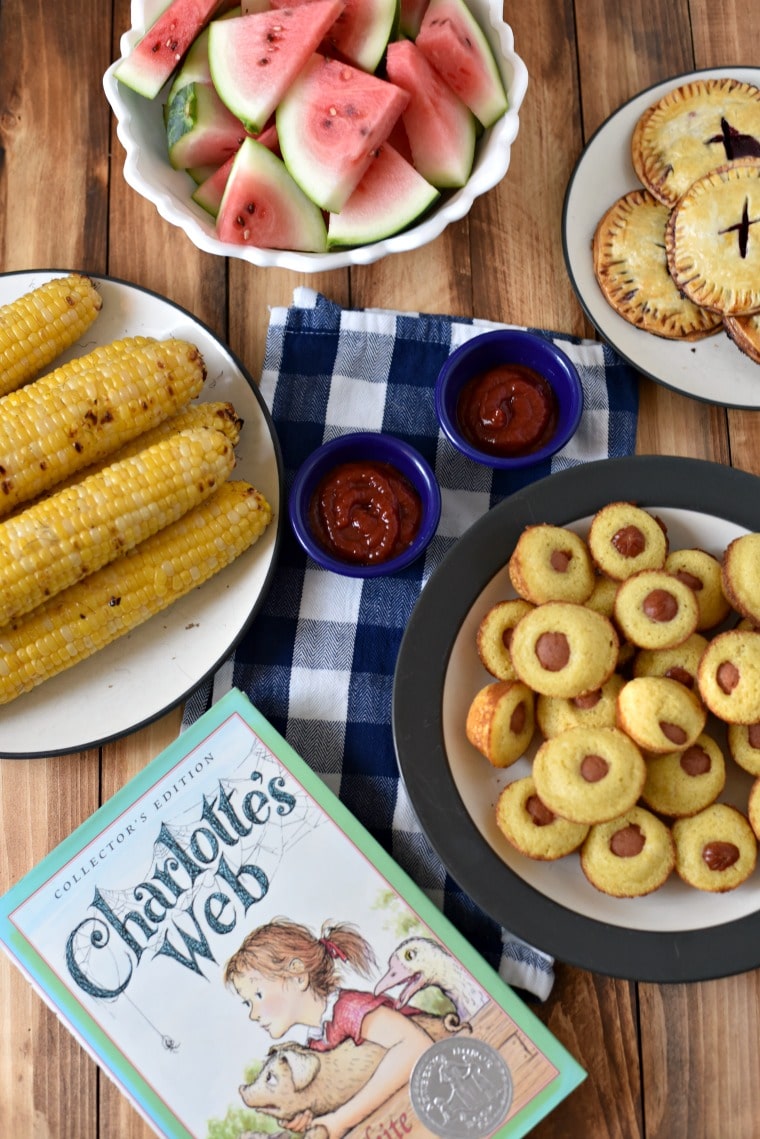 Welcome to the Once Upon A Dinner – Family Dinner Date Night!
This series is aimed at creating more family time, enjoying great books with your kids, getting the whole family involved in the kitchen to make dinner and dessert, and then enjoying a movie together!
This post may contain affiliate links. As an Amazon Associate, I earn from qualifying purchases.
I have two passions in life – reading books and creating (and eating) awesome food. Err – is that three things? Being able to pass these loves onto my children is super important to me. For a while now I have wanted to create a way to combine them into one awesome activity that also gave my family some much needed intentional quality time together – so I am so super excited to announce my "Once Upon A Dinner" series!
For this installment of Once Upon A Dinner, we are starting off by reading the Charlotte's Web book! This is a great chapter book for kids and my girls thoroughly enjoyed it! We read a chapter a night, and it was so fun to see them so enthralled with the story. It was also the first time that we read a book and then watched the movie, so I had a lot of fun discussing the story and the differences in book vs movie with my girls.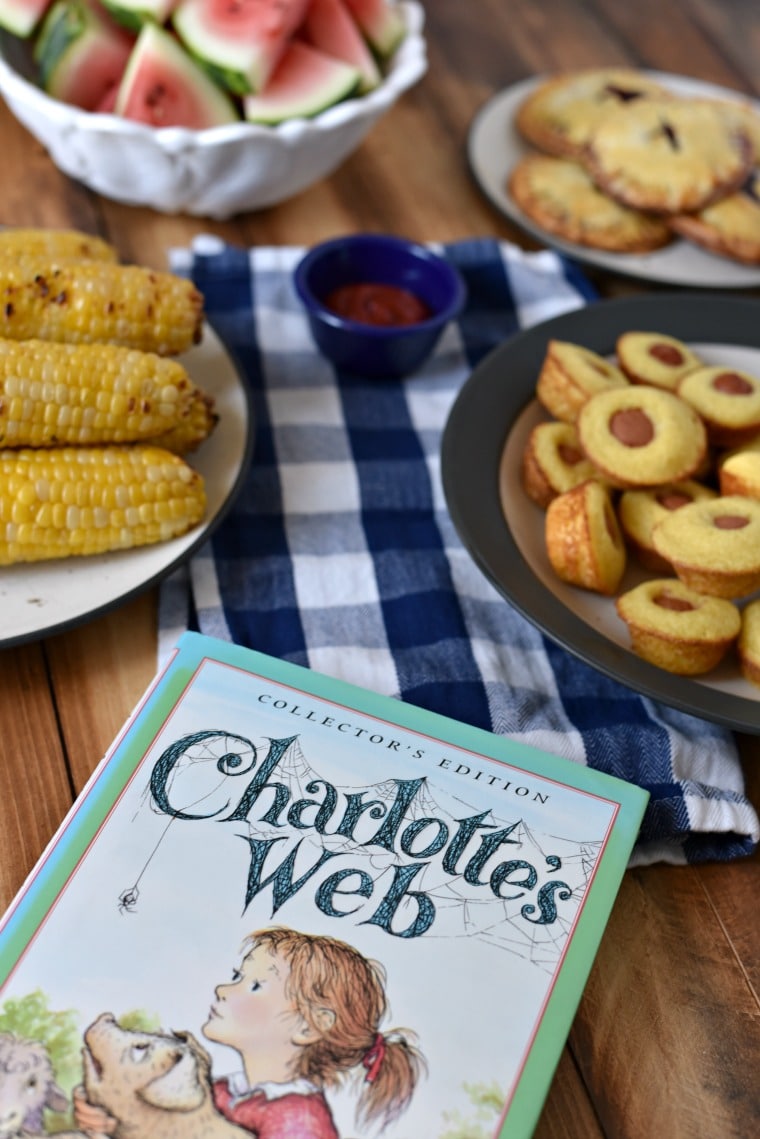 When we were finished with the book, we set aside an evening to celebrate by creating a meal together. Time to break out the cute aprons and step stools! Everyone had their own step to do, and everyone was involved in some aspect of creating both dessert and dinner. The girls helped to make the hand pies and corn dog muffins and Daddy was in charge of carving up the watermelon and grilling the corn. After we ate dinner, we all snuggled on the couch to watch the Charlotte's Web movie and enjoy our homemade cherry hand pies (with some vanilla ice cream, of course!).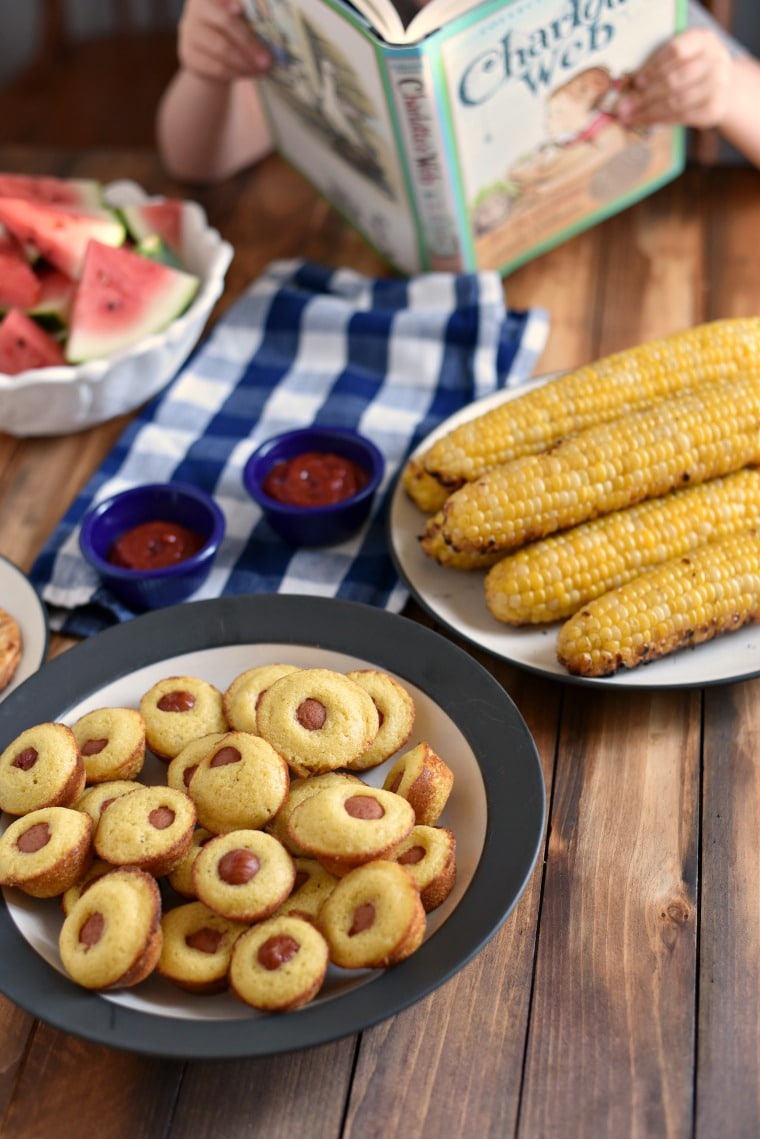 This simple summer meal is the perfect accompaniment to Charlotte's Web! The corn-dog mini muffins are an easy (and fried-food-free) homage to great fair food which the Arable's and Zuckerman's probably enjoyed at the county fair they took Wilbur to (minus the stick, of course). Serve these with fresh, juicy watermelon and some sweet corn on the cob for a perfectly farm and fair themed dinner. We decided to have Daddy grill the corn, but you can cook them anyway you like, or even just use frozen corn kernels if sweet corn isn't in season. Finish this meal off with your homemade hand pies, and you have yourself one lovely meal! And you've had a great family evening together, too!

Jenni Ward/The Gingered Whisk is a participant in the Amazon Services LLC Associates Program, an affiliate advertising program designed to provide a means for sites to earn advertising fees by advertising and linking to Amazon.com.
Steps:
Read Charlotte's Web together as a family (I suggest a chapter a night, but do what makes sense for your family).
Create Cherry Hand Pies (you can also substitute with another fruit if you prefer)
Make Dinner Together
Watch the Movie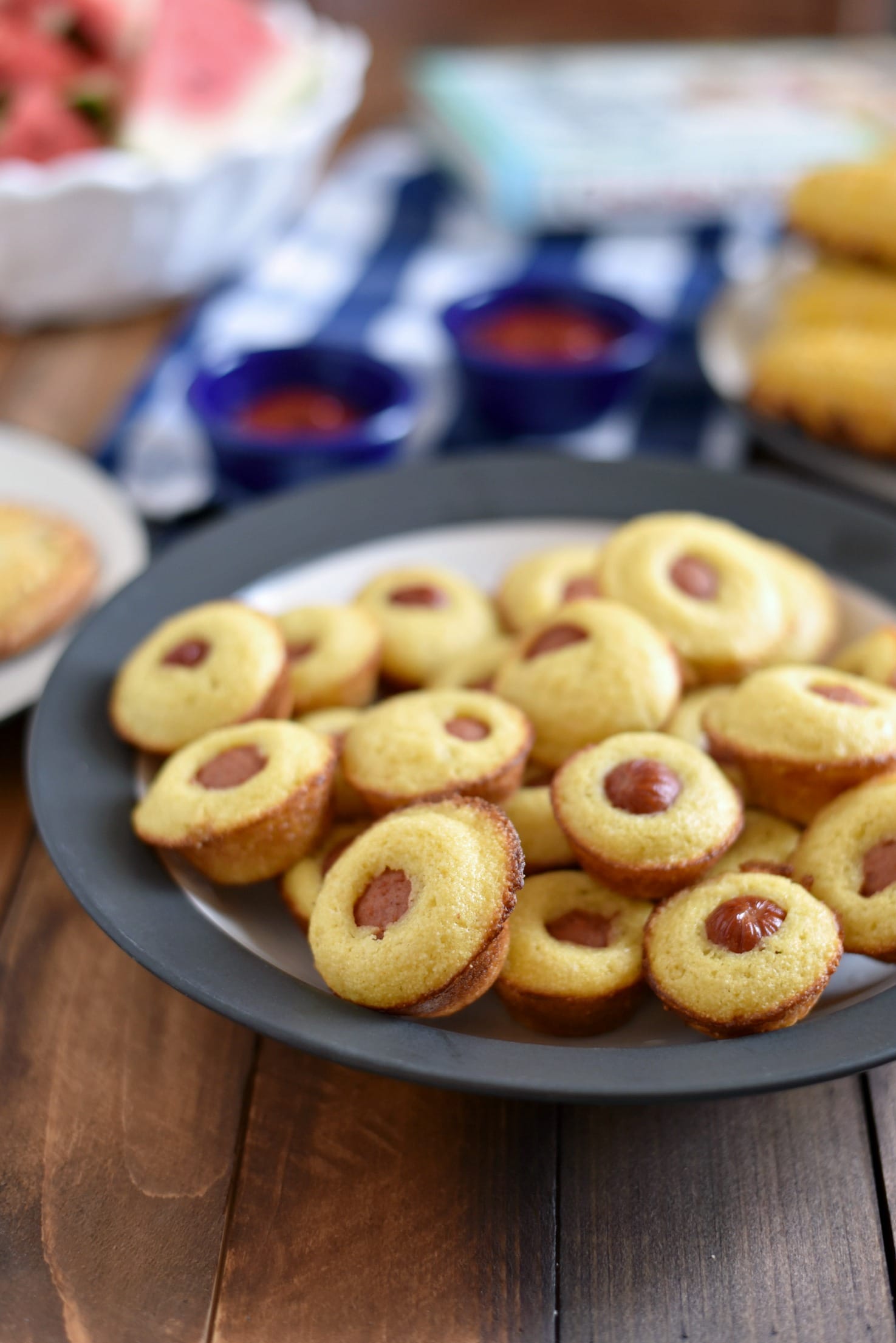 Get your Kids in the Kitchen:
Children aged 0-3 can help you mix the filling ingredients for the hand pies, use a cookie cutter to cut the pie crust (with help), measure and mix the corn-dog batter, help fill the mini-muffin cups, and shuck the corn (if using fresh).
Children aged 4-7 can help you do all the above plus use a cherry pitter to pit the cherries, slice the hot dog into pieces, help cut up the watermelon (I would carve it into bigger slices first, and then let them cut into smaller pieces), seal the hand pies with a fork, and help set the table.
Children aged 8-12 can help you do all the above!
[mailerlite_form form_id=7]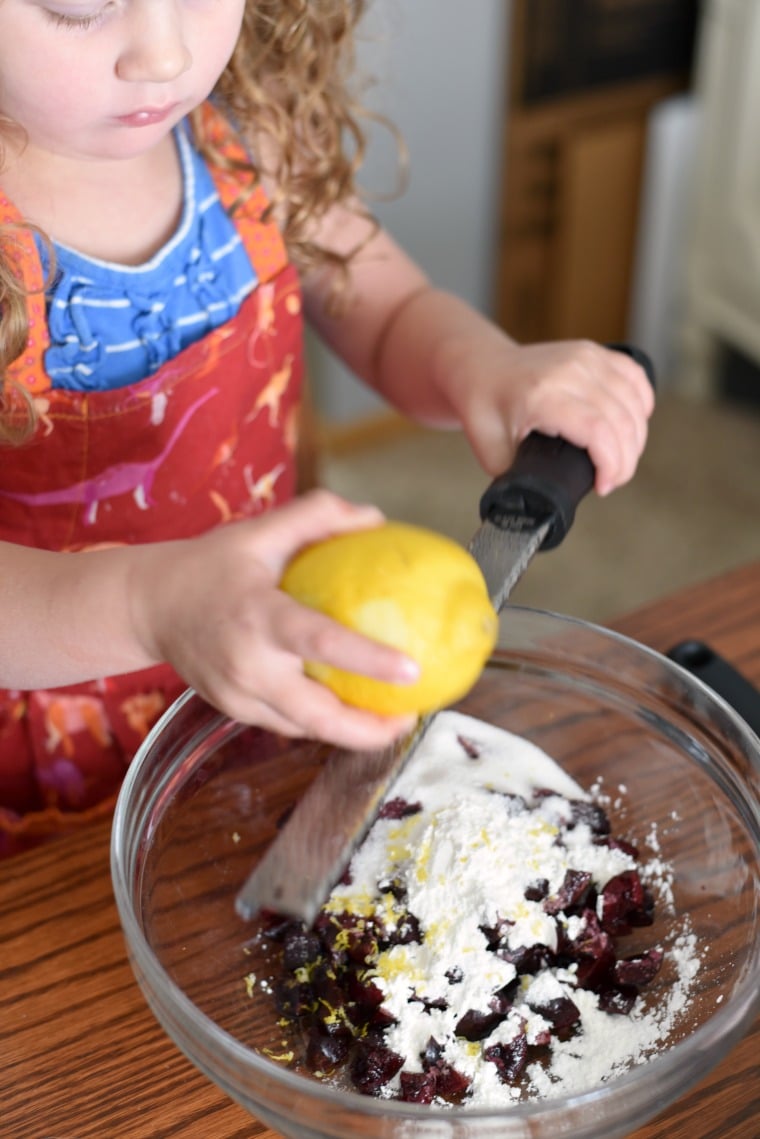 Tips for Cooking with Your Kids:
The point here is to intentionally spend time with your kids in the kitchen. It is not to create Pinterest-worthy gorgeous food, so don't be too obsessed with perfectionism here. Spills and messes are totally going to happen – its pretty much inevitable when baking and cooking with kids.
Have some wet and some dry paper towels ready to go to help clean up spills when they happen.
I think things tend to go faster and easier if all ingredients are pre-measured out for kids. This does take a few minutes extra prep-time to start with, and it does create extra dishes to wash, but it also helps de-stress the actual cooking part. Decide what is more important to you – less dishes but more chaos, or less chaos but more dishes – and do what works best for you!
Assign different tasks to different children based on their age. Children feel a sense of accomplishment and pride when they can look at a meal and see/tell exactly how they helped.
Ingredients
** Mini Hand Pies
1

package pie crust

2 crusts

1

cup

pitted

chopped cherries

4

TBSP

sugar

3

tsp

cornstarch

½

tsp

lemon zest

punch of salt

1

egg

1

tsp

water
*Mini Baked Corn Dog Muffins
½

cup

melted butter

½

cup

sugar

2

eggs

1

cup

buttermilk

½

tsp

baking soda

1

cup

cornmeal

1

cup

flour

½

tsp

salt

8-10

hot dogs

cut into 1" pieces
Instructions
*Cherry Hand Pies

Preheat oven to 375 F.

In a medium bowl, mix together the chopped cherries, sugar, cornstarch, lemon zest and a pinch of salt.

Using a  4" circle pastry cutter, cut the prepared pie crusts into circles (you will need 16 total, so make sure you cut smart!)

Place a spoonful of the filling in the center of 8 of the circles.

Place the remaining circles on the top of the filling.

Use a fork to press the edges of the pie crusts together to seal the filling in.

Whisk together the egg and the water to form an egg wash and then brush over each hand pie.

Pierce with a knife to allow steam to escape.

Bake for 18-20 minutes.

*Mini Baked Corndog Muffins

Preheat oven to 350F.

Cut the hot dogs into 1" pieces.

Spray a mini muffin tin with cooking spray and set aside.

In a large bowl, mix together the melted butter, sugar, eggs, buttermilk, baking soda, cornmeal, flour and salt.

Spoon 1 TBSP of batter into each mini muffin well and place a hot dog piece in the middle of each.

Bake for 8-12 minutes, or until golden brown. Repeat with remaining batter (you should get enough for about 48 mini corn dog muffins).

Serve with watermelon and corn on the cob.

Enjoy!
Notes
Store leftover hand pies in an air tight container.
Store leftover mini corn dog muffins in a container in the fridge.
Nutrition
Serving:
1
g
|
Calories:
1056
kcal
|
Carbohydrates:
127
g
|
Protein:
30
g
|
Fat:
75
g
|
Saturated Fat:
34
g
|
Polyunsaturated Fat:
33
g
|
Trans Fat:
1
g
|
Cholesterol:
273
mg
|
Sodium:
2164
mg
|
Fiber:
5
g
|
Sugar:
55
g
Looking for other ways to have fun with your kids in the kitchen?