Sheet Pan Baked Ratatouille Recipe with Rosemary Chicken
This easy baked ratatouille sheet pan meal is perfect for late summer produce. Ready in under 40 minutes and kid friendly, this Ratatouille with Rosemary Baked Chicken is ready in under 40 minutes and your children will love trying this Cinderella inspired recipe!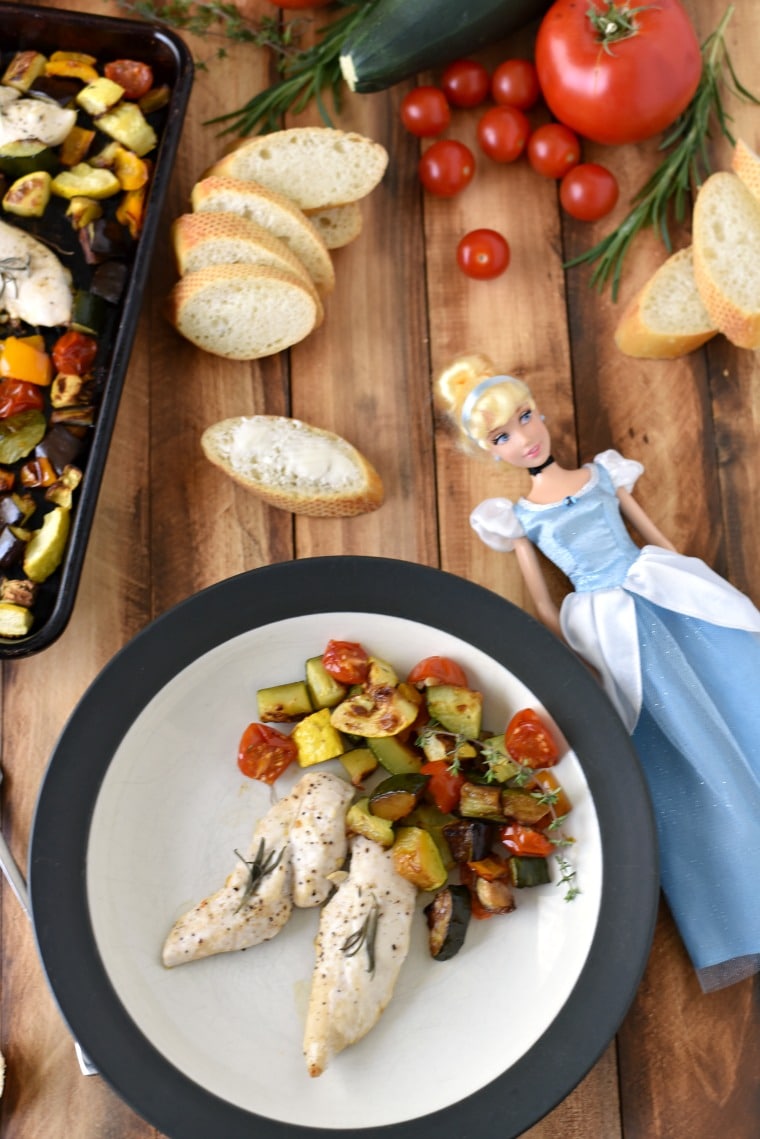 I hate to admit it, but even though I am supposed to be a "family weeknight meals" food blogger, some days my kids can be totally stubborn about trying something new. Yes, we have had many evenings where my kids have cried, gagged, choked, and sat there until their food was gross and cold because they wouldn't even try a single bite. It's totally infuriating. And irritating.
And it makes me want to yell and scream – because HELLO! How am I supposed to share this awesomely gorgeous and delicious meals that I totally love and tell everyone its perfect for families if my children are sitting at the table acting like I am feeding them poisoned rat livers? UGH!
Unfortunately we don't all have a fairy godmother who will swoop in, sing a fun song, wave her magic wand and transform our stubborn and picky eaters into little foodies who eat and love every bite (doesn't that just sound amazing, though?). However, I do have something that is second best!
Welcome to the Eat Like A Princess Series!
I designed this series as a fun way to teach my daughters about new cultures through the classic Princesses in hopes that they will become more open to trying new foods, to understand other cultures better, and to enjoy exploring the world around them. All while still:
containing real food
be super easy
take about 30 minutes (or as close to it as we can).
You can see other recipes in this series here.
The Original Story of Cinderella
Everyone is familiar with the Cinderella story, and it is one that girls everywhere love to love.
I mean, who doesn't love the idea of a regular girl who works hard and dreams big to one day catch a lucky break (hello, fairy godmother) and meet the prince of her dreams – who of course falls madly in love with her? I mean… yeah…
While there are literally hundreds of version of this tale from all over the world dating as far back as the first century with a tale by an ancient Greek Philisopher who told the take of an Egyptian slave girl, the version of the story that we are most familiar with was adapted from Charles Perrault's late 17th century tale "The Little Glass Slipper" and from the Brother's Grimm version "Aschenputte".
The versions of this tale that we are most used to today are fashioned around the late 1800's, based on the fact that –
the ball gowns have crinolines (the structured petticoat) and/or are bustled
the men are all wearing military style jackets as formal wear
As to where this movie supposedly takes place, well – that's a bit harder. From the research that I did (yes, I did research, and it was just as ridiculous as you can imagine), this story as we know it today gets most of its references from either French or German culture – making me guess that it is probably a small country along the border of the two.
I decided to model this Cinderella inspired recipe after more of a French type recipe than a German one (mainly because I have more typically German recipes coming later in the series and also because Cinderella is derived from the French word Cendrillon, which in English translates to "little ash girl").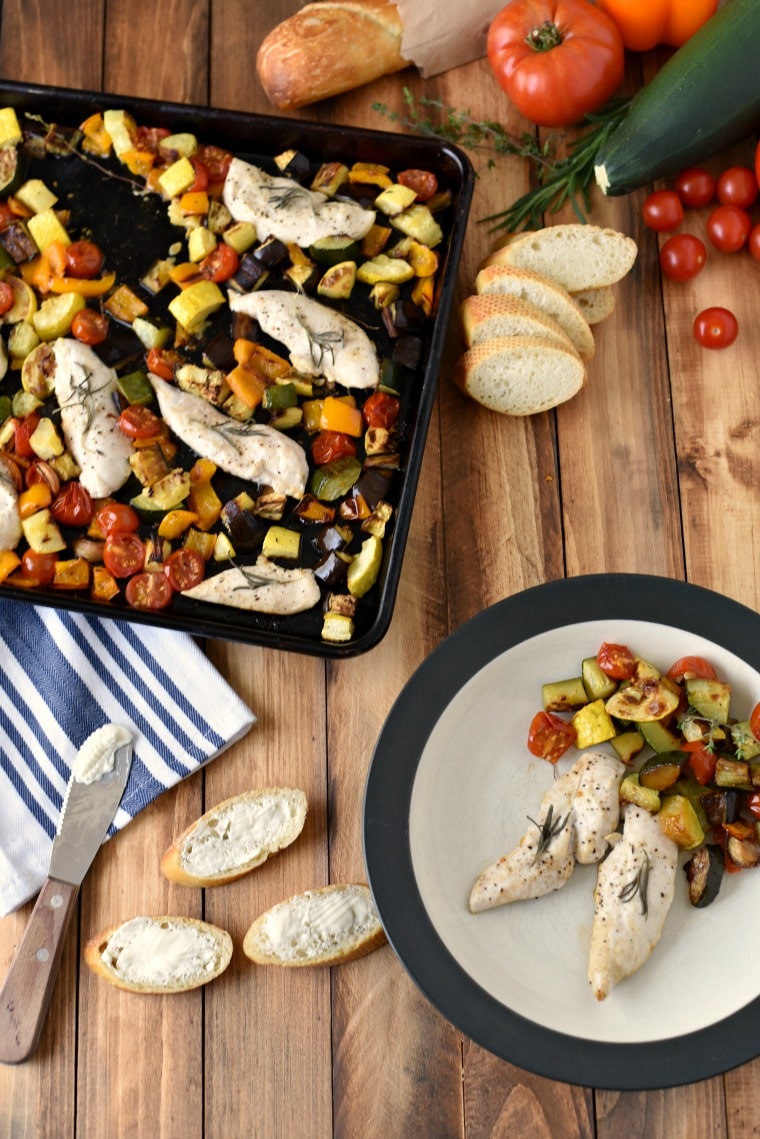 What is Ratatouille?
Typically Ratatouille was more of a peasant dish from the south of France, and something that was cooked on the stovetop. Through time it has evolved into a more complicated dish – often with each vegetable receiving an olive oil bath before being cooked to perfection individually, and taking about two hours from start to finish.
That's all well and great, and once upon a time I would have taken the extra care to do all the steps perfectly. However, I do not have a fairy godmother at my disposal.
I have hungry children and busy nights – so I have simplified this Cinderella inspired recipe to be under 40 minutes and to also include some easy baked chicken.
This easy sheet pan meal magically transforms everyday garden veggies and herbs into a perfectly roasted, aromatic, and melt-in-your-mouth comfort food. Guaranteed to whisk any princess off her feet!
**Note: This recipe is not intended to be 100% authentic. Cinderella is a fictional character, from a fictional land, and this recipe was created by me. This recipe is intended to be easy enough that children can help you prepare it and hopefully enjoy it. It is supposed to be a fun way to get kids interested in eating veggies, not an authentic recipe. It is my hope that it is interesting enough to pique their interest in new cultures and foods without being too intense or weird.
[embed_popupally_pro popup_id="8″]
How do you make simple ratatouille?
This simple baked ratatouille recipe is easy to make!
Slice the veggies into bite sized pieces.
Toss the veggies in olive oil and fresh chopped herbs and place on a sheet pan.
Roast for 20 minutes
Place the sliced chicken tenders on the sheet pan
Roast for an additional 15 minutes.
Enjoy!
What Vegetables can you put in Ratatouille?
Ratatouille is a great recipe to use those extra end of summer produce. Typical ingredients include zucchini, yellow squash, bell peppers, eggplant, tomatoes, onions, and fresh herbs.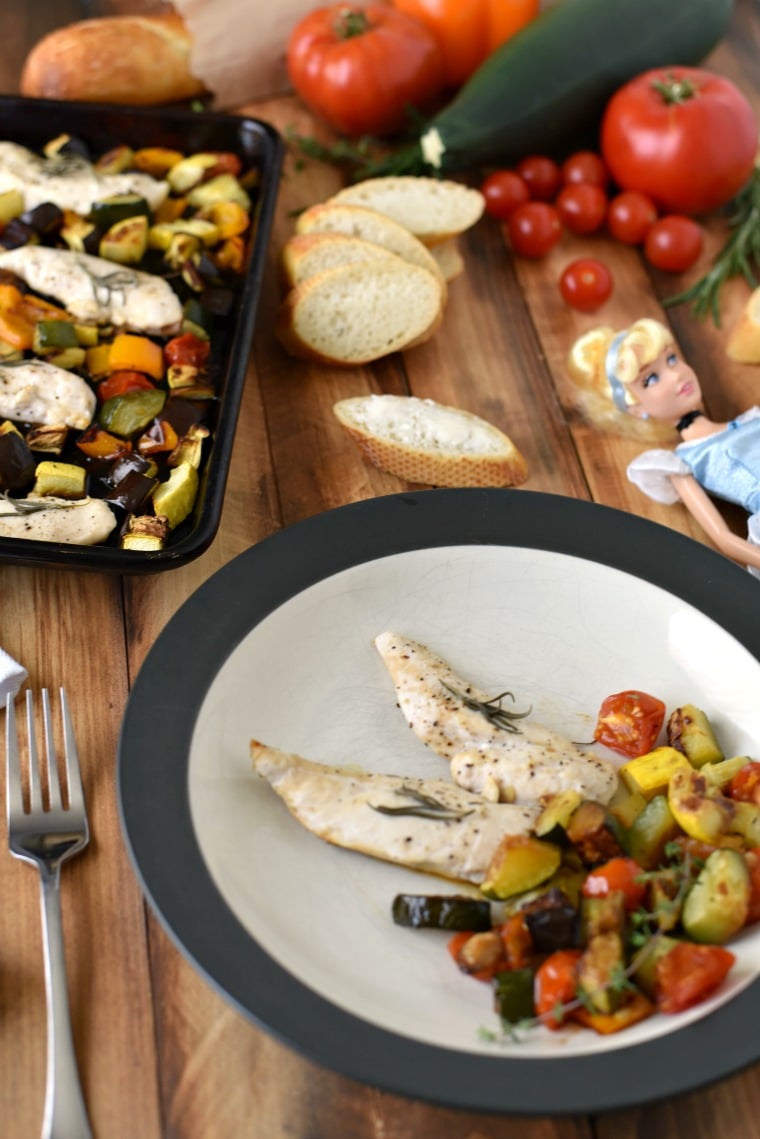 Get your Kids in the Kitchen:
Children aged 0-3 can help you get the thyme and rosemary ready, help drizzle on olive oil, toss the veggies, add salt and pepper, and set the table.
Children aged 4-7 can help you cut up the zucchini, yellow squash, eggplant, and tomatoes and can carefully (with supervision) place the rosemary sprigs on the chicken.
Children aged 8-12 can help you do all the above plus season the chicken breasts.
*Please note that these recommendations are generalized, and to please use your personal discretion with your child's skill level. And always, always supervise! Read more about how to have your children help you in the kitchen.
How to Serve This Baked Ratatouille Recipe with Chicken:
This recipe is great to serve with crusty bread
Sheet Pan Ratatouille with Rosemary Chicken
This easy sheet pan meal is perfect for late summer produce. This Ratatouille with Rosemary Baked Chicken is ready in under 40 minutes and your children it!
Print
Pin
Rate
Ingredients
1

medium zucchini

1

medium yellow squash

1

medium eggplant

2

orange bell peppers

2

cups

cherry tomatoes

2

garlic cloves

crushed

4

TBSP

olive oil

1

lb

chicken breast tenders

4

springs fresh thyme

3

springs fresh rosemary

½

tsp

salt

½

tsp

pepper
Instructions
Preheat oven to 4ooF.

Spray a rimmed baking sheet liberally with cooking spray.

Cut the zucchini, yellow squash, eggplant, and orange peppers into equal bite sized pieces.

Slice the garlic into thick slices.

Place on the baking sheet, drizzle with olive oil, sprinkle with half of the salt and pepper and toss.

Tuck in the thyme sprigs around the pan and shake the pan to ensure that everything is on a single layer.

Roast in the oven for 20 minutes.

While the veggies are roasting, slice the tomatoes in half and season with chicken breasts with the remaining salt and pepper.

After the veggies have roasted for 20 minutes, carefully add the tomatoes to the pan and toss to coat (if it is looking little dry you can add a 1 TBSP more olive oil at this point).

Nestle the chicken breast tenders into the pan - you will need to crowd the veggies, but try to keep everything in a single layer.

Place a small sprig of rosemary on the top of each chicken breast tender.

Roast for an additional 15 minutes.

Serve with crusty bread and butter and Enjoy!
Nutrition
Serving:
1
g
|
Calories:
597
kcal
|
Carbohydrates:
54
g
|
Protein:
26
g
|
Fat:
34
g
|
Saturated Fat:
5
g
|
Polyunsaturated Fat:
25
g
|
Cholesterol:
52
mg
|
Sodium:
1208
mg
|
Fiber:
9
g
|
Sugar:
17
g