These easy weeknight cast iron skillet recipes are here to help you win dinner! Easy meals your family will love, and all cooked in your favorite cast iron skillet!
What is best cooked in a cast iron skillet?
Basically, almost everything. You can make everything from Fried Chicken to Dutch Baby Pancakes, to Pizza, to Swedish Meatballs! Cast iron skillets are an essential tool you need in your kitchen!
Top 5 Reasons Why You Should Be Using Cast Iron Skillets
Cast Iron is SO sturdy! They can take some serious abuse. They won't break, they won't scratch, and even if you break every cardinal rule in how to take care of them, you can almost always bring them back to their beautiful, shiny, glory!
Cast Iron has even heat distribution! When you are cooking on the stovetop, having the heat evenly distributed across your pan is super important. No one likes a pork chop that's burnt on the right and raw on the left.
Cast Iron can take the heat! Not only can you use them on the stovetop, but they are also fantastic in the oven, on the grill, or in a campfire. Try that with your Teflon. Or...don't...
Cast Iron are non-stick! When seasoned properly, you can cook pretty much anything on these, and it won't stick!
Cast Iron are super versatile! You can cook pretty much anything in cast iron - you can beautifully sear a steak, fry some chicken, or bake cinnamon rolls. There isn't much it can't do.
If Cast Iron seems super intimidating to you, I highly recommend you check out my post "Cast Iron 101 - How to Care for & Maintain Cast Iron " - It will seriously tell you EVERYTHING you need to know about caring for your cast iron!
Easy Weeknight Skillet Meal Recipes
Try these easy weeknight cast iron skillet recipes in your meal plan!
South Asian Spiced Shakushka with Bell Pepper and Spinach - Filled with Indian flavors, sliced bell pepper, fresh plum tomatoes, healthy spinach and sunny little eggs, this South Asian Spiced Shakshuka is the perfect vegetarian option for a lovely brunch!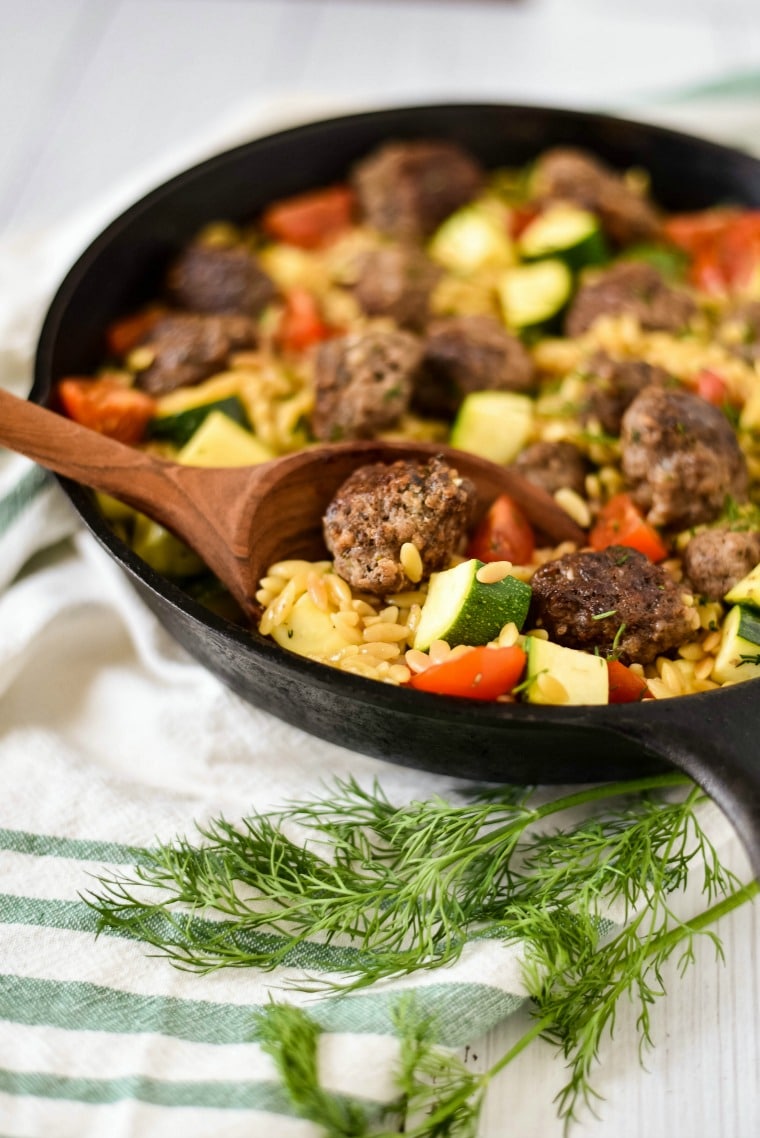 Greek Meatballs with Lemon Orzo Skillet - This easy greek meatball skillet with lemon orzo is a great family friendly weeknight meal. Greek spiced beef meatballs are cooked with orzo, diced zucchini and tomatoes and sprinkled with fresh dill and fresh lemon juice. This 30 minute meal is flavorful and easy!

Whole Roasted Mexican Chicken with Vegetables - Tender and juicy, whole roasted Mexican chicken with peppers, onions and carrots is loaded with flavor and is good enough for Sunday dinner but easy enough for weeknights.
Easy Skillet Mac & Cheese - Comfort food at its finest, this skillet mac and cheese is so easy! Just the skillet and a pasta pot, a few minutes and a quick broil, and this is ready fast!
Thai Turkey Zucchini Meatballs - These easy weeknight Thai meatballs are kid friendly and healthy! With a creamy red curry and coconut milk based sauce, these tender and flavorful Turkey Zucchini Meatballs are ready in about 30 minutes!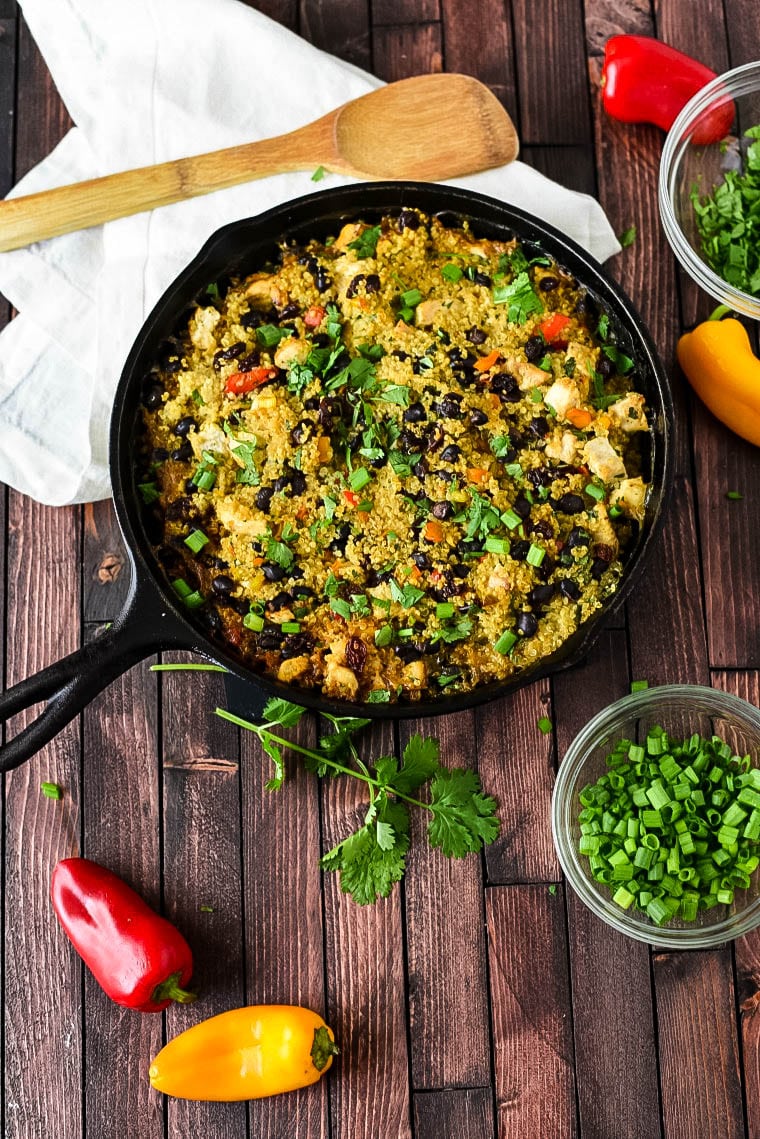 Thai Chicken and Quinoa Casserole - This easy Thai Chicken Casserole with Quinoa is a perfect weeknight meal packed with family friendly flavors. Leftovers reheat well, too!
One Skillet Tuscan Chicken - This one skillet Tuscan chicken is just SO good and satisfying. Plus, it comes together quickly, perfect for those busy weeknights.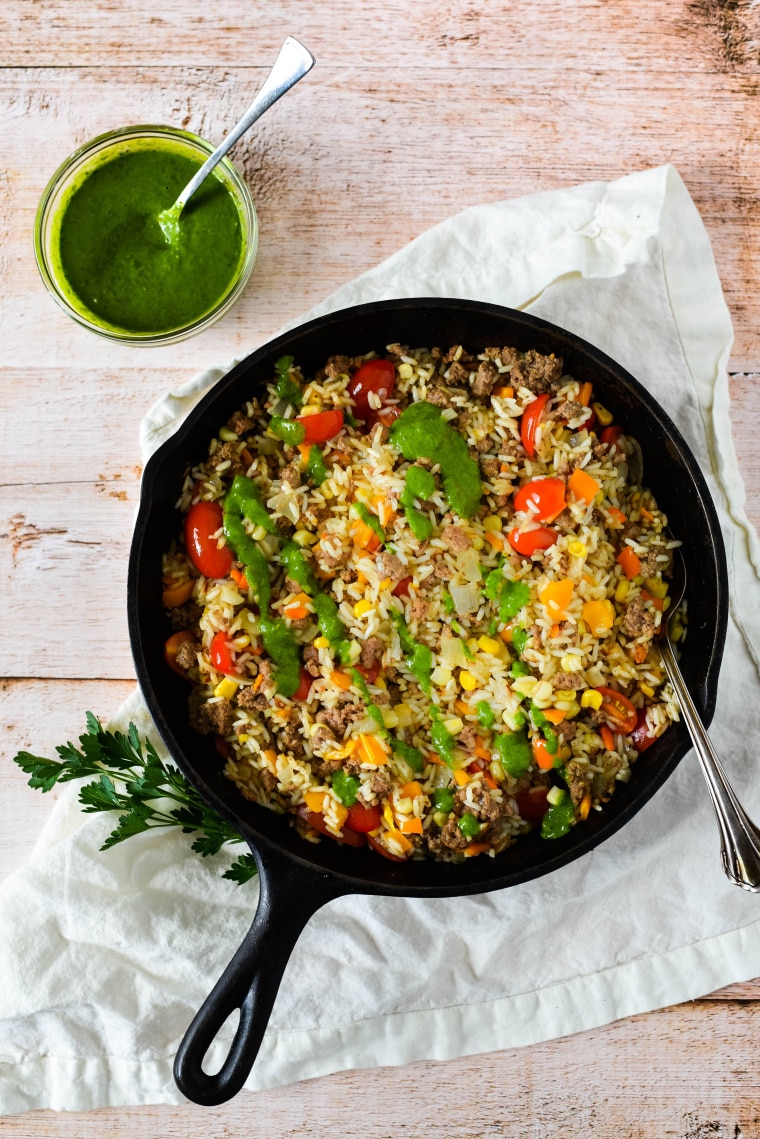 Chimichurri Ground Beef and Rice Recipe - Try this Chimichurri Ground Beef and Rice Recipe for an easy dinner that is sure to become a family favorite meal. This traditional Argentinian recipe is turned into a quick and easy weeknight recipe that is kid-friendly and is the perfect finger food and kid-friendly recipe! Made with ground beef and rice, this skillet recipe is served with a tasty chimichurri sauce. This easy dinner recipe for families is sure to be a big hit!
Thai Stir Fry with Pork and Broccolini - This easy Thai Stir Fry with Pork and Broccolini is a great weeknight meal your family will love! With tender, bite sized pieces of pork, packed with veggies like broccolini, sweet peppers and mushrooms, and with a slightly sweet and flavorful Thai inspired sauce, this 30 minute dinner is sure to become a family favorite recipe!
Creamy Apple Cider Chicken Skillet - This Creamy Apple Cider Chicken Skillet is an easy, delicious Fall dinner with sweet and savory flavors. We loved this served with mashed red potatoes with the easy pan sauce spooned over the top.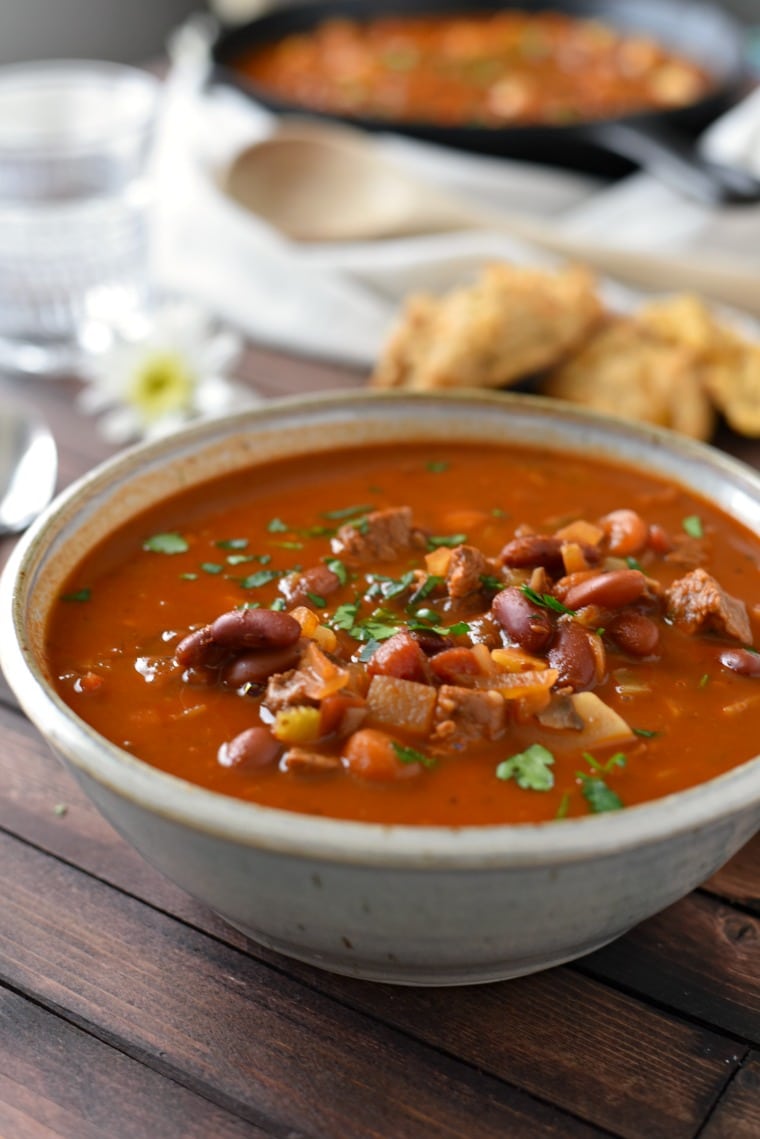 Easy Hungarian Goulash - This quick and easy Hungarian Goulash recipe is ready in just under 45 minutes, yet is packed with tender steak, tons of vegetables, and loaded with flavor. It is a great soup to serve on a cold night!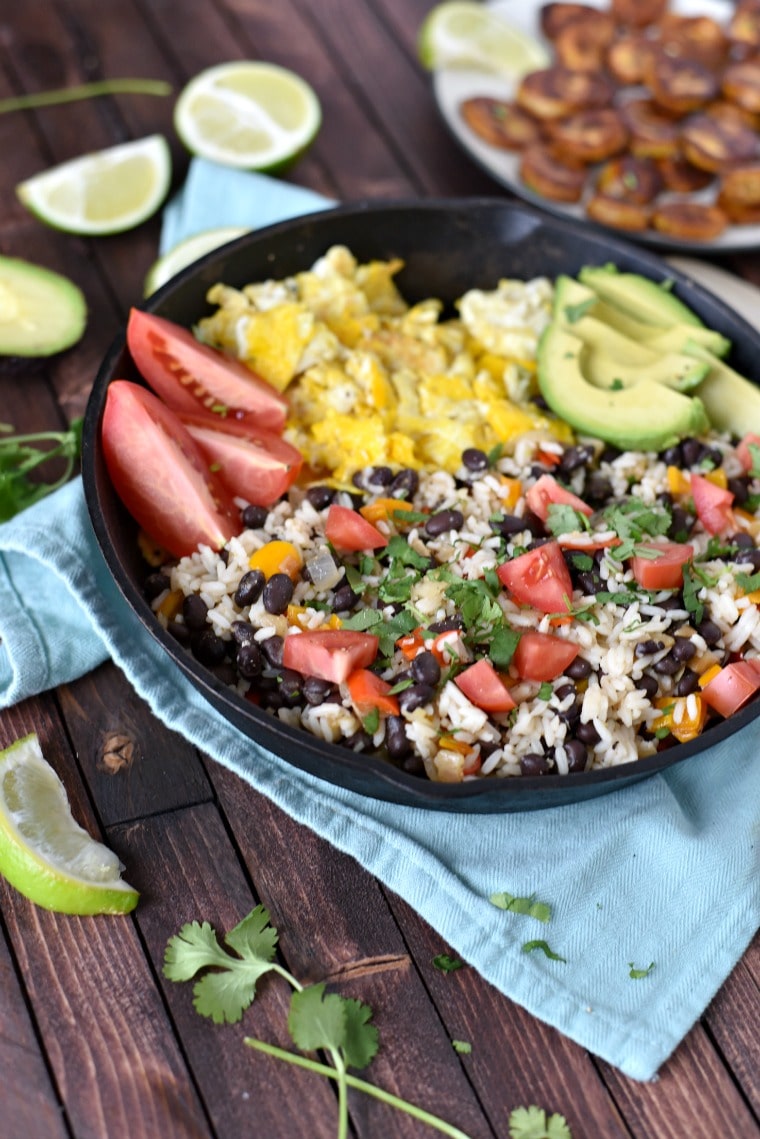 Gallo Pinto Breakfast Bowls - Gallo Pinto is an easy and delicious breakfast from Costa Rica with loads of flavor! This easy 30 minute skillet meal is a great Costa Rican Rice and Beans Recipe that uses a combination of leftovers and fresh produce to make a lovely meatless meal for any time of the day!
Which are you going to make first?
I'D LOVE IF YOU FOLLOWED THE GINGERED WHISK ON INSTAGRAM FACEBOOK AND PINTEREST!
IF YOU ARE ON PINTEREST, PIN THIS TO YOUR WEEKNIGHT MEALS BOARD FOR WHEN YOU ARE LOOKING FOR RECIPE IDEADS!
ON INSTAGRAM? USE THE HASHTAG #gingeredwhisk AND TAG ME (@gingeredwhisk) SO I CAN STOP BY AND GIVE YOUR POST SOME LOVE! Thank you!!!
Need more recipe inspiration? Try these other roundups:
30 Meals in 30 Minutes

- These easy dinner recipes for families are perfect for busy weeknights! Over 30 weeknight one pan and 30 minute recipes your family will love!

The Best Weeknight Slow Cooker Meals

- These easy and family friendly slow cooker recipes are exactly what your busy weeknight need! Easy "dump and go" recipes with easy ingredients, tons of flavor, and exactly what you need in an easy dinner!

Best Ground Meat Recipes

- These weeknight and kid-friendly recipes feature ground beef, ground pork, ground chicken and ground lamb so you will always hav a great idea of what to do for dinner!