Do you have one kitchen tool that you just can't stop buying? It may be cookbooks (guilty), teapots, or wooden spoons (soooo totally guilty), but there always seems to be that one thing that you just can't have enough of. Wooden spoons and cookbooks aside, my "thing" is cast iron skillets.
You should see my husband's face the days I come home with a new skillet in tow – it might be a brand new purchase, a garage sale treasure find, or someone's unwanted stray left on my doorstep, but his face is always the same. "Do we NEED another skillet?", he asks.
Yes, my Sun and Stars, we most obviously do.
So when Sam's Club contacted me about trying out their new Emeril Lagasse 12″ Preseasoned Cast Iron Skillet, of course there was no way I could say no! I am also super excited to be giving one away to one of you, my dear readers, so make sure you read the whole post to find out how to enter! And let me tell you – I am impressed with this skillet! It is a hefty piece of equipment, and I LOVE the addition of the removable silicone grips! The skillet AND the grips are heat-safe up to 450F! No more searching for lost oven mitts. It cooks and bakes like a charm, too!
Top 5 Reasons Why You Should Be Using Cast Iron Skillets
Cast Iron is SO sturdy!  They can take some serious abuse. They won't break, they won't scratch, and even if you break every cardinal rule in how to take care of them, you can almost always bring them back to their beautiful, shiny, glory!
Cast Iron has even heat distribution! When you are cooking on the stovetop, having the heat evenly distributed across your pan is super important. No one likes a pork chop that's burnt on the right and raw on the left.
Cast Iron can take the heat! Not only can you use them on the stovetop, but they are also fantastic in the oven, on the grill, or in a campfire. Try that with your Teflon. Or…don't…
Cast Iron are non-stick! When seasoned properly, you can cook pretty much anything on these, and it won't stick!
Cast Iron are super versatile! You can cook pretty much anything in cast iron – you can beautifully sear a steak, fry some chicken, or bake cinnamon rolls. There isn't much it can't do.
If Cast Iron seems super intimidating to you, I highly recommend you check out my post "Cast Iron 101 – How to Care for & Maintain Cast Iron " – It will seriously tell you EVERYTHING you need to know about caring for your cast iron!
Easy Weeknight Skillet Meal Recipes
Try these easy weeknight skillet meals in your cast iron pan!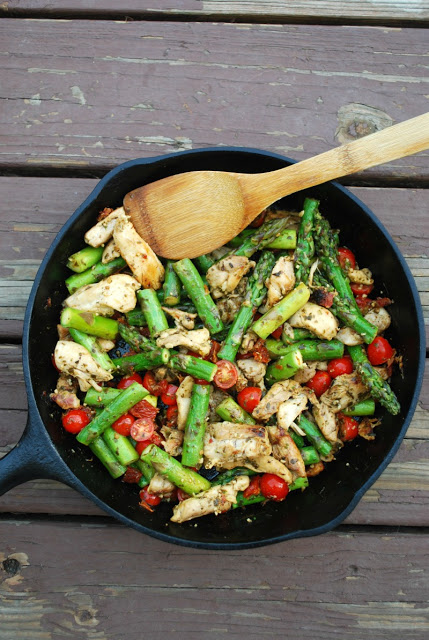 Skillet Pesto Chicken and Vegetables 

And now on to the fun part!
US Entries only, please! Winner will be picked and announced on 9/08/17.
Each item you do counts as one entry! Good luck!