These tender shortbread cookies are studded with coconut and topped with a dreamy pineapple cream frosting. A perfect summer cookie!
This month for Secret Recipe Club I was assigned the blog Tami's Kitchen Table Talk. Tami has a fun blog filled with tons and tons of delicious treats! She also hosts something called Cookie Carnival, where everyone is assigned to make the same cookie and then you blog about it! How fun!
Because of Tami's obvious love of cookies, I felt it was absolutely necessary to make cookies myself. I ended up with three different cookies that I most definitely want to try (and still plan on it!), but eventually decided on Toasted Coconut Shortbread with Pineapple Cream! Doesn't that just scream SUMMER?!
These cookies were a super simple breeze to put together. If you are needing a fast cookie to make that comes with a huge statement, then these cookies are the ones for you! The cookies themselves are super delicate and sandy, an awesome shortbread recipe made only better by toasted coconut!! The pineapple cream is so amazing I could really eat it with a spoon (and I think Tami agrees!) and the two combined together is a summer dream! Neither too sweet nor too rich, I am pretty sure I could snack on these cookies all day and be a happy camper! 🙂
Sea Salt and Thyme Chocolate Chip Cookies

–

The thyme gives a very very subtle earthiness to the cookies, and the sea salt is just perfect with the chocolate chips! They taste good straight out of the oven, but if you can wait a day or two, the thyme really starts to come through.

Cranberry Orange Cookies

– These cranberry orange cookies are the perfect treat to enjoy! This chewy and crunchy cookie recipe is studded with dried cranberries and orange zest, and rolled in orange sugar before baking. They are a fall and holiday baking favorite!

Chocolate Chip Potato Chip Cookies

–

These fun cookies are firm but soft, with a fantastic sweet/salty combination!

Iced Lemon Lavender Cookies – These delicate Lemon Lavender Cookies are the perfect cookie for tea time! With a delicate crumb and a lovely lemon and lavender icing, these cookies are perfect for a spring celebration.
Yield: 12 cookies
Toasted Coconut Shortbread Cookies with Pineapple Cream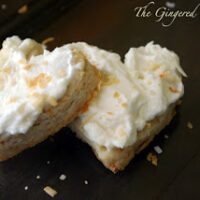 These tender shortbread cookies are studded with coconut and topped with a dreamy pineapple cream frosting. A perfect summer cookie!
Ingredients
Shortbread:
1/2 cup unsweetened shredded coconut
1 cup + 2 TBSP flour
1/4 cup sugar
dash of salt
1/2 cup unsalted butter, at room temperature
Pineapple Cream:
1/2 cup cream cheese, at room temperature
1/3 cup powdered sugar
1 tsp vanilla extract
1/2 cup crushed pineapple, drained
2/3 cup whipping cream.
Instructions
Preheat oven to 350F.
Spread coconut out on an un-greased baking tray and toast for 6-8 minutes, stirring once or twice.
Allow to cool completely
In a large bowl combine flour, sugar, coconut and salt.
Using a fork (or your hands) work the butter into the dry ingredients until you have a crumbly texture.
Turn the dough out onto the counter and press/knead the dough together.
Roll the dough out into about 1/8" thickness and cut out using a cookie cutter or small glass.
Gently lift the cookies onto a parchment (or silpat) lined cookie sheet and bake in the center rack for 10-12 minutes, just until the edges begin to barely turn golden.
Cool the cookies on the pan for 5 minutes and then remove to a wire rack to cool completely.
While the cookies are cooling, make the pineapple cream:
In a small bowl, beat the whipping cream until it forms soft peaks. Set aside.
In a medium bowl beat the cream cheese until soft and fluffy.
Beat in the icing sugar and vanilla.
Stir in pineapple.
Fold in the whipping cream.
Chill until ready to serve.
Right before serving, spoon about 2 TBSP of cream onto each cookie.
You can leave them single, or sandwich them.
You can also hide a pineapple ring in between each sandwich, or top with toasted coconut. Or both!
Enjoy!
Nutrition Information:
Yield:

12
Serving Size:

1
Amount Per Serving:
Calories:

210
Total Fat:

18g
Saturated Fat:

12g
Trans Fat:

0g
Unsaturated Fat:

5g
Cholesterol:

45mg
Sodium:

49mg
Carbohydrates:

12g
Fiber:

1g
Sugar:

10g
Protein:

1g