Basbousa Cake is an Egyptian cake with yogurt, coconut and nuts soaked in a flavorful simple syrup. A one bowl moist semolina cake recipe, this easy dessert is a great one to bake with kids!
Basbousa cake is a well known middle eastern dessert made with semolina flour, coconut and yogurt. The coarse semolina flour gives the cake its signature sandy texture, but its drenched in a flavorful simple syrup which makes it super moist and has a melt-in-your-mouth texture.
This moist semolina cake recipe is, in my book, a perfect dessert to make when you are looking for something delicious yet super easy! It is so simple to make, easy to create variations on, and has just the right hint of sweetness.
Serve this with:
Easy Beef Kofta Recipe

– This Easy Beef Kofta Recipe is an easy 30 minute meal with tons of flavor. Perfect for any weeknight.
About Semolina Cakes
The fun thing about Basbousa is that there are so many different yet super similar variations of it! This middle eastern cake recipe is also known as Namoura, Harissa and Revani. All have their own variations and twists, but they are fairly similar!
How to make different variations of semolina cake:
This cake is great because you can use the same base and concepts but flavor it in so many different ways, depending on what nuts you use and how you make your simple syrup:
Use different nuts – almonds, pistachios, hazelnuts or a combination.

Flavor the simple syrup with orange blossom water, lemon juice rose water, half a cinnamon stick or half a vanilla bean.
What ingredients do I need to make semolina cake:
Basbousa takes a few ingredients that you might not stock in your pantry. Here is an explanation of what, where, and why you need to add these to your shopping list:
Why use Semolina Flour?

– Semolina is a variety of wheat that is often used in Italian pasta! It gives the basbousa its signature texture and a mild nutty flavor. You cannot substitute regular four here.

What is Ghee? – Ghee is clarified butter (butter that has been simmered and strained to remove all the water), and it has an awesome nutty flavor – you can make your own ghee at home!
Do I have to use Unsweetened coconut flakes?

– it is super important to use unsweetened coconut here, or your semolina cake will turn out to be way too sweet. You won't really taste the coconut here, so if you are not a fan of coconut desserts, you probably won't even notice it in this cake!
Tips to make the best semolina cake:
The following tips will help you make the best basbousa ever!
Don't overmix the batter. You need it to be just barely mixed. Semolina flour has a really high gluten content, so if you over-mix it, your cake will end up tough.

Bake for 10 minutes in center oven rack, then move to the top and cook another 10-15 so it gets nice and brown on top.

Pour the hot simple syrup over the hot cake, cover it with foil, and return it to the turned off but still warm over for 5-10 minutes.

Let the syrup soak at least an hour, if not overnight.
Table Conversations with Kids about Semolina Cake
This semolina cake is a fun dessert to serve with kids because there is so much to talk about.
Ask your kids to help you choose the nuts you put on top.

Ask your kids how you should flavor the simple syrup – smelling each one you have on hand and talking about their differences.

Talk about how the cake smells – can you smell the nuts, the spices, the flavorings?

Talk about how the cake feels in your mouth – use words like dense, moist, thick, etc.
To learn more about how to talk to your kids about their food and expand their food vocabulary, check out "How to Explore the Sense of Taste with Kids" and sign up for the Tasting Trek Challenge!
How to Serve Semolina Cake
This Semolina Cake Recipe is the perfect finish to a meal! Serve alongside Easy Beef Koftas for dinner.
Its also an awesome cake to serve at any tea party, or any dessert. You don't need anything fancy to serve it with, but a dollop of lightly sweetened whipped cream is a happy addition.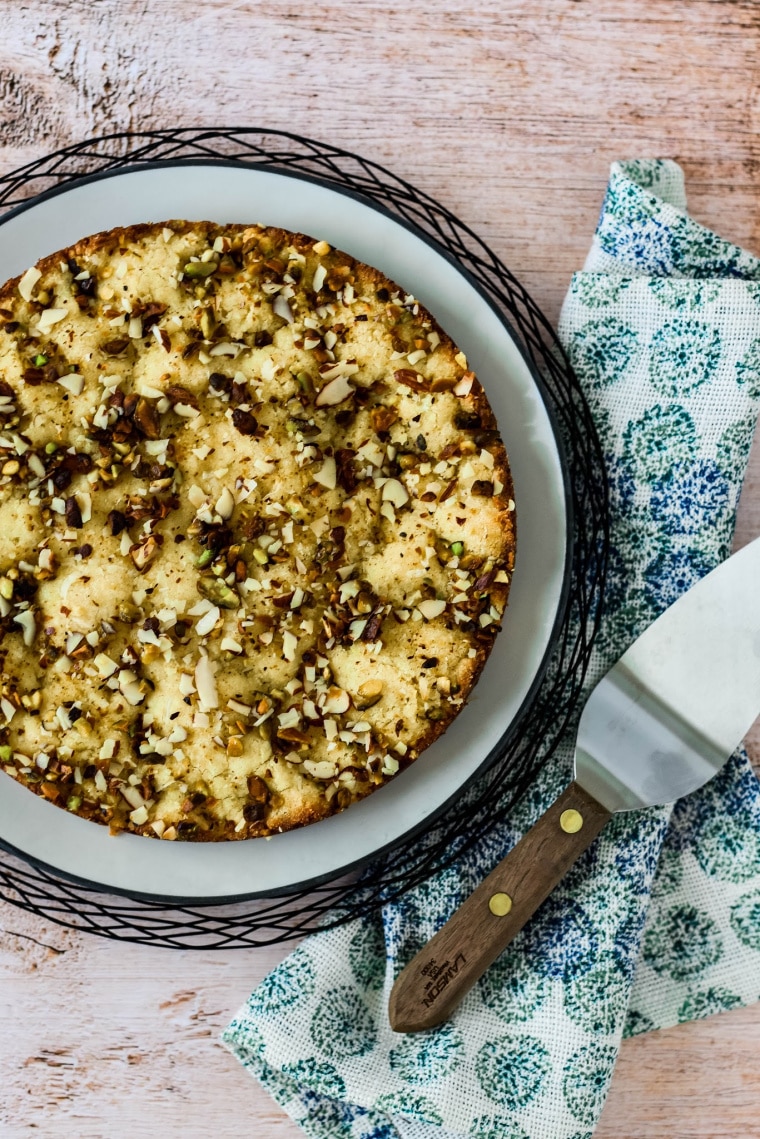 Kids in the Kitchen: How Your Kids Can Help You Cook
Getting your kids in the kitchen is an amazing way to help them be more interested in trying new foods and confident in their own abilities. This Basbousa Cake recipe is great because it helps them learn to work with cake batter and they get to practice grinding nuts.
This recipe is perfect for beginner cooks because it is so easy! And it is a great recipe for kids to experiment and become more comfortable with new flavors – which means they are more likely to eat it!
Kids aged 1-3

can help you

measure and mix the ingredients for the cake batter and simple syrup.

Kids aged 4-6

can do everything above, plus help you

stir the cake batter, prepare the cake pan, and press it into the cake pan, as well as grind the nuts and sprinkle them on the cake.

Kids aged 7-10+

can help you do everything above, plus help you

make the simple syrup.
*Please note that these recommendations are generalized, and to please use your personal discretion with your child's skill level. And always, always supervise! Read more about how to have your children help you in the kitchen.
There's nothing I love more than seeing you make my recipes! If you make this moist semolina cake recipe, don't forget to leave a comment below and rate the recipe!
And if you are on Instagram, tag @gingeredwhisk and use the hashtag #gingeredwhisk on social media when you make my recipes so that I can share them and maybe even feature you. Follow along to get the latest updates:
And don't forget to subscribe to the email list to get all the extra tips, tricks and bonuses!
Want to save this for later? PIN THIS TO DESSERT BOARD on Pinterest!
[mailerlite_form form_id=3]
Basbousa Cake Recipe
Total Time:
1 hour
40 minutes
Basbousa Cake is an Egyptian semolina cake with yogurt, coconut and nuts. A one bowl cake recipe, this easy dessert is flavorful and moist.
Ingredients
Semolina Cake
2 cups semolina flour
1 cup plain yogurt
1/2 cup granulated sugar
1/2 cup ghee, melted
1/2 cup unsweetened coconut flakes
2 teaspoons baking powder
2 teaspoons vanilla extract
1 teaspoon salt
Simple Syrup:
1 1/4 cup sugar
1 1/4 cup water
2 teaspoons vanilla extract
Toppings:
1/3 cup chopped nuts (sliced almonds, chopped pistachios or hazelnuts)
Instructions
Preheat the oven to 350 F.
Line a 10" cake plate with a parchemnt paper circle cut to size and brush all the edges with a little melted ghee.
In a large bowl, mix the ingredients for the cake batter - the semolina flour, yoghurt, sugar, melted ghee, coconut flakes, baking powder, vanilla and salt.
Mix until barely just combined. Do not overmix or your cake will be tough.
Tap the cake pan gently on the table to ensure there are no cake bubbles present and everything is even.
Bake on the center rack of the oven for 10 minutes.
Move the pan to the top rack and bake for an additional 10-15 minutes, or until the center of the cake is set and it is starting to turn golden brown.
During the last 10-15 minutes, prepare the simple syrup. Combine the sugar and water and in a small saucepan and bring to a boil. Reduce heat to a simmer and allow to simmer for 10 minutes.
When the cake is done, remove from oven and turn the oven off.
Immediately pour the hot syrup over the hot cake.
Cover the pan with foil and allow to sit for at least 1 hour to soak in the syrup.
Slice and enjoy!
Notes
Cooking Tip: You can flavor the simple syrup using either 2 teaspoons vanilla extract, 2 teaspoons orange blossom water, 2 teaspoons rose water, or 1/2 of a cinnamon stick.
Nutrition Information:
Yield:

12
Serving Size:

1
Amount Per Serving:
Calories:

350
Total Fat:

13g
Saturated Fat:

8g
Trans Fat:

0g
Unsaturated Fat:

5g
Cholesterol:

23mg
Sodium:

284mg
Carbohydrates:

53g
Fiber:

2g
Sugar:

31g
Protein:

6g