This Easy Skewered Kofta Recipe is an easy 30 minute meal with tons of flavor. Perfect for any weeknight – and your kids will love to eat dinner just like Princess Jasmine! Raise adventurous eaters through creative and fun recipes they can relate to!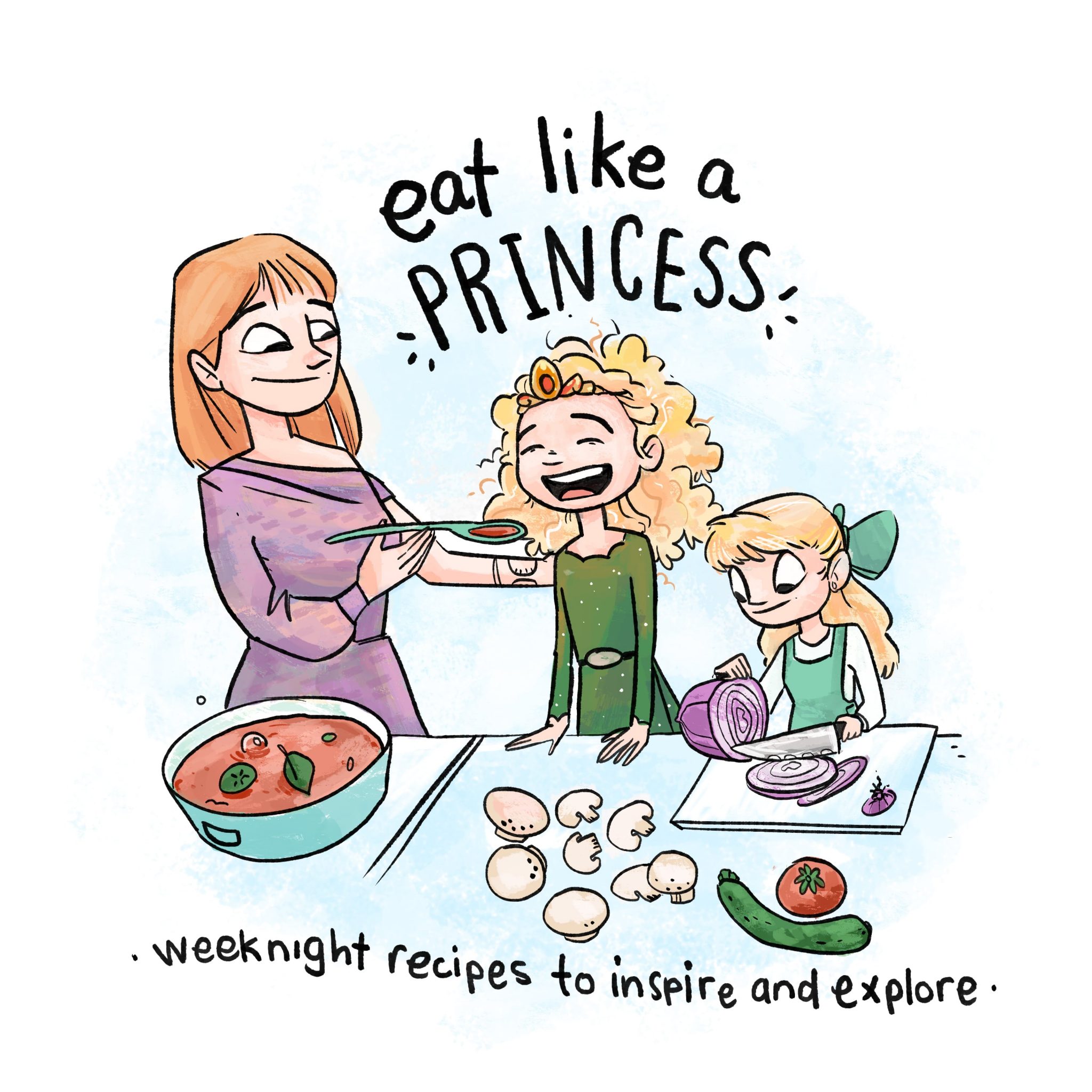 Welcome to the Eat Like A Princess Series!
I designed this series as a fun way to teach my daughters about new cultures through the Princesses in hopes that they will become more open to trying new foods, to understand other cultures better, and to enjoy exploring the world around them. And still staying within the 30 minute weeknight dinner theme. You can see other recipes in this series here.
I remember really enjoying watching "Aladdin" growing up. Fun music, a sassy princess, and (for a girl who was raised in Iowa) an exotic land. What's not to love? In an attempt to bridge the gap between strong/brave/clever girls and the stereotypical damsel-in-distress princess, we have been talking a lot about the empowering characteristics of each of the Princesses. We have been really playing up how they they are brave, smart, courageous and kind.  Princess Jasmine is definitely an independent, clever, head-strong girl who is so not afraid to speak her mind and stand up for what is right. I like that!
Easy Beef Kofta Recipe
Kofta is a great way to begin to explore Middle Eastern/Arabic cuisine (they are also found in Central and South Asia, too). It's very similar to a meatball or a meatloaf – made with various ground meats, spices, and various veggies. Often it is placed on a kebob and grilled (but they can be poached, steamed, fried, baked, or cooked in any other number of ways as well). I specifically chose to make kofta since most often meatballs are very familiar and a "safe" food, yet it still introduces lamb (mixed in with ground beef) and a slightly different spice and herb mix than you might be used to.
**Note: This recipe is not intended to be 100% authentic. Princess Jasmine is a fictional princess who lives in a made-up land called Agrabah loosely based on Arabic culture. This recipe is intended to be easy enough that children can help you prepare it. It is my hope that it is interesting enough to pique their interest in new cultures and foods. 
Get your kids in the kitchen:
soaking the wooden skewers
picking the parsley leaves off the stems
measuring the spices
forming the kofta (depending on  how old your children are)
Interested in adding more middle eastern recipes to your meal plan? Read the Beginner's Guide to Kid Friendly Midde Eastern Cuisine for easy recipes and kid-friendly tips!
Print
Easy Koftas for Princess Jasmine – Eat Like A Princess
Author:

Prep Time:

15 Minutes

Cook Time:

20 Minutes

Total Time:

35 minutes

Yield:

4-6 Servings

Category:

30 Minute Meal

Method:

Grill/Broil
---
Description
This Easy Skewered Kofta Recipe is an easy 30 minute meal with tons of flavor – and your kids will love to eat dinner just like Princess Jasmine! 
---
Ingredients
1 medium yellow onion
4 garlic cloves
1 bunch parsley, stems removed
1 lb ground beef
1/2 lb ground lamb
1/2 cup breadcrumbs
1/2 tsp salt
1/2 tsp pepper
1 tsp ground allspice
1/2 tsp mild chili powder
1/2 tp ground cardamom
1/2 tsp ground sumac
1/2 tsp ground nutmeg
1/2 tsp ground paprika
For serving:
Pita bread, hummus, tahini sauce, fresh sliced tomato and cucumber, couscous or tabouleh
---
Instructions
Prepare a broil-safe rimmed baking sheet with foil and set aside.
Preheat the broiler to high.
In a food processor, chop the onion, garlic and parsley until finely chopped.
Dump this in a large mixing bowl and add in the ground meats and the spices.
Take a handful of the mixture and form a ball, then roll it between your hands to form a log (My children called it a turd, which is lovely and awesome when talking about food, but it totally works to describe it. So there you go.)
Slide the skewer up the middle of the kofta log and place on the baking sheet.
Broil for 20 minutes, or until browned and cooked through, turning halfway through cooking. (When you turn the skewers use some tongs – remember they are hot!)
---
Notes
* If you like, you can skip the skewer and just make meatballs. You can bake these at a 350 oven for ~25 minutes, or you can cook them in a skillet until browned on all sides. The choice is yours. ** We enjoyed making sandwiches with the pita, hummus, tabouleh, tahini, cucumbers and tomatoes all wrapped up together. You can also enjoy them all separately. Again, the choice is yours. *** If using wooden skewers, remember to soak them for 20 minutes before grilling.
Serve this meal with some whole wheat couscous or tabouleh, pita, hummus, fresh sliced cucumbers and tomatoes, and a garlic tahini sauce. Your kids will love to eat a meal inspired by Princess Jasmine!