This Easy Beef Kofta Recipe is an easy 30 minute meal with tons of flavor. Gently spiced beef patties served with flatbread, hummus, crisp cucumbers and juicy tomatoes. Perfect for any weeknight – and your kids will love to eat dinner!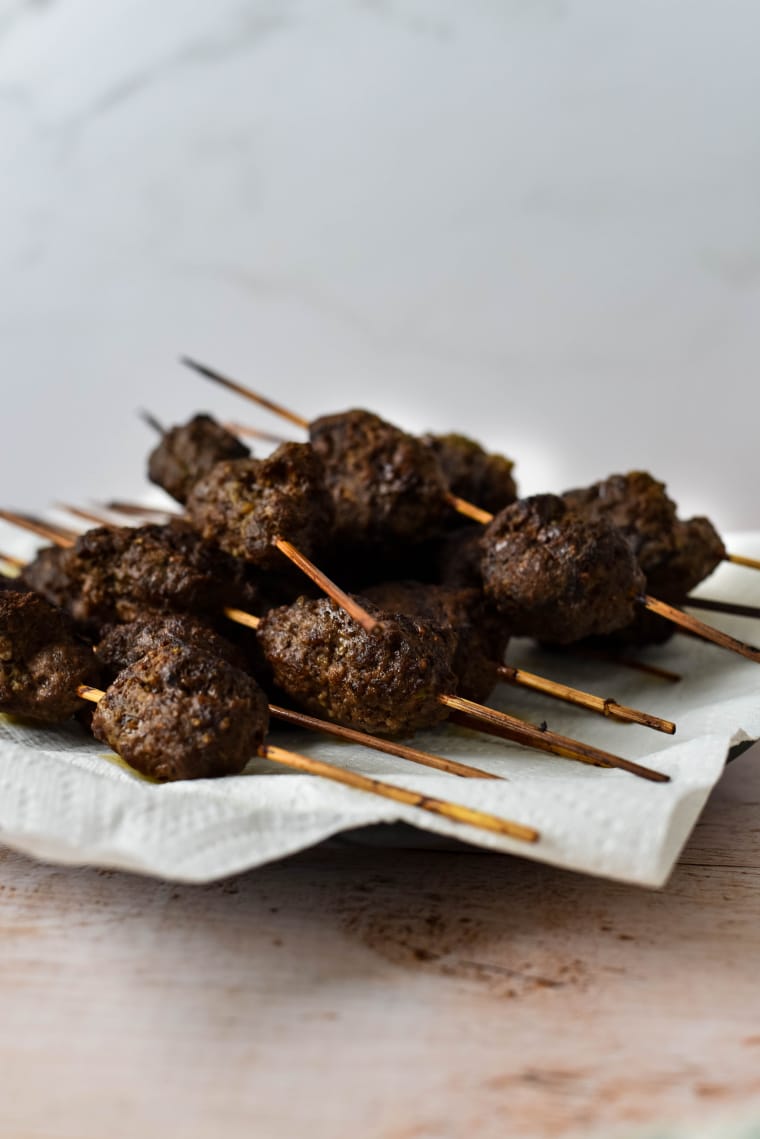 Easy Beef Kofta
Kofta is a great way to begin to explore Middle Eastern/Arabic cuisine (they are also found in Central and South Asia, too). It's very similar to a meatball or a meatloaf – made with various ground meats, spices, and various veggies. Often it is placed on a kebob and grilled (but they can be poached, steamed, fried, baked, or cooked in any other number of ways as well). I specifically chose to make kofta since most often meatballs are very familiar and a "safe" food, yet it still introduces a fun sandwich concept and a slightly different spice and herb mix than you might be used to.
Interested in adding more middle eastern recipes to your meal plan? Read the Beginner's Guide to Kid Friendly Midde Eastern Cuisine for easy recipes and kid-friendly tips!
This recipe is part of my "Eat Like A Princess" series, where I create weeknight meals inspired by the classic princesses as a way to help kids explore new foods, flavors, and cultures. This recipe was inspired by Princess Jasmine.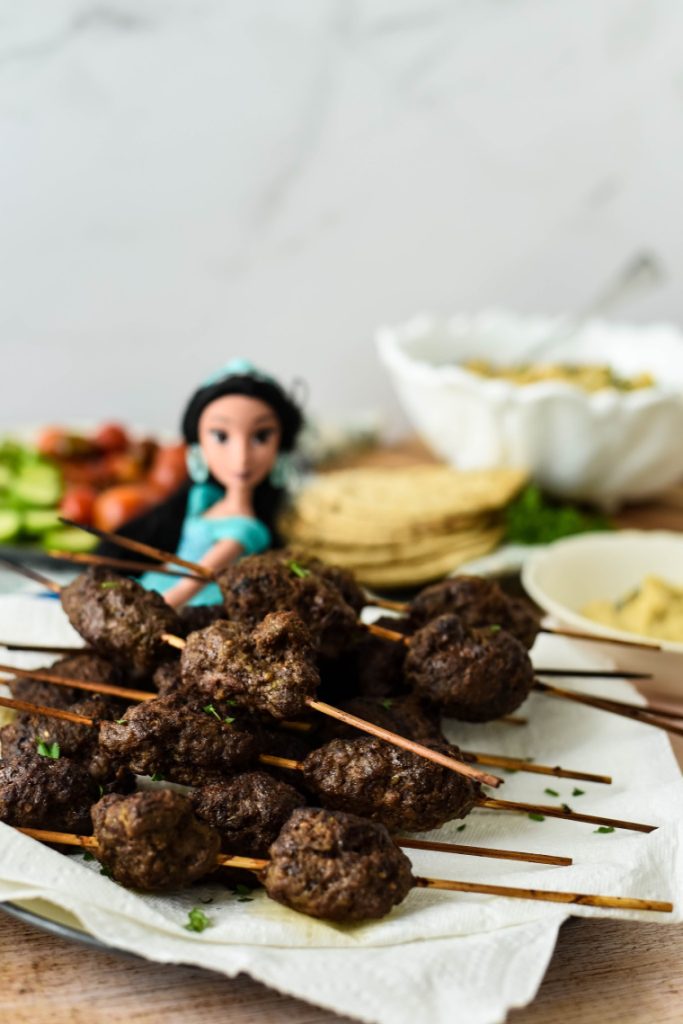 How to Make Beef Kofta Ahead of Time:
This Easy Beef Kofta Recipe is easy to fit into your meal plan, no matter your schedule. Start to finish, this meal takes about 30 minutes to make, but there are steps you can do to make it even quicker.
Prep these steps ahead of time to make this meal quick and easy:
The onion/parsley puree for the Kofta can be prepared in the morning and stored in an air-tight glass container in the fridge for up to 1 day. You can measure out your spices and additional kofta ingredients and store until ready to make dinner, which cuts down on prep-time.
You can skip the skewers, too, and just make these into meatballs!
This beef kofta bake and reheat well, so if you need to make these ahead of time you can.
Make extra and freeze these kofta for an evening when you need a quick dinner.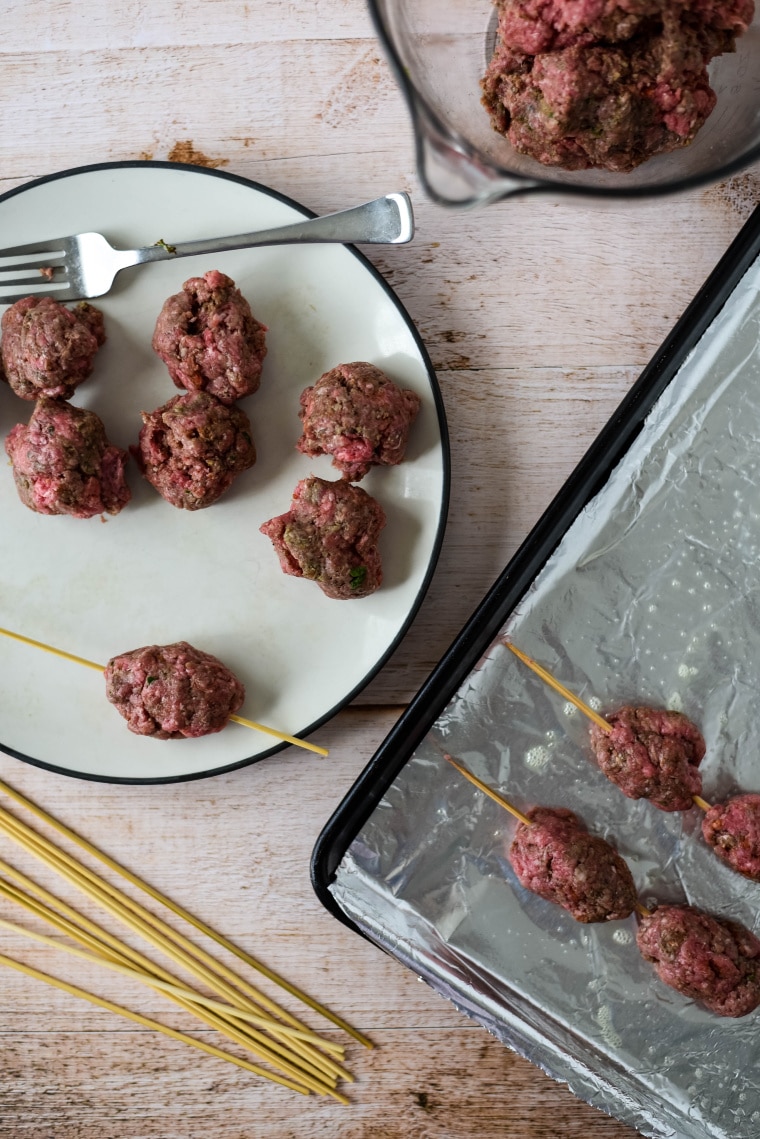 How to Make Beef Kofta Kid Friendly:
Beef Kofta is really fun for kids to eat! Not only is this a mild but flavorful meal that kids will enjoy, but its also really easy to adapt and fit into your family's eating habits. Part of making any food "kid friendly" is all in how you serve it, talk about it, and get your kids interested and involved.
Tips on Family Dinner Conversations:
Dinner time is a great time to talk to your kids! But beyond discussing how recess and lunch went, bring the conversations around to the food you are eating. Discussing each part of the meal, and making observations about what you are eating often help kids think about their food in a more analytical way and with less emotional stress about trying something new. Here are a few ideas to get you started:
Talk about the textures of the food you are eating. What does the couscous feel like in your mouth? Is it smoother or rougher than the tahini sauce? Which part of your meal is juicy? Can you find something crisp on your plate?
Talk about the smells of your meal. What does the smell of your kofta remind you of?
Talk about the flavors of the beef kofta. How does the taste of your kofta change when you pair it with the hummus? What about when you pair it with the hummus and a cucumber? What would you change to make this meal yummier next time? Would you like it served differently?
How to Serve this Easy Beef Kofta Recipe to your Family:
There are so many different ways to plate and serve this meal, so feel free to mix and match and create a meal that fits your family best.
You can serve these as sandwiches (build up a wrap with pita, hummus, kofta and veggies to create a sandwich you like).
You can put the couscous or tabbouleh into the pita sandwiches or serve it on the side.
If serving them on the skewers is too much for your kids, try making these into meatballs instead.
This meal is fun to serve family style, with all the various components on the table, allowing each family member to serve themselves and create their own meal the way they like it.
Slice the meatballs into strips to make it easier for kids to eat in their pita.
Make a full meal with this Basbousa Cake recipe is an easy one-bowl semolina cake that is soaked in a flavorful simple syrup.
Serve this meal with some whole wheat couscous or tabouleh, pita, hummus, fresh sliced cucumbers and tomatoes, and a garlic tahini sauce.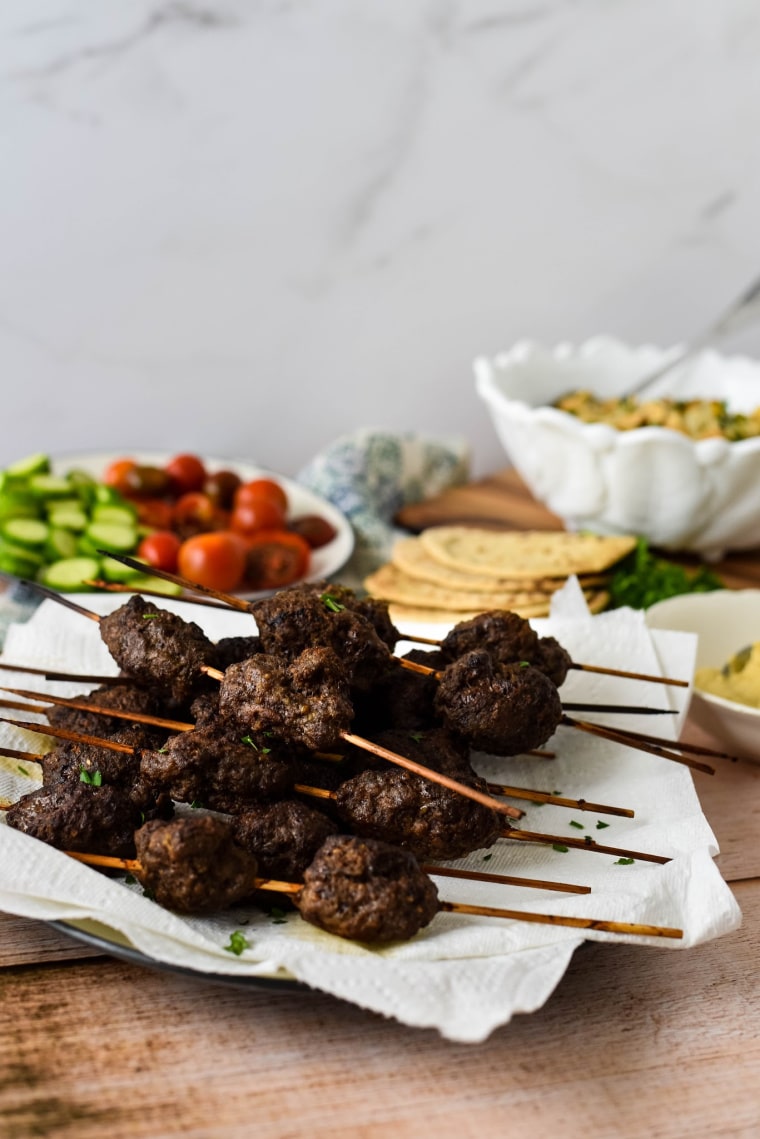 Get your kids in the kitchen:
One of the best ways to get kids interested in eating new foods (besides making food inspired by their favorite characters, books, and movies…) is to get them involved! Here are some easy ways your kids can help you cook these beef and lamb koftas:
Kids aged 1-3 can help you measure and mix the dry ingredients for the kofta, and help get out the rest of the ingredients for the kofta sandwiches.
Kids aged 4-6 can do everything above, plus help you prepare the onion-parsley puree mixture.
Kids aged 7-10+ can help you do everything above, plus help you form the kofta patties.
*Please note that these recommendations are generalized, and to please use your personal discretion with your child's skill level. And always, always supervise! Read more about how to have your children help you in the kitchen.
Food tastes better when its shared with the ones you love!
There's nothing I love more than seeing you having an amazing meal with your family! If you make this easy beef kofta recipe, take a picture of you making or sharing them with someone you love!
Then post your photo on Instagram or Facebook and tag @thegingeredwhisk and use the hashtag #LittleFoodieAdventures. I can't wait to see what you're cooking and share it!
Follow along to get the latest updates:
And don't forget to subscribe to the email list to get all the extra tips, tricks and bonuses!
Want to save this for later? PIN THIS TO YOUR DINNER BOARD on Pinterest!
[mailerlite_form form_id=3]
Easy Beef Koftas Recipe
This Easy Beef Kofta Recipe is an easy 30 minute meal with tons of flavor. Gently spiced beef patties served with flatbread, hummus, crisp cucumbers and juicy tomatoes. Perfect for any weeknight - and your kids will love to eat dinner!
Print
Pin
Rate
Ingredients
1

medium yellow onion

4

garlic cloves

1

bunch parsley

stems removed

2

lb

ground beef

½

cup

breadcrumbs

½

tsp

salt

½

tsp

pepper

1

tsp

ground allspice

½

tsp

mild chili powder

½

tp ground cardamom

½

tsp

ground sumac

½

tsp

ground nutmeg

½

tsp

ground paprika
For serving:
Pita bread

hummus, tahini sauce, fresh sliced tomato and cucumber, couscous or tabouleh
Instructions
Prepare a broil-safe rimmed baking sheet with foil and set aside.

Preheat the broiler to high.

In a food processor, chop the onion, garlic and parsley until finely chopped.

Dump this in a large mixing bowl and add in the ground meats and the spices.

Mix thoroughly.

Take a handful of the mixture and form a ball, then roll it between your hands to form a log (My children called it a turd, which is lovely and awesome when talking about food, but it totally works to describe it. So there you go.)

Slide the skewer up the middle of the kofta log and place on the baking sheet.

Broil for 20 minutes, or until browned and cooked through, turning halfway through cooking. (When you turn the skewers use some tongs – remember they are hot!)
Notes
* If you like, you can skip the skewer and just make meatballs. You can bake these at a 350 oven for ~25 minutes, or you can cook them in a skillet until browned on all sides. The choice is yours.
** We enjoyed making sandwiches with the pita, hummus, tabouleh, tahini, cucumbers and tomatoes all wrapped up together. You can also enjoy them all separately. Again, the choice is yours.
*** If using wooden skewers, remember to soak them for 20 minutes before grilling.
Nutrition
Serving:
1
g
|
Calories:
578
kcal
|
Carbohydrates:
27
g
|
Protein:
46
g
|
Fat:
31
g
|
Saturated Fat:
11
g
|
Polyunsaturated Fat:
16
g
|
Trans Fat:
1
g
|
Cholesterol:
135
mg
|
Sodium:
680
mg
|
Fiber:
3
g
|
Sugar:
2
g