Hello my dear friends! I hope you all had a beautiful Christmas yesterday with family and friends, that you laughed until your heart was full and you ate until your stomach was.
Today is Secret Recipe Club day and I am so excited to reveal the blog that I was assigned – la bella vita. This is a beautiful blog by a beautiful woman with a beautiful soul, who shares her life through beautiful photos, recipes, and stories. If you can't tell, I truly enjoyed having this blog this month –  the pages of this blog are filled with so much inspiration, as well as tales from traveling and gardening. One of the things I took away from her blog is the reminder to stop "doing" things and instead "see" and "experience" them. I try to remember this every day in my life, to remember that every day itself is a gift that we have been given, and what is important at the end of the day is not the money we made, or the things crossed off our "to-do" list, but the memories. Roz also said that one of her goals in life is to live life more fully, passionately, soulfully, purposefully, and with a stronger connection to and in celebration of the riches of life (she said the Italian way of life, but I think it fits everyone). I think we all need to remember to do this in our lives! I hope that you all take a moment to go over and visit Roz and her beautiful blog!
When I found out that Roz was Italian, and had a plethora of amazing and authentic Italian recipes, I knew I really wanted to do something to pay homage to that. That's not what happened, though. You see, as I continued to read and delve deeper into Roz's blog, I found IT. THE sandwich of my childhood, the one that I constantly crave, and always remember so fondly – the breaded pork tenderloin.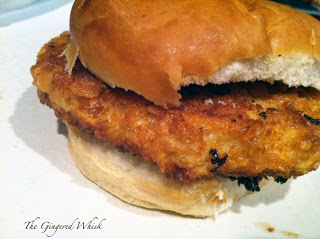 I remember eating this sandwich as a child, most notably at the Iowa State Fair, where they served the most delicious breaded pork tenderloin I have ever had – piping hot, super thin, and bigger than your whole head. My Grandfather often teased me that a girl as tiny as I was would never be able to finish a sandwich that large. And he was right, of course, but that never stopped me from doing my best to try.  So when I saw this sandwich, I knew instantly that this was what I would be making this month!
As Roz states, there are three hard and fast cardinal rules about the breaded pork tenderloin sandwich:
1. It must HUGE, at least twice the size of the bun.
2. It must be a super thin and tenderized portion of tenderloin, no other cut of meat will do!
3. Pickles and Mustard. That's it.
I'm kind of sad to say that I broke ALL THREE of these rules! I know, I can't believe it either! I am pretty sure my "Iowa" card is going to be revoked now. But I have excuses, does that make it better? Rules #1 and #2 were broken because the only pork tenderloin I could find here were in small bags and pre-marinated in lemon pepper sauce. That would not do at all, so I decided to buy some thick pork chops and tenderized the CRAP out of them! I got them pretty thin, but they weren't nearly half as big as they should have been. Rule #3 was broken because I really detest mustard. But I did eat it with a pickle!!
This recipe is so easy to prepare, and SO DELCIOUS!!! I hope that you make this soon (as soon as you have recovered from all the Christmas cookies, fudge, and egg nog you have consumed this week). This recipe made 4 sandwiches, but again they were made with the wrong cuts of meat, so it stretched it a bit further.
THE Breaded Pork Tenderloin Sandwich (la bella vita)
Print
Breaded Pork Tenderloin Sandwich
Author:

Jenni
Prep Time:

8 hours, 20 minutes

Cook Time:

10 minutes

Total Time:

8 hours 30 minutes

Yield:

4

1

x
---
Scale
Ingredients
Wet Batter:
1 cup whole milk
2 eggs
garlic powder to taste (just sprinkle some in there)
a few shakes of paprika

Breading:
1 cup panko
1 cup super-fine crushed saltine crackers
1 cup flour
---
Instructions
Prepare the wet batter and pour into a glass 9×13 baking dish (with a lid).
Tenderize the pork tenderloins (beat the crap out of them, you want them super thin!).
Place the pork chops into the batter, turning to coat, and place in the fridge to marinate for AT LEAST 8 hours (and up to overnight). Do not short change it here!
The next day, combine the breading in a cake pan or pasta dish.
Remove each tenderloin from the marinade and place in the dry breading, lightly pressing the coating into it.
Dip the tenderloin back into the marinade and turn to coat.
Coat the tenderloin with another coating of breading.
Place a large dutch oven or cast iron skillet on the stovetop and cover the bottom with canola oil.
Heat until 350 degrees (the oil needs to be HOT).
Fry for three minutes on each side, or until nice and golden brown.
Place on a bun with pickle and mustard and ENJOY!!
---
Here is what else the Secret Recipe Club made this month!