The Breaded Pork Tenderloin Recipe is a classic Midwestern sandwich! Juicy, pan fried pork tenderloin only needs a few simple ingredients for a great sandwich with tons of flavor.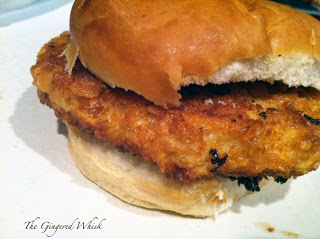 Like any other good Iowa girl, my childhood is steeped in this sandwich.
I remember eating this sandwich as a child, most notably at the Iowa State Fair, where they served the most delicious breaded pork tenderloin I have ever had – piping hot, super thin, and bigger than your whole head. My Grandfather often teased me that a girl as tiny as I was would never be able to finish a sandwich that large. And he was right, of course, but that never stopped me from doing my best to try.
What is a pork tenderloin sandwich?
The breaded pork tenderloin sandwich is a pork tenderloin cutlet that has been butterflied, pounded to super thin, coated in breaded and then pan fried to golden brown perfection.
There are three hard and fast cardinal rules about the breaded pork tenderloin sandwich:
It must HUGE, at least twice the size of the bun.
It must be a super thin and tenderized portion of tenderloin, no other cut of meat will do!
Pickles and Mustard. That's it.
How to Make A Breaded Pork Tenderloin Recipe
Breaded Pork Tenderloin Sandwich is an easy recipe to prepare, and SO DELCIOUS!!!
Use a meat mallet to flatten and thin a pork tenderloin cutlet to a large oval.
Place the pounded tenderloin cutlets into the egg wash and allow to sit in the fridge and marinate for 8 hours. This will help to tenderize and infuse flavor into the pork.
Then coat the tenderloins in the breading.
Fry the pork tenderloins in a hot cast iron for few minutes to get them crispy and golden.
Serve on a bun with a pickle and enjoy!
Whether you live in the Midwest and need a fix of breaded pork tenderloin, or you have never been to the Midwest – you need to try this recipe!
For more Pork Recipes, Try:
There's is nothing I love more than seeing you guys make my recipes! If you make this breaded pork tenderloin recipe, don't forget to leave a comment below and rate the recipe!
And if you are on Instagram, tag @thegingeredwhisk and use the hashtag #gingeredwhisk on social media when you make my recipes so that I can share them and maybe even feature you. Follow along to get the latest updates:
And don't forget to subscribe to the email list to get all the extra tips, tricks and bonuses!
Want to save this for later? PIN THIS TO YOUR DINNER BOARD on Pinterest!
Yield: 4
Breaded Pork Tenderloin Sandwich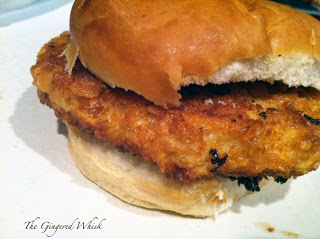 The Breaded Pork Tenderloin Sandwich is a classic Midwestern sandwich! Juicy, pan fried pork tenderloin only needs a few simple ingredients for a great sandwich with tons of flavor.
Prep Time
8 hours
20 minutes
Total Time
8 hours
30 minutes
Ingredients
Wet Batter:
1 cup whole milk
2 eggs
garlic powder to taste (just sprinkle some in there)
a few shakes of paprika
Breading:
1 cup panko
1 cup super-fine crushed saltine crackers
1 cup flour
To Serve:
4 hamburger buns
1/4 cup mustard
1/4 cup pickle slices
Instructions
To Prepare Marinade:
In the morning, prepare the wet batter and pour into a glass 9x13 baking dish (with a lid).
Tenderize the pork tenderloins (beat the crap out of them, you want them super thin!).
Place the pork chops into the batter, turning to coat, and place in the fridge to marinate for AT LEAST 8 hours. Yes, really. Do not short change it here!
To Prepare Breading:
When ready to cook, combine the breading in a cake pan or pasta dish.
Remove each tenderloin from the marinade and place in the dry breading, lightly pressing the coating into it.
Dip the tenderloin back into the marinade and turn to coat.
Coat the tenderloin with another coating of breading.
To Cook:
Place a large dutch oven or cast iron skillet on the stovetop and cover the bottom with canola oil.
Heat until 350 degrees (the oil needs to be HOT).
Fry for three minutes on each side, or until nice and golden brown.
Place on a bun with pickle and mustard and ENJOY!!
Nutrition Information:
Yield:

4
Serving Size:

1
Amount Per Serving:
Calories:

798
Total Fat:

17g
Saturated Fat:

6g
Trans Fat:

0g
Unsaturated Fat:

9g
Cholesterol:

194mg
Sodium:

1061mg
Carbohydrates:

106g
Fiber:

5g
Sugar:

32g
Protein:

52g
THE Breaded Pork Tenderloin Sandwich (la bella vita)