This easy cucumber salad is the perfect Swedish side dish. It only takes a few ingredients and 5 minutes to put together but is a fresh and fun side dish. 
So my friend Amy from House of Nash Eats contacted me a few weeks ago about joining in on group of bloggers who wanted to celebrate the "BIG GAMES" coming up next week. Side note: Did you know that because I am not an official sponsor of said games, that I am not allowed to mention them, where they are taking place, or "Go Team "country" at all? Nope. But you know what I am talking about, right? They happen every 4 years, and the top athletes from around the world compete for prizes in certain colors? Yeah. Can't mention it. Anyway – spending a week discovering recipes from other countries? Heck. Yes.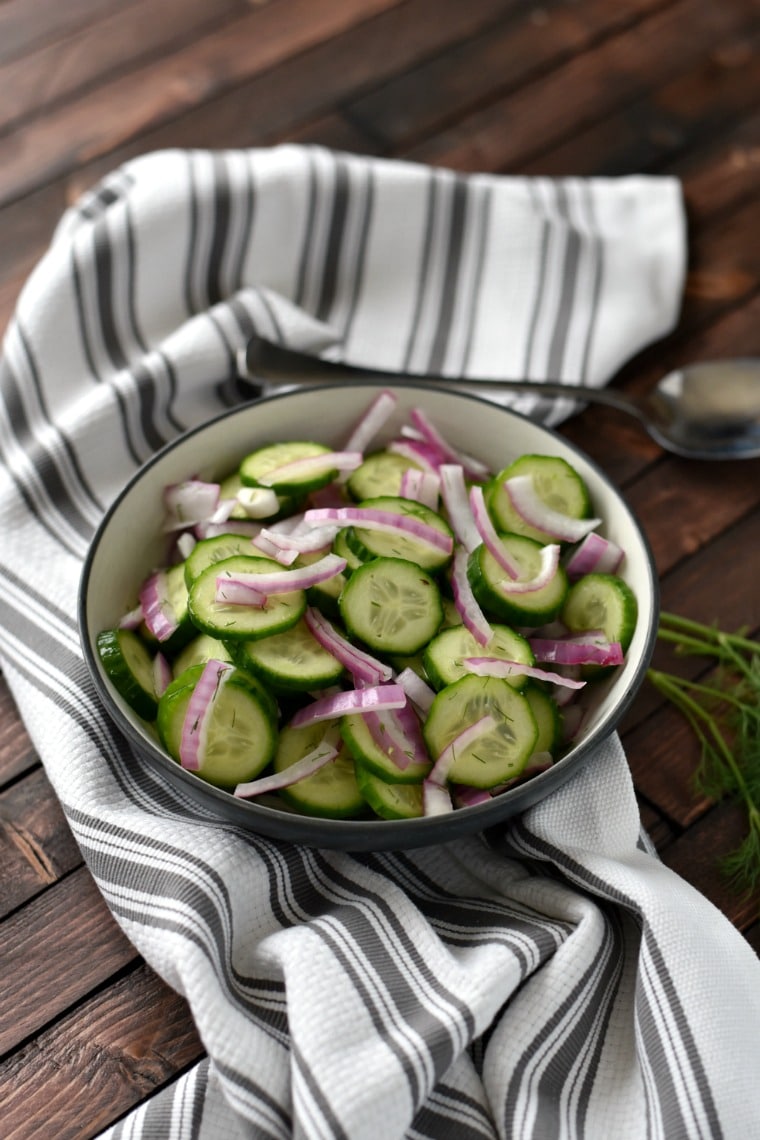 Easy Cucumber Salad
I decided to dedicate a few recipes to the awesome country of Sweden. This cucumber salad is a great dish. With only a few ingredients, its quick and easy to make! Just stir the ingredients together and voila!
The quick bath in vinegar and sugar lead to kind of a quick pickle, and the addition of the fresh dill gives a rich, warm and sweet taste to the recipe. Its fresh, vibrant and refreshing!
This makes a fantastic side dish when paired with Swedish Meatballs. Also check out Swedish Red Beet and Apple Salad and Swedish Chocolate Balls for a well-rounded Swedish meal!
Not only are we celebrating an entire week of delicious recipes, but we are also doing a pretty sweet giveaway over on Instagram featuring some of our favorite international brands, including JK Adams, Emile Henry, Kuhn Rikon, Silpat, Joseph Joseph, Cuisinart, Kerrygold, and Breville, who are providing the prizes for the givewaway.  There will be 8 winners, so be sure to click over to this instagram post for all the details and to enter!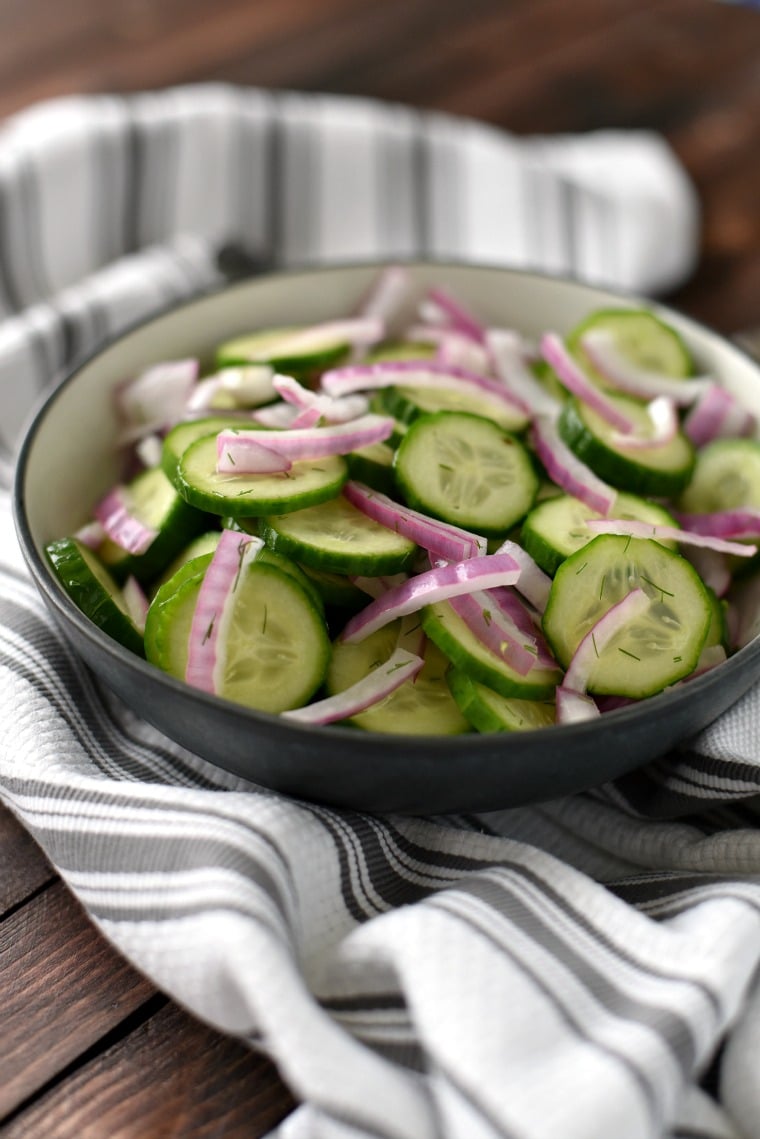 Check out the other Fun International recipes that were made today:
China – Cashew Chicken
Thailand – Thai Chicken Larb Salad
Germany –German Meatballs and Potatoes
Greece – Greek Style Grilled Lamb Chops
Italy –Fettuccini Alfredo
Italy – Wild Mushroom Risotto
Korea –Korean Beef Tacos (Bulgogi)
Sweden –Swedish Cucumber Salad
USA – Instant Pot Bourbon BBQ Ribs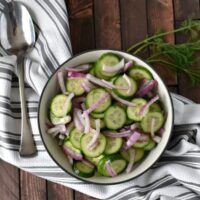 Easy Swedish Cucumber Salad
This easy cucumber salad is a perfect swedish side dish. It only takes a few ingredients and 5 minutes to put together. 
Ingredients
1 small red onion
1/3 cup apple cider vinegar
2 TBSP water
1/2 tsp salt
3 TBSP sugar
1 TBSP fresh dill, finely chopped
5 small Persian cucumbers (or 1 english cucumber)
Instructions
Thinly slice the red onion and cucumbers.
Add to a medium sized mixing bowl.
In a glass, stir together the vinegar, water, salt and sugar until dissolved.
Pour the vinegar mixture over the cucumbers and onions and top with fresh dill.
Toss to coat.
Cover bowl with plastic wrap and allow to stand at room temperature for at least 30 minutes (or refrigerated for up to a day).
Nutrition Information:
Yield:

4
Serving Size:

1
Amount Per Serving:
Calories:

77
Total Fat:

0g
Saturated Fat:

0g
Trans Fat:

0g
Unsaturated Fat:

0g
Cholesterol:

0mg
Sodium:

297mg
Carbohydrates:

18g
Fiber:

1g
Sugar:

13g
Protein:

1g