Get your children excited to try new foods as they learn to eat like a princess! These easy weeknight Swedish Meatballs are inspired by Princess Anna and Princess Elsa from Frozen.
These easy Swedish Meatballs can be done in one skillet and in 30 minutes, making them perfect for a weeknight meal – an Anna and Elsa from Frozen Inspired Recipe your kids will love! Serve them with mashed potatoes or egg noodles, and lingonberry preserves!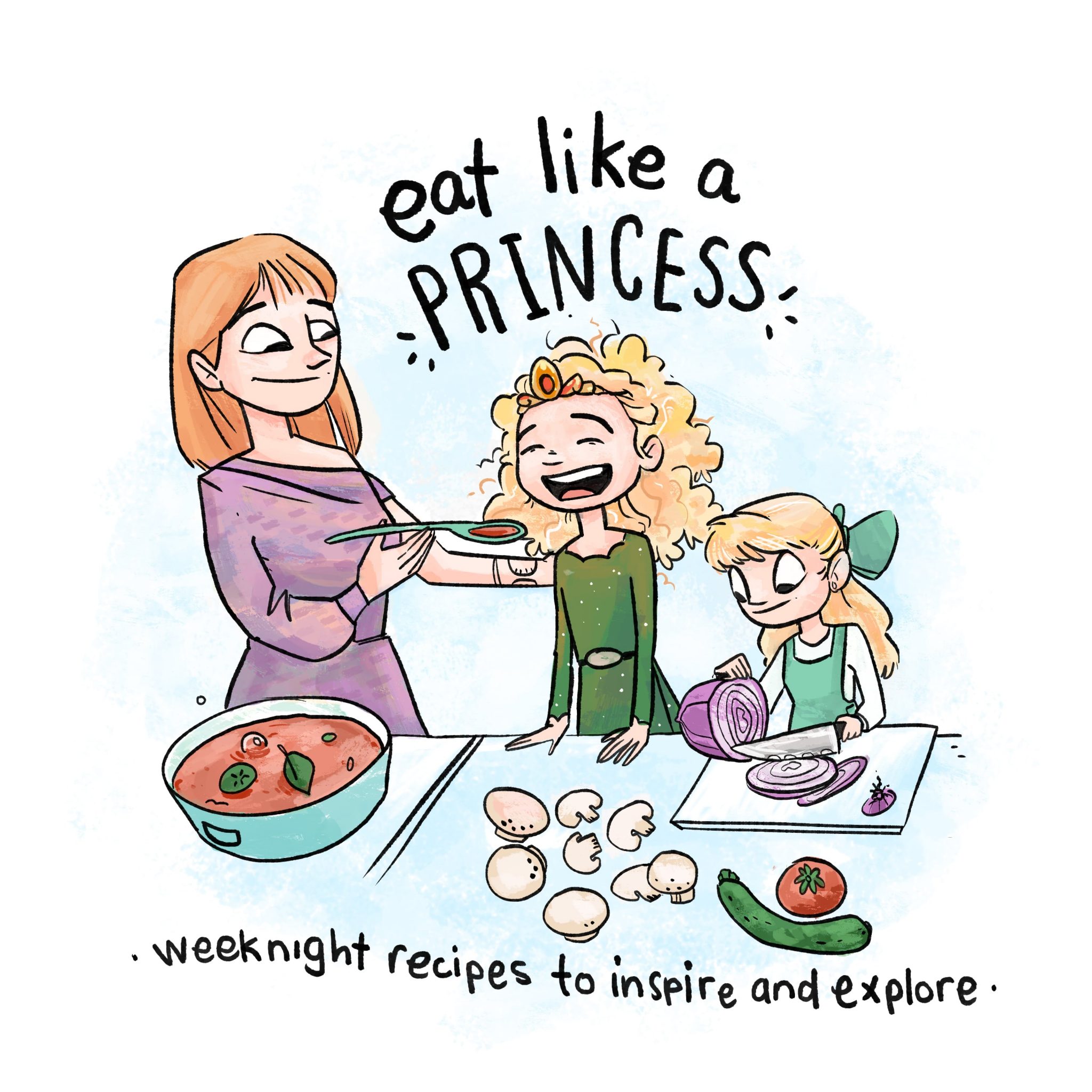 Welcome to the Eat Like A Princess Series!
I designed this series as a fun way to teach my daughters about new cultures through the Disney Princesses in hopes that they will become more open to trying new foods, to understand other cultures better, and to enjoy exploring the world around them. And still staying within the 30 minute weeknight dinner theme. You can see other recipes in this series here.
Frozen is big in my house. Like – super big. My youngest can barely go a day without watching Frozen, reading a Frozen book, or playing with her Frozen dolls. And since I am always experimenting with ways in which to explore new cuisines with my children, and help them discover new and interesting things, I have developed this "Eat Like A Princess" series to help bridge the gap between what people typically think of as "kid food" and what children can actually enjoy. I decided to create an Anna and Elsa from Frozen Inspired Recipe!
Princess Anna and Princess Elsa
Elsa and Anna are some of our favorite princesses (yes, I know Elsa is technically a Queen). Princess Anna is brave, quirky, and so loyal to her sister. Queen Elsa constantly shows that she is selfless and how deeply she cares for her sister. She also learns to be confident in who she is. I also totally loved the "you can't be in love with someone you just met" nod even though it seems like all the other princesses do.
**Note: This recipe is not intended to be 100% authentic. Queen Elsa and Princess Anna are fictional princesses who live in a made-up land loosely based on Nordic culture. This recipe is intended to be easy enough that children can help you prepare it, as well as interesting enough to pique their interest in new cultures and foods. 
Besides chocolate, sandwiches and snow cones, there isn't a whole lot of food mentioned in the movie. Thankfully the regionality of this movie was pretty easy – as they mention fjords, mountains covered in snow, and the gorgeous art work (called kurbits) that is prominent on clothing and buildings throughout the movies. Arendale is obviously based off of the Nordic Countries, a region that includes Sweden, Finland, Iceland, Denmark and Norway.
Easy Swedish Meatballs – A Recipe Inspired by the Movie Frozen
I decided to highlight Swedish Meatballs for Anna and Elsa – it's easy to make in 30 minutes, it's a one skillet meal, and kiddos can help to stir together the ingredients for the gravy. They could also help you make the meatballs, depending on their age/maturity level – my oldest daughter helped me shape them and thought it was so fun! The meatballs themselves aren't really that different from the typical Italian style everyone knows. What makes them fun is the unique gravy and the lingonberry preserves you eat them with. I suggest serving this with either mashed potatoes or egg noodles. For a well rounded meal, add this crisp and refreshing Swedish Cucumber Salad, this easy and delightfully pink Swedish Red Beet and Apple Salad,  and don't forget dessert – these easy Swedish Chocolate Balls are fantastic and easy!
For extra credit, check out these awesome kids books about Nordic culture. And you totally have to make Swedish Pancakes as well!
Print
Easy Swedish Meatball Recipe for Queen Elsa and Princess Anna – Eat Like A Princess
Author:

Prep Time:

5 Minutes

Cook Time:

25 Minutes

Total Time:

30 minutes

Yield:

4 Servings

Category:

One Pot

Method:

Sautee

Cuisine:

European
---
Description
These easy Swedish Meatballs can be done in one skillet and in 30 minutes, making them perfect for a weeknight meal! Serve them with mashed potatoes or egg noodles, and lingonberry preserves! 
---
Ingredients
Meatballs:
1/4 cup panko breadcrumbs
1 tsp dried parsley
1/4 tsp ground allspice
1/4 tsp ground nutmeg
1 TBSP dried chopped onion
1/2 tsp garlic powder
2 tsp worcestershire sauce
1 tsp mustard
1 lb ground beef
Gravy:
1 TBSP butter
3 TBSP flour
2 cups beef broth
1 cup sour cream
salt and pepper, to taste
1 TBSP lingonberry preserves
Serving:
lingonberry preserves
chives or parsley, chopped
---
Instructions
In a medium bowl, mix together all the ingredients for the meatballs.
Form roughly 16-20 meatballs with the mixture.
Place the meatballs in a large cast iron skillet, heated with 1 TBSP olive oil.
Cook the meatballs, turning occasionally, until browned on all sides, about 10 minutes.
Remove the meatballs to a plate lined with paper towels.
Cover with foil and set aside.
Place the butter in the skillet
Whisk in the flour, and whisk, whisk, whisk, until it is all incorporated.
Slowly (like 2 TBSP at a time) whisk in the beef broth. Fully incorporate each addition before you add more.
Allow to simmer for 5 minutes.
Add in the sour cream and simmer for 5 more minutes.
Stir in the lingonberry preserves and season with salt and pepper.
Return the meatballs to the gravy and allow to simmer for 2 minutes.
Sprinkle with either chopped parsley or chives.
Serve with egg noodles or mashed potatoes and Enjoy!
Looking for other "Eat Like A Princess" Recipes? Check them out here: 
SaveSave