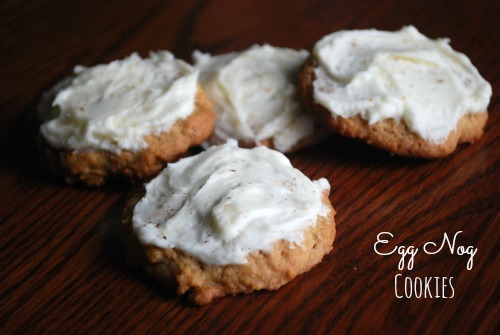 These egg nog cookies are deliciously soft and chewy. They are delicate and will seriously melt in your mouth. But that frosting. OMG that frosting. Slightly spiced, just a hint of rum. You could (and probably will) eat it with a spoon. These are basically the best Christmas cookie ever.
Have you ever used that line "Fashionably Late" to excuse yourself for being super late to a party? Because you know, you are so busy and popular that you are just constantly held up by other important business. Its totally not because you have children who make you late to everything. Or that you lost your keys. Or that you didn't discover an amazing cookie recipe until literally the day before Christmas. It happened.
I think its time I officially introduce you to the newest member of our family! If you follow me on Instagram you have probably noticed a certain new furry one in our lives. Meet Tonks – our new kitten!
We found her stuck under her our shed right before Thanksgiving. It was entirely not our to initial plan to keep her – we really just wanted to save her from freezing in a blizzard. No one wants a dead kitten under their shed, especially with dogs. But the moment Joel pulled her out, she instantly curled into him and started purring. He melted like a pad of butter in a hot pan.
She was only about 5 weeks old when we found her, so tiny she literally fit in one hand. It has been crazy fun getting used to having a kitten in the house. Crazy because I am pretty much rescuing her from mauling all day long, and fun because – hello, kitten!!! I can't believe we are now cat people.
Print
Egg Nog Cookies with Spiced Rum Frosting
Author:

Prep Time:

15 Minutes

Cook Time:

30 Minutes

Total Time:

45 minutes

Yield:

3 Dozen

Category:

Dessert

Method:

Bake
---
Ingredients
**Cookies
2 1/4 cup flour
2 tsp baking powder
1/2 tsp salt
1/2 tsp fresh ground nutmeg
1/2 tsp ground cinnamon
3/4 cup unsalted butter, at room temperature
1/2 cup sugar
1/2 cup brown sugar
2 large egg yolks
1 tsp vanilla extract
1/2 tsp rum extract
1/2 cup egg nog
**Frosting:
1/2 cup unsalted butter, at room temperature
1/2 tsp rum extract
3 cups powdered sugar
5 TBSP eggnog
---
Instructions
Line two baking sheets with parchment paper or a silpat.
In a medium bowl, whisk together the flour, baking powder, salt, nutmeg, and cinnamon.
In the bowl of an electric mixer, cream tougher the butter and both sugars until pale and fluffy.
Add in the egg yolks one at a time, mixing until just combined.
Add in the vanilla extract, rum extract, and egg nog.
With the mixer set on low, slowly add in the dry ingredients and mix until just combined.
Scoop out the dough by heaping tablespoons and place onto the prepared baking sheets., about 2 inches apart.
Allow to rest on the set for 3-5 minutes before transferring to a wire rack to cool completely.
When the cookies are completely cool, mix the frosting.
In a small bowl, beat the butter until pale and fluffy.
Add in the rum extract and the egg nog.
Add in the powdered sugar and mix until smooth.
Frost each cookie with a generous amount of frosting.
Sprinkle freshly grated nutmeg over the top.
Store in an airtight container and Enjoy!
 Looking for other amazingly awesome holiday treats? Try these!