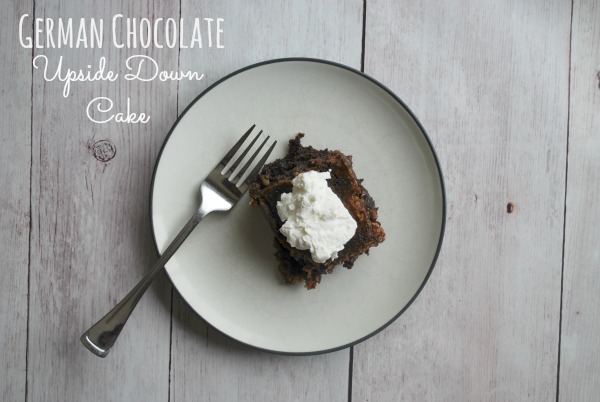 Have you ever wanted something super amazing but didn't feel like putting the effort in? Like, you want to eat fancy steakhouse food but you really only feel like ordering a pizza?
Yeah, happens to me all the dang time. As soon as I decide to make a recipe that is complicated and time cosuming, life magically fills up with 18 billion other things.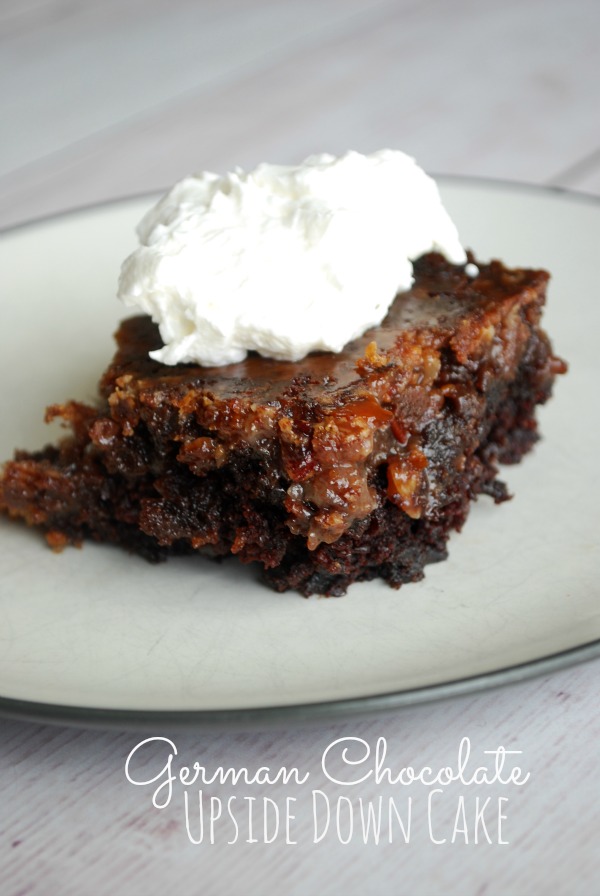 There is this quote I just love for situations like this. Did you ever watch the show Deadwood? Its an old HBO Series set in the 1870's in Deadwood, South Dakota. There is this character, Al Swearengen (who was a real person, by the way). In one episode he says "Announcing your plans is the best way to hear God laugh." Isn't that just the best? I feel like it pretty much sums up... life!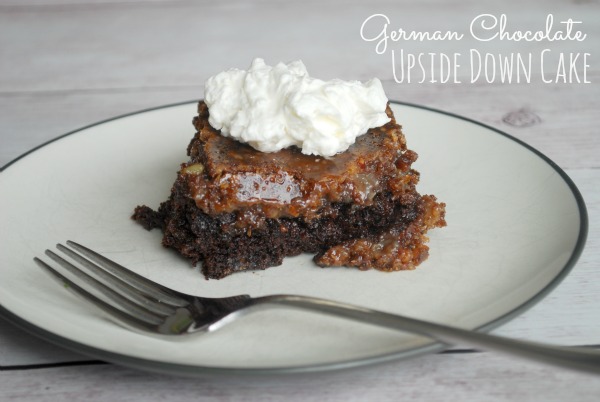 I have been planning on making a german chocolate cake for a few weeks now, but sometimes life just gets in the way. Sure, I suppose I could have woken up early one morning and baked a cake - but who wants to do that when your children already wake up at 6am sharp? Instead I decided to create a cheater cake - all the best parts of a german chocolate cake, but with half the work. And without resorting to a box of cake mix. YES! Now we are talking!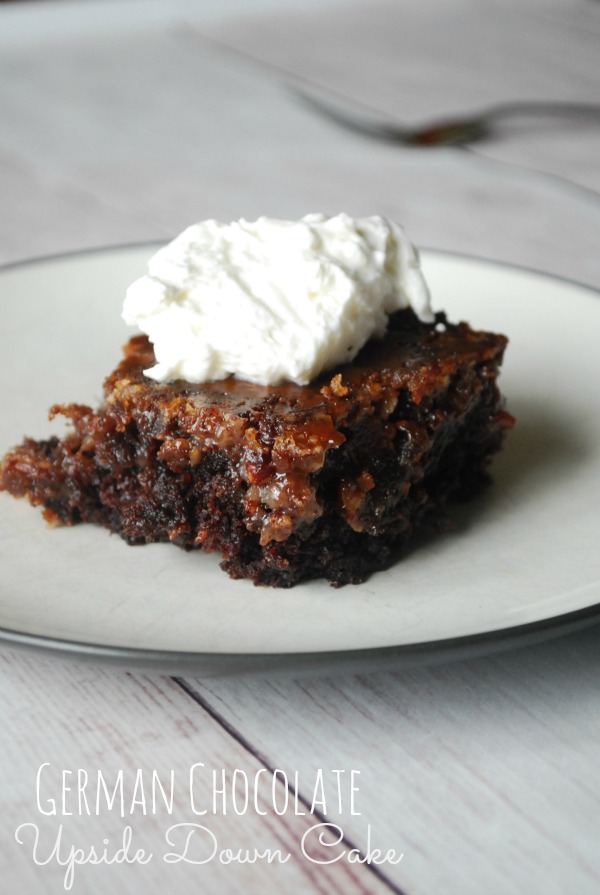 German Chocolate Upside Down Cake
The end result is a gorgeous upside down cake with amazing flavor and texture, topped with a fantastic gooey pecan and coconut layer. Add a dollop of lightly sweetened whip cream and you've got one heck of a dessert. It's perfect for potlucks and parties, and you can make it in a fraction of the time!
Yield: 16 Servings
German Chocolate Upside Down Cake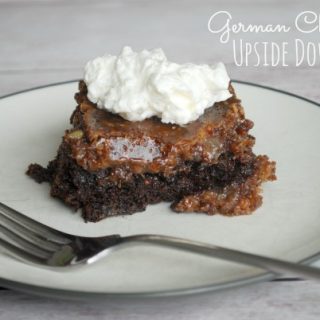 This German Chocolate Upside Down Cake has amazing flavor and texture, topped with a fantastic gooey pecan and coconut layer. Add a dollop of lightly sweetened whip cream and you've got one heck of a dessert.
Total Time
1 hour
5 minutes
Ingredients
**Cake
2 cups sugar
1 ¾ cup all purpose flour
¾ cup cocoa
1 ½ tsp baking powder
1 ½ tsp baking soda
1 tsp salt
2 eggs
1 cup milk
½ cup veggie oil
2 tsp pure vanilla extract
1 cup boiling water
**Topping
¼ cup melted butter
½ cup brown sugar
1 cup chopped pecans
1 ½ cups shredded unsweetened coconut
**Filling
8 ounces cream cheese, room temperature
½ cup butter (one stick)
16 ounces powdered sugar
Instructions
Preheat oven to 350 F.
Grease 9x13 cake pan, and line the bottom with a piece of parchment paper that perfectly fits the bottom.
Pour the melted butter into the pan and spread over the bottom.
Sprinkle on the brown sugar, pecans and coconut.
Set aside.
In a medium bowl whisk the sugar, flour, cocoa, baking powder, baking soda, and salt.
Add the eggs, milk, oil and vanilla and beat on medium speed for 2 minutes.
Mix in the boiling water.
Pour the cake batter over the brown sugar/pecan mixture.
In a medium bowl, beat together the cream cheese and butter until smooth and cream.y
Slowly add the powdered sugar in and continue mixing until smooth.
Dollop the cream cheese mixture over the chocolate batter.
Place the 9x13 cake pan on top of a rimmed baking sheet (sometimes the cream cheese mixture boils out!) and bake for 45-50 minutes.
Allow to cool for 10 minutes, and then invert onto a serving tray or baking sheet
Allow to cool completely and then slice into pieces.
Serve with whipped cream and enjoy!


Nutrition Information:
Yield:

16
Serving Size:

1
Amount Per Serving:
Calories:

598
Total Fat:

32g
Saturated Fat:

14g
Trans Fat:

1g
Unsaturated Fat:

15g
Cholesterol:

62mg
Sodium:

445mg
Carbohydrates:

76g
Fiber:

3g
Sugar:

60g
Protein:

6g
Looking for other easy yet epic desserts? Try these!