This easy plum cake recipe is a lovely coffee cake type cake perfect for in spring, summer or fall. Slightly spiced with cardamom and orange zest, this cake is perfect with a cup of coffee or tea, is perfect to serve at picnics, and only gets better the day after you make it!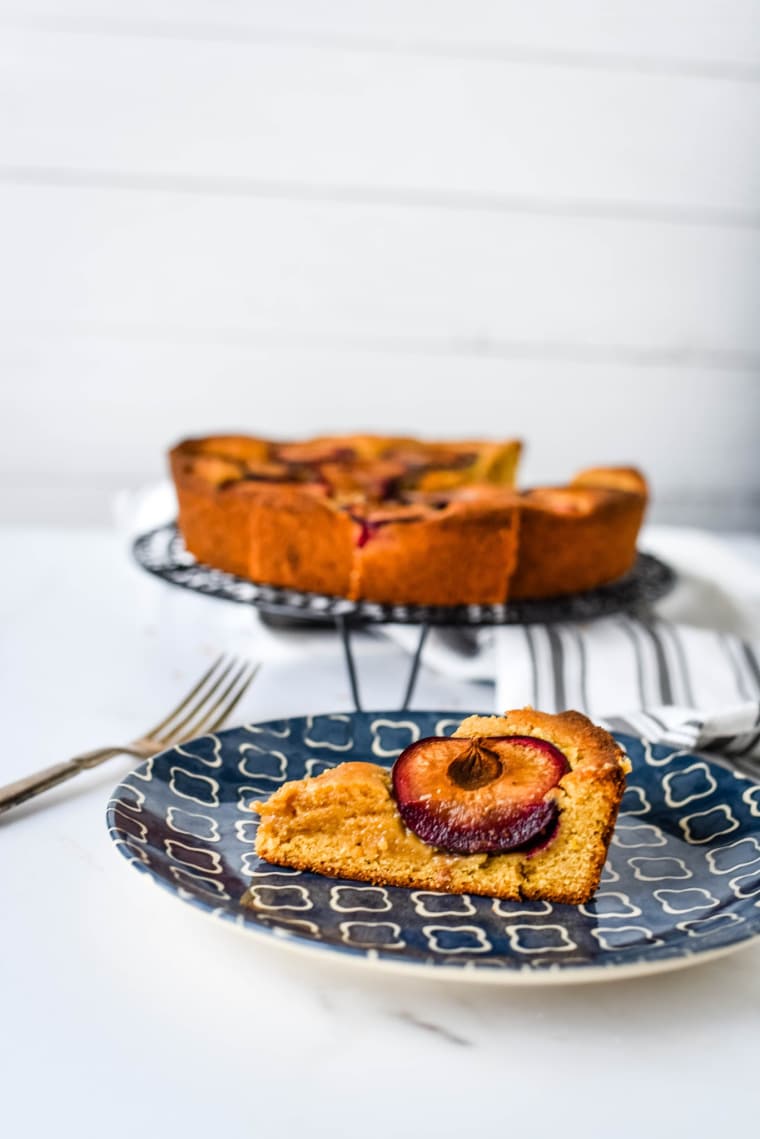 Easy Plum Cake
This fresh plum cake recipe is very much a coffee cake, its texture is kind of dry and crumbly.
The cake gets moister the longer you let it sit. The juices from the baked plums seep back into the cake, infusing it with a kind of plum-syrup. I definitely think it was better the second day. Next time I might just go ahead and make it a day in advance.
Because of this cake, I have now decided that I adore plums.
The cardamon, orange zest and plums pair perfectly together, giving it a rather unique taste that is perfect for late summer and early fall. If you would like a simple plum cake like this, but don't want a spiced version, try this Plum Torte instead.
Love simple cake recipes? Try these:
Easy and Elegant Plum Torte – Moist, buttery, juicy, and unbelievable. This simple dessert is everything you want in a dessert – it is easy to make, and lovely to eat!
Simple Peach Cake – This cake won't last long! Bursting with fresh summer flavor and tender and moist, this cake is perfect by itself, with ice cream or with a dollop of fresh whipped cream.
Easy Summer Strawberry Cake Recipe – This fresh fruit dessert features moist, flavorful vanilla cake studded with fresh strawberries. With a topping of freshly whipped cream, this simple strawberry cake is the star of any summer picnic or potluck!
How Kids can help you make this Simple Plum Cake Recipe
One of the best ways of getting kids interested in trying new foods is to have them help you make it! Here are some easy and age appropriate ways to get your kids in the kitchen with you to bake this spiced plum cake:
Kids aged 1 to 3 can help you wash the plums and measure the ingredients.
Kids aged 4 to 6 can help do everything above plus help you grease the pie plate, slice the plums, zest the orange, crack and whisk the egg, mix the batter, and press the plums into the batter.
Kids aged 7 to 10+ can help you do everything above, slice the plums, cream the butter and sugar with an electric mixer, and help you cut and serve the cake.
*Please note that these recommendations are generalized, and to please use your personal discretion with your child's skill level. And always, always supervise! Read more about how to have your children help you in the kitchen.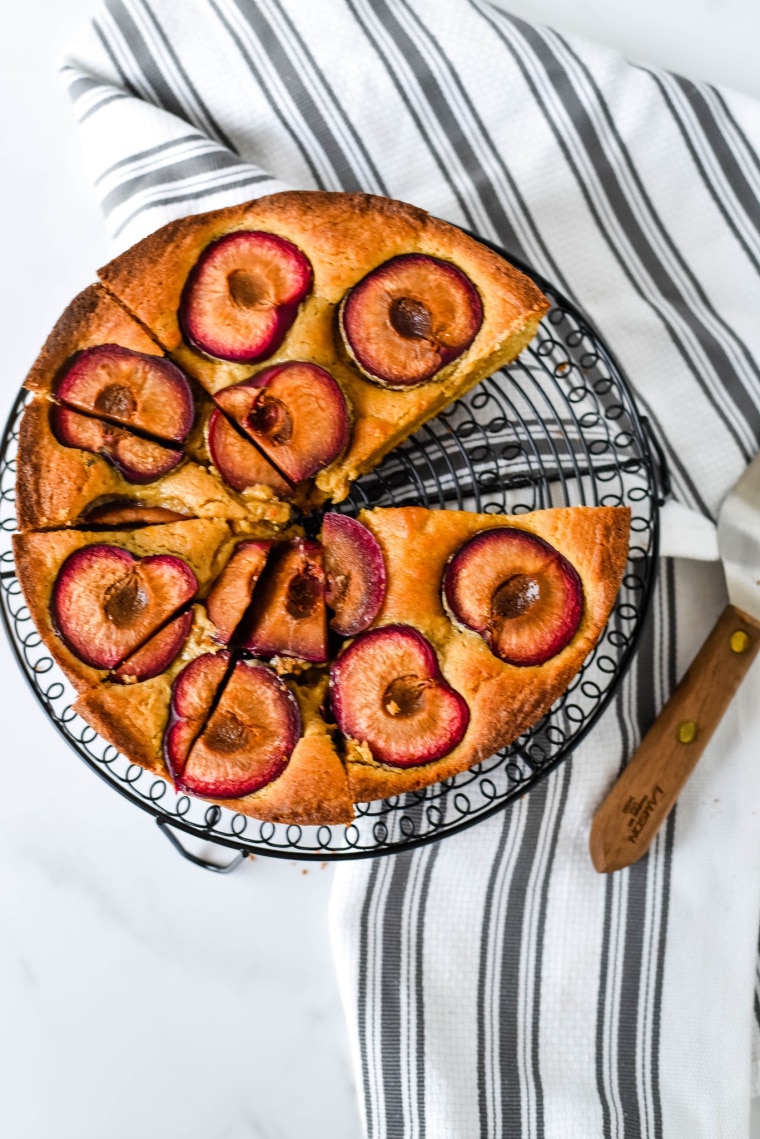 Easy Plum Cake Recipe
This easy cake is a lovely coffee cake type cake perfect for summer or fall. Slightly spiced with cardamom and orange zest, this cake is perfect with a cup of coffee or tea, and only gets better the day after you make it!
Ingredients
1 1/2 cups all-purpose flour
2 teaspoons baking powder
1/4 teaspoon salt
1/4 teaspoon ground cardamon
5 tablespoons unsalted butter, at room temperature
3/4 cup (packed) light brown sugar
2 large eggs
1/3 cup veggie oil
Grated zest of 1 orange
1 1/2 teaspoons pure vanilla extract
6-8 purple or red plums, halved and pitted
Instructions
Center a rack in the oven and preheat the oven to 350°F.
Butter an 8-inch square baking pan (or round works fine, too), dust the inside with flour, tap out the excess and put the pan on a baking sheet.
Whisk the flour, baking powder, salt and cardamon together.
Working with a mixer, beat the butter at medium speed until it's soft and creamy, about 3 minutes.
Add the sugar and beat for another 3 minutes, then add the eggs, one at a time, and beat for a minute after each egg goes in.
Still working on medium speed, beat in the oil, zest and vanilla; the batter will look smooth and creamy, almost satiny.
Reduce the mixer speed to low and add the dry ingredients, mixing only until they are incorporated.
Run a spatula around the bowl and under the batter, just to make sure there are no dry spots, then scrape the batter into the pan and smooth the top.
Arrange the plums cut side up in the batter– jiggling the plums a tad just so they settle comfortably into the batter.
Bake for about 30 to 40 minutes or until the top is honey brown and puffed around the plums and a thin knife inserted into the center of the cake comes out clean.
Transfer the cake to a rack and cool for 15 minutes during which time the plums juices will seep back into the cake then run a knife around the sides of the pan and unmold the cake. Invert and cool right side up.
Notes
*Note: I think this cake looks cuter if you have more purpley plums than mine were.
Also, if you like, you can dust the cake with powdered sugar after it cools.
Nutrition Information:
Yield:

12
Serving Size:

1
Amount Per Serving:
Calories:

175
Total Fat:

12g
Saturated Fat:

4g
Trans Fat:

0g
Unsaturated Fat:

7g
Cholesterol:

44mg
Sodium:

138mg
Carbohydrates:

15g
Fiber:

1g
Sugar:

2g
Protein:

3g
Save
Save