How to Host an EASY 5 Course French Meal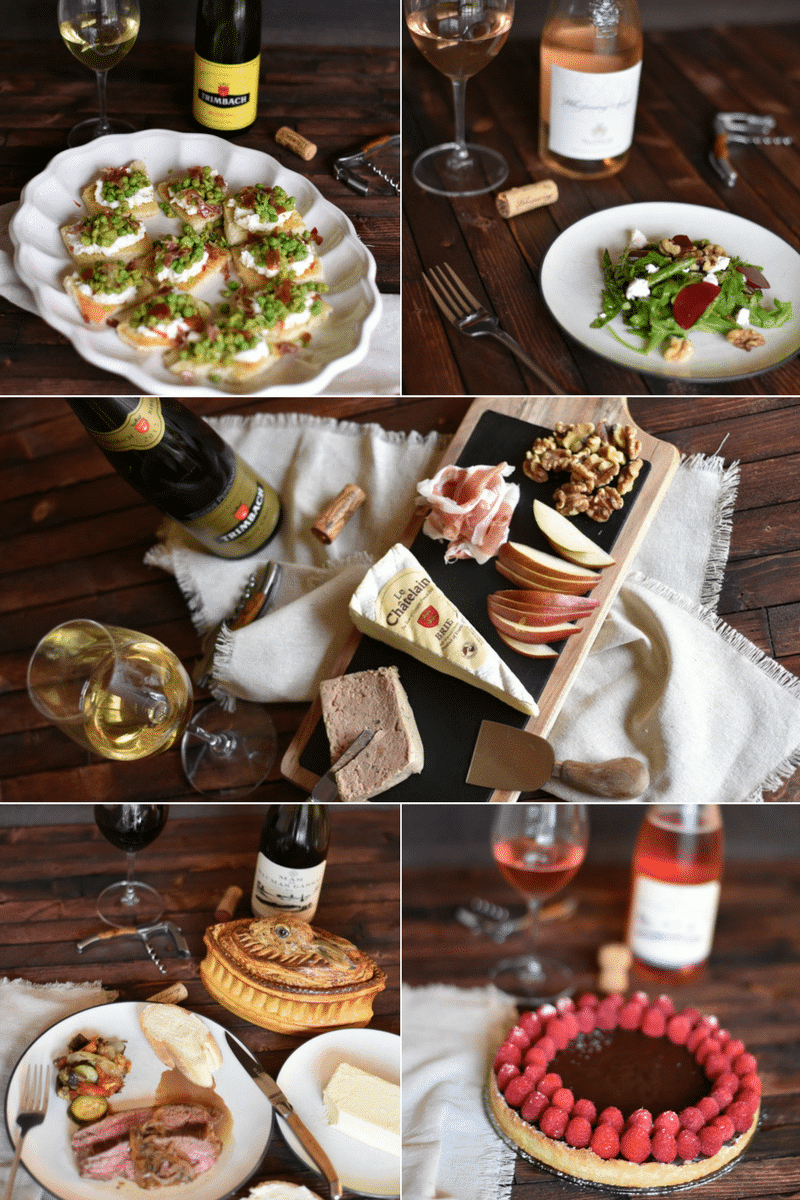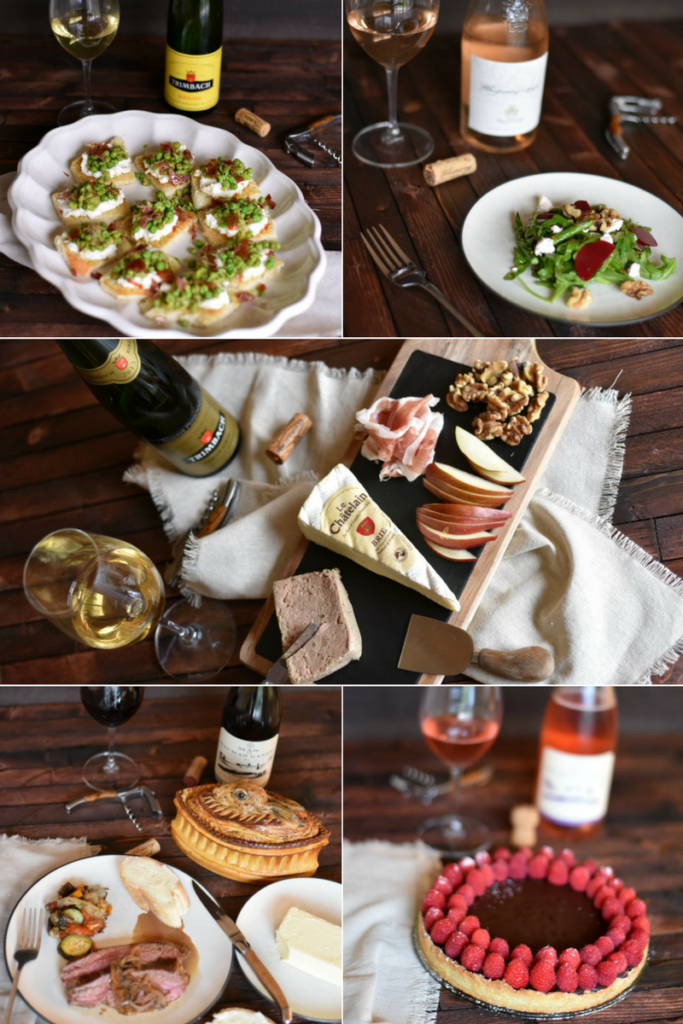 Thank you to all of the great French companies that sponsored this post. And Thank YOU for supporting the brands that support me and allow me to continue to grow my blog. All opinions and photographs are my own. #MadeInFrance
Truth #1: I love having people over for dinner!
Truth #2: I am not too good with planning "parties". Either I plan the event of the century and get waaaaay too stressed with the minute details OR I totally phone it in and pick up paper plates and store bought cupcakes an hour before the party. There is no middle ground.
But I have been thinking about this a lot. I mean, I run a site dedicated to EASY and QUICK meals! Surely I could get my act together and combine what I am good at into a dinner party, right?
I think that French recipes tend to be stereotyped (at least to the average American) as being overly stuffy and complicated to make. But I think when it comes down to the heart of it, French food really exemplifies amazing quality, the love and attention detail that someone puts in their recipes. I really wanted to showcase that simple, quality products are key to creating fantastic meals – and that they can be done easily, too!
I want to make this as super simple for you as I can – and so I am going to tell you EXACTLY what to serve, how to serve it, and how much time you need to prepare it. These are all easy to find items that you can find no matter where you are!
How to have an EASY 5 Course French Meal Dinner Party –

Course 1 – chartuterie platter
Every good meal should start with a meat and cheese tray, and I right?! For this you need: brie cheese,  pate or chicken liver mouse, fresh apricots, pears, small snacking pickles, plain crackers, proscuttio and candied walnuts. I highly recommend checking out the Le Chatelain Brie cheese. Most brie cheeses that you can buy in the US are either pasteurized or are raw and aged for over 60 days, but le Chatelain is one of the only pasteurized milk brie that embodies the same luscious and complex taste of a raw milk brie – its the closest things you can get to tasting the flavor of a raw milk French Brie outside of France! Get more information about how they achieve this amazing taste and find out where you can buy some yourself by visiting their website!
Wine Pairing – I recommend serving a TRIMBACH Pinot Gris Reserve 2013, which retails for about $23.99. This full bodied dry wine is from Alsace, and has a ripe peach and pear flavors and a long nutty finish and will pair gorgeously with everything on your charcuterie  tray! I love that these wines are family owned, starting way back in 1623! For more information on where to find these, other food pairings, and more awesome information about this wine, please check out their website here.
Prep Work – Chill the wine! Literally all you need to do is buy your ingredients ahead of time. A few minutes before your guests arrive, open all the containers, slice the apricots and pears, and arrange them all on a platter. Don't even think about how you are arranging them, just give everything its own little pile and be done with it. Add some knives for the brie cheese and the pate or chicken liver mouse and enjoy!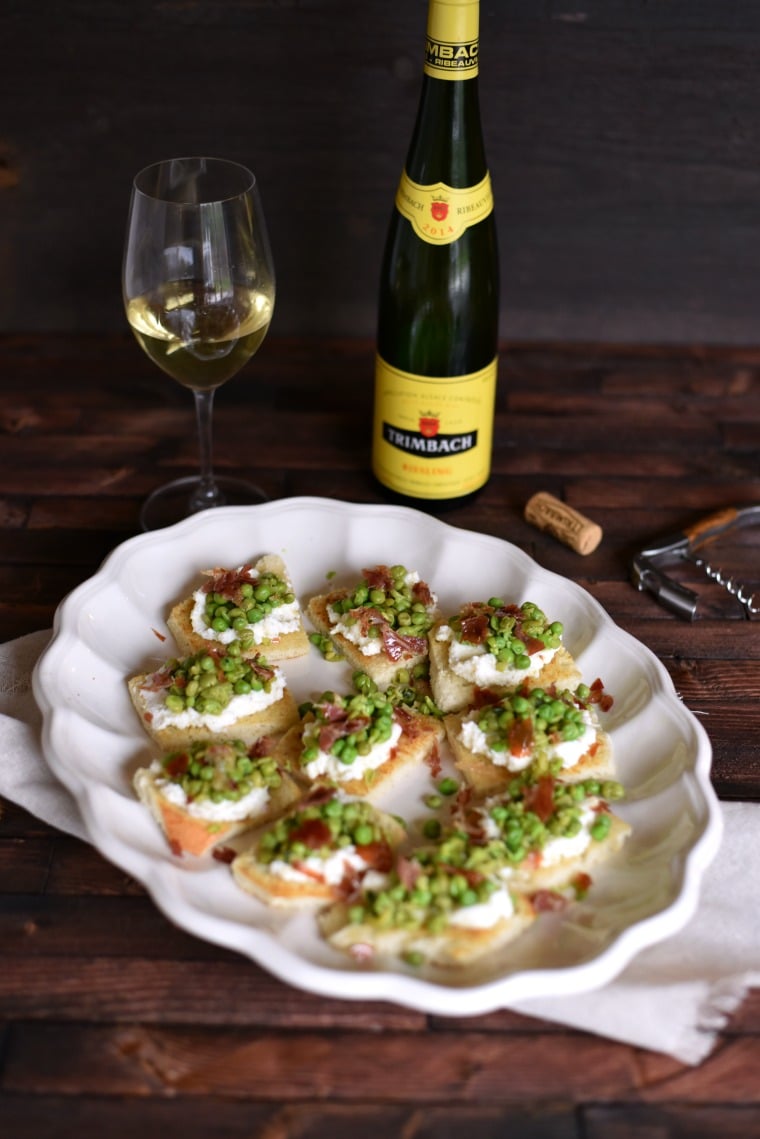 Course 2 – Brioche toasts with pea and ricotta
This was a total surprise for my family! Everyone gave me the weirdest looks when I told them what we were having, and yet they all utterly loved it! The flavors are bright and work together beautifully! I know it sounds weird, but it is a lovely and unexpected course! For the recipe, please visit The Kitchn.
Wine Pairing – This salad will pair perfectly with the TRIMBACH RIESLING 2014. I love this dry, crisp riesling! These retail for about $23.99. Visit their website to learn more about this wine, its perfect food pairings, and where you can find it!
Prep Work – Chill the wine! You can cut the brioche into more bite sized pieces (and remove any crust, if desired) earlier in the day, just make sure to store it in an air tight container. The ricotta mixture needs to be room temperature when you serve it, so you can prepare it a an hour or two ahead of time and leave covered on the counter. Set out all the ingredients you need ahead of time to make assembly fast! The actual recipe takes about 10 minutes to prepare.

Course 3 – Simple Goat Cheese Salad
This salad has become one of my favorites! It is so simple to make, with just a few simple ingredients, and yet the flavors are utterly perfect. It would be great if you threw some grilled chicken or a mild white fish on there, too! To get the full recipe for the salad and dressing, please visit mon petite four.
Wine pairing – CHÂTEAU D'ESCLANS Whispering Angel Rose' 2016 is the perfect choice for the course! It has fresh red berry hints with a floral nose, great concentration and a smooth, round finish. It is a very easy wine to drink. When I was researching it online, pretty much everyone who tried it loved it! It retails for about $21. I love that although it is a rose, there is no sugar added so it isn't overly sweet but instead dry, fresh and crisp. This is a perfect summer wine! (pssst… This is also currently the #1 selling French wine in the US! You can find it at Whole Foods and Fresh Market! Learn more about this fantastic wine here.
Prep Work – Chill the wine! Make the salad dressing a few hours ahead of time and allow to sit on the counter (if you put it in the fridge the oil will solidify). Since you are using it shortly, and using all of it, its ok to sit out for just a tiny bit of time. The asparagus can also be roasted ahead of time and kept in the fridge until needed. Then you literally just throw everything together and toss!
[embed_popupally_pro popup_id="8″]

Course 4 –  Steak and Ratatouille
You can't even think about serving a french meal without a ratatouille (especially when you have small children in the house and watch that movie a million times!) This recipe can take a really long time to make but its sooo worth it! I cut down the time by serving it "rustic style" and roasting all the veggies on a sheet pan. Seriously, the flavors you get here are purely divine. You MUST make this! Get the recipe for Rustic Ratatouille from Chocolate and Zucchini. This will take about 2 hours to make, but it is mostly hands-off work while it gets all magic roasty in the oven.
I also served a Steak au Poivre (steak with peppercorn sauce) which is really easy to make! The steak needs just a few minutes to sear on each side, and then the sauce takes about 10 minutes to make.
You will also want to serve this with some really great French Bread and an amazing BUTTER! Just any butter won't do, either. I mean, this is a French meal after all – you have to serve it with French butter! President Unsalted Butter is made in Normandy, and is the #1 butter in all of France. For real. It is rich and flavorful, with a smooth taste and texture. It's the real deal.
Wine Pairing – For this course I paired the MAS DE DAUMAS GASSAC RED 2015. This is an excellent table wine that works well with the steak, but is seriously amazing with the ratatouille! It is actually a blend of about 19 different varieties of wine. I love that this vineyard uses an organic and natural process to winemaking! This bottle retails for about $45. Definitely check out their website to find out more information about this wine – they have a really interesting method to make this wine!
Prep Work – Chill the wine! Chop all the veggies for the ratatouille ahead of time and store in an airtight container in the fridge until its time to bake. Set out the butter so it has a chance to soften. Slice the bread and store it in an air tight container until its time to serve. You will also want to decant the wine in advance!

Course 5 – Chocolate Tart with Fresh Berries
This elegant yet simple chocolate tart is the perfect ending to a dinner party! It is very easy to make (and you can make it ahead of time!) and is a lovely dessert!
Wine Pairing – The MAS DE DAUMAS GASSAC SPARKLING ROSE 2016 pairs perfectly with a chocolate tart and fresh raspberries! I love that there is no sugar added to this, there is a fresh and lively taste of red fruit and berries without cloying sweetness. This wine retails for $26 a bottle. Find out more about this wine, what else is pairs with (you will totally be surprised!) and where you can find it by visiting their website.
Prep Work –  Chill the wine! The chocolate tart can be made up to 24 hours in advance. Wash and sort the raspberries ahead of time as well, so you know which are the best ones to use. When it is time to serve, carefully arrange a few rings of fresh raspberries around the outer edge of the tart and enjoy!
Looking for other fun meals? Check out my easy weeknight Cultural Meals from Around the World! 
including Hosting a Brazilian Feast!