Easy "Make and Take" Meals
When your weeknights are a chaotic Tetris game of kid's sports schedules and after school activities, you need super easy dinners that are quick and easy to make, and great for traveling. Try these super quick weeknight dinners in your next meal plan.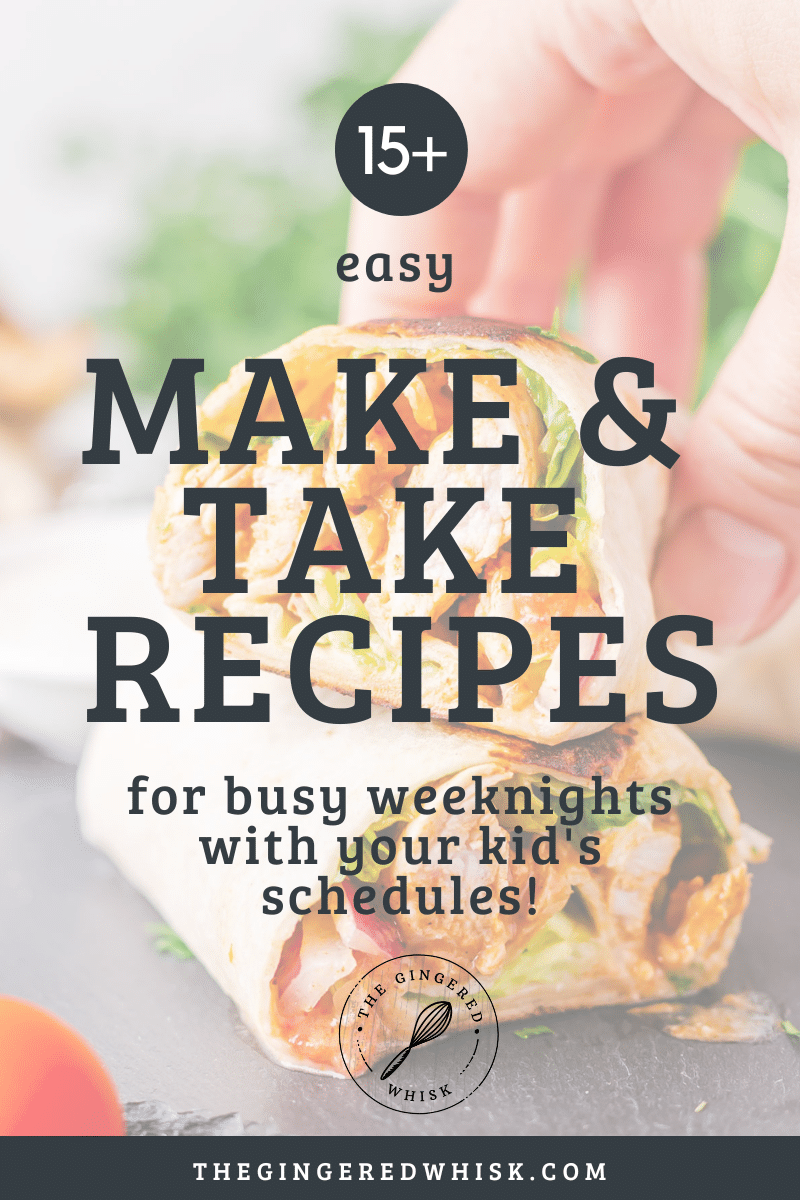 Evening activities often bring about the question of when to eat – 4:30 seems ridiculously early, but 7:00 is also so late that my kids (and I'm assuming yours) would be tiny little terrors of hunger and exhaustion when it was time to eat.
Currently my family is still able to eat at home (as long as we get the timing right), but I know the many families need to eat out some nights of the week – the choices tend to be picking up something on the way to the ball field, or packing a meal in.
Packing a meal doesn't have to be as daunting or boring as it can sometimes feel. Below you will find some easy yet creative ways to make meals away from home easier, healthier, and still delicious!
How to meal plan for busy nights
When you aren't sure how you are going to get all the kids to their different activities and feed them all dinner, that's when you need a rock solid meal plan!
Try these easy tips for how to make dinner easy.
Plan meals that can be prepped ahead of time so all you have to do it put food on a plate.
Plan meals that you can easily take with you (like the recipes below!)
Utilize leftovers
Need more meal planning help? Check out my guide on how to make easy meal plans. And don't forget to grab your copy of my Meal Planning Book below!
How to pack dinner to go
When you need to take dinner on the road, there are a few things to keep in mind.
Does your food need to stay cold?
If your meal needs to stay cold, like with chicken or egg salad, then you will want to make sure you have a cooler and ice packs on hand. Make sure your ice packs are high quality and large enough to actually cool your food. Your food needs to be be below 40 degrees.
Does your meal need to stay warm?
If you are reheating a meal and then traveling with it warm, you will want to make sure you have insulated bags and food storage containers like a thermos or other container that is meant to keep your food warm. Make sure your food is eaten within a few hours of placing it in the thermos!
Food tastes better when its shared! If you try this recipe, let me know! Leave a comment and rate below! Love and links are always appreciated! If you'd like to share this post, please link to this post directly for the recipe, please do not copy and paste or screenshot. Thanks so much for supporting me! xoxo
Easy "Make and Take" Meals
Add this easy dinner recipes to your meal plan when you need a quick meal you can pack with you.