This Flank Steak Tacos Recipe are filled with fresh flavors, packed with nutrition, & only need 30 minutes! Topped with a fresh and flavorful Pineapple-Mango salsa & Cilantro-lime Sauce, this easy dinner will have your family feeling full and satisfied!
Thank you to Iowa Beef Industry Council for sponsoring this post. And Thank you for supporting the brands that support me and allow me to continue to grow my blog. All opinions, recipe and photographs are my own.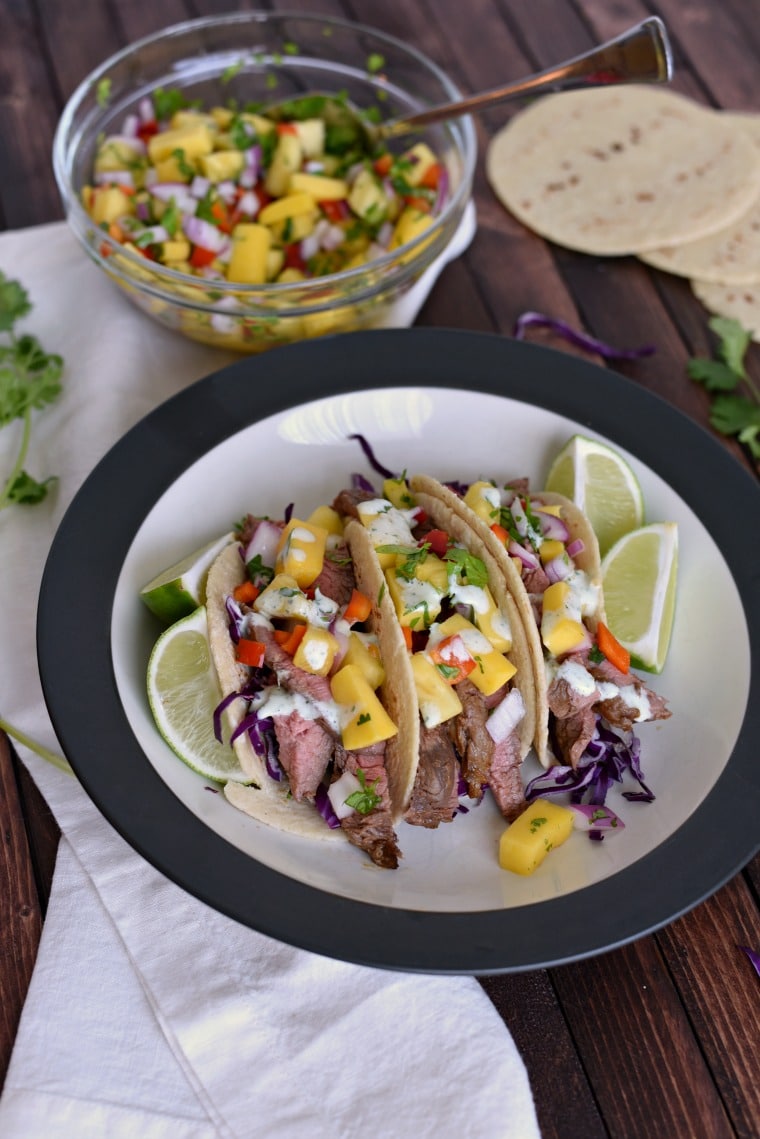 Over the years I have probably tried all the tricks to get my kids to eat their dinner.
Bribery? Check.
Dousing it in Ranch? Check.
Threatening them? Check.
Pretending silverware are airplanes? Uh.. Check.
Resorting to Sibling Peer Pressure? Double Check.
But even with all of that, I have found three things that have worked the best, time and time again.
Make it Pretty.
Make it Fun.
Let them Help.
This Flank Steak tacos recipe totally fits the "pretty" and "fun" part!
I told my girls they were "Rainbow Tacos" and they devoured them.
I also always let my girls assemble their own tacos, which usually works like magic to get them interested in eating anything that goes on their plate.
Easy Flank Steak Tacos Recipe
Flank Steak is one of my favorite cuts of beef to use. It's lean, its flavorful, its super easy to work with, its very versatile, and its fairly cheap cut to use. So much to love! It is super nutrient dense, too, what with 24 grams of high quality protein. Plus a standard 3-oz serving has over 10% of your daily intake for iron, zinc, Vitamin B6, Vitamin B12, Niacin, Riboflavin, choline, Selenium and Phosphorous.
Seriously, you get your money worth with this cut! To learn even more about the awesome nutrition packed into a flank steak, check out this nutrition page from Iowa Beef !
Making sure my girls get the proper nutrition they need for their growing bodies and minds is so important to me, and I never have to question what they are eating when I serve this meal.
These Flank Steak Tacos can be made start –> finish in about 30 minutes! They are super easy to make, too! You literally need 3 bowls and a grill (or broiler).
Also try these with easy pineapple salsa!
Food tastes better when its shared! If you try this recipe, let me know! Leave a comment and rate below!
Yield: 6 servings
Flank Steak Tacos with Pineapple-Mango Salsa and Cilantro-Lime Sauce
These Flank Steak Tacos are filled with fresh flavors, packed with nutrition, & only take 30 minutes from start to finish!
Ingredients
*Marinade
2 lb flank steak
1 tsp salt
1 tsp pepper
1/8 cup extra virgin olive oil
2 TBSP brown sugar
1 tsp cumin
1/2 tsp garlic powder
1 tsp chili powder
1 TBSP soy sauce
*Pineapple-Mango Salsa
1 cup chopped mango
1 cup chopped pineapple
1/2 red bell pepper, chopped
1/2 red onion, chopped
2 limes, juiced
1/4 tsp grated ginger
1/2 cup chopped cilantro
*Creamy Cilantro Lime Sauce
1 cup plain greek yogurt
1/2 cup cilantro
2 tsp lime juice
1 1/5 tsp honey
1/4 cup salsa verde
*Serving
12 corn tortillas
shredded purple cabbage
Instructions
*Marinade
Mix the spices and sauces into a paste and smear evenly over both sides of the flank steak.
Allow to sit and marinade while you prepare the salsa.
*Salsa
Toss all the ingredients together in a bowl.
Set aside while you prepare the rest of the meal.
*Sauce
In a food processor combine all the ingredients until smooth.
Store in the fridge until ready.
*Cooking and Assembly
Preheat your broiler or a grill to medium heat.
Cook for 5-7 minutes, and then turn over.
Cook for another 5-7 minutes, or until a cooking thermometer reads an internal temperature of 145 degrees (for medium rare).
Tent with foil for 5 minutes, and then slice thinly against the grain.
Serve the steak slices in the tortillas, topped with the purple cabbage, salsa, and the cilantro sauce.
Enjoy!
Nutrition Information:
Yield:

6
Serving Size:

1
Amount Per Serving:
Calories:

530
Total Fat:

19g
Saturated Fat:

6g
Trans Fat:

0g
Unsaturated Fat:

10g
Cholesterol:

121mg
Sodium:

733mg
Carbohydrates:

42g
Fiber:

6g
Sugar:

15g
Protein:

50g
Check out Iowa Beef on Facebook for even more tips, nutrition information and recipes!
Looking for more Beef? Check out these other great meal ideas: