Around the Globe in 80 Meals – Kid Friendly Recipes from Around the World
Are you ready to discover new family favorite meals inspired by cultural recipes and ingredients from around the world? Expand your kid's palates with these easy kid friendly international recipes.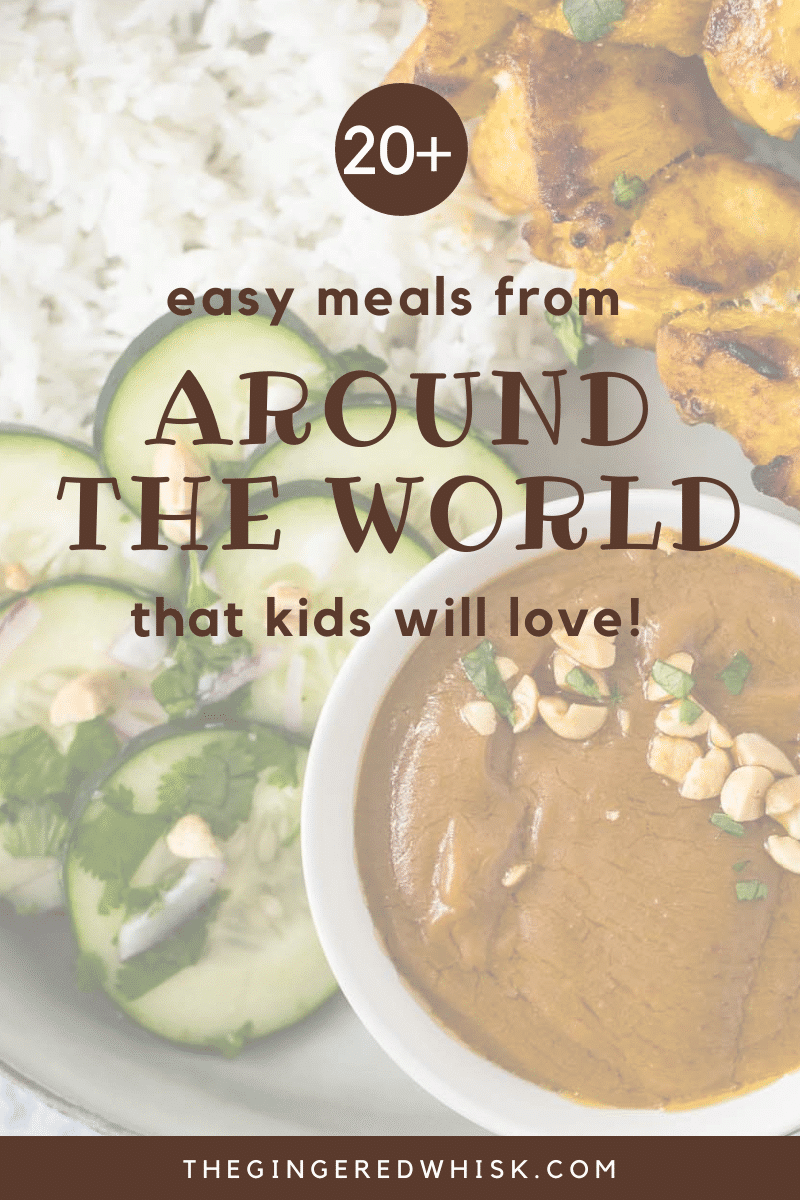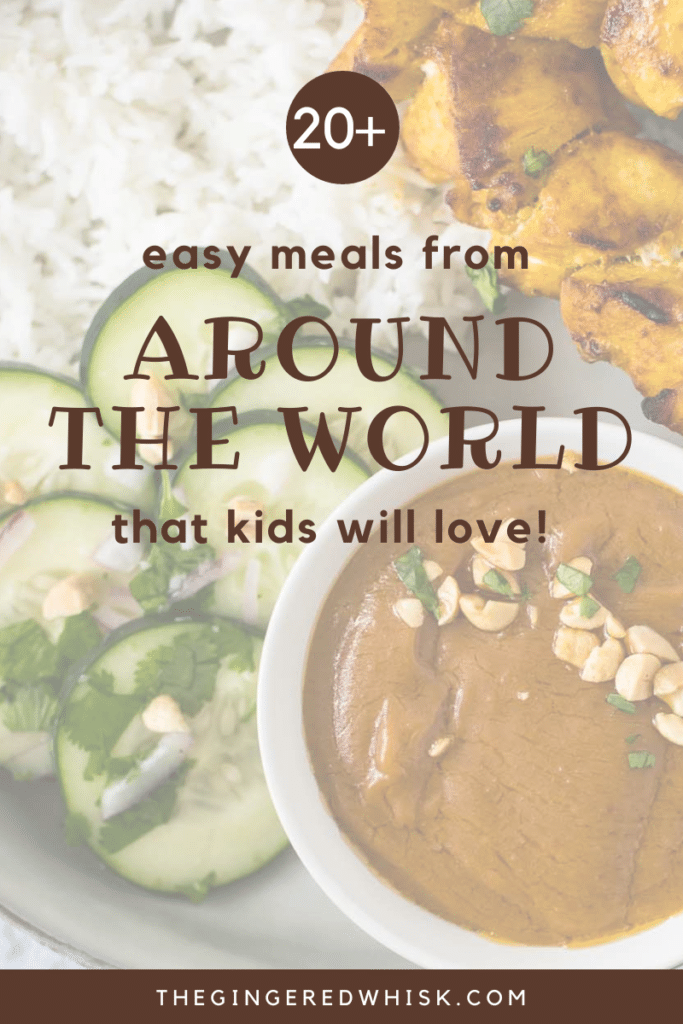 Food connects us all!
It is important for our children to be familiar with the world of food they live in. Expanding your kids palate helps them connect with their own heritage, and to be able to better connect with the world around them. When you visit friends, travel for vacation, or learn about new places, its important to be familiar with different kinds of food!
How to raise kids who love to eat food
Sometimes it feels like a daunting task to help teach out kids how to be willing to try and enjoy foods beyond chicken nuggets! Read the guide on trying new food for kids.
Read this post on Raising Adventurous Eaters for great tips on how to raise kids who love exploring food along with you!
Worried about how your kids might react to lots of flavors and heat in food? Head over to How to Spice Food For Kids for all the information you need.
Head over to "How to teach kids to love international food" for even more quick tips and easy wins related to serving food from all over at your dinner table!
Food around the world for kids:
Get ready to travel on a culinary adventure through the globe with these easy, healthy, and kid friendly meals from around the world that are designed to help you navigate through new cuisines, ingredients and flavors.
*Note 1: These recipes are not intended to be 100% authentic recreations. They are intended to be easy, healthy, and kid friendly meals from around the world that can be enjoyed by the whole family. They are meant to serve as a way to open the door to more adventurous eating, to place an emphasis on varied diets and to empower parents and children alike with the courage and inspiration to become a foodie family.
*Note 2: Basically, there are hundreds of different regional cuisines, and it would be a ridiculous task to break them down into ALL their individual categories – because there are a lot. For the purposes of this site, which is to help your family experience and explore the world of food in an easy and stress-free way, I'm going to keep it super, super basic.
*Note 3: some cuisines are not yet represented. Be patient, they are on their way! Have a certain request? Please email me at [email protected] and I will get it added!
The goal is to help your family begin to branch out from chicken nuggets and buttered noodles and start to add some new flavors into your meal plans.
African Recipes
Our favorite family friendly recipes from Africa are:
But there are so many amazing recipes to try. Check out our Kid Friendly Africa recipes for more great inspiration.
Asian Recipes
Asia encompasses a vast area and has many different cuisines. Our favorites are:
Check out our Kid Friendly Asian recipes for more great recipe inspiration.
European Recipes
For the sake of ease, I am going to kind of lump all of Europe into one pot – Eventually I will break them down more. But you definitely need to try these recipes out:
Check out more great kid friendly recipes from Europe.
Indian Recipes
YES, Indian food can totally be kid friendly! Here are my family's favorite meals:
And don't forget to check out our other Kid friendly Indian recipes!
Mediterranean Recipes
Here are our favorite easy weeknight recipes from the Mediterranean region.SaveSaveSaveSave
See more kid friendly Mediterranean recipes.SaveSaveSaveSave
Nordic Recipes
Try these fun and easy recipes from the Nordic region.
Check out my other kid friendly Nordic recipes.
Food tastes better when its shared! If you try this recipe, let me know! Leave a comment and rate below!
Love and links are always appreciated! If you'd like to share this post, please link to this post directly for the recipe, please do not copy and paste or screenshot. Thanks so much for supporting me! xoxo