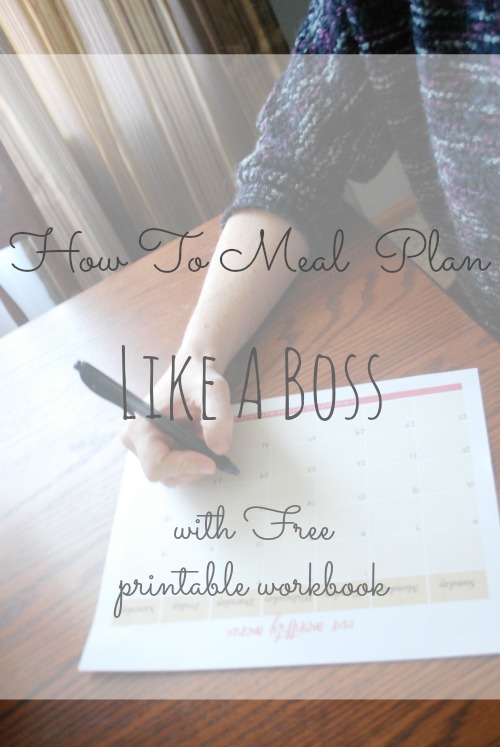 How do you get dinner on the table, every night, without getting bored with your meals, stressed about your plan, or just have things fall apart and order pizza?
Does the thought of sitting down and making a meal plan make you cringe, cry and pull out your hair?
Does your current meal planning technique continue to fail you, or does it take over your life?
Learning how to meal plan is the key to sticking to your grocery budget, your diet plan, and keeping your weeks running a bit smoother! Meal planning looks differently for every one, but that doesn't mean you can't create a plan that is perfect for you!  The goal is to make this process effective and easy for you, whatever that might look like. And I'll teach you how!
Why You Should Be Meal Planning
The whole point of meal planning is to create a tool that simplifies your life! Who wouldn't want to do something that saves time, money, and sanity?!
Sitting down and planning your meals allows you the freedom to:
Not have to think about it the rest of the week (which we could all totally use, right?)
Not getting stuck in the monotonous routine of the same meals each week (tacos, tacos, tacos)
Not continually going out to eat because you don't have anything to eat at home
Cuts down on screaming temper tantrums because its 4:30 and your children are dying of starvation
Spending too much time at the grocery store because you don't know what to buy
Reduces impulse purchases (goodbye, Double Stuffed Oreos!)
Helps you stick to a budget because you are buying only the things you need
Reduces the amount of trips you take to the store because you forgot items
How To Make Meal Planning Work For YOU in 6 Simple Steps
Ok, so lets break this down and figure out how to meal plan like a boss and make this system work for you!
Take a moment and think about how often you want to plan your meals and go grocery shopping. Every week? Every two weeks? Once a month?
If you only want to shop once a month, you totally can! But you will also need to get creative when it comes to milk, bread and produce (you can totally freeze them). You can also decide to plan for two weeks or a whole month at once time, but still go grocery shopping every week. Its totally up to you and what works best for your life.
Grab a piece of paper and write down all your favorite meals. As many as you can think of! (You can always come  back to this later and add more). Hint* Get the awesome printables I made for you at the bottom of this post! 
The point here is to simplify meal planning and make it as quick as possible for you. By creating a master list of your favorite meals you make it easier to rotate through all the things you love – instead of only being able to think about tacos.
Now go back through and organize all your recipes into sections, either by type of meat or by kind (like casserole, soup, crock pot (affiliate link) meals, etc). Again, this is to help you rotate through your meals in a simple way but to still give you variety in your menu. Try making a master list for each season. I don't know about you but my favorites are different for summer (hello, grill!) and winter (hello, crock pot (affiliate link)!)
Grab a calendar (I've included an awesome free 5 page printable for you here!) and decide how many meals you need to plan for, and how many people are eating those meals. Decide if you want to plan out your daily snacking needs or if you want to just grab a few extra things. Our groceries look a lot different depending on school and work schedules, and you need to plan accordingly.
Think about the week ahead. What kind of week is it? Are you crazy busy Tuesday with afternoon and evening activities? You probably don't want to plan on making a brand new 6 hour, 30 step lasagna from scratch that night. You are just asking for everyone to cry, whine, and eventually throw down some cereal for dinner. Is it a hurricane outside? Probably not the best idea to grill. Don't make things more complicated than they need to be!
Start filling in your menu!
Start with breakfast first (because that is the easiest).
Then start filling your calendar in with dinners that you pull from your meal rotation list. Adding a variety of meat, different kinds of meals (salads, casseroles, crock pots, etc) will keep your menu feeling fresh.
Then fill in lunches (making sure to include leftovers you might have!) and snacks.
Extra Awesome How To Meal Plan Tips:
 Add one new recipe every week or two, if you feel like trying new things. Not only does this give you and excuse to try out the 16,000 recipes you have collected on Pinterest and torn out of magazines, but it helps you to add new favorites to your list!
Take into account using ingredients for more than one meal – roast a giant pork roast and use it for multiple meals throughout the week. If you buy a big tub of ricotta cheese but only use half, how can you add the remainder to your menu?
As you place meals in your menu, jot down the ingredients you need on your grocery list. This helps to save time, and helps you realize how you can use your ingredients to your advantage.
Plan for eating out! I mean, really. If you have a doctors appointment at 10:45 and swimming lessons at 1:00, you are not going home to cook lunch. Nope, you are headed straight to Chick-Fil-A, my friend, and don't even pretend you aren't. Just go ahead and add it to your calendar!

Guess what? You are now ready to take on meal planning like a boss!
And, because I love you and you just made it through all of that, I have some awesome freebies for you! I have created a super helpful set of printable worksheets to really help you learn how to meal plan like a boss!
Included are:
a 1 page cheat sheet
2 different meal planning calendars (both a weekly and a monthly)
2 pages of planning pages
Want an awesome Meal Planning Workbook with 5 pages of awesomeness to help you create the meal planning system that works for you? Of course you do!
Get your How To Meal Plan Like a Boss Workbook by CLICKING HERE! – print and use as often as you like!
For more help on meal planning, check out
Learning how to meal plan is the key to sticking to your grocery budget, your diet plan, and keeping your weeks running a bit smoother! I would love to know if you have any questions!