Easy Kid Friendly Appetizers
Holidays and parties require snack food! These easy and delicious appetizers are flavorful and fun, while being kid friendly, too!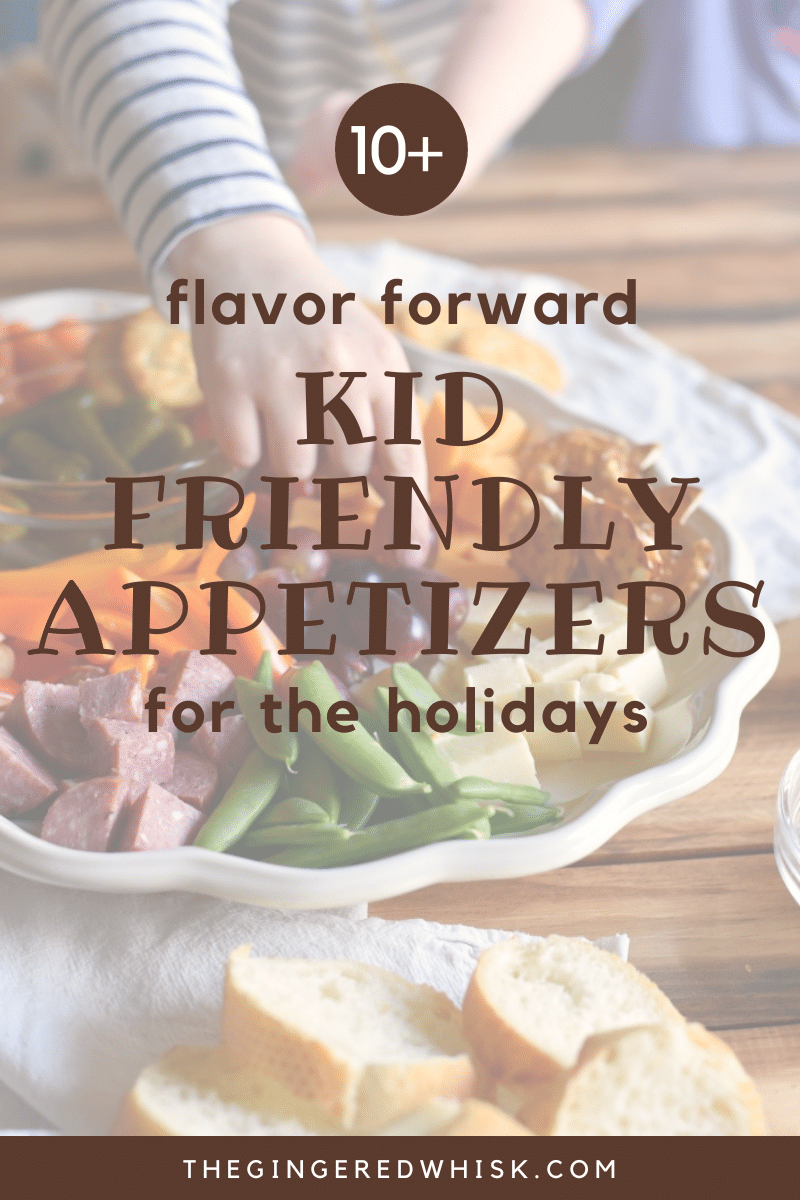 If you are anything like my (which I kind of think you are, since you are reading this) then the holidays mean two things – lots of time with family/friends and lots of eating.
But kid friendly appetizers does not mean boring!
I have scoured the internet for you to find the best holiday appetizers that are flavor forward yet kid friendly for your snacking pleasure this season!
Serve these treats during game night, alongside your kid friendly charcuterie board, or before any holiday or social gathering.
Recipes for Kid Friendly Appetizers
Marinated Mozzarella Balls Recipe
Marinated mozzarella balls are an easy appetizer that takes less than 15 minutes to make. Pearl Mozzarella balls are immersed in olive oil, garlic, and fresh herbs like basil, oregano, and thyme. A great appetizer for Thanksgiving, Christmas, New Years, or any party – it always impresses!
Get the recipe
Cranberry Crostini with Whipped Goat Cheese and Thyme
Cranberry Crostini is a delicious (and easy!) way to elevate your fall and winter gatherings. Sweet and tangy cranberry sauce sits on top of a freshly whipped goat cheese spread and slice of crusty bread. Crostini appetizers with cranberry sauce are perfect for Thanksgiving, Christmas, or any late fall gathering!
Get the recipe
Christmas Spiced Nuts Recipe
Roasted nuts spiced with maple and chipotle are an easy to make and easy to eat appetizer snack that will won't be able to get enough of.
Get the recipe
Ham and Cream Cheese Pickle Roll Ups
Ham and Pickle Roll Ups are tasty little bites that are so easy to make with only 4 ingredients! It's the best pickle appetizer with slices of ham, whole pickles, and ranch seasoned cream cheese. If you want a crowd favorite appetizer then you must make these delicious pickle wraps. 
Get the recipe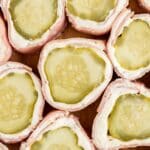 Bacon Wrapped Dates Recipe
Bacon wrapped dates are a great combination of sweet and salty. Made with just two ingredients and a few minutes, this simple appetizer is always a huge hit at parties.
Get the recipe
Cream Cheese Stuffed Mushrooms
These stuffed mushrooms are filled with a cream cheese bacon filling that is so amazing!
Get the recipe
Easy Cheese Dip
Easy Cheese Dip is a simple and elegant appetizer to serve. Made with different kinds of cheese (basically the leftovers you find!), this family friendly French cheese dip is perfect to serve on your charcuterie board.
Get the recipe
Cranberry Goat Cheese Log
Dried cranberries, cinnamon and goat cheese combine to create a simple and delicious 3-ingredient gluten-free appetizer that is perfect for holiday parties and entertaining. Serve as part of a larger cheese board or on a smaller plate with gluten-free crackers. This recipe can easily be doubled to serve a crowd!
Get the recipe
Pickle Dip Recipe
Dill pickle dip is a quick and easy appetizer that comes together in 5 minutes! Cream cheese and sour cream combine together with plenty of chopped pickles, fresh dill, and spices to create a great flavored creamy dip that everyone will rave about!
Get the recipe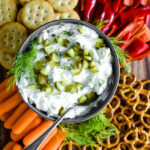 Hot Spinach and Artichoke Dip
You know the gooey Baked Spinach Artichoke Dip from restaurants that's irresistible once you start eating it? It's incredibly easy to make at home in 30 minutes or less. This Hot Spinach and Artichoke Dip is the perfect appetizer for any gathering!
Get the recipe
Bacon Dip
This Bacon Cheddar Dip Recipe is the snack food. Any party you take this to, you will be the talk of the town! This is the most addictive and easy party appetizer recipe that you can make – and it will disappear every time you take it!
Get the recipe