Holidays and parties require snack food! Don't sacrifice time, taste, or health with these easy Healthy Holiday Appetizers! These four easy appetizer recipes will have you ready to party in style without spending all day in the kitchen!
If you are anything like my (which I kind of think you are, since you are reading this) then the holidays mean two things – lots of time with family/friends and lots of eating. Both of these things are really lovely, but you also kind of want to make sure all the cute winter clothes you just bought fit after the holidays are over. We can't stuff our faces with cookies and pies and all the cheese for an entire month and not expect there to be consequences.
Lucky for you, you don't be the person who just brings a vegetable tray to the party. Not that there is anything wrong with that. Veggies are good, and healthy, and totally belong at parties. But lets let someone else bring them, ok? There are other healthy treats that you can enjoy that actually feel like you are eating a treat!
You are going to bring something awesome, my friend!
Healthy Holiday Appetizers
I have prepared for you 4 Super Easy and Healthy Holiday Appetizers for your snacking pleasure this season! These can all be prepared in less than half hour, and require simple and real ingredients.
And before you start emailing me that bacon and chocolate are hardly healthy, let me just say that yes – eating 3 carrot sticks at a party would in fact be the healthiest option. And boring.
The options I have provided below are healthier than scarfing down cookies and cakes, but obviously portion control is key as well. So share some, ok?
The recipes below also feature just a few real ingredients each, are readily made with ingredients you can easily find, and can be prepared quickly. So enjoy!
Bacon Wrapped Dates
If you have never tried a bacon wrapped date you need to immediately change that! This simple 2 ingredient easy appetizer is so quick it really shouldn't even be called a recipe.
I love, love, love the sweet and salty combination here. Its like for real meat candy.
Oh, did I mention its also Paleo, Gluten Free, and Whole30 Approved? Yeah. Eat On!
Chocolate Covered Clementines with Sea Salt
Pretty much everyone loves any kind of fruit dipped in chocolate, am I right?
This recipe will take you literally 10 minutes to make and another 10 to set up.
Snacking on fresh fruit covered in antioxidant rich dark chocolate and mineral rich sea salt (affiliate link) is almost as good as eating a vitamin. But so much tastier!
Maple Chipotle Spiced Nuts
Mixed nuts are one of my favorite snacks. They are just so easy to just keep eating.
But often times they are either loaded with three days worth of salt or entirely too much sugar. But these nuts are made with pure maple syrup, just a touch of brown sugar, and a pinch of sea salt (affiliate link).
So you don't have to feel bad when you find yourself hovering over the bowl and eating the majoriy of them!
Peanut Butter Apple Dip
This is one of my favorite snacks lately, and I think it would also make a killer appetizer. It pairs perfectly with apples, bananas, pretty much any fruit would be awesome dipped in here.
It feels like a cheat food, but being made with equal parts protein packed peanut butter, greek yogurt, and a little bit of local honey.
This is a favorite snack for my girls (and, ok, me too!) and I don't feel bad about them eating it!
Get the recipes for these healthy holiday appetizers below:
Bacon Wrapped Dates Recipe
These bacon wrapped dates are an easy 2-ingredient snack that is so easy and so delicious!
Ingredients
1 package of dried, pitted dates (about 8 oz)
12 oz maple bacon
Instructions
Preheat oven to 375.
Cut bacon in half.
Wrap each half around a date and secure with toothpick.
Place on a baking sheet (use one with rims to catch the bacon grease) lined with parchment paper.
Bake for 15 minutes, turning halfway through, or until the bacon is golden brown.
Cool 10 minutes.
Enjoy!
Notes
Leftovers can be stored in the fridge and reheated in the microwave, although they won't have the same texture.
Nutrition Information:
Yield:

6
Serving Size:

1
Amount Per Serving:
Calories:

269
Total Fat:

20g
Saturated Fat:

7g
Trans Fat:

0g
Unsaturated Fat:

12g
Cholesterol:

56mg
Sodium:

955mg
Carbohydrates:

2g
Fiber:

0g
Sugar:

1g
Protein:

19g
Chocolate Dipped Clementines with Sea Salt
Prep Time: 20 minutes
Cook Time: 0 minutes
Keywords: no cook appetizer snack dessert chocolate orange
Ingredients (36 servings)
8 clementines
4 ounces dark chocolate, finely chopped
Fleur De Sel Salt
Instructions
Line a large baking sheet with parchment paper
Peel and segment the clementines and set aside
Place the chocolate in a small bowl and melt in the microwave for 10 seconds at a time, stirring in between each interval.
Dip the clementine segments into the chocolate and transfer to a prepared sheet.
Immediately sprinkle with tiny pinches of the salt.
Allow the chocolate to set (you can speed this up by placing the pan in the fridge for 10 minutes).
Maple Chipotle Spiced Nuts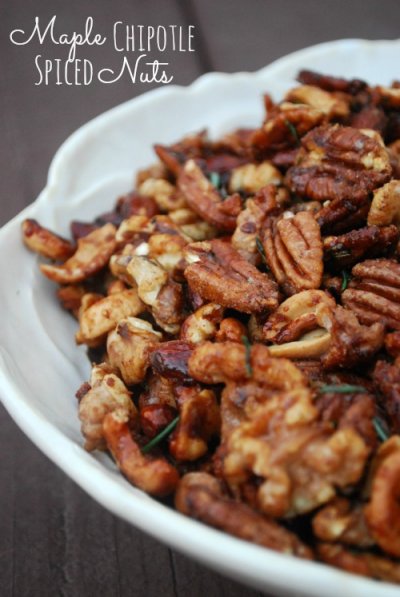 Prep Time: 10 minutes
Cook Time: 20 minutes
Keywords: almond walnut cashew pecan Christmas Thanksgiving Super Bowl
Ingredients (many servings)
10 ounces pecan halves
10 ounces walnut halves
6 ounces whole almonds
3 ounces whole cashews
1/3 cup pure maple syrup
1/4 cup light brown sugar
3 TBSP fresh orange juice
1 tsp ground chipotle powder
1 tsp ground cinnamon
4 TBSP fresh minced rosemary, divided
2 tsp sea salt

(affiliate link)
Instructions
Preheat oven to 350 F
Spread the nuts out onto the pan.
In a small mixing bowl, mix together the maple syrup, brown sugar, orange juice, chipotle powder, cinnamon, and 2 TBSP of fresh rosemary.
Pour the mixture over the nuts and toss to mix thoroughly.
Roast the nuts for 25 minutes, stirring halfway, until the nuts are golden brown .
Remove from the oven and sprinkle with the remaining 2 TBSP rosemary and the
sea salt
(affiliate link)
.
Toss well and set aside at room temperature, stirring occasionally to prevent sticking.
Serve warm or cool
Store in an airtight container at room temperature.
Peanut Butter Apple Dip
Prep Time: 5 minutes
Cook Time: 0 minutes
Keywords: snack appetizer dessert dip/sauce honey peanut butter yogurt
Ingredients (4-6 servings)
1/2 cup all natural peanut butter
1/2 cup plain greek yogurt
1/4 cup raw local honey
Instructions
Mix together and enjoy!!!
Refrigerate in an airtight container if not eaten.