Mini Halloween Pizzas are easy to make and fun to eat! Kids won't bat an eye at eating their vegetables at dinner when they have created their own spooky pizzas! Perfect for Halloween parties or for Halloween night!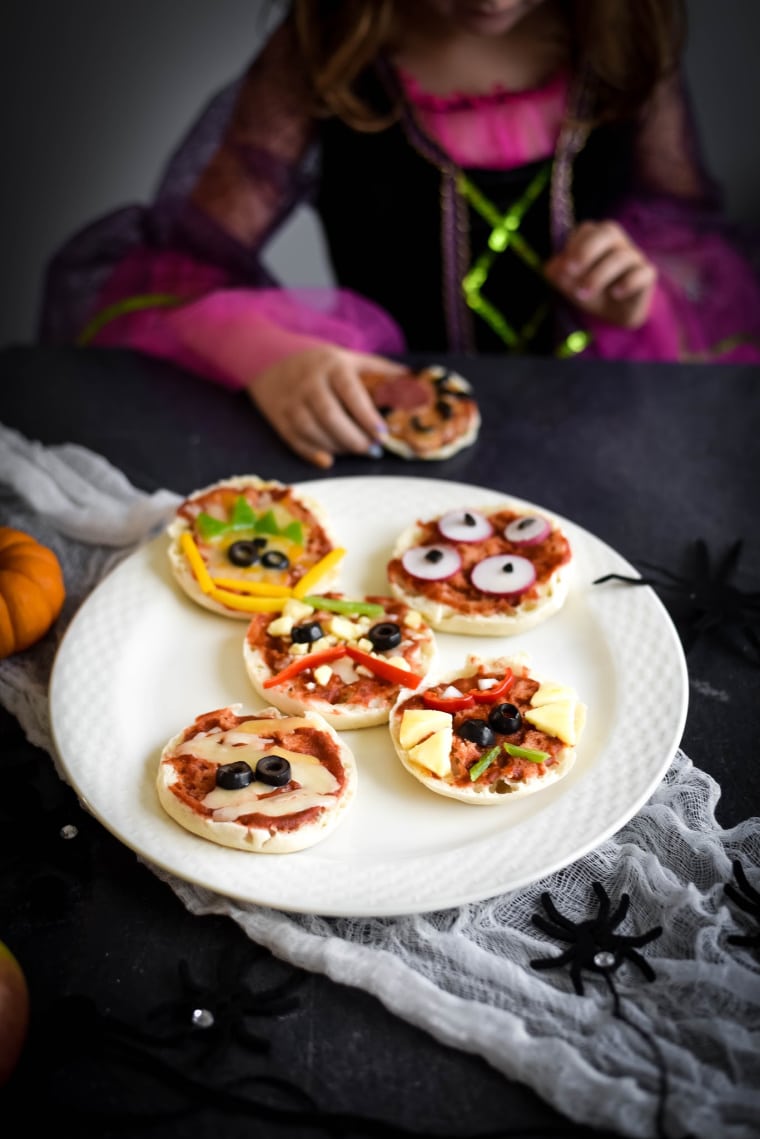 Normally, I am not a fan of making "cute food". Don't get me wrong, I love cute food. I mean, its just so cute! What I am not a fan of is all the work that it takes – the cutting, arranging, and making everything "just so". It's just not my thing.
But what IS my thing is getting kids involved and enticing them to eat their veggies. When my 9 year old daughter saw decorated pizzas for Halloween and begged me to make some for her, I knew I had to spin it so they were the ones doing all the work. Then I remembered my Rainbow Veggie Pizza and a total lightbulb went off.
I made my girls pick out which produce they wanted to use at the grocery store.
They washed and prepped all the vegetables, and cut everything into the sizes they wanted.
Then they are the ones who spent 20 minutes artfully arranging each piece into adorable and totally spooky faces while I "supervised" from the couch with a glass of wine (true story).
After dinner they literally begged me – BEGGED ME – to let them make these mini halloween pizzas again. Can you imagine "Please Mommy, Please let us make and devour veggie pizza again! Please!" Uhh- yes!
Yes, we can.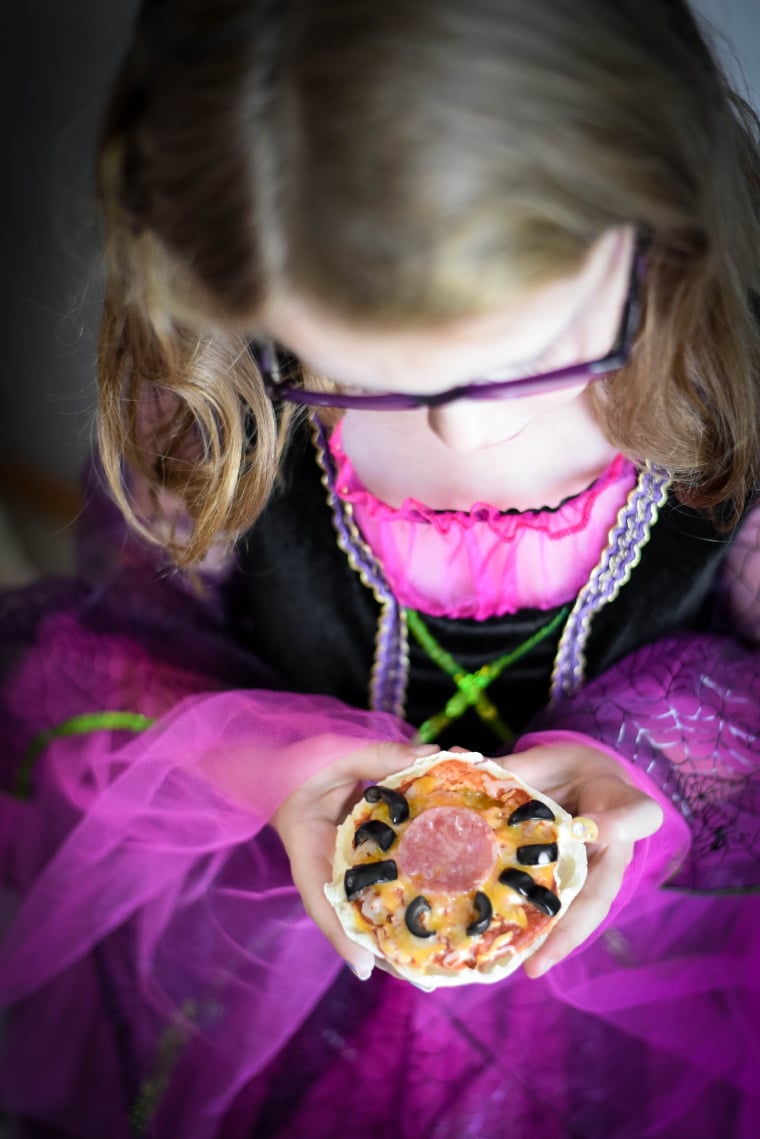 How to prep Halloween Pizzas ahead of time
These mini pizzas are perfect to make any night of the week, even on super busy nights in between homework and trick or treating!
Use English Muffins and store bought pizza sauce to cut down on prep time.

You can wash and cut your produce the night before (or even two nights before) if you will be short on time.

Pre-shred and pre-cut some cheese ahead of time, too. I like to buy blocks of mozzarella and cheddar and offer some sliced, some in triangles, some shredded so you have various sizes, shapes and colors to use in your creations.
What Ingredients to Use for Mini Halloween Pizzas
The great part about these pizzas is you can use so many different items to create fun faces!
Lay out all the ingredients on the counter or table and allow each kid to create their own goblins, ghouls and ghosts!
Mini Sweet Peppers in orange, red, and yellow

Green Bell Peppers

Black Olives

Cherry Tomatoes

Red Onion

Corn Kernels

Mozzarella and Cheddar Cheese, shredded and cut into shapes

Pepperoni Slices

Literally anything else you want.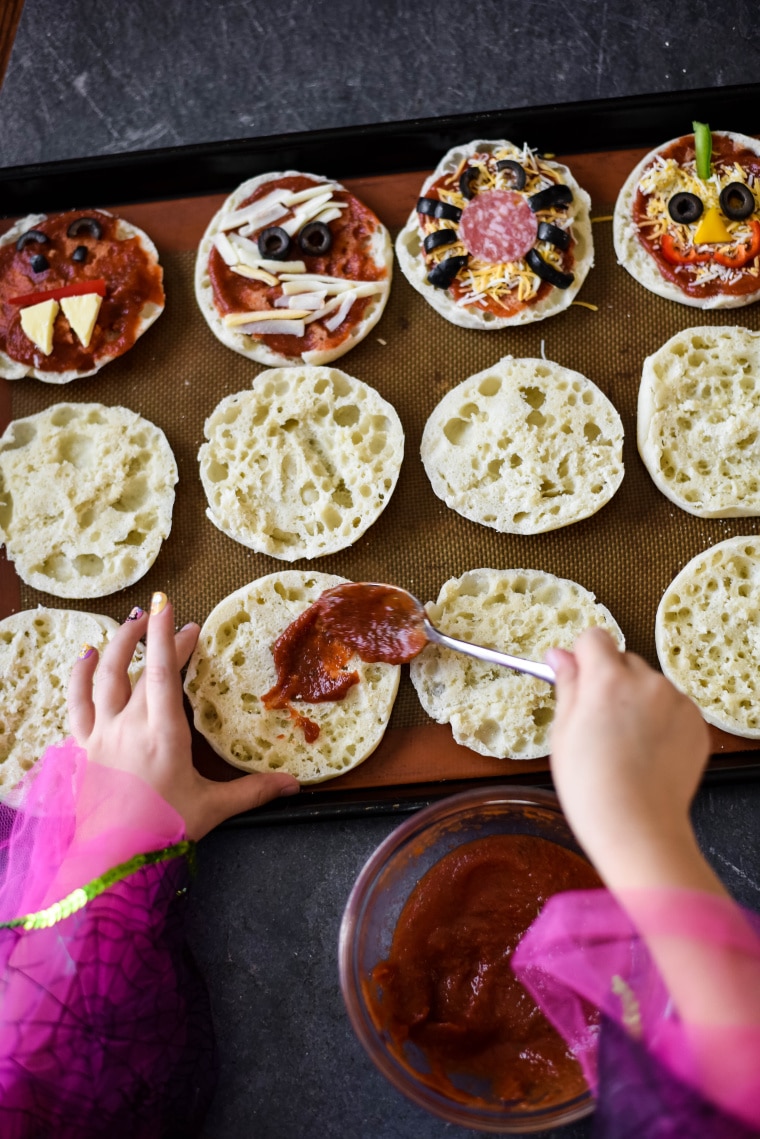 Dinner Conversations with Kids about Halloween Pizzas
Dinner time should be more than micromanaging each and every bite your kids take. Even though dessert isn't usually a time where picky eating is a problem, you can still use this opportunity to bring in a more analytical way of thinking about and trying food:
Talk about the different colors of produce they are using – could they add something green to their monster? Or could their witch use something orange? Offer suggestions in question form and let them be the ultimate decider.

Talk about the textures of the ingredients they are using – would they like to include something crunchy?

Talk about the flavors of their pizzas – how do the toppings work together to create a tasty pizza?

Ask questions about what their favorite part of the Halloween Pizza is – is there anything they would change about it for next time, or would they serve it differently?
How to Serve Halloween Pizzas
These Halloween pizzas are an easy family dinner. You can choose to serve them all on a big plate and everyone enjoys what others made, or that everyone gets to eat the ghoul they created. Whatever works best for your family!
Serve your adorable and totally spooky mini Halloween Pizzas with: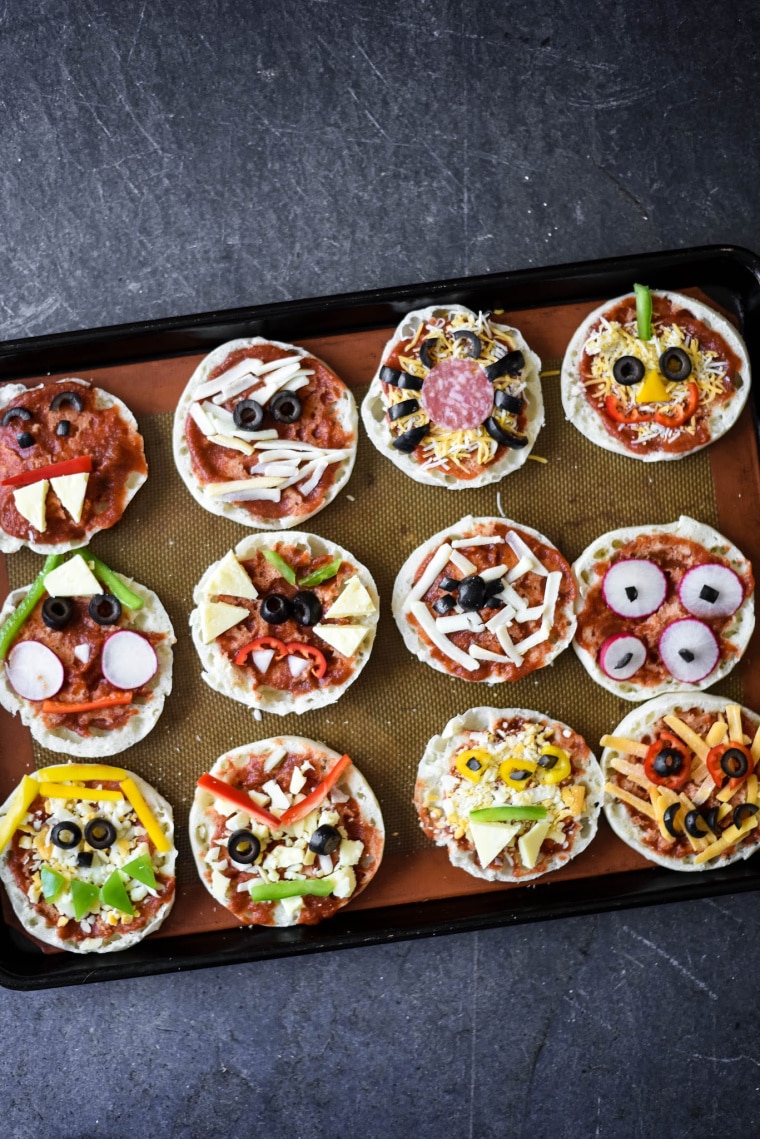 Kids in the Kitchen: How Your Kids Can Help You Cook
Getting your kids in the kitchen is an amazing way to help them be more interested in trying new foods and confident in their own abilities. This Halloween Pizza recipe is great because it helps expose them to vegetables in a fun way and they get to practice their knife skills. This recipe is perfect for beginner cooks because it is so easy! And it is a great recipe for kids to experiment and become more comfortable with new flavors – which means they are more likely to eat it!
Kids aged 1-3

can help you wash the produce, and

spoon the pizza sauce onto the english muffins and create their own pizzas.

Kids aged 4-6

can do everything above, plus help you cut the vegetables into fun shapes.

Kids aged 7-10+

can help you do everything above.
*Please note that these recommendations are generalized, and to please use your personal discretion with your child's skill level. And always, always supervise! Read more about how to have your children help you in the kitchen.
There's nothing I love more than seeing you make my recipes! If you make these Mini Halloween Pizzas, don't forget to leave a comment below and rate the recipe!
And if you are on Instagram, tag @thegingeredwhisk and use the hashtag #gingeredwhisk on social media when you make my recipes so that I can share them and maybe even feature you. Follow along to get the latest updates:
And don't forget to subscribe to the email list to get all the extra tips, tricks and bonuses!
Want to save this for later? PIN THIS TO YOUR HALLOWEEN BOARD on Pinterest!
Yield: 4 Servings
Mini Halloween Pizzas!
Mini Halloween Pizzas are easy to make and fun to eat! Kids won't bat an eye at eating their vegetables at dinner when they have created their own spooky pizzas! Perfect for Halloween parties or for Halloween night!
Additional Time
10 minutes
Ingredients
1 package English Muffins (6 total), split into half
14 oz pizza sauce
1 green bell pepper
6 mini sweet peppers in red, orange, and yellow
4 oz fresh mozzarella cheese
4 oz aged cheddar cheese
1/2 cup black olive slices
3 radishes, sliced thinly
Instructions
Preheat oven to 350 F.
Line a rimmed baking sheet with a silicone baking mat and set aside.
Wash all the produce and use a paring knife to cut the vegetables into strips, triangles, circles, half circles and more.
Cut the cheese into triangles, strips, and shred some into thicker strips.
Use a fork to split the english muffins in half and lay them, cut side up on the baking mat.
Carefully srpead a spoonful or two of the pizza sauce onto each english muffins.
Use the cut vegetable shapes and the cheese to create fun and spooky faces! (If you need to, feel free to set a 10 minute timer for the kids so this step doesn't take forever!)
Bake for 8-10 minutes, until the cheese is melty.
Enjoy!
Notes
* Feel free to add other vegetables, too! Broccoli, red onion, shredded carrot, corn kernals, etc woud all be great additions! Add a little of whatever you have on hand.
* These are best if eaten fresh from the oven, but they can be stored in the fridge and reheated in the microwave if needed.
Nutrition Information:
Yield:

4
Serving Size:

1
Amount Per Serving:
Calories:

351
Total Fat:

19g
Saturated Fat:

10g
Trans Fat:

0g
Unsaturated Fat:

7g
Cholesterol:

50mg
Sodium:

941mg
Carbohydrates:

28g
Fiber:

5g
Sugar:

10g
Protein:

17g