Halloween Brownies are a fun and delicious treat that kids will love helping to bake and eat! Soft fudgey brownies are marbled with matcha tea cheesecake swirls. These easy to bake brownies are perfect to bake with kids, and a great food coloring free Halloween treat!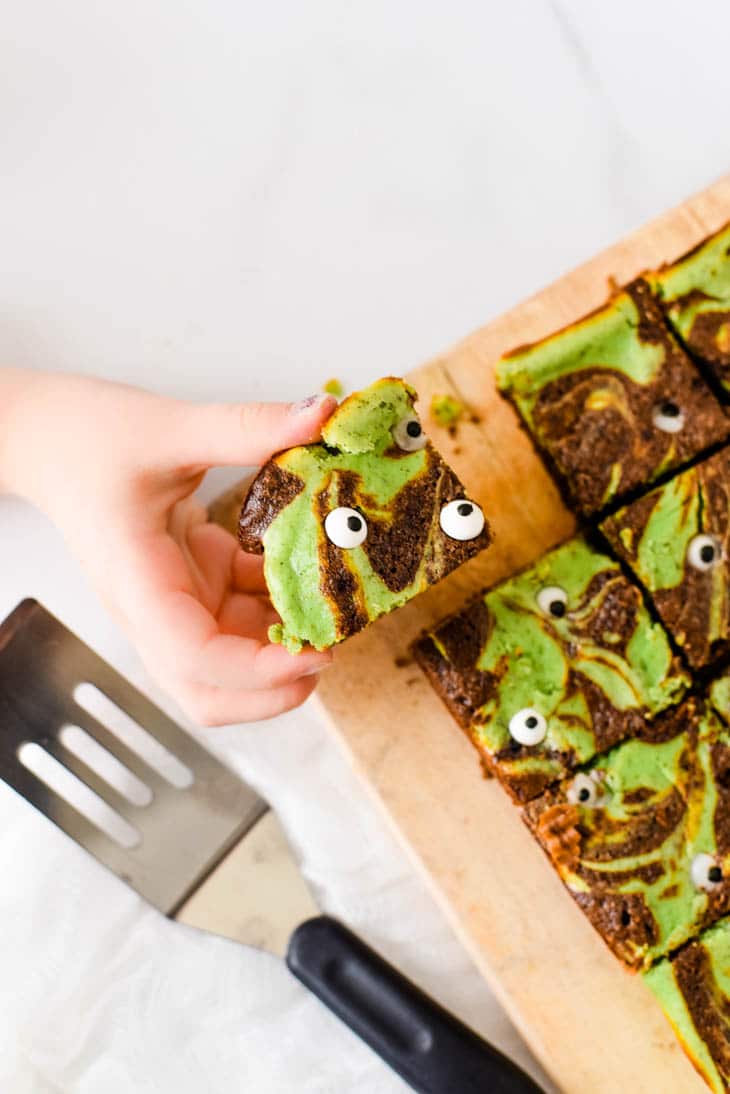 Halloween brownies are a super fun treat that are easy to make but are impressive to look at! Dense and flavorful chocolate brownie is layered and swirled with vibrantly green matcha tea cheesecake swirls – and loaded with plenty of creepy-fun eyeball candies!
These easy brownies are a great treat to bake with kids. Not only is this a simple two bowl ingredient, but its a fun way to introduce matcha tea and the concept that food can be used in different ways – like to color other foods!
These halloween brownies are perfect to serve with Mini Halloween Pizzas!
How to Make Matcha Cheesecake Swirl Brownies
These brownies are really easy to make – you only need two bowls, a hand mixer, and some measuring utensils.
First, create the matcha cheesecake batter:
Cream together the room temperature cream cheese and sugar.
Add in the matcha powder, the egg, and the vanilla.
Set aside.
*A Note on Matcha Powder: You want to make sure that you buy a really quality matcha tea to use here. Using a lower quality tea will result in a more brown-ish cheesecake swirl than a green. If that happens, you can add some green food coloring. Look for a matcha that comes from Japan, is vibrant green, and has no filler ingredients. It should be stored in an air-tight re-sealable container like a tin (it will oxidize quickly in a bag or a box). Also, it is worth saying that matcha tea is one of those things that you get what you pay for. Quality matcha is important, and it should about $1 per gram.
I know that this seems like a steep price to pay when you only need a small amount of tea, but its totally worth it. Not only is drinking quality matcha tea really great, but you can also use it in:
Next, create the brownie batter:
Melt the butter and pour into a medium sized mixing bowl. Stir in the cocoa.
Whisk in the sugar.
Whisk in the eggs.
Mix in the salt, baking powder, and vanilla.
Lastly, whisk in the flour and fold in the white chocolate chips.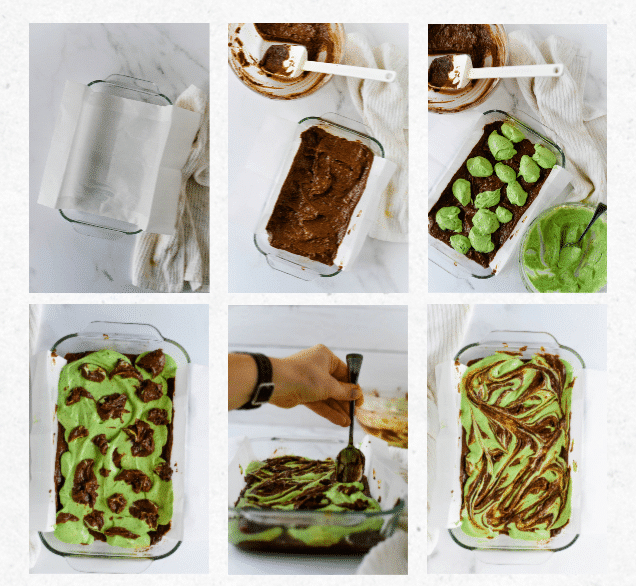 How to Create the Cheesecake Swirls:
The signature part of these halloween brownies are the super fun swirls of cheesecake and brownie (and the eyeballs, too!) It is quite easy to create the swirls.
Pour about 3/4 of the brownie batter into the bottom of a greased 8×8 pan.
Use a spoon to dollop the green tea cheesecake batter over the brownie batter. You don't want to create an even layer, you want some of the bottom brownie to be visible.
Dollop the remaining brownie batter on top of the cheesecake batter.
Use a spoon or the edge of a knife to create a zig-zag pattern in the batter. Place spoon or knife all the way down in the pan and use wide strokes (from one edge of the pan to the next) to create your pattern. I like to go from the top left corner and zig-zag my way down to the bottom right, but you can do it however.
*A Note About Candy Eyeballs: You can add the candy eyes one of two ways. You can either drop them onto the top of the brownies before you bake them, or you can add them right after you pull them out of the oven. The candies will not melt in the oven while the halloween brownies bake, but the white parts of the eyes will become a little more translucent. You can also stick them on after the brownies are done baking. You will need to press them into the freshly baked brownies a little bit, and then let them sit while the brownies cool. They won't be totally adhered to the brownies, but they should mostly stay on.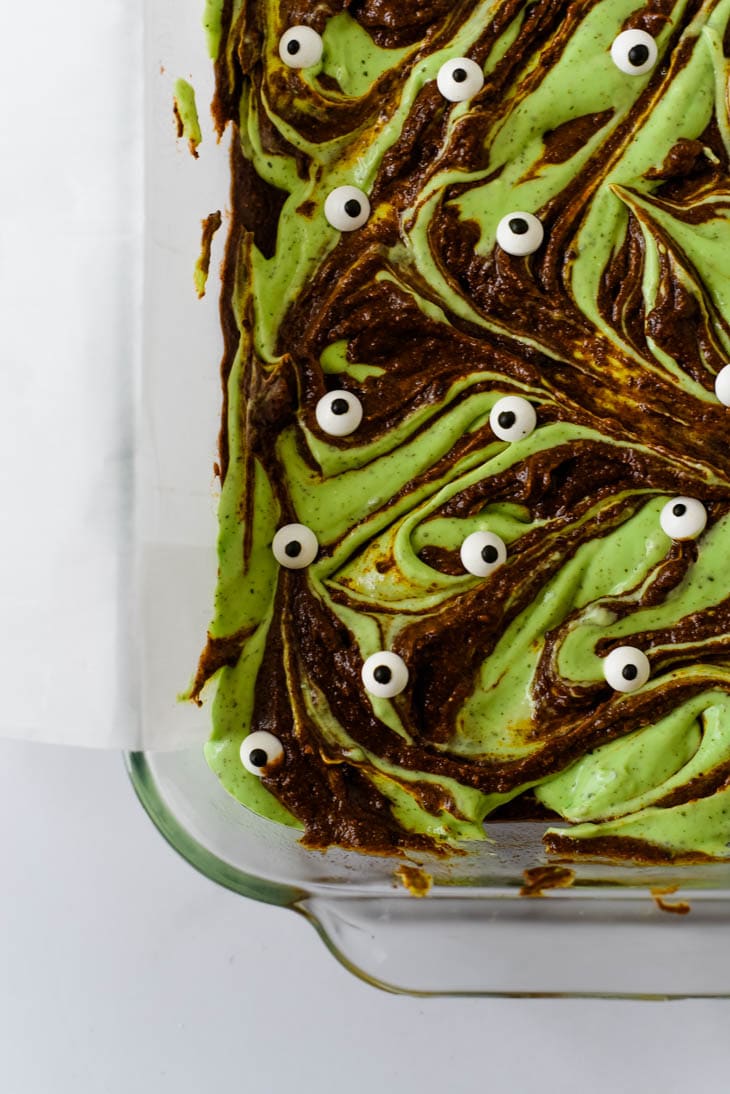 Kids In The Kitchen: How Your Kids Can Help You Cook
Getting your kids in the kitchen is an amazing way to help them be more interested in trying new foods and confident in their own abilities. This Halloween Brownie recipe is great because it helps expose them to how food can be sources of coloring, not just food coloring dyes. This recipe is perfect for beginner cooks because it is so easy! And it is a great recipe for kids to experiment and become more comfortable with new flavors – which means they are more likely to eat it!
Kids aged 1-3 can help you measure all the ingredients, help you hold the bowl/mixer, and help you sprinkle on the eyeball candies.
Kids aged 4-6 can do everything above, plus help you crack the eggs, add dollops of the matcha cheesecake batter, and help you create the swirls.
Kids aged 7-10+ can help you do everything above, plus help you mix the batter together.
*Please note that these recommendations are generalized, and to please use your personal discretion with your child's skill level. And always, always supervise! Read more about how to have your children help you in the kitchen.
Love Brownies? Try these other great Brownie Recipes:
There's nothing I love more than seeing you make my recipes! If you make this dessert, don't forget to leave a comment below and rate the recipe!
And if you are on Instagram, tag @thegingeredwhisk and use the hashtag #gingeredwhisk on social media when you make my recipes so that I can share them and maybe even feature you. Follow along to get the latest updates:
And don't forget to subscribe to the email list to get all the extra tips, tricks and bonuses!
Want to save this for later? PIN THIS TO YOUR HALLOWEEN BOARD on Pinterest!
Yield: 16 Servings
Halloween Brownies
Additional Time
10 minutes
Ingredients
Matcha Cheesecake Swirls
8 oz cream cheese, room temperature
1 egg
1/4 cup sugar
1 Tablespoon matcha powder
1/2 teaspoon vanilla extract
Brownie Batter
6 Tablespoons melted butter
1 Tablespoon cocoa powder
1/2 cup sugar
2 eggs
1/2 cup flour
1 teaspoon vanilla extract
1/4 teaspoon baking powder
1/2 teaspoon salt
1/3 cup white chocolate chips
Instructions
Preheat oven to 350
Grease an 8x8 baking pan and line with parchment paper.
Mix the matcha cheesecake batter in a medium bowl. Using a handmixer, cream together the creasm cheese, sugar, matcha powder, egg, and vanilla until combined.
Mix the brownie batter.
In a second medium mixing bowl, mix together the melted butter and the cocoa powder.
Whisk in the sugar and the eggs.
Whisk in the vanilla extract, baking powder, and salt.
Stir in the flour and the white chocoalte chips.
Pour 3/4 of the brownie batter into the prepared pan and smooth out evenly.
Using a spoon, dollop the matcha cheesecake batter onto the brownie batter. You don't need to completely cover the base layer of brownie, let some show through.
Using the same spoon, dot the remaining brownie batter on the top of the matcha cheesecake batter.
Using the spoon, create the swirls by placing the spoon in the top left corner of the pan and dragging it in a zig-zag pattern from one edge to another, all the way down to the bottom right corner.
Sprinkle the eyeball candies on the top, making sure they are right side up.
Bake for 20-30 minutes, or until a toothpick inserted in the center comes out mostly clean. Don't overbake!
Allow to cool in the pan for 10 minutes, or until cool to room temperature.
Notes
Store these halloween brownies covered at room temperature for up to 4 days.
Nutrition Information:
Yield:

16
Serving Size:

1
Amount Per Serving:
Calories:

173
Total Fat:

11g
Saturated Fat:

7g
Trans Fat:

0g
Unsaturated Fat:

4g
Cholesterol:

61mg
Sodium:

169mg
Carbohydrates:

16g
Fiber:

0g
Sugar:

12g
Protein:

3g