This Easy Ground Beef Ragu is the perfect comfort meal. Rich & hearty, it is the perfect sauce to serve over pasta or polenta. Inspired by Princess Belle from the Beauty & the Beast fairytale, this family friendly weeknight meal will .
Quick beef ragu is a delicious meal that is easy to make, and easy to eat!
Welcome to the Eat Like A Princess Series!
This series was designed as a fun way to teach kids about new cultures through the classic Princesses in hopes that they will become more open to trying new foods, to understand other cultures better, and to enjoy exploring the world around them. All while still staying within an easy weeknight dinner time frame.
These diners work great during the week, but when combined with their special side dishes, desserts, and movies - these kid friendly meals work as a great family date night!
You can see other "Eat Like A Princess" Recipes here, like: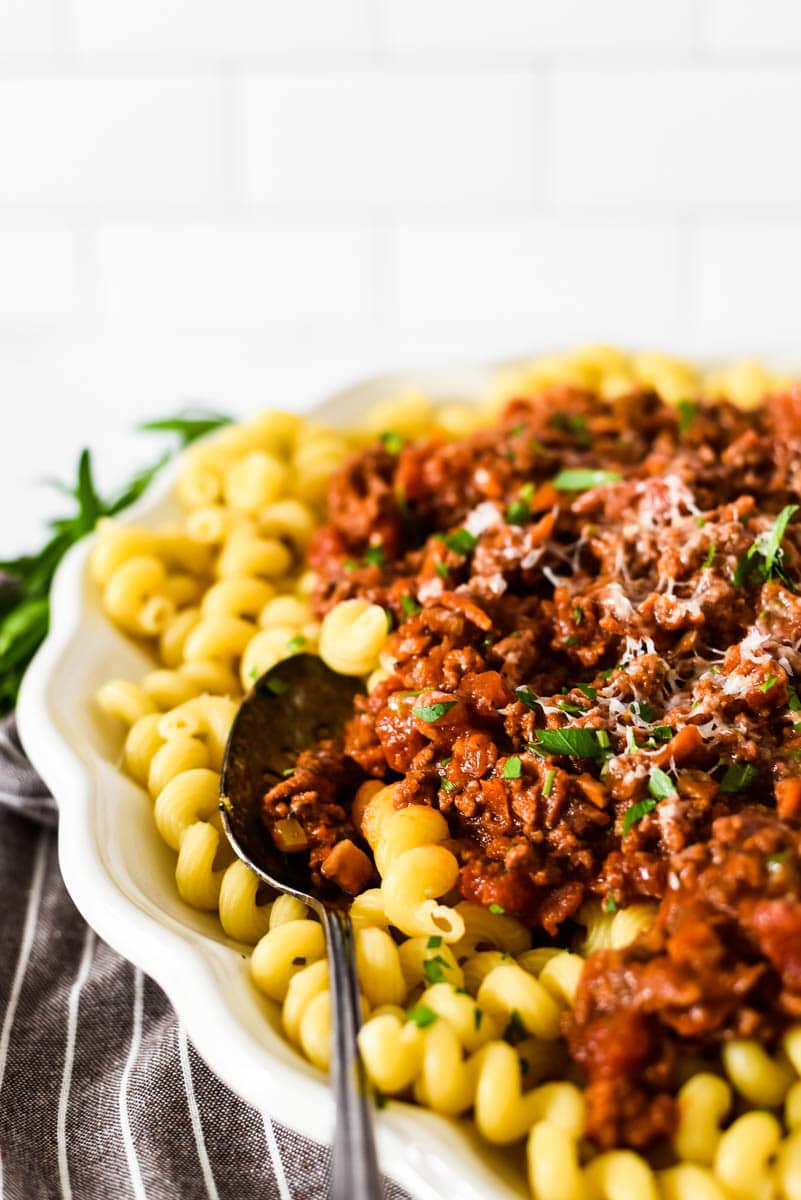 So you might be thinking... "Jenni, this beef ragu looks awesome and all - buuuut its most definitely Italian and Belle was definitely from France! What gives?!" Well, I'll tell you!
First, there isn't a WHOLE lot of distinction between a typical French Ragout, which is a stew of meat and/or veggies. The Italian version, which was totally borrowed from the French, is a meat based sauce served over pasta or polenta. The Italian version is more of a stew/sauce than the French version, which has more liquid. But both are saucey, hearty, and pronounced the same way. You say toe-MAY-to, I say toe-MAH-to. The version I have made is really more of a Northern Italian dish than a French dish, but I had my reasons why.
Second, Belle is kind of lower middle class a the beginning of the story - budget cuts of meat probably what she most likely ate (hello ground beef!). Add some wine in the sauce and pair it with some crusty bread, and you have basically the diet of the average French person at that time period.
Third, in the cartoon version of the movie, when Belle makes her way down to the kitchen to find some food, a plate of Beef Ragu makes its appearance among all that food, which is obviously a big sign that says "hey make me!"
Fourth, I kind of do whatever I want. But if you need more reasons why I made this recipe, in that scene where she is being entertained by dancing food and silverware, we see Belle try a finger-lick of the ragu. To me, this means it was a more of a thicker saucy consistency like an Italian Ragu instead of a thinner broth with chunky pieces like a typically French Ragout. And because she had been at the castle like an hour at this point, I am guessing a "quick win" was exactly what the kitchen staff was looking for.
So, Ragu! With ground beef!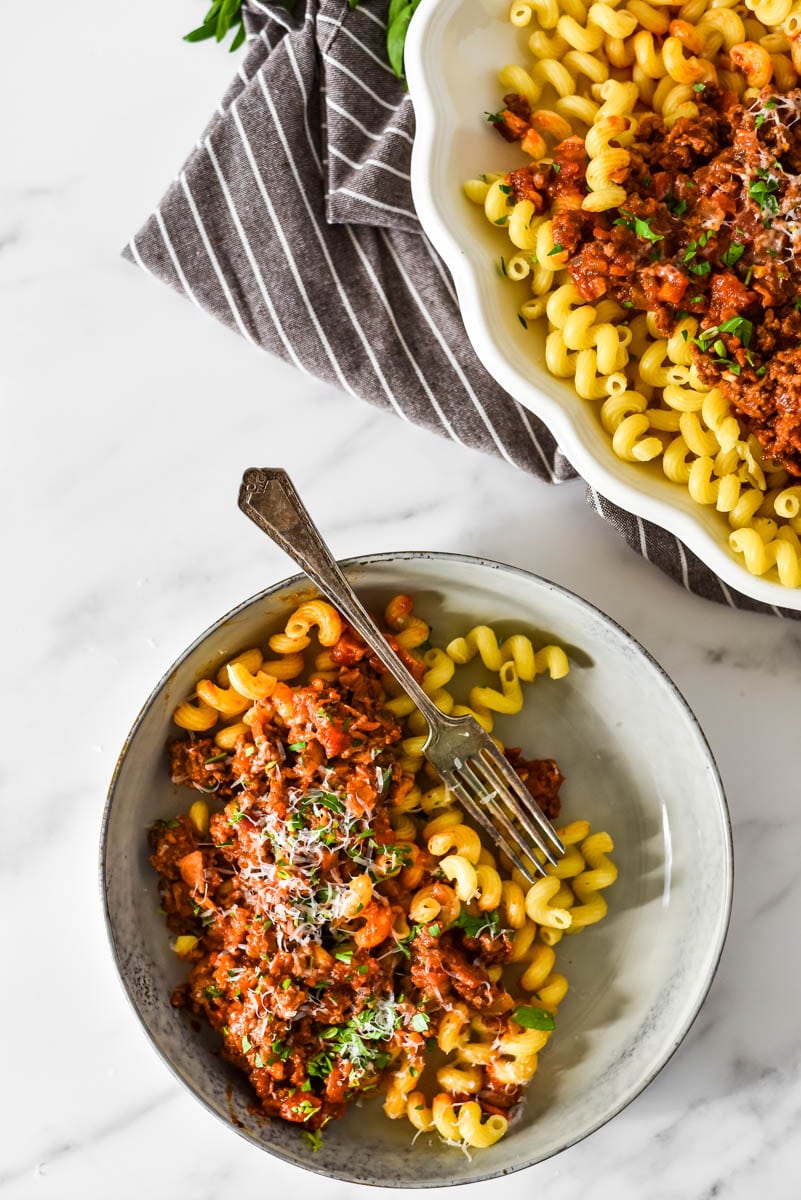 How to make Quick Beef Ragu
Traditionally, a beef ragu is a saucy, slow cooked way to enjoy a budget cut of meat. After it simmers in a bath of simple ingredients, the meat becomes tender and fall-apart and perfect to top with thick and wide noodles. This recipe takes a typically weekend-only recipe and turns it into the perfect weeknight meal that kids will LOVE.
Here is a general over view of how to make this meal. For the full instructions, please make sure you scroll down to the recipe card below.
Heat a medium dutch oven over medium heat.
Dice the onion, carrot, celery and mushrooms super small. This will help them cook faster and help deepen the flavor as it cooks.
Dice the bacon into small pieces and cook until mostly done - you want it to be somewhere between mostly limp and mostly crispy. Remove the bacon from the pan, but keep the drippings.
Add the onion, carrot, celery and mushrooms to the dutch oven and cook, stirring frequently, for 3-5 minutes, or until the onion is starting to become translucent.
Add in the ground beef and cook for 10 minutes, stirring occasionally, until there is no more pink left. Drain off any accumulated grease.
Add in the garlic and Italian seasoning.
Stir in the diced tomatoes, tomato sauce, beef broth, tomato paste, and bay leaf.
Bring to a boil, then allow to simmer for 10-15 minutes.
Remove the bay leaf, and serve over pasta with freshly grated tomato cheese and fresh chopped parsley.
Enjoy!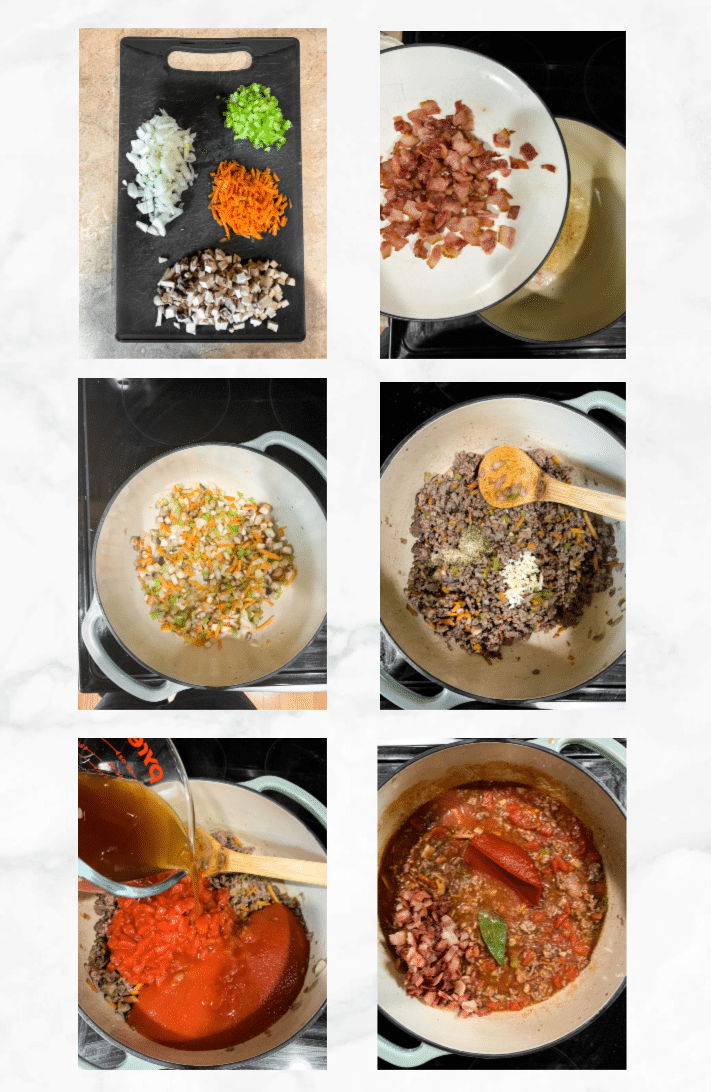 Quick Ground Beef Ragu Shortcuts:
Using Ground Beef is a great way to make this meal cheaper and faster! Use a low fat percentage because we are going to add in more fat and flavor with other ingredients.
Prep veggies ahead of time to make it even faster. Use a food chopper to make the veggies super small and super fast!
This meal can be made ahead of time, stored in the fridge, and reheated when ready to eat.
How to serve beef ragu to your family
Serve this ragu over pasta. You could also serve it over polenta.
To make the complete Princess Belle meal, serve this with green beans almandine, some crusty bread, and strawberry Napoleon for dessert! A nice red wine will pair beautifully for the parents, too, and grape juice will be a fun choice for kids.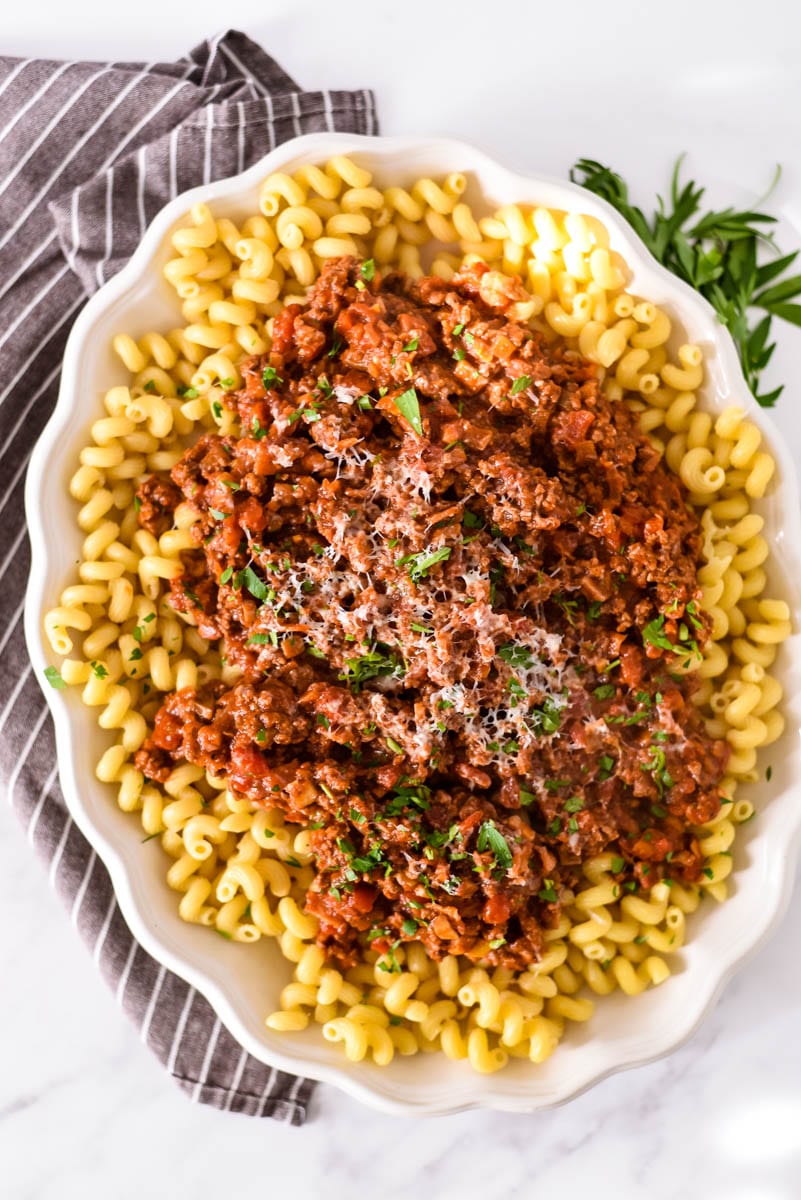 How to make this meal kid friendly
This beef ragu recipe is a great kid-friendly dinner, but if your kids need a little more persuasion, here are some easy ways you can help your kids be more interested in the meal:
Have your kids help you pick what shape of pasta to use. Traditionally, ragu is served with tubed like penne or ziti or a thick ribbon type noodle like tagliatelle or pappardelle. But really, any pasta shape will work just fine.
Have your kids help you make the meal, and plate and serve the meal to their family. You can even make it a fancy meal with dress up clothes and candles!
Dinner conversations with kids
Dinner is a great time to talk to your kids about what you are eating and help them be more comfortable and open to trying new things. More than just bite management, dinner time conversations are perfect for setting the mood and curiosity of the meal.
Try these conversation starters:
How is this similar to spaghetti and meatballs? How is it different?
What smells can you detect in the sauce?
What is the favorite part of this meal?
If we make this again, what would you change and what would you keep the same?
Read more about how to explore the sense of taste with kids.
Get your Kids in the Kitchen:
Inviting your kids into the kitchen with you is a great way to help them be more curious about the food you eat. Teaching them kitchen skills helps them to be more independent, and also feel proud of the meal they have helped to cook. These all help to peak interest in helping kids try, and actually like, the food you serve.
Kids aged 0-3 can help you pick you the produce, measure out the Italian Herb Seasoning and other ingredients, and add the fresh cheese and parsley to the top.
Kids aged 4-7 can help you do everything above plus mince the produce, especially if you use a food chopper with a handle. They can also help you open the cans of the tomatoes and measure everything out, as well as use kitchen shears to cut the bacon into small pieces.
Kids aged 8-12 can help you do everything above plus cook the meat, and help plate the meal.
*Please note that these recommendations are generalized, and to please use your personal discretion with your child's skill level. And always, always supervise! If you need a refresher on teaching age appropriate tasks, please read "How to Cook and Bake With Your Kids".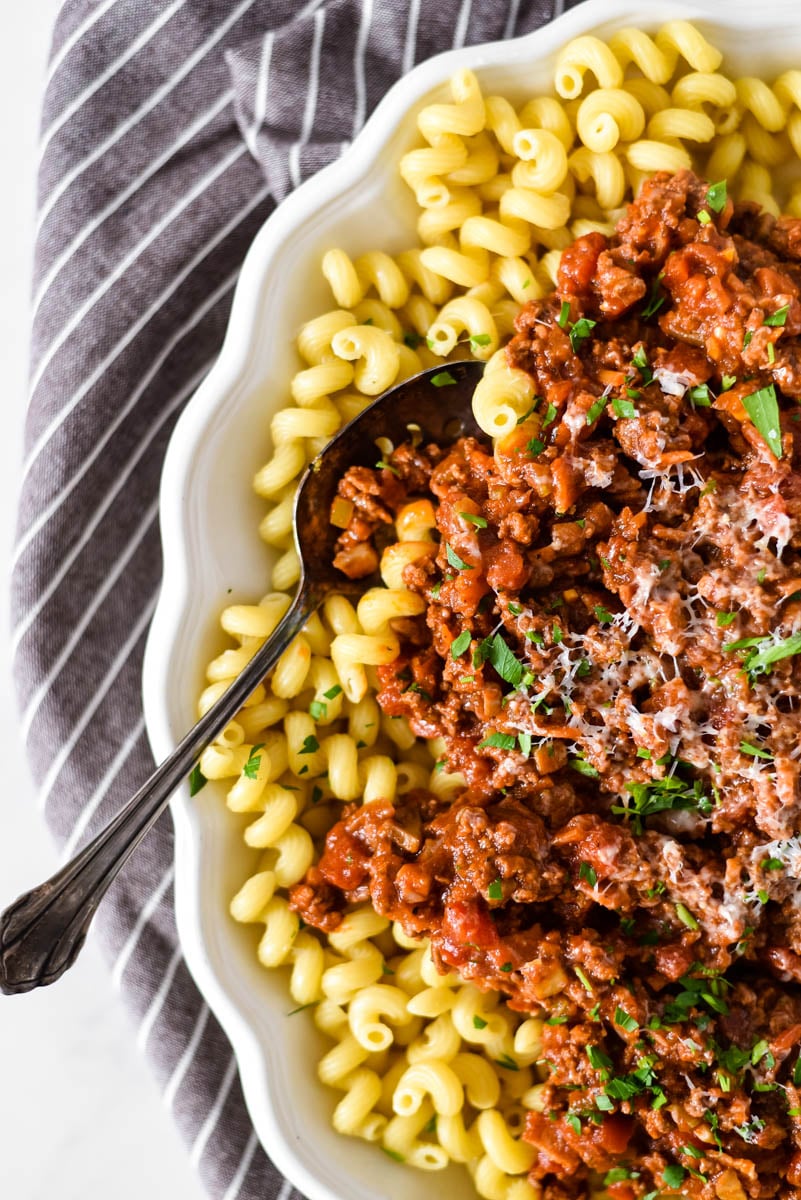 Food tastes better when it's shared with the ones you love!
There's nothing I love more than seeing you make my recipes! If you make this strawberry bread pudding recipe, don't forget to leave a comment below and rate the recipe!
And if you are on Instagram, tag @thegingeredwhisk and use the hashtag #gingeredwhisk on social media when you make my recipes so that I can share them and maybe even feature you. Follow along to get the latest updates:
And don't forget to subscribe to the email list to get all the extra tips, tricks and bonuses!
Want to save this for later? PIN THIS TO YOUR DINNER BOARD on Pinterest!
Yield: 6
Quick Beef Ragu for Princess Belle - Eat Like A Princess
This easy weeknight beef ragu is the perfect comfort meal. It is rich and hearty and has the perfect sauce to serve over pasta or polenta.
Ingredients
4 slices bacon
1 small yellow onion, chopped super tiny
1 cup shredded carrot
1 celery stalk, diced super tiny
4 oz mushrooms, diced super tiny
1 lb ground beef, lowest fat content you can get
2 garlic cloves, minced
1 15-oz can petite diced tomatoes
1 15-oz can tomato puree (or sauce, but not marinara/spagetti sauce)
½ cup beef stock, or dry red wine
¼ cup no salt added tomato paste
bay leaf
¼ cup fresh chopped parsley
¼ cup freshly grated romano cheese
pasta, for serving - pasta that is wide like fresh egg noodles or pappardelle.
Instructions
Dice the onion, carrot, celery, and mushrooms super tiny.
Heat a large pot of water to boiling.
Cook the pasta to package directions. Drain, and set aside, keeping warm.
Heat a large non-stick skillet over medium heat.
Dice the bacon into small pieces and cook until mostly done. Remove from pan and set aside. Keep drippings in the pan.
Add the onion, carrot and mushrooms to the pan with the bacon drippings and cook, stirring frequently, for 3-5 minutes.
Add in the garlic and stir for 30 seconds, or until nice and fragrant.
Add in the ground beef and italian seasoning and cook for 10 minutes, or until the beef is browned, stirring frequently.
Stir in the diced tomatoes, the tomato sauce, the liquid of choice (water, wine or broth), and tomato paste. Bring to a boil, then reduce the heat and allow to simmer for 10 minutes.
Sprinkle with freshly grated romano cheese and freshly chopped parsley.
Enjoy!
Notes
Mince the onion, carrot, celery and mushrooms are finely as you can. This will not only speed up cooking time, but will also help to deepen the flavor as it cooks better and hide any unwanted specs that diners might discover (namely, your husband will never know you put mushrooms in there, unless he reads this, which he most likely won't....)
Nutrition Information:
Yield:

6
Serving Size:

1
Amount Per Serving:
Calories:

479
Total Fat:

18g
Saturated Fat:

7g
Trans Fat:

1g
Unsaturated Fat:

9g
Cholesterol:

94mg
Sodium:

418mg
Carbohydrates:

42g
Fiber:

6g
Sugar:

9g
Protein:

32g
Nutrition information is an estimate and is provided for informational purposes only. For the most accurate information, please calculate using your specific brands and exact measurements.
Looking for other easy meals designed to get kids to eat?
Check out the rest of the Eat Like A Princess Series!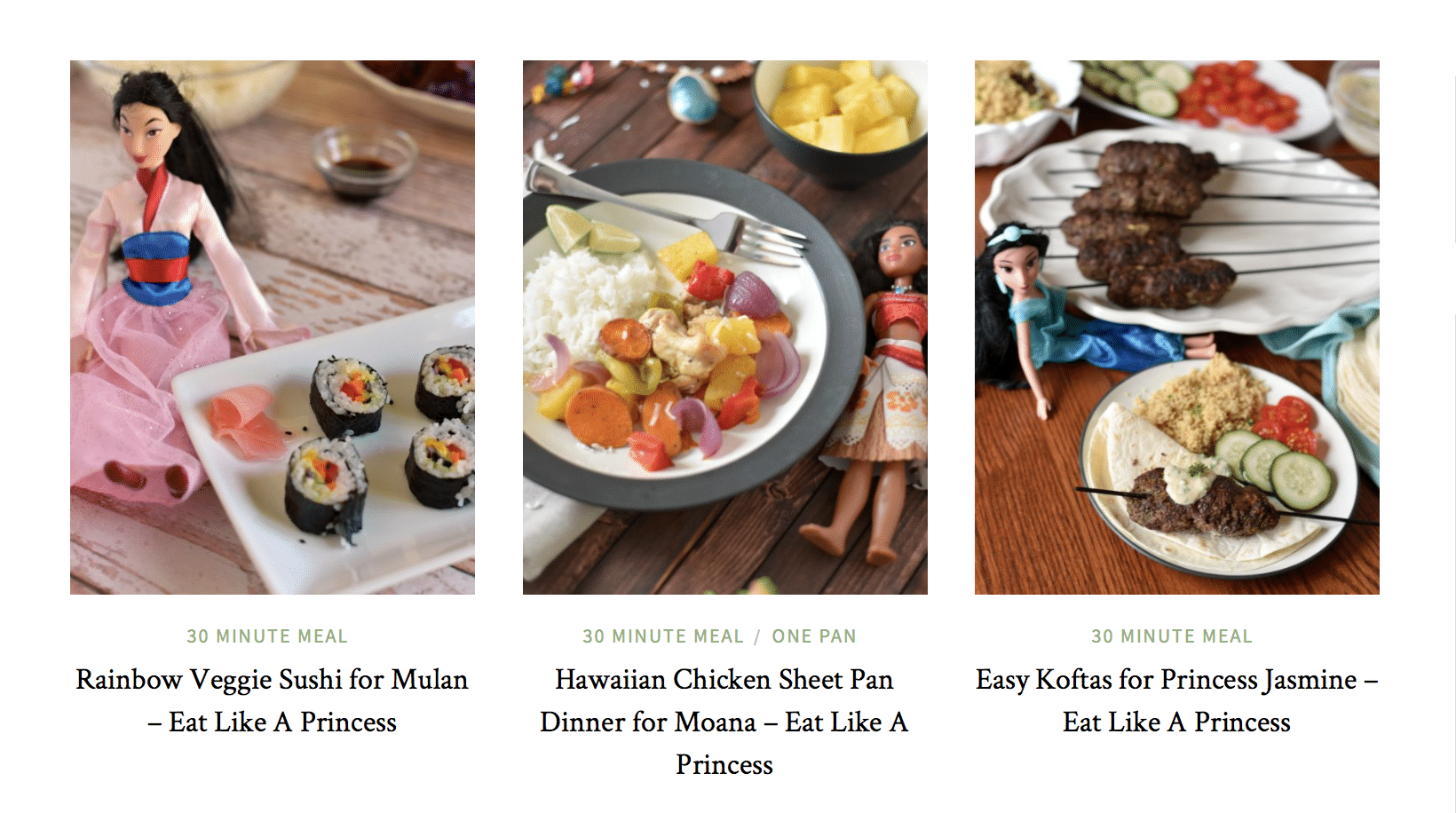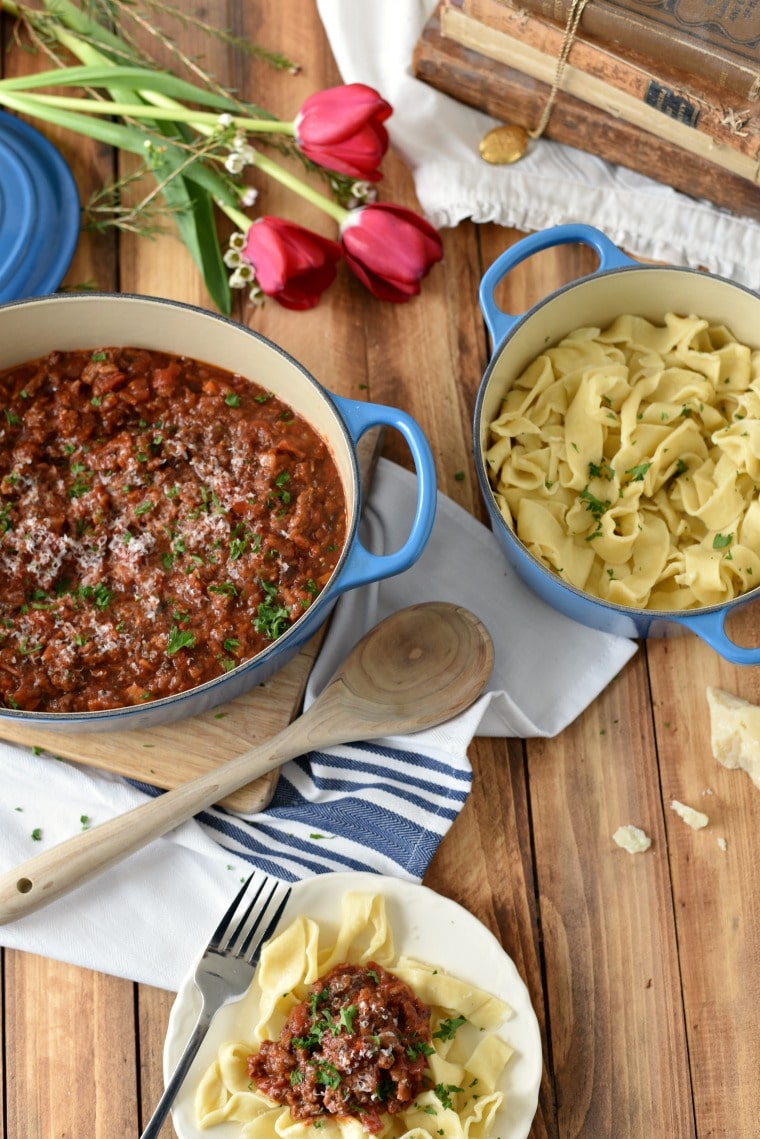 SaveSave
SaveSave