This Easy Ground Beef Ragu is the perfect comfort meal. Rich & hearty, it is the perfect sauce to serve over pasta or polenta. Inspired by Princess Belle from the Beauty & the Beast fairytale, this family friendly weeknight meal will .
What is a beef ragu?
Traditionally, a beef ragu is a saucy, slow cooked way to enjoy a budget cut of meat. After it simmers in a bath of simple ingredients, the meat becomes tender and fall-apart and perfect to top with thick and wide noodles. This recipe takes a typically weekend-only recipe and turns it into the perfect weeknight meal that kids will LOVE.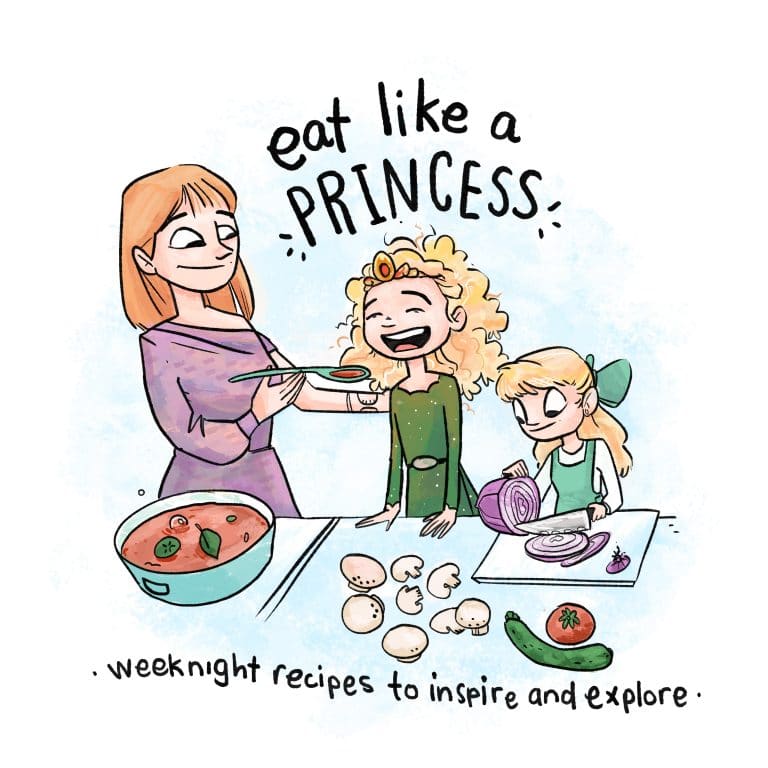 Welcome to the Eat Like A Princess Series!
I designed this series as a fun way to teach my daughters about new cultures through the classic Princesses in hopes that they will become more open to trying new foods, to understand other cultures better, and to enjoy exploring the world around them. All while still:
containing real food
be super easy
take about 30 minutes (or as close to it as we can).
You can see other recipes in this series here.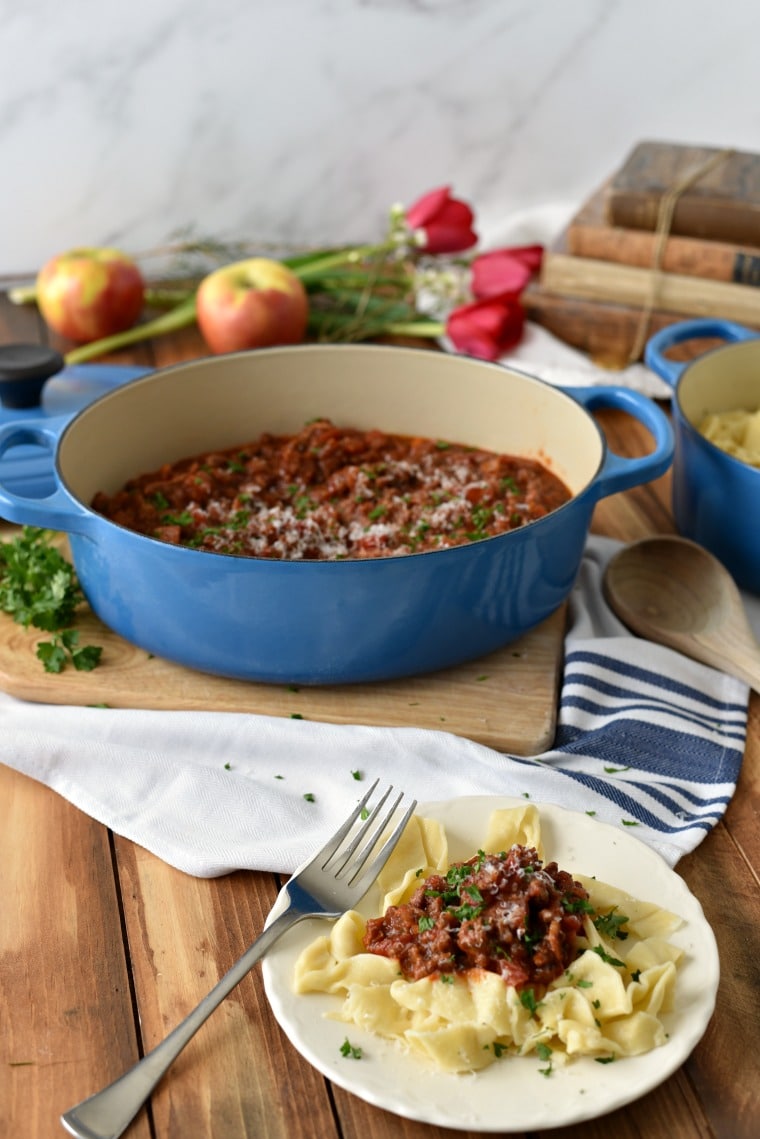 The Beauty and the Beast Story
Ahh, Beauty and the Beast! I think of all the "Princess" stories, this one is my most favorite. Sure, I can sure repeat every single word of "The Little Mermaid", and I utterly adore "Brave", but Belle is my girl. Nerdy, bookish, and craving adventure.  She is brave enough to take her father's place in an enchanted castle and she doesn't fear she has lost her mind when she starts to hold a conversation with a candlestick and a clock. Let's forget all the theories about Stockholm Syndrome and let's talk about that library, ok? THAT LIBRARY. It still makes me swoon damn near every time I see it.
The first appearance of the classic Beauty and the Beast story was in French in 1740, when it was written by Gabrielle-Suzanne Barbot de Gallon de Villeneuve (phew, that is a NAME!). About 16 years later a woman named Jeanne-Marie Le Prince de Beaumont abridged it (a lot! – she edited out a whole bunch of weird and creepy parts of the original story) and made it part of a series called "The Young Misses Magazine" in 1757. This later version became the standard version of the tale we now know and became quite popular in the 19th century.
In the 18th century, France was a happening place. Paris was the second largest city in Europe, the construction of the Pantheon, the founding of the Louvre, the building of the Church of Saint-Sulpice, the French Revolution, and too much more. (More detailed history of France can be found here). For the average Parisian, the staple diet was bread, meat and wine. And unless you were wealthy and had your own well, water was collected and paid for from fountains around the city. For some, it was an awesome time, and for others – not so much.
So you might be thinking… "Jenni, this beef ragu looks awesome and all – buuuut its most definitely Italian and you just talked a whole bunch about France! What gives?!" Well, I'll tell you!
First, there isn't a WHOLE lot of distinction between a typical French Ragout, which is a stew of meat and/or veggies. The Italian version, which was totally borrowed from the French, is a meat based sauce served over pasta or polenta. The Italian version is more of a stew/sauce than the French version, which has more liquid. But both are saucey, hearty, and pronounced the same way. You say toe-MAY-to, I say toe-MAH-to. The version I have made is really more of a Northern Italian dish than a French dish, but I had my reasons why.
Second, Belle is kind of lower middle class a the beginning of the story – budget cuts of meat probably what she most likely ate (hello ground beef!). Add some wine in the sauce and pair it with some crusty bread, and you have basically the diet of the average French person at that time period.
Third, in the cartoon version of the movie, when Belle makes her way down to the kitchen to find some food, a plate of Beef Ragu makes its appearance among all that food, which is obviously a big sign that says "hey make me!"
Fourth, I kind of do whatever I want. But if you need more reasons why I made this recipe, in that scene where she is being entertained by dancing food and silverware, we see Belle try a finger-lick of the ragu. To me, this means it was a more of a thicker saucy consistency like an Italian Ragu instead of a thinner broth with chunky pieces like a typically French Ragout. And because she had been at the castle like an hour at this point, I am guessing a "quick win" was exactly what the kitchen staff was looking for.
So, Ragu! With ground beef!
Quick Ground Beef Ragu Shortcuts:
Using Ground Beef is a great way to make this meal cheaper and faster! Use a low fat percentage because we are going to add in more fat and flavor with other ingredients.
Prep veggies ahead of time to make it even faster. Use a food chopper to make the veggies super small and super fast!
You can use store-bought egg noodles or pappardelle, but I highly recommend you make your own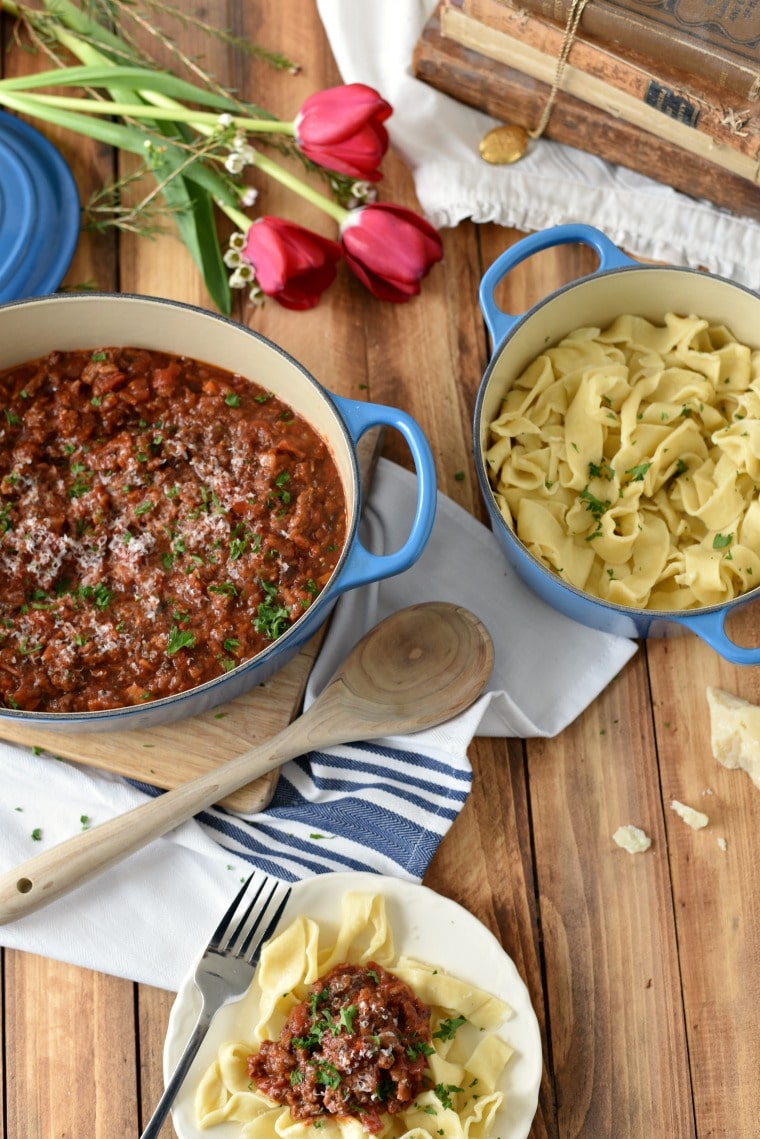 Get your Kids in the Kitchen:
Children aged 0-3 can help you pick you the produce, measure out the Italian Herb Seasoning, mix the homemade pasta, and add the fresh cheese and parsley to the top.
Children aged 4-7 can help you do everything above plus mince the produce, especially if you use a food chopper with a handle. They can also help you open the cans of the tomatoes and measure everything out, as well as use kitchen shears to cut the bacon into small pieces. They can also help roll out the pasta by hand.
Children aged 8-12 can help you do everything above plus cook the meat, cut the pasta and help plate the meal.
*Please note that these recommendations are generalized, and to please use your personal discretion with your child's skill level. And always, always supervise!
Read More about Princess Belle:
*This post contains affiliate links. See more about what that means on my disclosure page.
First Stories: Beauty and the Beast by Dan Taylor is a lovely first look at the classic story. Full of gorgeous and vibrant illustrations and interactive push, pull, and slide features, this board book is perfect for little hands!

I love this version of Beauty and the Beast by Ursula Jones. The illustrations are beautiful, and while the book is aimed at kids 4-8, it has a lovely and advanced vocabulary (words like "ramshackle", "ghastly" and "gabbled"), is full of fun and sarcastic prose, and lovely illustrations that help to illuminate the story. 

Beauty: A Retelling of the Story of Beauty and the Beast by Robin McKinley is a great retelling for pre-teen girls. I actually remember reading this some friends of mine and have loved it ever since I was a little girl.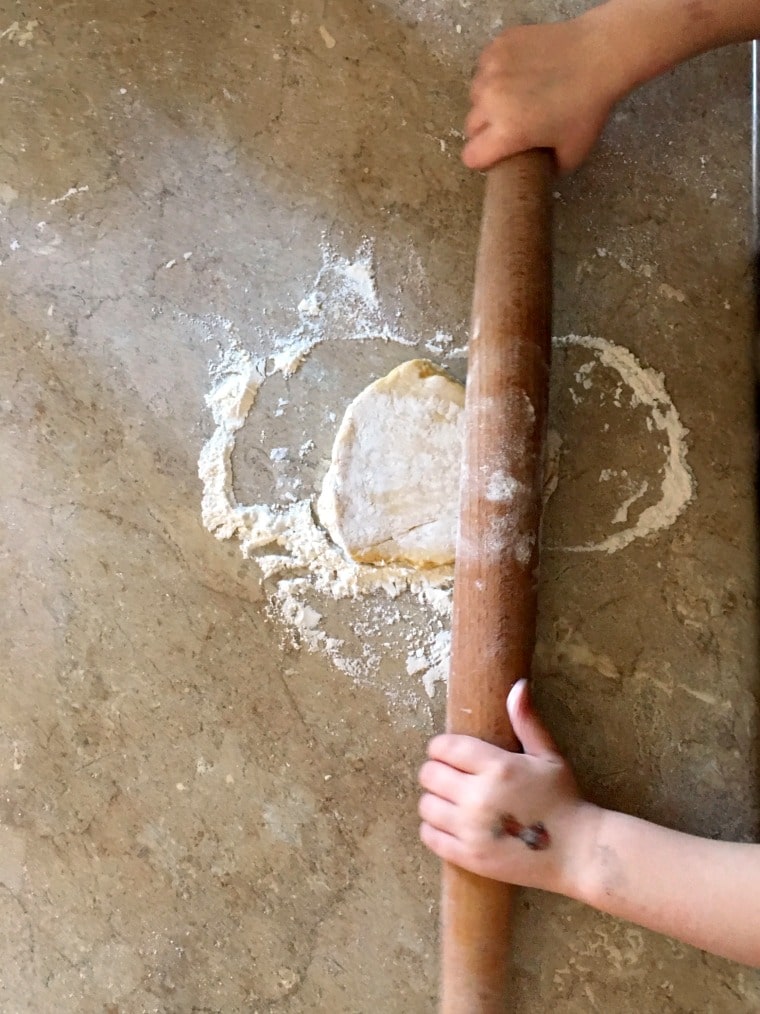 How To Make Your Own Pasta:
This rustic pasta kind of makes this recipe. I mean, the ragu will be just as good without it, but there is something so super fun about making your own pasta. And the light in your little's ones eyes when they serve their family pasta they made is just awesome.
It's seriously a LOT easier than you think! And so worth it. Homemade pasta tastes fantastic, nothing like the dried stuff! It's slightly thick and chewy, with a great bite to it. And the size and thickness is perfect for the saucy ragu.
Basically, DO IT!
In a food processor, pulse together 2 cups all-purpose flour, 1 TBSP Olive Oil, 1 tsp salt and 3 eggs for 30-60 seconds. If the dough looks too dry (like sandy pebbles or quinoa), add in 1 TBSP of water. If it looks too wet add in 1 TBSP of flour.
Place in a bowl and allow it to sit on the counter while you start making the ragu. When the ragu gets to the part where it is simmering away, come back to the pasta. You can also refrigerate it up to 24 hours later, but make sure that you allow it to come to room temperature before you start to roll it.
Dump a little flour onto your counter and give it a quick knead to combine really well. The trick here is to always keep everything well floured. Divide the dough into 1/4ths and keep the dough you aren't working with covered.
Dust the counter, the dough, and the rolling pin with flour, then roll out the dough until you get it as thin as you possibly can. Keep the dough moving and continually pick it up and reflour so it isn't sticking to anything. When in doubt, add a little more flour. The pasta will thicken as it cooks, so really get it super thin.
Slice the dough into thin strips – don't worry about imperfect edges or straight lines too much. This is rustic pasta and you are cooking with kids. Whatever happens, t's totally fine. Place the cut pasta under the cloth with the un-rolled dough and keep working until you are done.
Place the pasta in a large pot of boiling, salted water. You only need to cook for about 4 minutes, stirring frequently. Drain and serve immediately.
Yield: 6
Quick Beef Ragu for Princess Belle - Eat Like A Princess
This easy weeknight beef ragu is the perfect comfort meal. It is rich and hearty and has the perfect sauce to serve over pasta or polenta. This ground beef ragu recipe is inspired by Princess Belle from Beauty and the Beast.
Ingredients
4 slices bacon
1 TBSP oil
1 onion, chopped super tiny
2 carrots, diced super tiny
1 celery stalk, diced super tiny
2 garlic cloves, minced
1 lb ground beef, lowest fat content you can get
4 oz mushrooms, diced super tiny
bay leaf
1 15-oz can petite diced tomatoes
1 15-oz can tomato puree (or sauce, but not marinara/spagetti sauce)
1/2 cup water, beef stock, or wine
1/4 cup tomato paste
1/4 cup fresh chopped parsley
1/4 cup freshly grated romano cheese
pasta, for serving - pasta that is wide like fresh egg noodles or pappardelle.
Instructions
Dice the onion, carrot, celery, and mushrooms super tiny.
Heat a large pot of water to boiling.
Cook the pasta to package directions. Drain, and set aside, keeping warm.
Heat a large non-stick skillet over medium heat.
Dice the bacon into small pieces and cook until mostly done. Remove from pan and set aside. Keep drippings in the pan.
Add the onion, carrot and mushrooms to the pan with the bacon drippings and cook, stirring frequently, for 3-5 minutes.
Add in the garlic and stir for 30 seconds, or until nice and fragrant.
Add in the ground beef and italian seasoning and cook for 10 minutes, or until the beef is browned, stirring frequently.
Stir in the diced tomatoes, the tomato sauce, the liquid of choice (water, wine or broth), and tomato paste. Bring to a boil, then reduce the heat and allow to simmer for 10 minutes.
Sprinkle with freshly grated romano cheese and freshly chopped parsley.
Enjoy!
Notes
Mince the onion, carrot, celery and mushrooms are finely as you can. This will not only speed up cooking time, but will also help to deepen the flavor as it cooks better and hide any unwanted specs that diners might discover (namely, your husband will never know you put mushrooms in there, unless he reads this, which he most likely won't....)
Nutrition Information:
Yield:

6
Serving Size:

1
Amount Per Serving:
Calories:

502
Total Fat:

21g
Saturated Fat:

7g
Trans Fat:

1g
Unsaturated Fat:

11g
Cholesterol:

94mg
Sodium:

454mg
Carbohydrates:

42g
Fiber:

6g
Sugar:

9g
Protein:

33g
Looking for other easy meals designed to get kids to eat?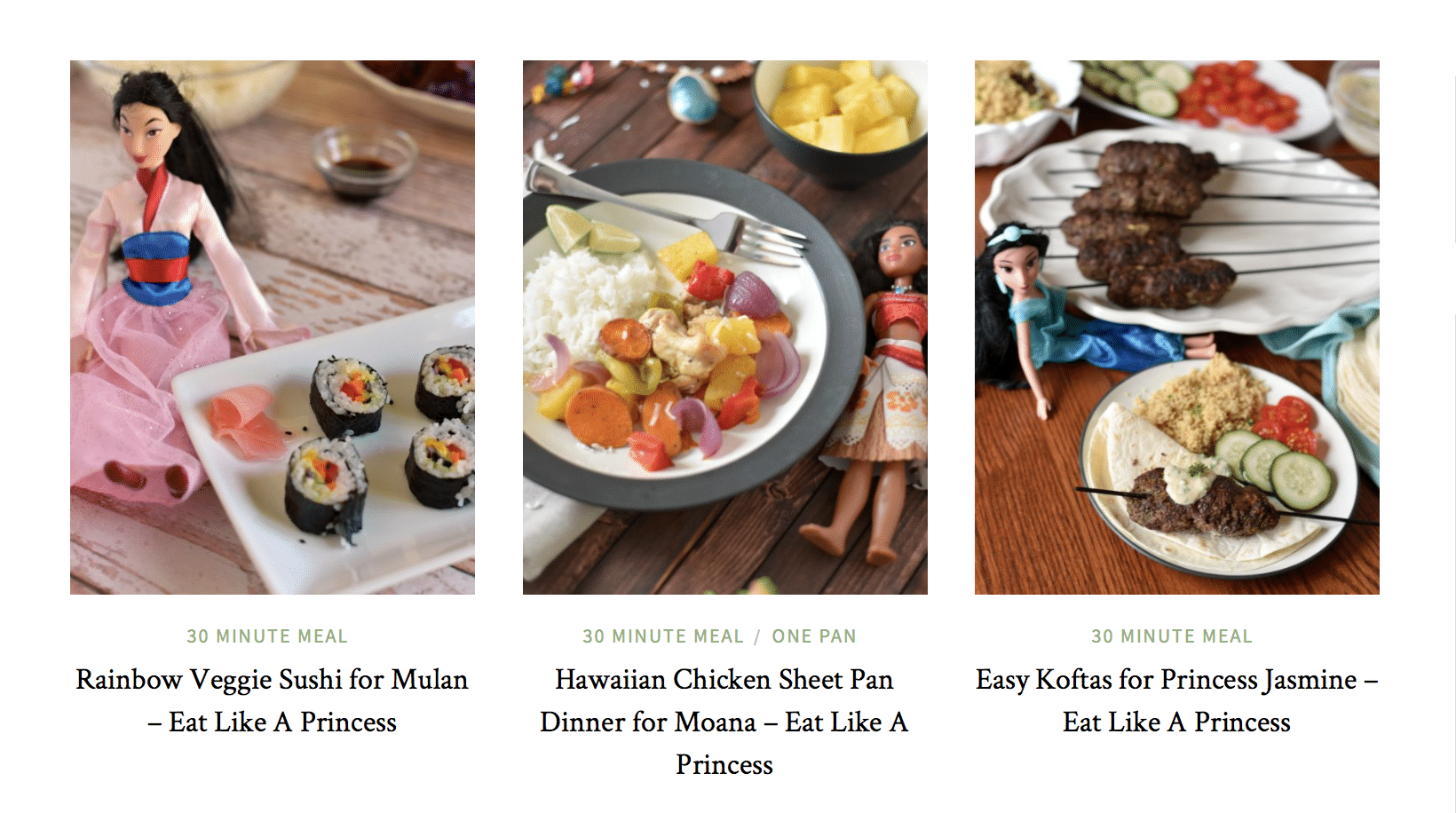 SaveSave
SaveSave