This easy roasted cauliflower is the perfect side dish to serve at your meal when you are looking for something a little extra! This cauliflower is tossed with cumin, garlic, paprika and a splash of lemon juice before being roasted with red onions and chickpeas, and then topped with pomegranates and fresh chopped parsley before serving. With gorgeous colors, textures, and flavors, this easy cauliflower recipe will be a hit on your table!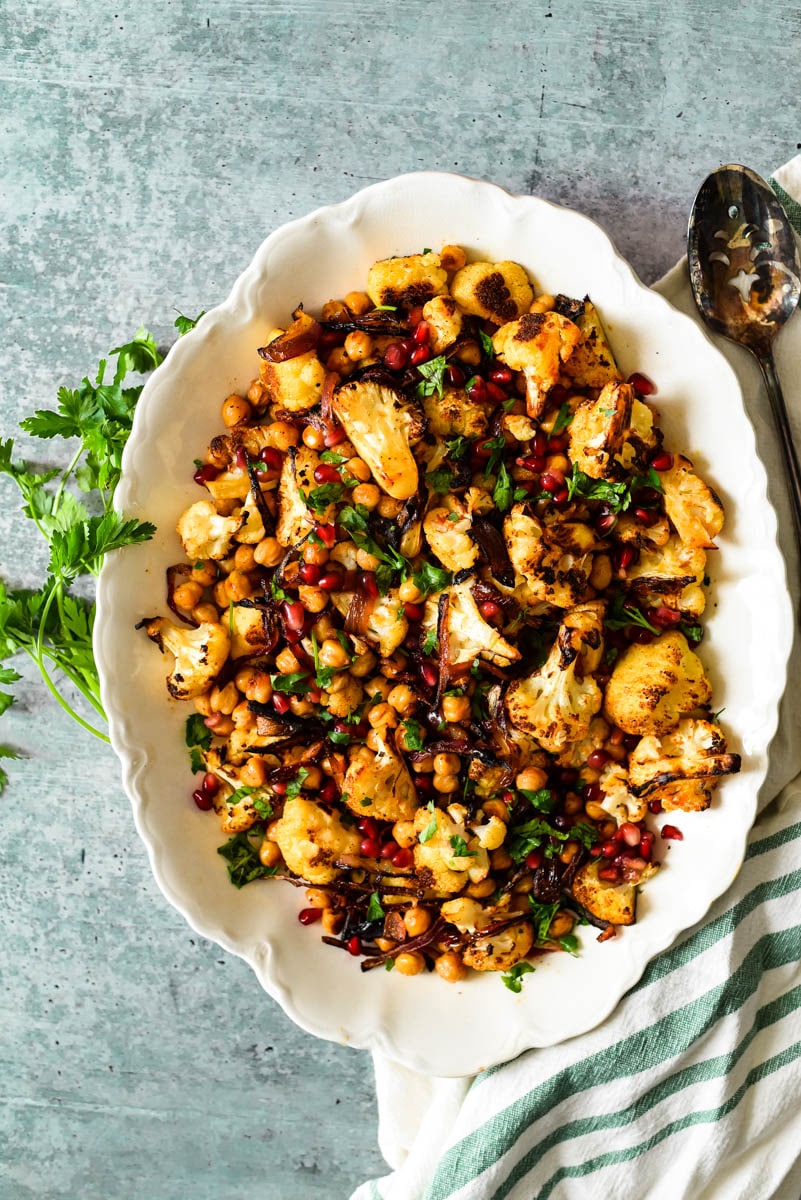 I love cauliflower, but definitely do not make it enough. I don't want to say that I forget about it, but I definitely don't think about adding it to my menu more.

This spiced roasted cauliflower recipe, though! I won't be forgetting about this anytime soon! Cauliflower and sliced red onions are tossed with spice and lemon juice and then roasted with chickpeas until perfectly done, and then topped with a smattering of pomegranates and parsley.
Its colorful, its delicious, it has a fun and interesting variation of textures, but best of all – it is so, so easy to make!
How to make this roasted cauliflower
This cauliflower recipe is so easy to make, its basically just tossing things together in a pan! Here is basically how you make it, but for the full recipe please make sure you scroll down to the recipe card below:
In a large bowl, toss the cauliflower pieces and red onion slices with the olive oil, salt, juice of a lemon, garlic powder, cumin and paprika.
Evenly spread on a rimmed baking sheet

(affiliate link)

.
Roast for 15 minutes.
Add the chickpeas to the pan and toss to stir and combine.
Roast for an additional 15 minutes.
Top the roasted cauliflower and chickpeas with pomegranates and chopped parsley.
Enjoy!
Prepping ahead of time
This easy side dish is simple to make, which means you don't have to pay much attention to it while you are making dinner.
But if you need it to be simpler, you can use these ideas to help make dinner quicker and easier:
Use pre-chopped cauliflower from the produce section of the store
Slice the red onion and store in the fridge in an airtight container until you are ready to use.
Measure the spices ahead of time.
How to make this kid friendly
Dinner is a natural time to help your kids explore the food they eat in a fun and easy way.
Allow kids to top their own plate with pomegranates and the chopped parsley.
Dinner conversations with kids
Rather than managing bites, invite your kids into a conversation where they can be curious and interested in their meal. Try these dinner time conversation starters:
What colors do you see in this recipe?
Can you smell the cumin and paprika?
How do you think the pomegranates and parsley change the flavor of the cauliflower?
What textures can you identify?
Read more about how to explore the sense of taste with your kids.
Kids in the kitchen: How your kids can help you cook
Inviting your kids into the kitchen with you is a great way to help get them more curious and interested in what you are serving to eat, and also helps to build their own confidence in the kitchen!
The more a kid is involved in a meal, the more likely they are to want to eat it. By allowing them to help you make the recipe, the more ownership they will have for it.
Kids aged 1-3 can help you wash the cauliflower and peel the onion. They can also help you to measure the rest of the ingredients. They can also pick the parsley leaves off the stems.
Kids aged 4-6 can do everything above plus help you open the can of chickpeas and rinse and drain them. They can also help you toss the cauliflower with the spices and arrange everything on the baking sheet. They can also help chop the parsley.
Kids aged 7-10+ can help you do everything above, plus help you chop the cauliflower into florets.
*Please note that these recommendations are generalized, and to please use your personal discretion with your child's skill level. And always, always supervise! Read more about how to have your children help you in the kitchen.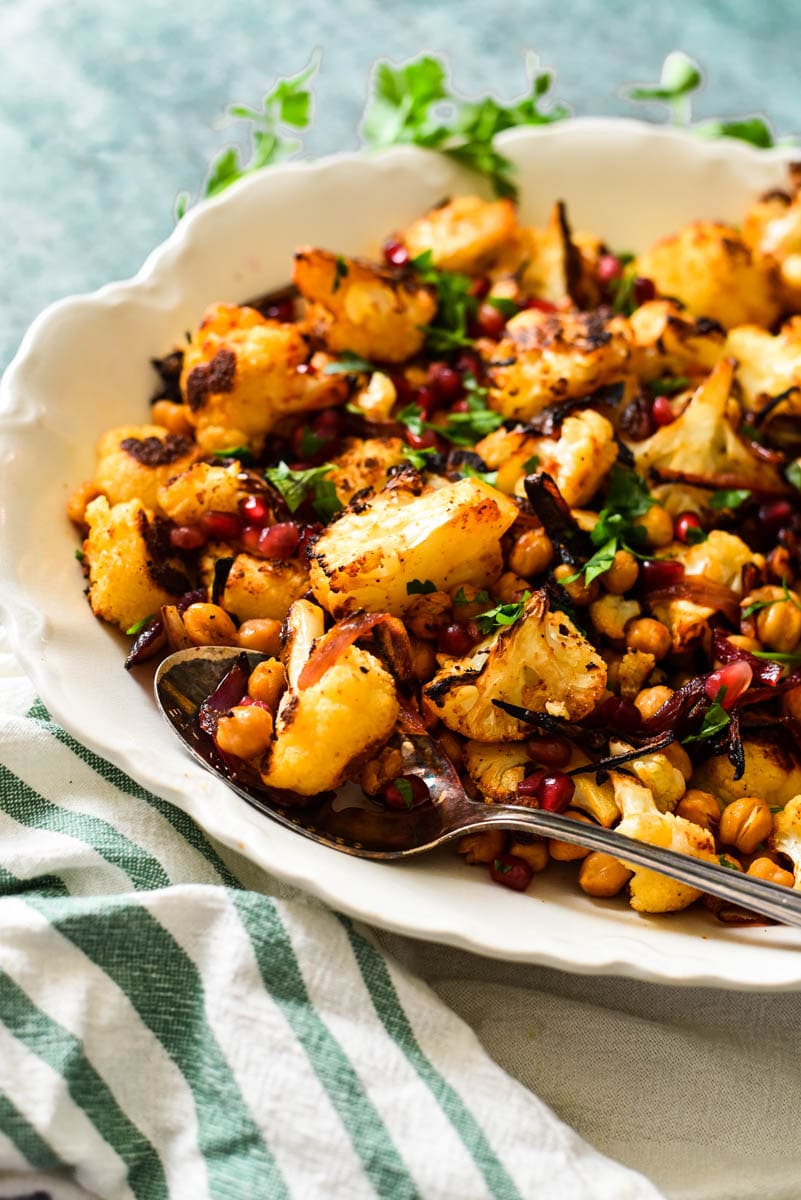 Food tastes better when its shared! If you try this recipe, let me know! Leave a comment and rate below! Love and links are always appreciated! If you'd like to share this post, please link to this post directly for the recipe, please do not copy and paste or screenshot. Thanks so much for supporting me! xoxo
Roasted Cauliflower with Chickpeas and Pomegranates
Ingredients
1 head cauliflower
1/2 red onion, thinly sliced
1/4 cup extra virgin olive oil
juice of 1/2 a lemon
1/2 teaspoon salt
1/2 teaspoon cumin
1/2 teaspoon paprika
1/2 teaspoon garlic powder
1 can chickpeas, rinsed and drained
1/2 cup pomegranate arils
1/4 cup fresh shopped parsley
Instructions
Preheat the oven to 425 F.
Cut the cauliflower head into florets and slice the red onion into thin slices.
In a small mixing bowl, whisk together the olive oil, lemon juice, salt, cumin, paprkia and garlic powder.
Toss the cauliflower and onion slices in the dressing and place on a rimmed baking sheet in an even layer.
Bake for 15 minutes.
Carefully remove the baking sheet from the oven and add the rinsed and drained chickpeas to the pan. Toss to evenly distribute the chickpeas and to turn the cauliflower over.
Return the baking sheet to the oven and roast for another 15 minutes.
Remove the pan from the oven and transfer everything to a serving platter. Top with pomegranate airils and fresh chopped parsley.
Enjoy!
Notes
Leftovers can be stored in an air tight container in the fridge for up to 2 days.
Nutrition Information:
Yield:

4
Serving Size:

1
Amount Per Serving:
Calories:

302
Total Fat:

16g
Saturated Fat:

2g
Trans Fat:

0g
Unsaturated Fat:

13g
Cholesterol:

0mg
Sodium:

482mg
Carbohydrates:

35g
Fiber:

9g
Sugar:

17g
Protein:

8g
Nutrition information is an estimate and is provided for informational purposes only. For the most accurate information, please calculate using your specific brands and exact measurements.